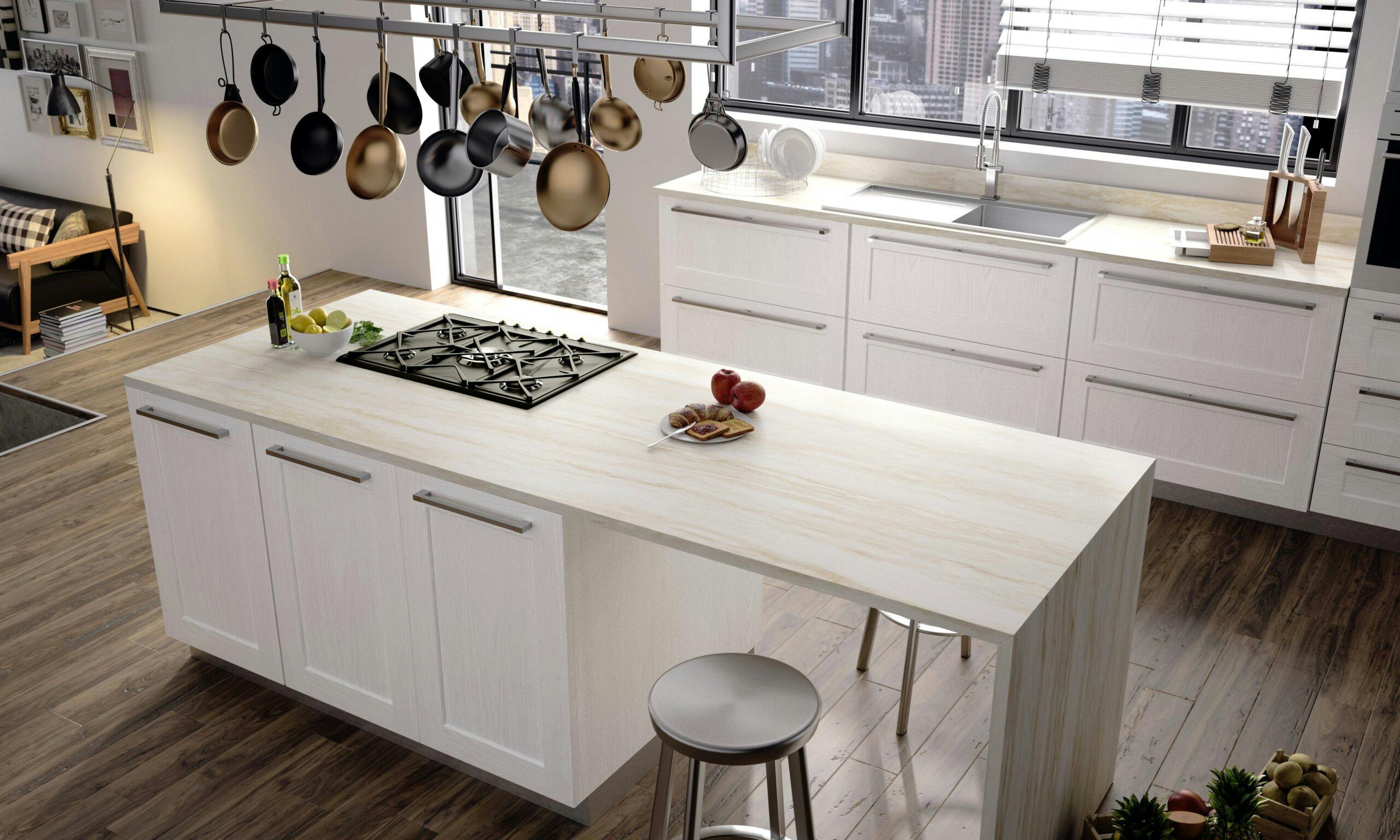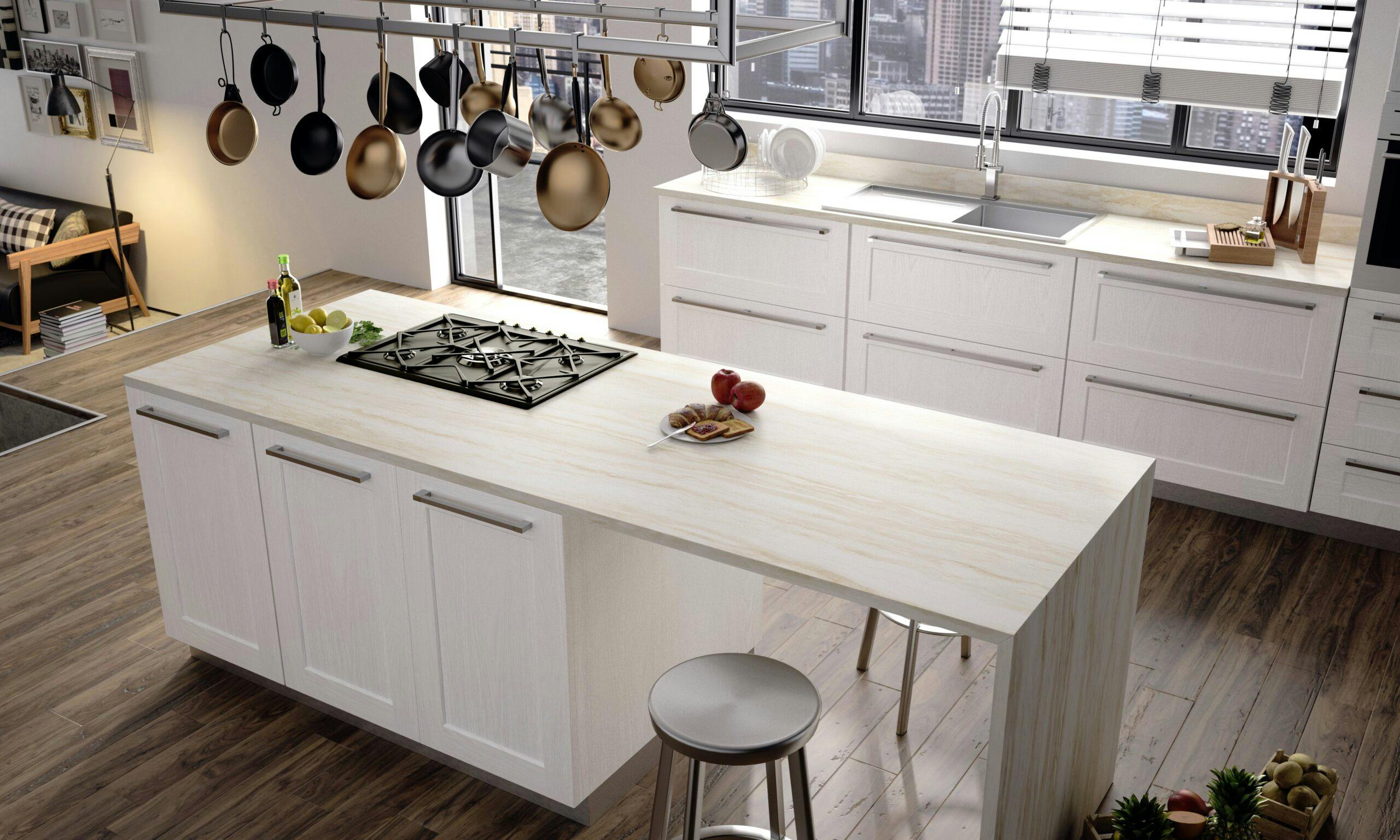 De beste gulvene for kjøkken
If you've decided to give your kitchen a makeover, one factor that's key to ensuring a completely success refurbishment is choosing a type of flooring that best matches your tastes and needs. We'll give you the lowdown on the best types of kitchen flooring, along with the pros and cons that will help you to make the best decision.
1. Laminated Floors
This is one of the most common types of kitchen flooring. Laminated floors are highly resistant to stains as well as to wear and tear.
If you opt for this type of floor, you'll be able to choose from a wide variety of finishes, including slate, wood and even marble.
Laminated floors require practically no maintenance, are moisture-resistant and can be laid directly over existing surfaces. However, unlike natural wood floors, they can't be sanded to remove any scratches that may appear, and some lower-quality laminates aren't compatible with electric underfloor heating.
2. Vinyl Floors
In common with laminated flooring, vinyl floors also imitate various types of surface, such as wood, stone, cement and metal. They're highly water-resistant and can be laid on top of an existing floor.
A very realistic texture is achieved by printing a digital image onto the surface of the vinyl. However, vinyl floors are easily scratched and excessive exposure to sunlight can end up damaging their initial appearance. But unlike laminated flooring, you'll be able to install underfloor heating if you opt for a vinyl floor.
3. Porcelain Tile Floors
This is one of the most hygienic, durable and scratch-resistant options you can find, and it requires practically no maintenance. Thanks to the latest technology, ceramic tiles have evolved to offer a very wide range of finishes and textures, so you have an almost infinite number of options available.
If you like larger-sized pieces, which offer a greater sense of continuity and fewer joints, this is the best choice of flooring for you. Porcelain tiles are normally produced through a grinding process, with the edges cut at right angles to give your kitchen a more stylish and modern look.
They may not transmit a strong feeling of warmth, but, if you wanted to, you could install underfloor heating below a porcelain tile floor.
4. Ultra-compact floors
Dekton ultra-compact surfaces are made from a sophisticated blend of raw materials that are used in the manufacture of glass, quartz surfaces and state-of-the-art porcelain tiles. This combination makes them highly resistant to scratches, stains, UV sunlight, fire, heat, etc.
Ultra-compact floors are also ideal for kitchens, and, if you decide to buy one, you'll be able to install pieces as large as 320 cm x 144 cm. You'll also be able to choose from a wide range of finishes and colours to match your personal tastes and favourite styles of décor.
What's more, if you prefer, you can use the same type of material for your countertop, splashback and wall facing to design a dream kitchen in the very latest style.
5. Micro-cement
This is one of the indisputable stars of flooring materials. Micro-cement floors have now become the dominant feature in kitchens with a modern, Nordic or industrial look.
These cements can be applied over any type of solid support: pointing, cement mortar, marble, terrazzo, gypsum, plasterboard, etc. They have a durable design and are good at absorbing daytime heat and releasing it later on.
If you choose this option, you ought to know that, aside from the most commonly used varieties of grey, they also come in a diverse range of other colours, as well as in matte, satin and gloss finishes.
Micro-cements are easy to clean, and, if you decide to install one over an underfloor heating system, it will perform optimally at all times.
6. Linoleum
If you're looking for an eco-friendly option, then linoleum floors are best for you. They're made from natural materials, are biodegradable and affordable, and offer water and stain resistance. Linoleum floors are also notable for their anti-bacterial, fire-retardant and anti-static properties. They're also very easy to clean and maintain.
Linoleum is mostly made from linseed oil, cork dust, wood flour and resin, to which acrylic varnishes, also eco-friendly, are added. These varnishes give linoleum a service life somewhere between 15 and 30 years, depending on the thickness and quality of the individual material.
It's ideal for people with allergies, it's warm, it can be laid over an existing surface and it's compatible with underfloor heating.
7. Epoxy Resin
This is an increasingly popular option for installing in kitchens, It can be laid directly over the original flooring, it's warm to the touch, water resistant, durable and can be easily cleaned with soap and warm water. It's also hypoallergenic and available in the full range of RAL colours, as well as in different designs.
Mind you, you'll have to take care if you choose an epoxy resin floor, as they are quite easily scratched.
8. Ceramic tiles
Ceramic tiles are made from clay and enamels and come in a host of different sizes, shapes, colours and finishes, including some that imitate other types of material, such as wood.
You should choose this type of imitation wood or stone flooring if you want to give your kitchen a more natural feel. And if you're looking for original designs, you'll find models that feature attractive textures and reliefs in a very diverse range of formats. To create surroundings with an eclectic or retro look, you should go for designs that revive traditional patterns from bygone days, such as hydraulic motifs. More affordable but less durable than porcelain tiles, ceramic tiles should be laid over a strong, smooth surface.
Be om pristilbud