Red Kitchen Countertops
On average, kitchen countertops are 3.5 metres, which is usually big enough even for large spaces. So, would you like these countertops to be chromatic red, which can range from pink to maroon, including intense pure red? A red kitchen countertop will convey a lot of energy to the space, so choosing this colour has a further appeal: it will encourage both activity and creativity. So you will want to create old and new recipes on the hob.
Without doubt, the atmosphere will be full of character and personality with a red kitchen countertop. In addition, this colour will give a perfect touch of warmth so at first sight the kitchen will look cosy. Don't be concerned that you will tire of a red kitchen countertop, on the contrary it will certainly captivate you.
Ideas for kitchens with a red countertop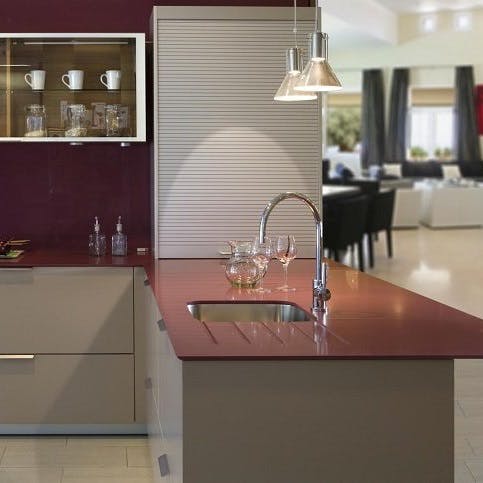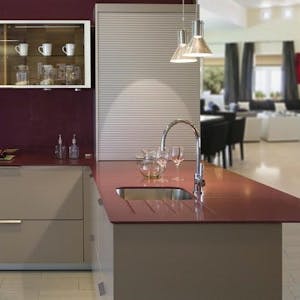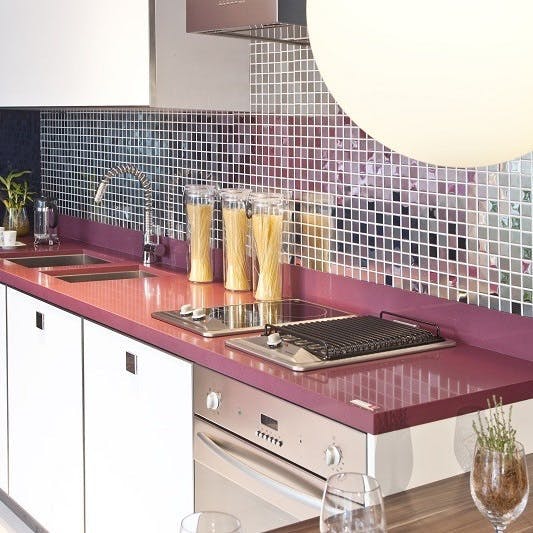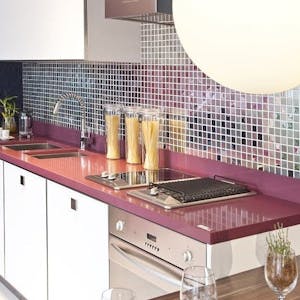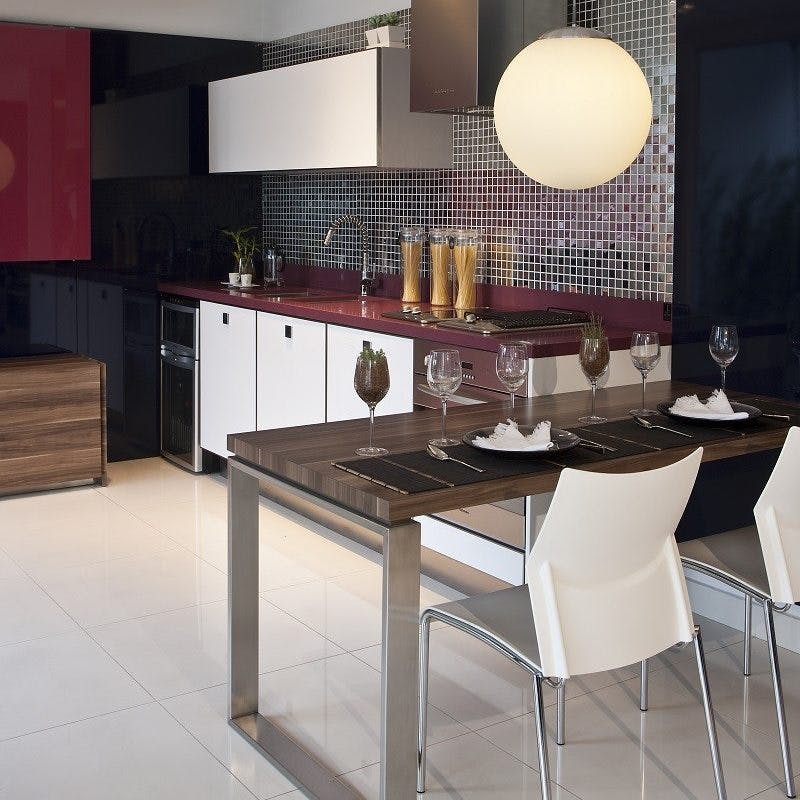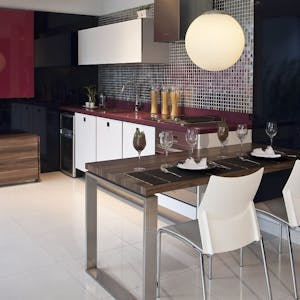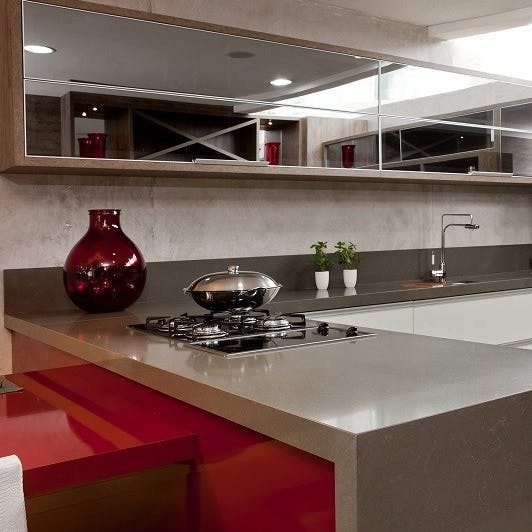 WHY CHOOSE A RED COUNTERTOP?
You may not know it, but the lively and colourful 70's are back in fashion in interior design, with colours such as yellow, blue, green, orange and, naturally, red. A red kitchen countertop will add life to a space that is usually less attractive.
ENHANCE ITS CHARACTER (EVEN MORE)
A red kitchen countertop will look good in itself, but you can make it look even better if you opt for a surface with a glossy finish. This option is also perfect for small kitchens because it will reflect the light more and give a feeling of space.
GREAT COLOUR COMBINATIONS
The chromatic red range has endless shades. If you select a pure shade for the countertop, you can soften the intensity with other neutral colours for the cupboards, floors… Or if you prefer, you could choose soft, fresh pink, and combine it with green or other deeper colours.
INSPIRING INTERIOR DESIGNS
The range of deeper red is very powerful, so it should be used sparingly, like for the kitchen countertops, the backsplash and hob, but not much more. A moderate application of red is advised, otherwise you will create a disjointed atmosphere.
ALSO IDEAL FOR THE KITCHEN DINER
If you have a kitchen diner we recommend that you also give it a touch of red to match the countertop. Indeed, warm colours whet the appetite. But remember not to use too much red in other parts of the kitchen so not to overpower it.
5 examples of red kitchen countertops
IN FASHION
Pink is thought to create feminine kitchens, but in fact it doesn't as this colour is not about gender, however it does achieve gentle and fashionable interiors. A great example of this is Prexury's Rose Quartz which is a material made of semiprecious stones and other natural materials. This stunning Rose Quartz can make a kitchen look even brighter.
IN NORDIC KITCHENS
Scalea, Cosentino's exclusive natural stone brand, features several options in stylish shades of red. One of the models that will work best for a Nordic-style kitchen is Rojo Alicante a beautiful worn red with white veins. Each piece is unique and unrepeatable because it is created by nature itself.
A LOFT-KITCHEN
An industrial style combines grey, black, white… Mixing these colour ranges can look a little bland, so a good option is to use kitchen countertops in red tones, specifically beautiful models with grains, such as Scalea's Rosa Porriño, a mesmerizing combination of salmon pink, grey and black.
LUXURIOUS KITCHENS
Can you imagine if your red kitchen countertop has been made from semiprecious stones? That's what Cosentino Prexury's brand offers with Red Jasper, which stands out due to its attractive mix of red and orange. As if by magic, the surface becomes a real jewel in everyone's eyes.
PASSION FOR NATURAL BEAUTY
Once again, Scalea's brand proposes a beautiful solution, Travertino Rojo Terra with an earthy brown shade, as its name suggests. Pure natural beauty! This marble will match perfectly not only in rustic, traditional, and Nordic style kitchens; but also in modern and avant-garde settings, as it features timeless elegance.