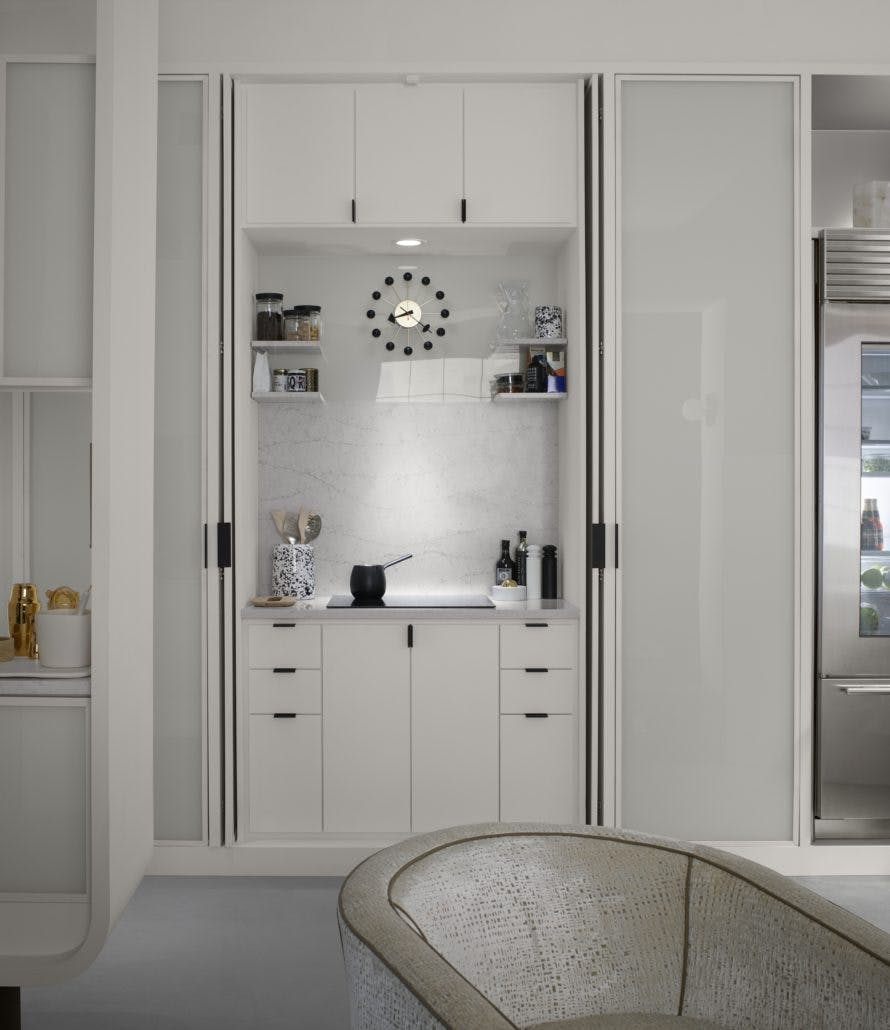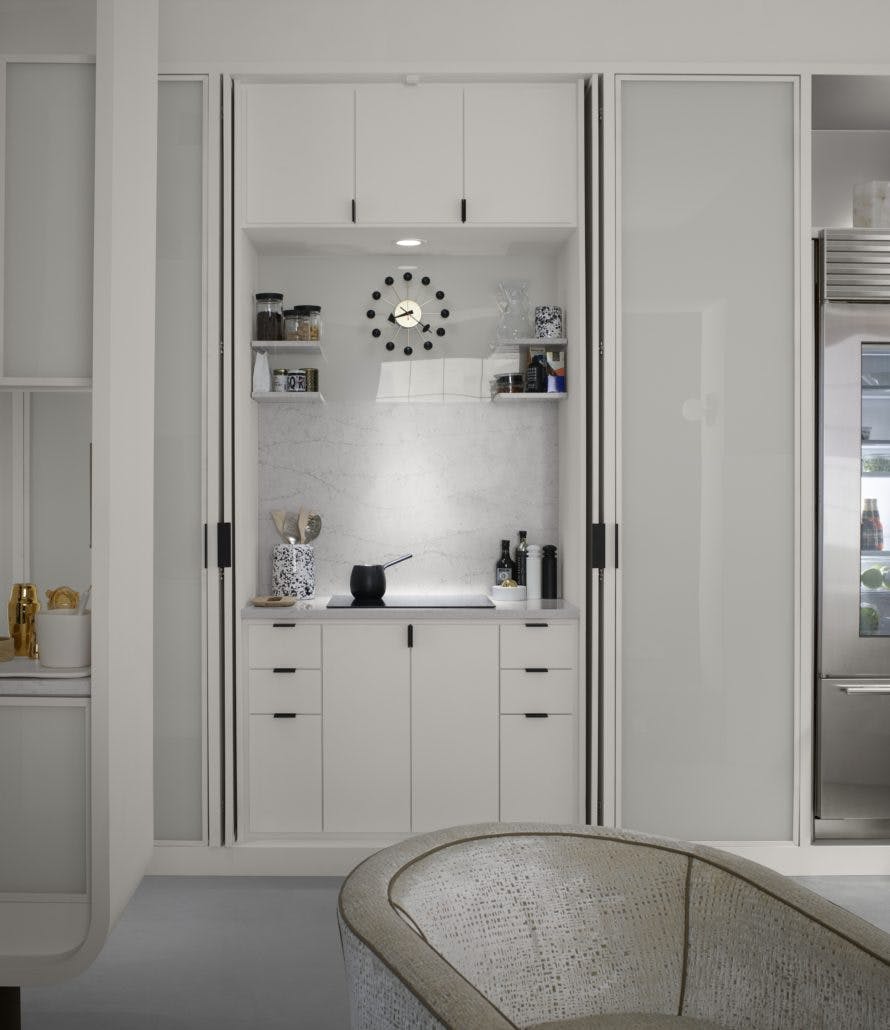 Silestone Trendspotter Drew McGukin draws from his own life in metropolitan New York City for the inspiration behind his Studio Kitchen design, created in collaboration with Cosentino, Kohler and Benjamin Moore. The concept kitchen, the second in this year's collaboration between the three brands, develops its hyper-organized concept into reality by layering functionality to make the space most useful for any purpose – entertaining, living, or working. Each aspect of the kitchen tucks neatly away, creating a streamlined, clutter-free and contemporary environment geared towards big city lifestyles. Drew used Pearl Jasmine from the Silestone Eternal Collection throughout the space for a modern and consistent look.
Drew McGukin answered a few questions about the look and function of his kitchen design:
Who did you have in mind when you designed this space and how do you imagine them using it?
I designed the Studio kitchen for a loft dwelling, multi-tasking, city-slicker much like myself — a traveler, entertainer, misfit-wino-take-out junkie who occasionally cooks a decent meal when the mood strikes. The whole concept is about hyper-organized function layering right into multi-use entertaining, living or working spaces.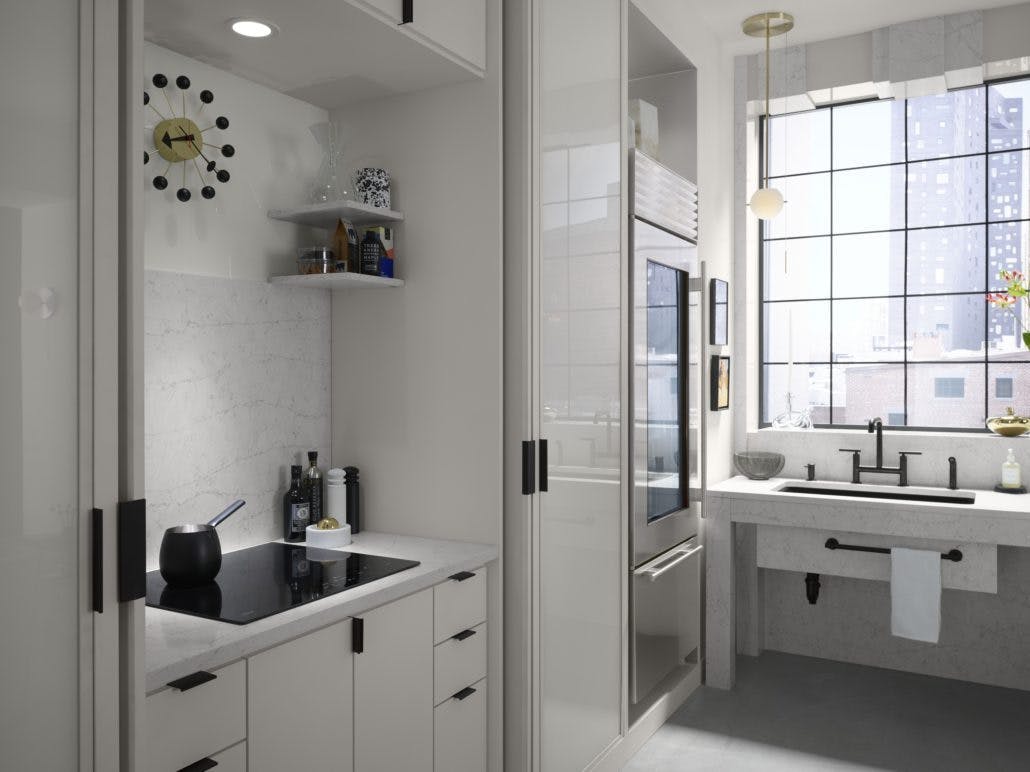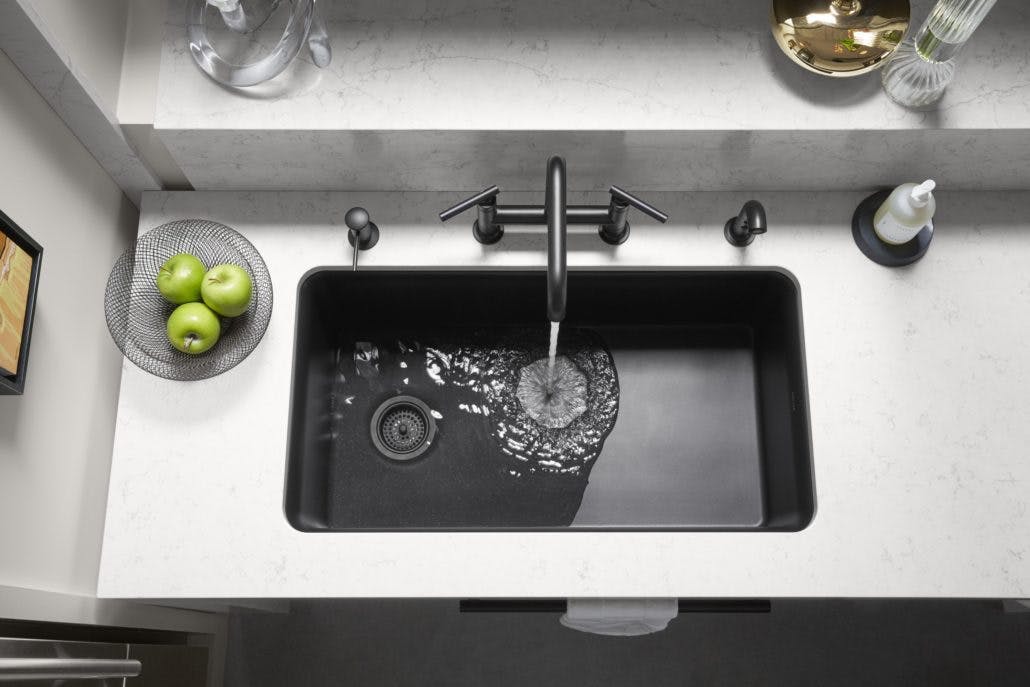 Tell us how the versatility and multipurpose functionality of your space is a response to the needs of today.
This design tucks away traditional kitchen requirements that often read as cluttered. By streamlining utilitarian parts that read "kitchen" when not engaged, we create enough breathing room to allow the space to be used in other ways. We infused a sense of warmth and welcome by personifying the sink and opening the contents of the refrigerator with a see-through glass panel.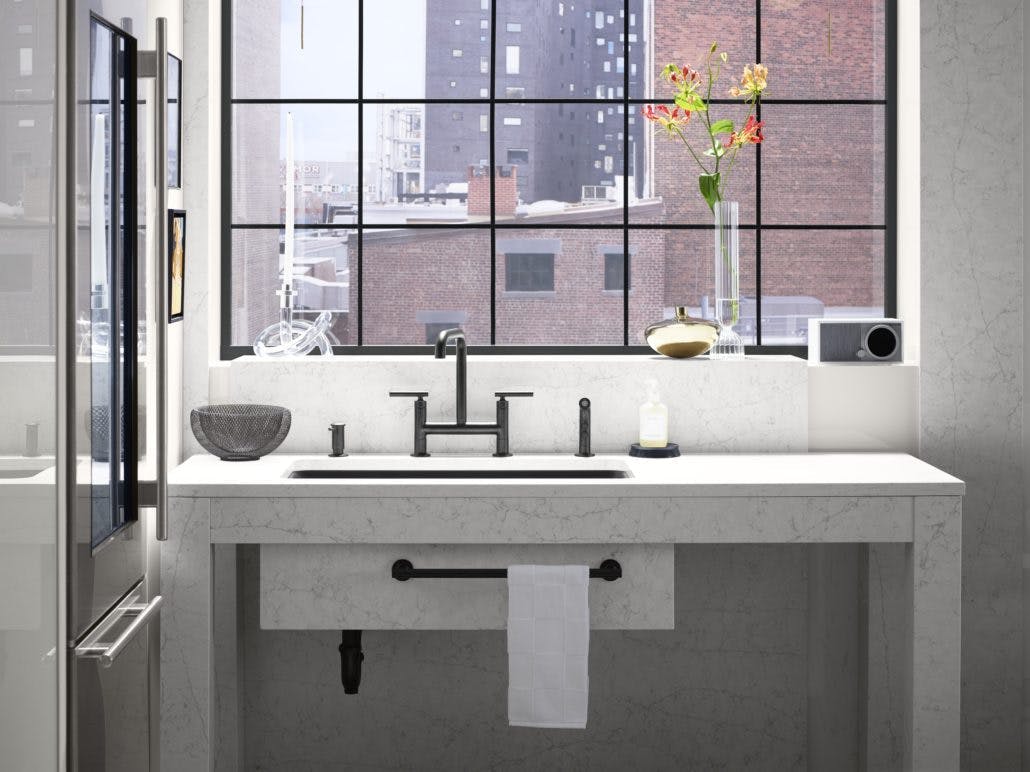 People still often equate modern with sterile and uninviting, yet your space is neither. How do you achieve a warm, welcoming space featuring modern design and strong colors?
My space is not Modern; it's Contemporary. The words are often interchanged, but technically mean something different. Modern is a movement, an aesthetic, a nomenclature, and technically refers to a period of time between the 1920s to 1950s. Contemporary is a point-of-view, a shift, a twist of one's perspective into something fresher, newer, different, revisited, revitalized or sometimes even reverted. Contemporary is ever-changing, which is the genesis of my kitchen design — this space folds, closes and turns into as many things as you want or need in a single moment, today, tomorrow, and then something totally unexpected next week. Fresh. Now. New. Drew.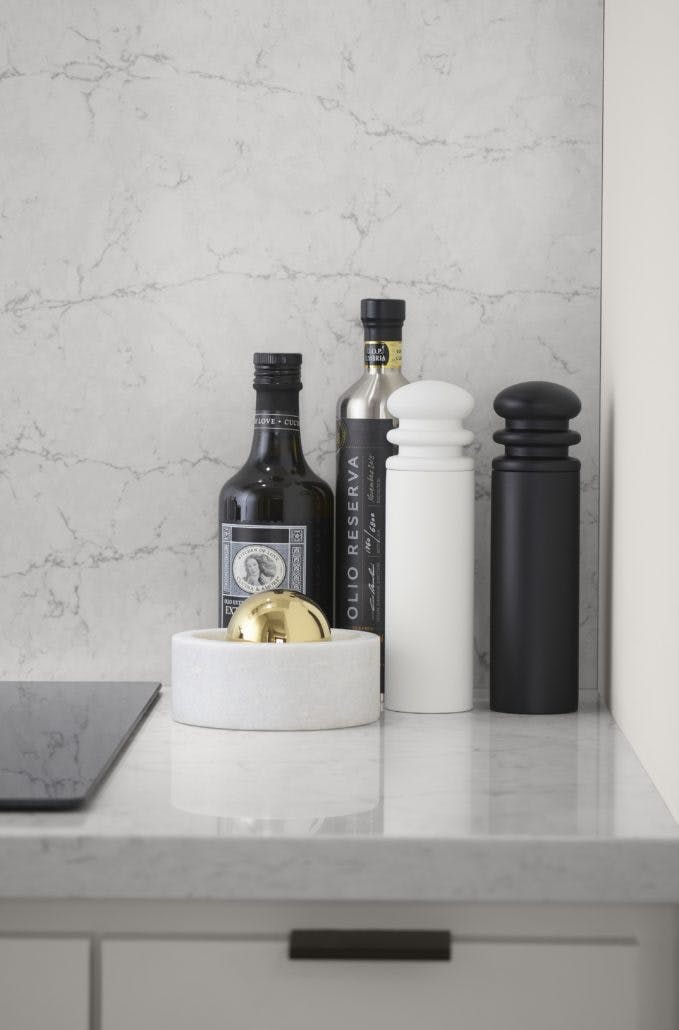 The kitchen design is incredibly integrated, making it easy to be tucked away when not in use. Is this a bigger trend you're seeing in metropolitan cities?
100% — there are many lines, vendors and manufacturers experimenting beautifully in and around this concept. There is not doubt the contemporary kitchen looks very different than the traditional mold.
How did the multi-function design of the space influence your color palette and material selection?
I focused on layers of warm whites and neutrals. I wanted to streamline the visual field as much as the function. There are many layers to the function just there are many notes, nods and layers to the neutral shades and textural combinations in the color palette.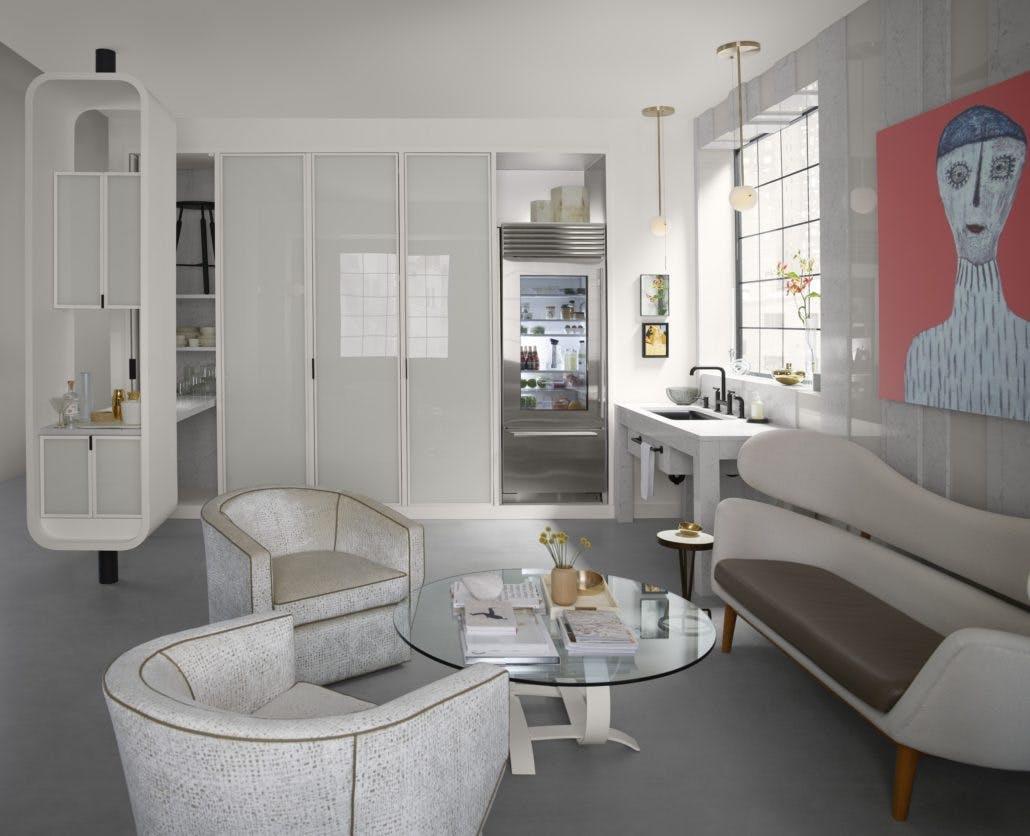 Do you have any kitchen design tips for homeowners thinking about remodeling or building?
Take chances. Don't be afraid to mix. Consider materials from a place of "authenticity" — what feels real, strong, beautiful, timeless and affirming to the touch…
What's the biggest small space design lesson your kitchen demonstrates?
Just because your space is small doesn't mean you can't have it all! We've tucked a bar, kitchen and living room all into what could be the corner of a tiny studio apartment in New York, Hong Kong, London or the corner of a big barn loft in Sonoma!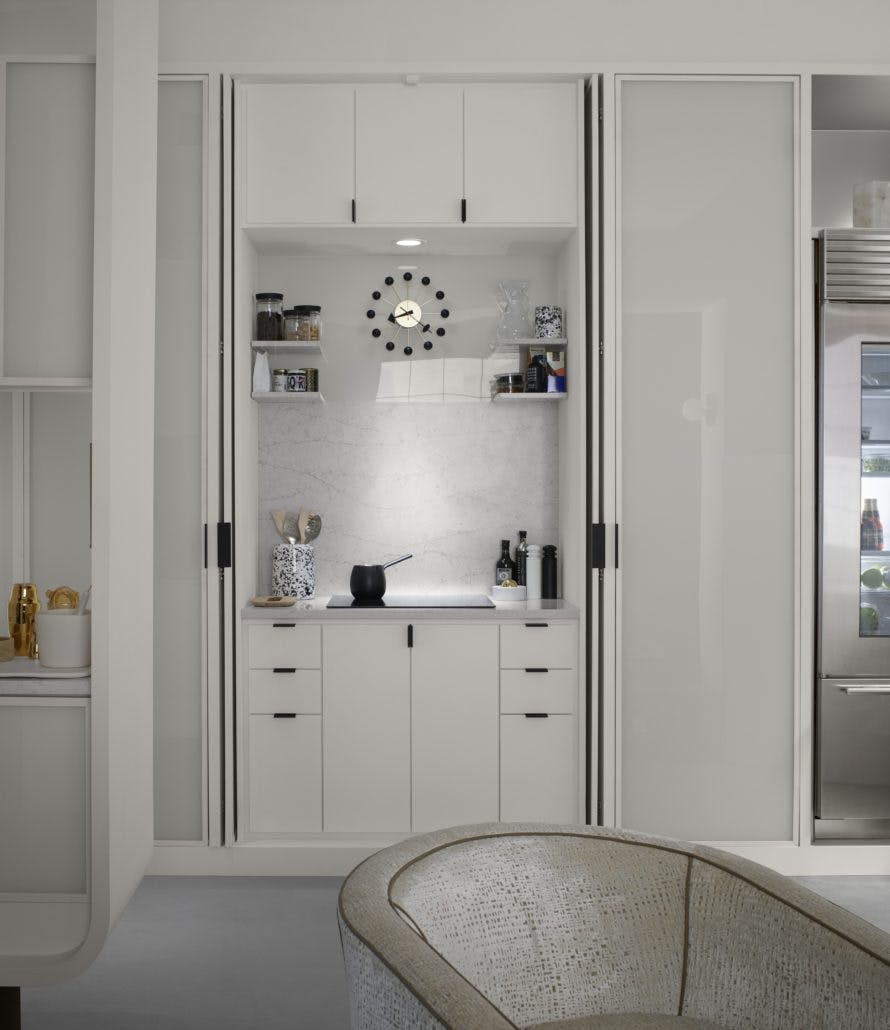 If you had to put a name to the design style of your room, what would it be and why?
I call it a Studio Kitchen because "studio" denotes activity, creativity, bustling movement of some sort in the realm of being, happening, building… creating. Overall, the idea of something more than just a kitchen, and possibilities that manifests.
Stay tuned in the coming weeks as we reveal the one more kitchen designed by our Silestone Trendspotters for a variety of lifestyles and design aesthetics. Follow along on with our Trendspotters on Twitter and Instagram using #SilestoneTrends.
For press materials and photo files please download here: https://sharp.sharefile.com/d-s4e9905ff863451eb