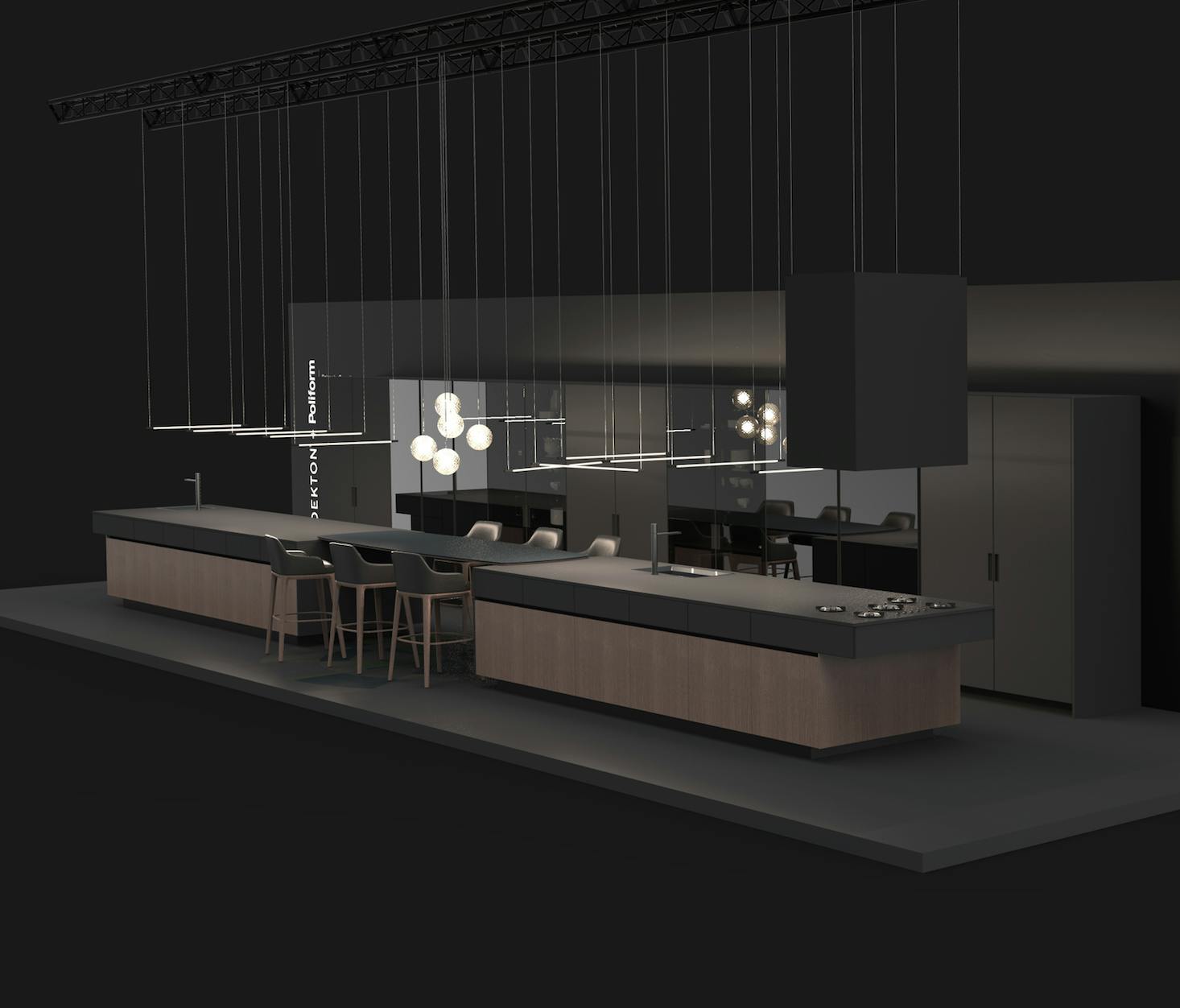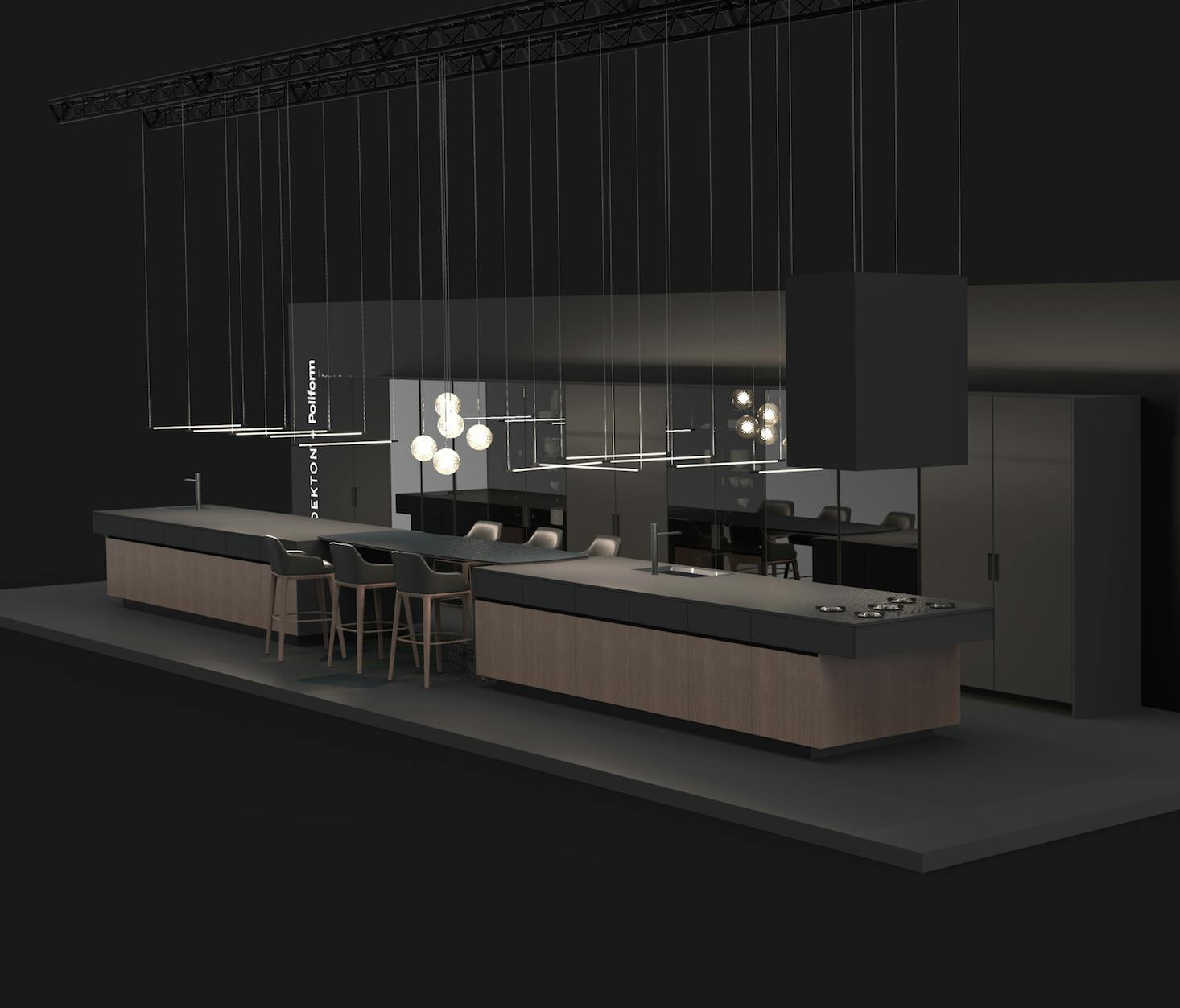 Poliform and Dekton® by Cosentino Unveil Custom Kitchen Concept at KBIS 2019
At the 2019 Kitchen & Bath Industry Show (KBIS), Italian furniture manufacturer Poliform and Dekton® by Cosentino will debut an innovative concept space that reimagines kitchen design. It will be showcased in the Cosentino booth (C7616) at the Las Vegas Convention Center from February 19-21.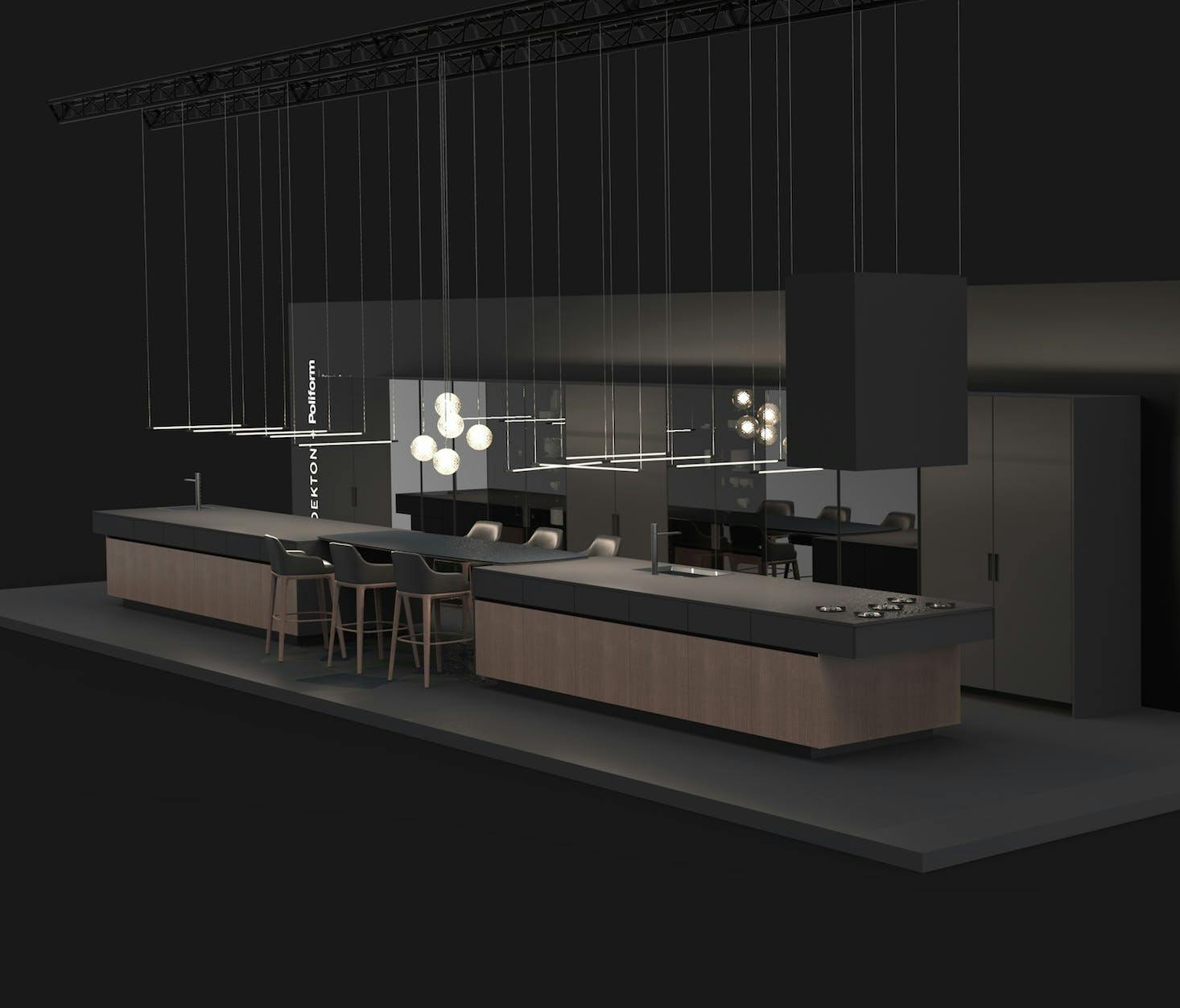 Designed in collaboration with architect and designer Daniel Germani of Daniel Germani Designs, the kitchen is a major feat of engineering – uniting modularity with unparalleled design. Crafted from Dekton and Alea Plus, Poliform's contemporary kitchen system, the concept highlights the furniture brand's capabilities in customization and the unlimited applications of the ultra-compact surface. The entirely custom adaptation, not standard in the collection, will be offered made-to-order.
"There's a tendency in kitchen design to clad the sides of an island in surfacing for drama and impact," Germani says. "But it immediately limits its functionality. I instead envisioned two independent geometric volumes that create an equally stunning visual impact while maximizing use." The result: A minimal, streamlined aesthetic where the quality of both materials shine.
Equally impressive is the island's scale, almost 30 feet, which spans the length of the kitchen and allows two or more to comfortably share and work in the space. Two expansive islands unite with a singular slab of Dekton Chromica Cobalt (a new prototype color for the brand), which defines the intended dining space for the kitchen. An integrated cooktop on one end contributes to the kitchen's sleek aesthetic and highlights Dekton's high resistance to heat. The other end is anchored with a service sink, so guests may still make full use of the space without interrupting meal prep. The dining table serves as a bridge for the two main volumes creating an organic and highly functional space.
"This collaboration with Poliform has served as the perfect platform to debut Dekton Slim," says Massimo Ballucchi, Director of Marketing for Cosentino North America. "Now, architects and designers are empowered to use Dekton in completely new ways – in cabinetry cladding, furniture design, and more." He hopes the concept kitchen inspires KBIS attendees to reimagine how they can use this ultra-durable material in their projects.
"Both Poliform and Dekton push the design envelope," Germani says. "And they very much complement one another. Together they inspired me to create a space and experience where different scales, materials and specifications know no bounds."
The Dekton® by Cosentino collaboration demonstrates Poliform's focus on innovation and unique expertise in systems. The brand's ability to offer flexible solutions ranges from customization of standard products, to the creation of entirely made-to-measure products, and turnkey solutions where the company is hands-on at every stage of the project from concept to final result. Combining quality and reliability with maximum creativity and modernity, Poliform can interpret the needs and tastes of a wide ranging, international clientele as well as anticipate and expound the trends in the design and living industry[LA2] .
About Poliform
Poliform is currently a leading player on the international furniture scene. The highly successful result of adventurous enterprise, the company has always based its vision on the search for quality by updating its lines in keeping with all that is good in contemporary lifestyle trends. The Poliform collection is set out as a wide diversified choice and includes systems and furnishing accessories for the whole house: bookcases, complements, wardrobes, beds, kitchens, sofas and armchairs. Poliform's comprehensive production range carries with it the design idea of a 'Poliform house' with stylistically compatible component parts; a 'global project' for each architectural situation thanks to the exceptional versatility of its modular systems.
About Dekton® by Cosentino
Dekton® by Cosentino is a revolutionary and innovative the ultracompact surface for the world of architecture and design. It is a sophisticated mixture of the raw materials used to make glass, next-generation porcelain surfaces and quartz surfaces. It is made with exclusive Sinterized Particle Technology (TSP), which is an innovative ultra-compaction process.
It boasts superior technical properties, such as resistance to UV rays, scratches, stains and thermal shock, and very low water absorption. Dekton® is able to recreate any type of material with a high level of quality. It is manufactured in large-format slabs (up to 320 cm x 144 cm) in five different thicknesses (4mm, 8mm, 1.2 cm, 2 cm and 3 cm). Dekton® is the perfect surface for a wide range of applications, both indoors and outdoors (façades, paving, cladding, worktops, sinks, etc.).
As part of our commitment to sustainability and a circular economic model, various Dekton® colors are made with recycled materials from the product's own manufacturing process. In 2016, Cosentino obtained an Environmental Product Declaration for Dekton®.
Dekton® has been chosen to feature diverse architectonic and design projects throughout the world, like Rafa Nadal Academy by Movistar in Manacor, the residential building Valdebebas 127 in Madrid, the 4* and 5* Hipotels hotels in Palma de Mallorca, the Gunni&Trentino showroom in Madrid, TOPA Sukalderia in San Sebastian, Archway Tower in London, Le Meridian hotel in Yilan (Taiwan), Cap Ferrat building in Rio de Janeiro or the restaurant The French Laundry of chef Thomas Keller in California.
About Daniel Germani
Daniel Germani is the Creative Director and Founder of Daniel Germani Designs, a firm that specializes in custom modern furniture, interior design and architectural renovation. After earning his architecture degree in his country of Argentina, Daniel spent eight years in Europe working in various creative and entrepreneurial endeavors. While his firm is based out of Phoenix, AZ, Daniel travels the world doing collaborative design work with leading global brands such as Cosentino, Poliform, Brown Jordan Outdoor Kitchens, Riva 1920 and Gandia Blasco. ASA-D2, an outdoor kitchen designed in partnership with Dekton by Cosentino and Brown Jordan Outdoor Kitchens, and DeKauri, a credenza-inspired bath vanity designed in collaboration with Dekton by Cosentino, Riva1920, Fantini and Juniper, have earned top industry awards and accolades. Daniel's design trajectory earned him the coveted Phoenix Home and Garden's 2018 Masters of the Southwest Award. His designs have been featured in leading media outlets around the world, including Architectural Digest, ELLE Décor, LUXE Interiors + Design, Modern Luxury, Robb Report, Interior Design, Mansion Global, The LA Times, Town & Country, and more. Daniel's global design leadership has earned him several panel engagements at top industry conferences and fairs: The Montreal World Design Summit, panels at London's Clerkenwell Design Week, Salone del Mobile 2018 and at the 2017, Dubai's Design Week and 2018 Kitchen and Bath Industry Show (KBIS). Daniel's aesthetic is influenced by the Bauhaus, Oscar Neimeyer, Le Corbusier, Mies and Frank Lloyd Wright, and his philosophy is simple: good design should always be honest and inspiring.
Press Contacts
 Poliform                                                                    Cosentino
Marianne Boschert                                                              Sharp Communications, Inc.
DADA Goldberg                                                                   212.829.0002
212.673.3232                                                                         Lauren Higgins, x 134
marianne@dadagoldberg.com                                          lauren.higgins@sharpthink.com
Austin Durling, x 133
austin.durling@sharpthink.com