White Kitchen Countertops
White is much more than the classic colour that never fails. It fits in with any style, space and material and has become the flagship colour in terms of design. Its neutrality makes it a timeless shade that keeps up with different design trends. For this and many other reasons, white is increasingly becoming a key element of our kitchens, whether it is used as the main feature, in small accessories or for countertops.
A white kitchen countertop can bring light and tranquility to a space that is so important in our home. It is also the ideal colour to match, no matter the type of kitchen and regardless of style, size or shape.
The wide range of design options of a white kitchen countertop make this piece the main feature of the space.
Ideas for white kitchen countertops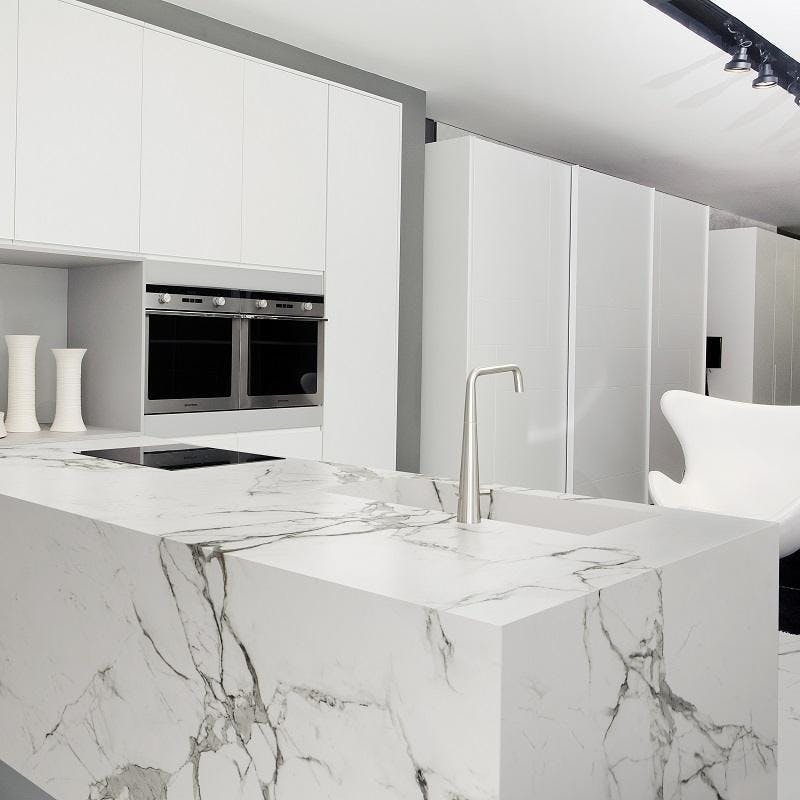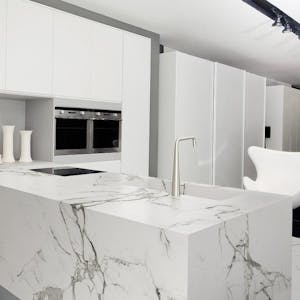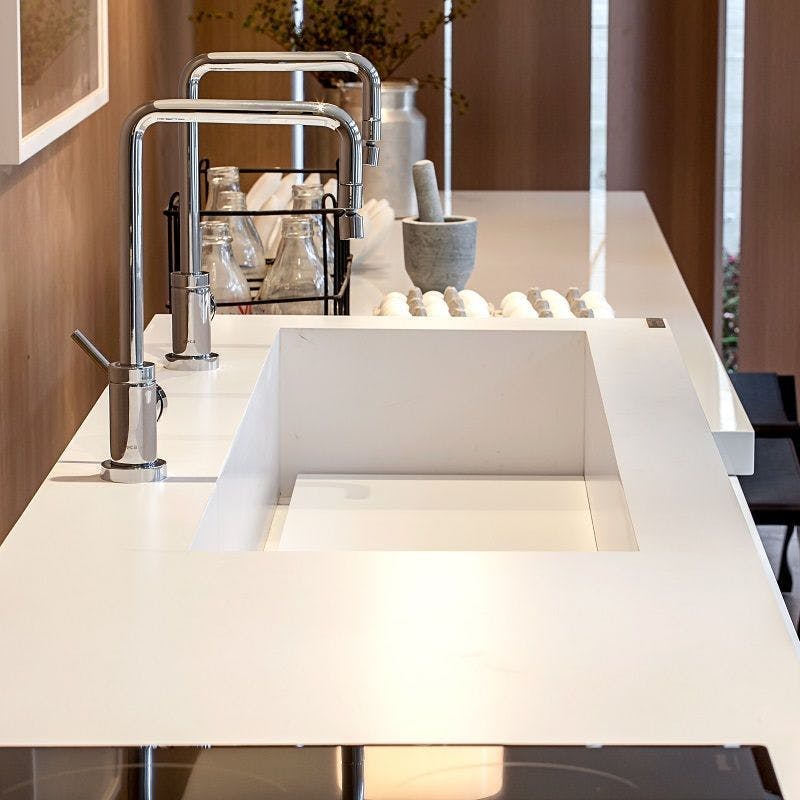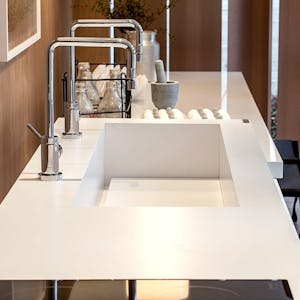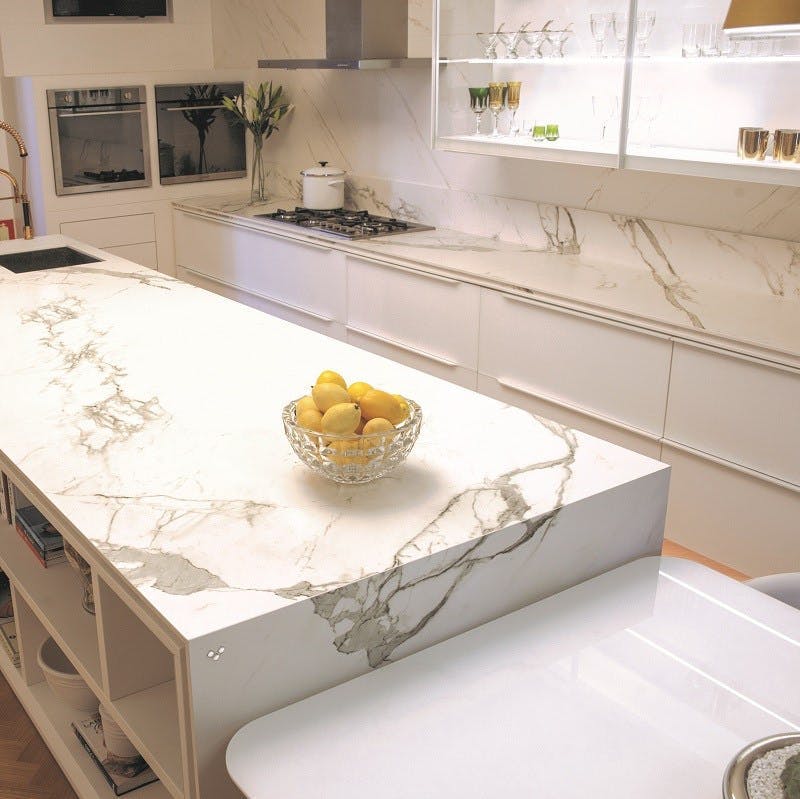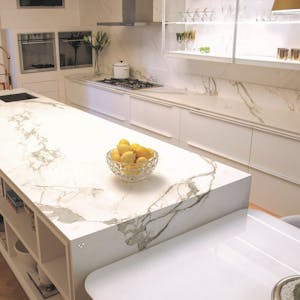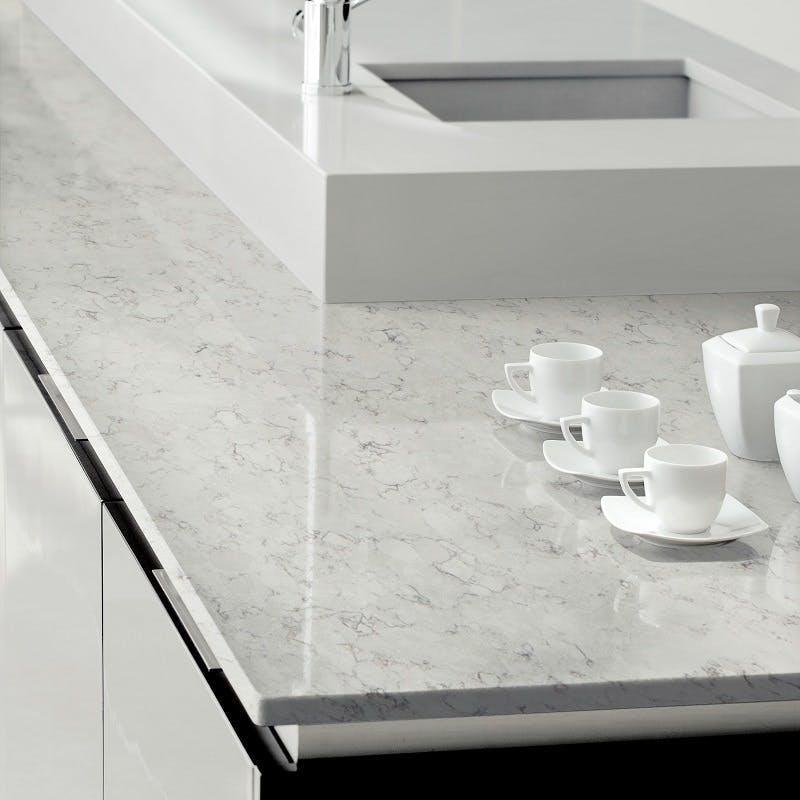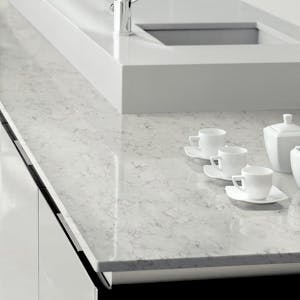 Why choose a white countertop?
White is undoubtedly one of the most sought-after colours in decoration and interior design. Its versatility and adaptability to any space and design style have made it the first choice for many people. And when it comes to the kitchen, the countertop is certainly the most eye-catching feature, so what better choice than white?
Sense of space
A white countertop is what any kitchen needs in terms of aesthetics. The neutrality of white conveys a sense of serenity, calm and brightness to the place where it is used. Furthermore, regardless of the kitchen size, a white countertop will allow you to visually expand your existing space. A white countertop will make your kitchen look bigger and more spacious. This effect will be further enhanced if we use the same colour for the cladding, flooring and other design features.
The colour that combines with all colours
This is because a white countertop can match any shade of other design features or units. It is a timeless colour that keeps up with new trends without losing its appeal.
If you are looking for an elegant kitchen, why not combine a white kitchen countertop with other neutral tones that enhance the sense of simplicity? If you prefer to give your kitchen a touch of modernity and calm, choose dark and even black shades. Make it even more trendy with small metallic accessories or industrial design pieces.
White marble for extra elegance
There is nothing like a white marble countertop to make a kitchen look elegant and simple. Marble is also a feature that is being used more and more in kitchen design as it is a material that not only offers design and style, but also resistance and durability.
A white marble countertop is the perfect choice when you want to reduce the intensity of cold, pure white. In addition, dark-coloured fittings and accessories will give your kitchen a contemporary look without losing the sense of calm and balance that a white marble countertop brings.
White and wood, the perfect match!
Who said that a wooden kitchen can only be used for rustic styles? Choose the type of wood that you like and combine it with a white kitchen countertop full of character and strength. The combination of both textures is certainly a success in terms of design.
5 examples of white kitchen countertops
The kitchen is one of the most personal spaces in our home as it is where we spend the most important moments of our daily life. And the countertop is undoubtedly the most eye-catching feature. Therefore, choose the white kitchen countertop that best suits your style and enjoy a functional yet beautiful kitchen.
1. Elegance and depth
Dekton's Opera shade from the DK NATURAL range offers a subtle hint of elegance with simple veins inspired by Italian Carrara marble. The deep grey lines bring depth and texture to the off-white that surrounds it.
2. The ultimate white
Iconic White by Silestone is that perfect, bright and pure white that will brighten up your kitchen without reducing the strength or intensity of its colour.
3. Hints of off-white
Give a touch of warmth to your white kitchen countertop with a shade like Halo from Dekton's Dk Xgloss range. Off-white with slight greyish shades
4. Industrial touch
You can get an industrial style with white as the main feature thanks to shades like Dekton Nilium. Inspired by silver metals, Dekton Nilium offers the perfect mix of white and grey in your kitchen with an industrial touch.
5. Character and strength
Dekton Aura15 is one of the most popular shades of the Dk Natural range. Inspired by the Calacatta and Carrara marbles, this colour on a white background reminds us of the natural stone lines.