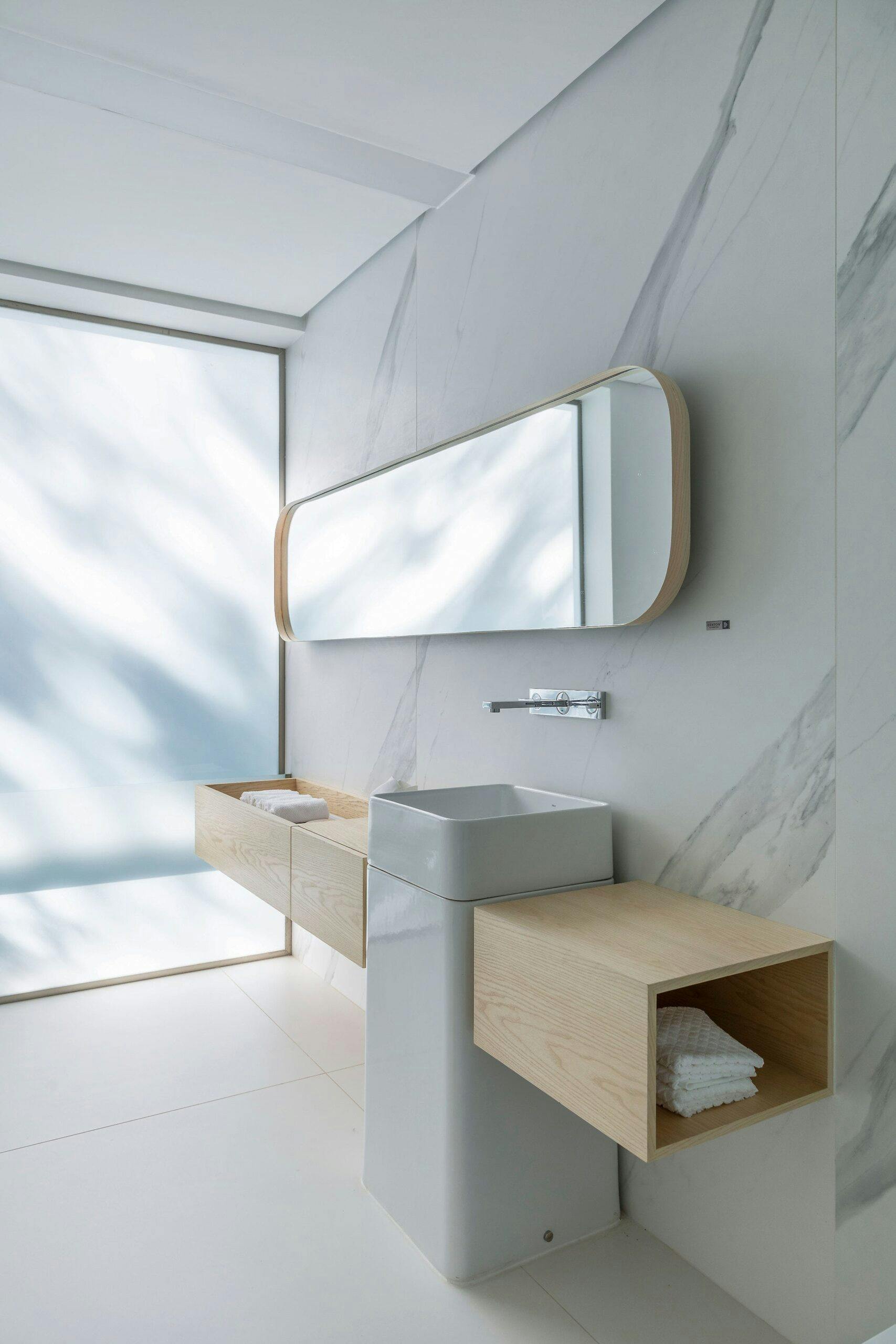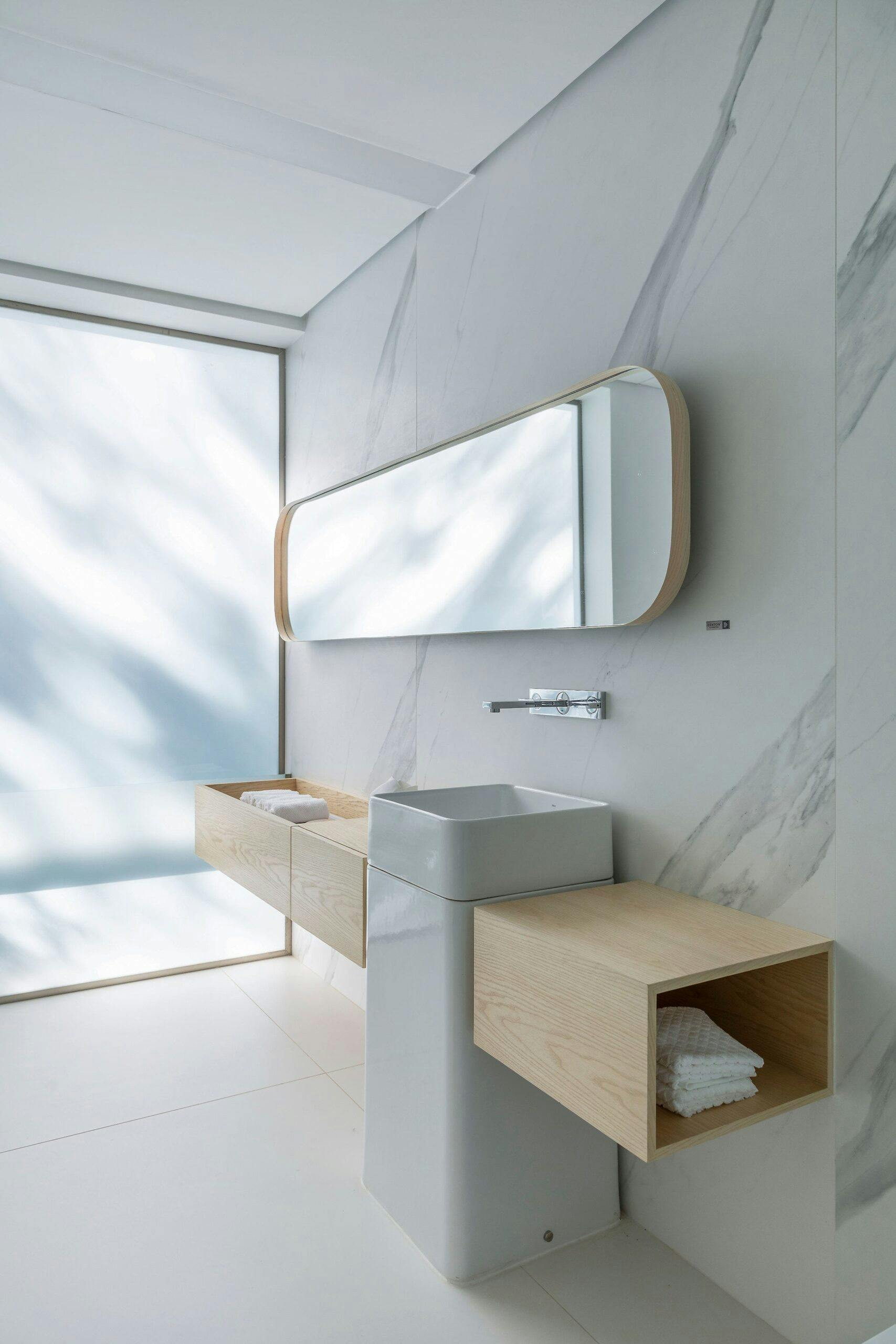 Small bathrooms: the great secrets of their design
The bathroom is the second most common refurbishment in the home after the kitchen. The concern for our well-being has awakened our interest in this space in the home. Refurbishing the bathroom also has two definite advantages: it saves money compared to refurbishing a kitchen and is less disruptive to family life.
Also if it is a small bathroom, it becomes a personal and challenging project. But don't worry, we are here to help you. These are our seven tips for refurbishing small bathrooms so that the result is modern, functional… but, above all, very stylish!
1. INTELLIGENT LAYOUT
If you are thinking of renovating your small bathroom, take the time to work on the best layout with your architect or designer. Feel free to turn the existing 'upside down', as long as it is feasible. Therefore, it is important that you consider where the drainpipes and toilet will be located, as you will not be able to place them wherever you want.
Having clarified this, consider whether you can do without the bath and only have a good shower. The transparent frameless shower screens make the shower 'disappear' and provide a lot of space. Finishing off your bathroom with a bidet or sliding doors are other good ideas that will make the layout of your small bathroom even better.
Whenever possible, try to have the washbasin and mirror as the first thing you see when you walk in, and leave the shower and toilet in the background or behind the door.
2. WALL MOUNTED FEATURES
Now it's time to choose the washbasin, shower and toilet. We recommend that you opt for wall mounted features that provide visual clarity and help to keep your bathroom clean.
Our natural stone washbasins are embedded in wooden surfaces, without a vanity unit, thus creating a horizontal plane that increases the space. Also all the wall mounted toilets, with a cistern built into the wall, tidy up and simplify your small bathroom.
3. TIDY, TIDY, TIDY!
How to make the space tidy? Keep it simple. Remove unnecessary things. With this in mind, we give you three simple tips for interior design. First, use a wall mounted mirrored cabinet to store brushes, combs and other beauty care products. Second, plan where to place your towel rails so that they fit in with the washbasin and do not stand out. And third, if your small bathroom has a shower tray, consider a built-in niche for gels and shampoos so that they are not too visible.
And voilà! Just by designing your space so that everything has a place, you will be able to increase the size of your bathroom.
4. LIGHT COLOURS
Now comes the 'fun' part – choosing colours and materials. For a small bathroom, we recommend that you choose light colours to make it look bigger. White washbasins or the combination of white and grey are a great choice, and are also fashionable. If you use black, don't overdo it. Remember that towels, pictures or small items are also a great way to add a touch of colour to your bathroom.
5. DISTINCTIVE FLOORS AND WALLS
It's in choosing floors and walls where you will certainly start to enjoy yourself. Not only because of the endless possibilities in terms of tiles, flooring, marble and natural stone that you can choose, but also because they are features that give a touch of personality to your bathroom.
Feel free to mix different textures – e.g. tile floor, wooden wall, wallpaper, and marble worktop – and find your style between retro, vintage, minimalist… As mentioned above, the fact that your bathroom is small does not mean that it cannot be modern and stylish.
6. MIRROR, MIRROR ON THE WALL
Using mirrors to make space appear 'bigger' is one of the most traditional and, fortunately, still very fashionable design solutions. For refurbishing your small bathroom, choose a large mirror over the washbasin and even try covering a wall from top to bottom with a full-length mirror. This will achieve the magical effect of doubling the space.
If you are very trendy and would like to join the latest trend, choose an antique or bevelled mirror. Be careful not to compromise functionality with aesthetics – in some of them, it is even hard to see your face!
7. LIGHTS, CAMERA, ACTION!
When it comes to interior design, lights are considered the 'icing on the cake'. Although you will not see the results until your bathroom refurbishment is complete, you need to plan the lighting layout with the electrician from the beginning. Avoid the laboratory look, i.e. too many points of light on the ceiling, cold lights, too bright. Place the points of light only where they are needed (e.g. focusing on the mirror) and strategically (e.g. LED strips under your wall mounted washbasin), and avoid corners of the room that do not need to be illuminated.
If you have opted for a very distinctive style, consider buying a pair of antique glass ball wall lamps. This will give a unique touch to your small bathroom, especially when it comes to the guest bathroom. You can combine it with prints on the wall, a marble soap dish and monogrammed towels.
As you can see, these are seven simple yet important tips for successfully refurbishing your small bathroom. Spring is a good time to start looking for and requesting quotes. It does not have to be a complicated task – your new bathroom will be ready in a short time. Look for inspiration, ask for good advice and, above all, make the most of your project!