Case Study
Heritage Hotel Gets A Modern Make-Over with Dekton
Gwen Kenny, Devine Design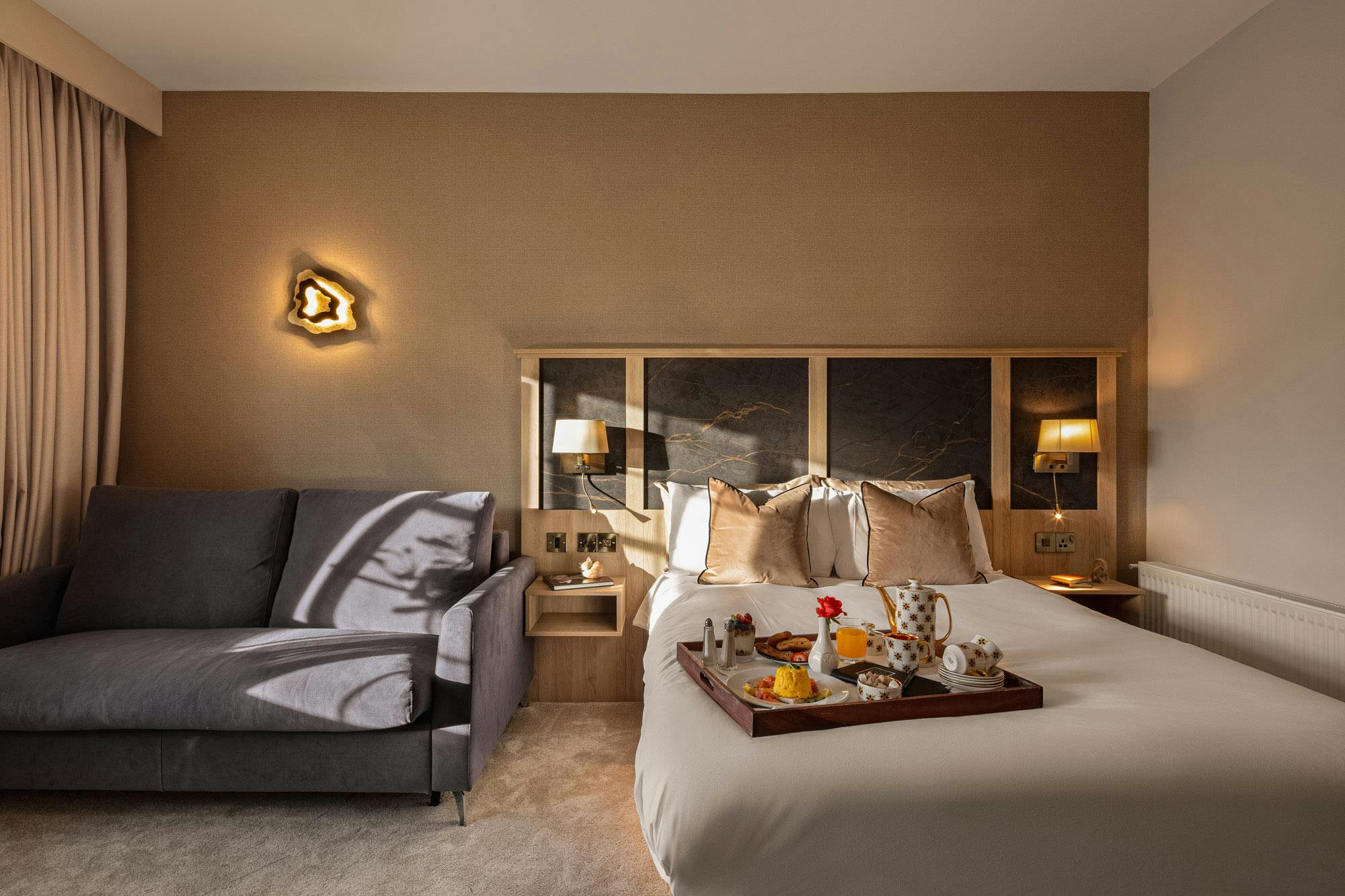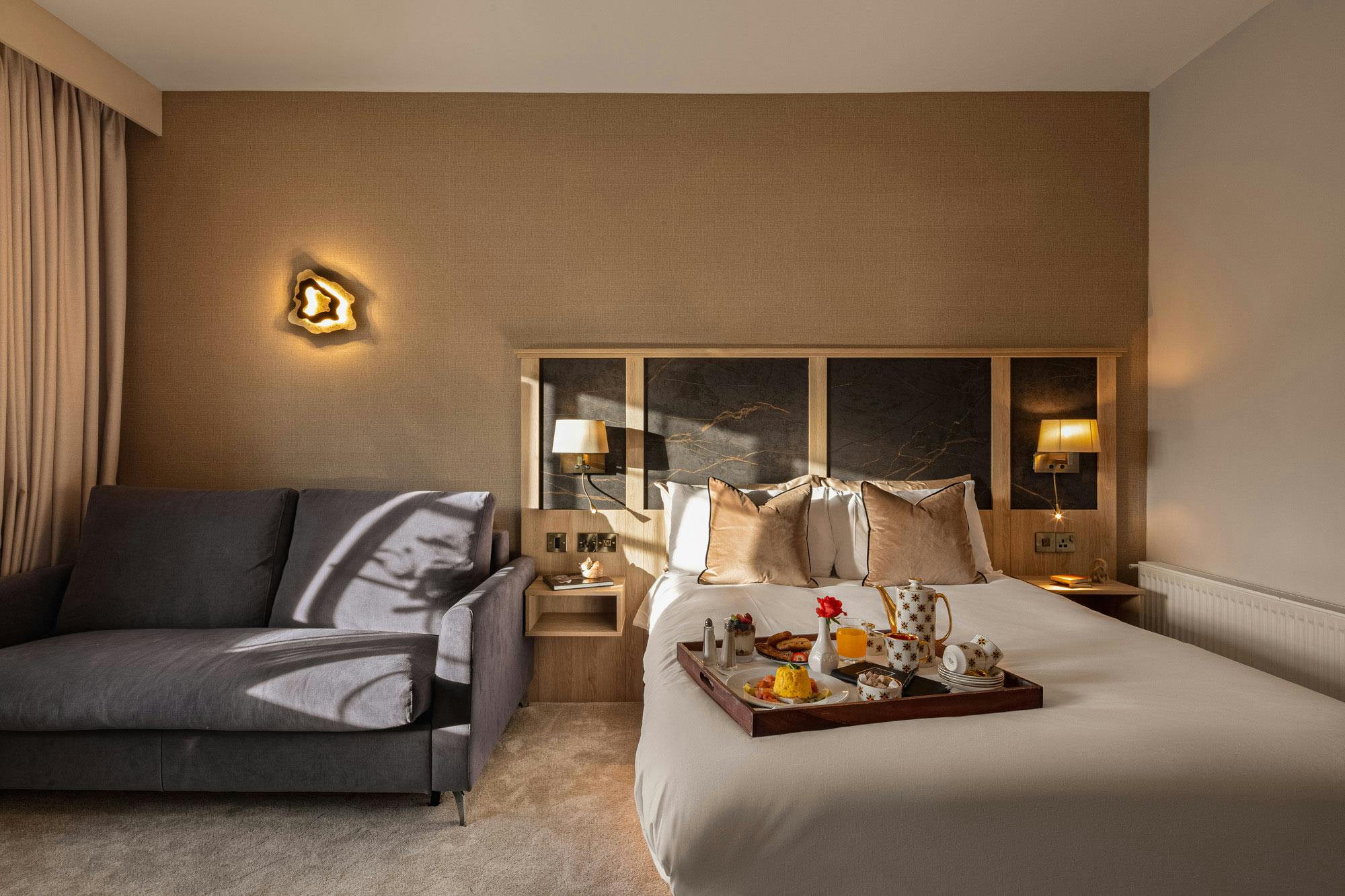 Location
Birr, Offaly (Ireland)
Manufacturer, fitter
Benny Larkin Kitchens
Photography
Ailbe Collins Photograph
Architecture/Design
Gwen Kenny, Devine Design
Application
Furniture, wall cladding, vanity unit and bath
Located just outside the picturesque heritage town of Birr in County Offaly, the County Arms Hotel offers elegant accommodation in the heart of Ireland. The hotel boasts 70 guestrooms, including luxurious Georgian suites and spacious family rooms, which are currently being renovated and upgraded.
Interior designer, Gwen Kenny of Devine Design, is working on this extensive project in collaboration with furniture manufacturer Benny Larkin Kitchens. Gwen's goal is to bring a touch of modern luxury to the guestrooms while ensuring they are as practical and sustainable as possible. This aim has led her to incorporate Dekton by Cosentino into the bedrooms and en suite bathrooms. Dekton is carbon neutral for its entire life cycle which enabled Gwen to create stylish and hard-wearing spaces without negatively impacting the environment.
"Initially, I was only going to be using Dekton in the bathroom," explains Gwen. "I wanted to use the Dekton Optimma Tiles in Bergen because they have the wow factor and are easy to work with. However, I also have a soft spot for the Laurent finish, and I wanted to incorporate it into the main guestroom.
"I came up with the idea of using the slim tiles to make a headboard, and I created a 3D drawing of what this would look like. The team at the County Arms Hotel loved it, and the result is a stunning focal feature. We are also using the Dekton Optimma Tiles at the coffee station and as a wall panel."
In the en suite bathrooms, Dekton Optimma Tiles in Bergen have been used to clad the walls, vanity units and bath panels. The grey veins and sculptural patterns of this finish add visual depth, while the off-white tone creates a contemporary aesthetic that is stylish yet warm and inviting.
Ensuring that noise disturbance could be kept to a minimum during the renovations was crucial so that the hotel could continue to operate while the upgrades were carried out. "Noise was a big issue, so removing all of the existing bathroom tiles wasn't going to be an option," explains Gwen. "Instead, we just removed any loose tiles and then used a special adhesive to fit the Dekton Optimma tiles over the top. As the Optimma tiles are only 4mm thick, this didn't impact the overall bathroom design, and we simply lengthened the shower pipes to allow for the additional layer of tiles.
"Benny Larkin Kitchens fitted the vanity units, and they created a wooden panel under each sink to allow for any maintenance access. We also used silicone instead of grout when fitting the bath panels so that the panel can easily be released if repairs are needed in the future."
Hotel guestrooms and en suite bathrooms are high-traffic areas, so durability is also an important consideration when selecting the materials to use. Dekton is abrasion, scratch and stain resistant, making it ideal for spaces with lots of activity.
"We needed a material that is practically bulletproof, and Dekton ticks the boxes," says Gwen. "The wall panel we have included beside the door will help to prevent any scratches or marks from suitcases and ensure the interiors continue to look fresh year after year."
Cosentino's materials used in this project