Case Study
Dekton proves to be the perfect material for creating bespoke luxury design pieces
Doubble Interior Associates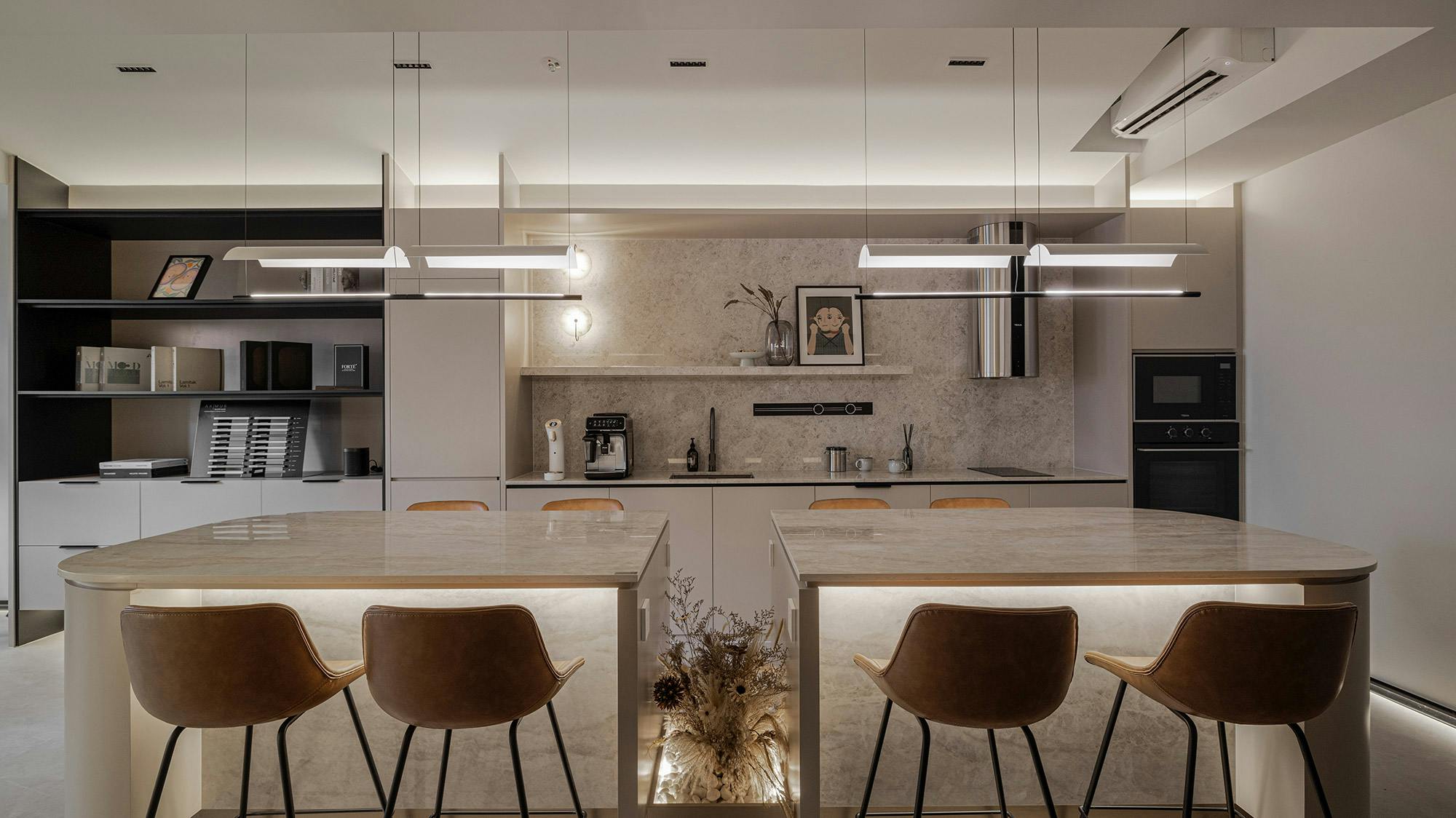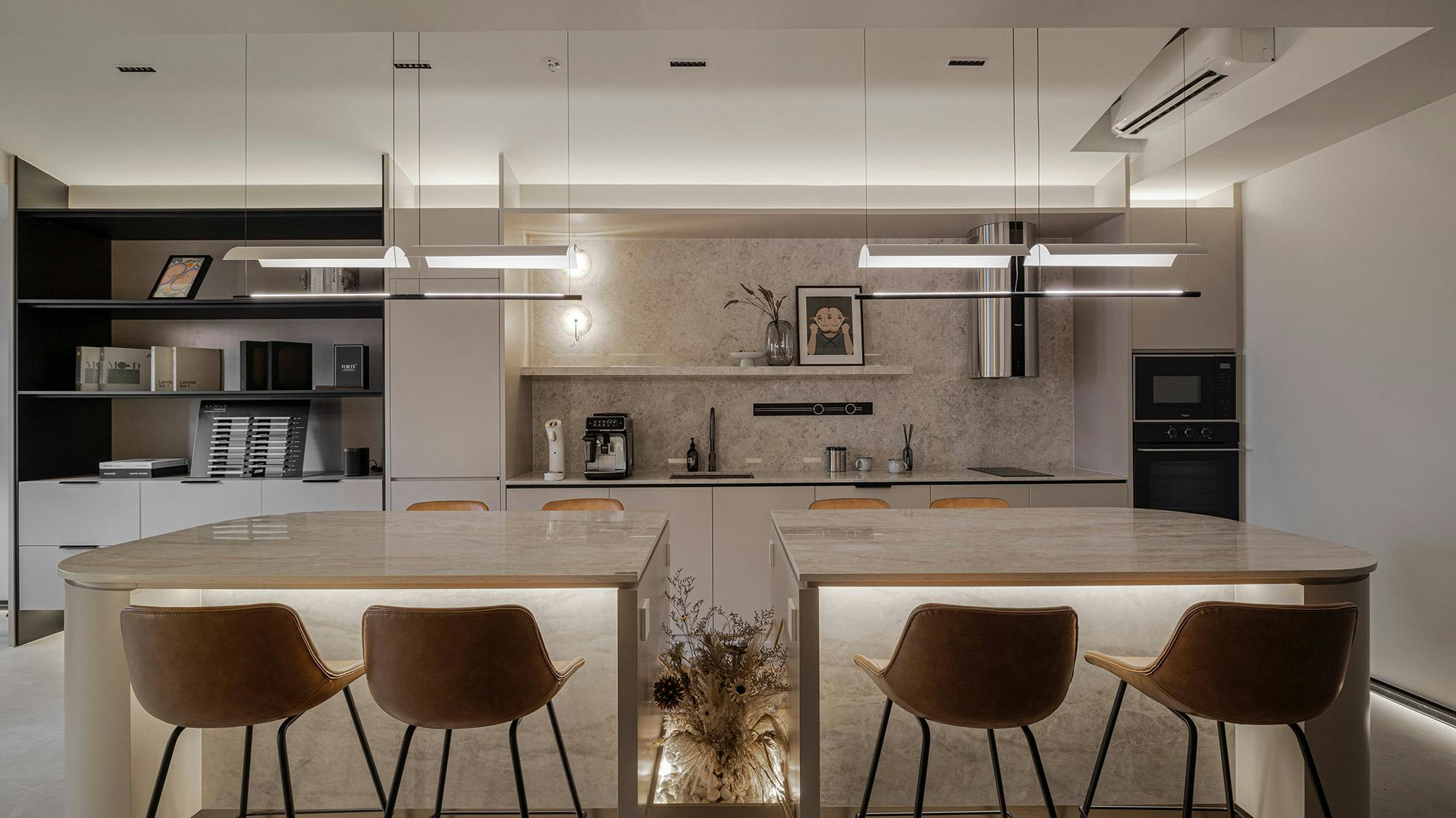 Applicazione
Islands and washbasin
Architettura / Progetto
Doubble Interior Associates
Award-winning Malaysian studio Doubble Interior Associates is renowned for its innovative creations, attention to detail and ability to bring its clients' visions to life by pushing the boundaries of the design world. All of this is on display in their first overseas showroom in Singapore, inspired by the perfect workspace, which they say represents 'the art of luxury minimalism'.
Equipped with two curved worktops, multiple sockets and overhead lighting, the space also features a small kitchenette, subtly and fully integrated with the rest of the space, as well as a storage area for archives, with shelves for displaying books, samples or works of art. The picture is rounded off by a round table and, most importantly, a toilet 'hidden' behind the wooden doors of a custom-made wardrobe. And it was here, in the seemingly simplest of things, that the greatest challenge of the project lay.
Dekton Fossil: a durable yet luxurious surface, perfect for bringing any bespoke piece to life
'We wanted to create a stunning freestanding stone washbasin, but we couldn't find anything on the market that met our requirements,' says the firm. After much research, they came up with Dekton Fossil, an ultra-compact surface with veins and spots against a dark grey background, which gives the material the aged, antique look of fossilised pieces.
'We are proud to have made the bespoke washbasin in Fossil Dekton, a material that impresses with its unique texture, exceptional durability and luxurious feel. Its seamless integration into the aesthetic design of our bathroom is a testament to our commitment to creating functional and stylish living spaces,' the professionals continue.
An island with curved edges, hyper-realistic graphic and dazzling sheen thanks to Dekton Arga
As well as this original creation, which is a statement piece in its own right, Doubble Interior Associates have also used Dekton Arga for their showroom. In this case, for the islands in the form of worktops in a colour inspired by Taj Mahal quartzite. Its smooth cream background, with subtle brown-gold veins enhances the dramatic texture, resulting in a hyper-realistic graphic. Furthermore, Arga is part of the Dekton XGloss Stonika collection, which means that it has a glass-like coating that gives it a dazzling sheen.
'For the island table, we used a 20 mm thick Arga slab with soft curved edges, while for the front panel where the legs rest we used a 4 mm thick Arga slab. It has been embellished with LED lighting, which brings out the beauty of the grain and the natural tone,' explains the studio.
The result is impressive and Doubble Interior Associates are very happy with it. 'Cosentino's products have brought a distinctive "wow" factor to our space, cementing the trust and admiration we feel for the work they produce. We've been working with Cosentino since 2017, and it's been a beautiful journey to do so.'
Materiali Cosentino utilizzati in questo progetto