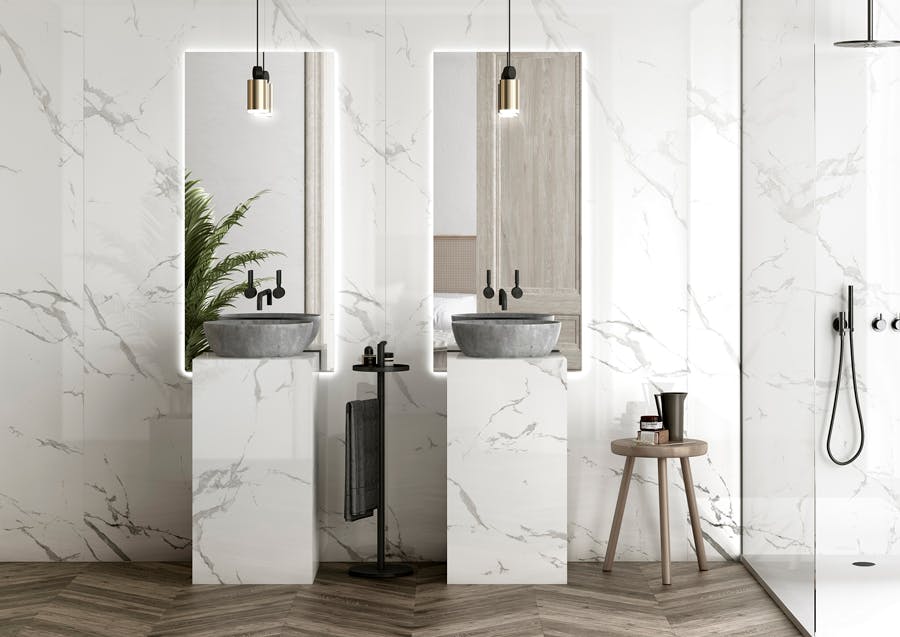 Five Design Ideas for Grey and White Bathrooms
When it comes to renovating a house, the bathroom has become the second most important room after the kitchen in recent years. A well designed bathroom offers an elegant and stylish space for personal wellbeing and self-care. To bring personality and individual style to this space, there are infinite materials to choose from for flooring, wall cladding, cupboards, sanitaryware and more.
The Greeks and Romans had cultures with a refined sense of aesthetics and built public baths in which all the beneficial effects of water could be enjoyed. Public baths were also a social meeting point for discussing and debating philosophical topics. These baths (salus per aquam (spa)), just like many other concepts in Western civilisation, are the origin of the bathroom as we know it today. And, just like thoen-gbnds of years ago, the bathroom is still the quintessential space for our personal well-being.
If you're considering renovating your bathroom and are looking for inspiration, we recommend choosing a colour scheme that will stand the test of time. Spruce up your bathroom with grey and white tones and choose a strong style that resonates well with the other rooms in your home. The perfect combination, a grey and white base allows for a touch of colour to be added later with accessories and furniture.
Here are our five ideas for designing a grey and white bathroom. Which one will you go for?
IDEA 1: THE BELLE EPOQUE BATHROOM
A grey and white bathroom is perfect for a Belle Epoque or 1920s inspired style. Opt for a black or very dark grey marble on the walls or floor for a theatrical effect.
Bring these elegant materials together with one wallpapered wall, for an interesting focal point. The beginning of the 20th century was also famous for its passion for all things Eastern, so we recommend a wallpaper with a Japanese-design for a standout feature. If you're looking to impress, it also works perfectly in the guest bathroom.
IDEA 2: THE INDUSTRIAL-STYLE BATHROOM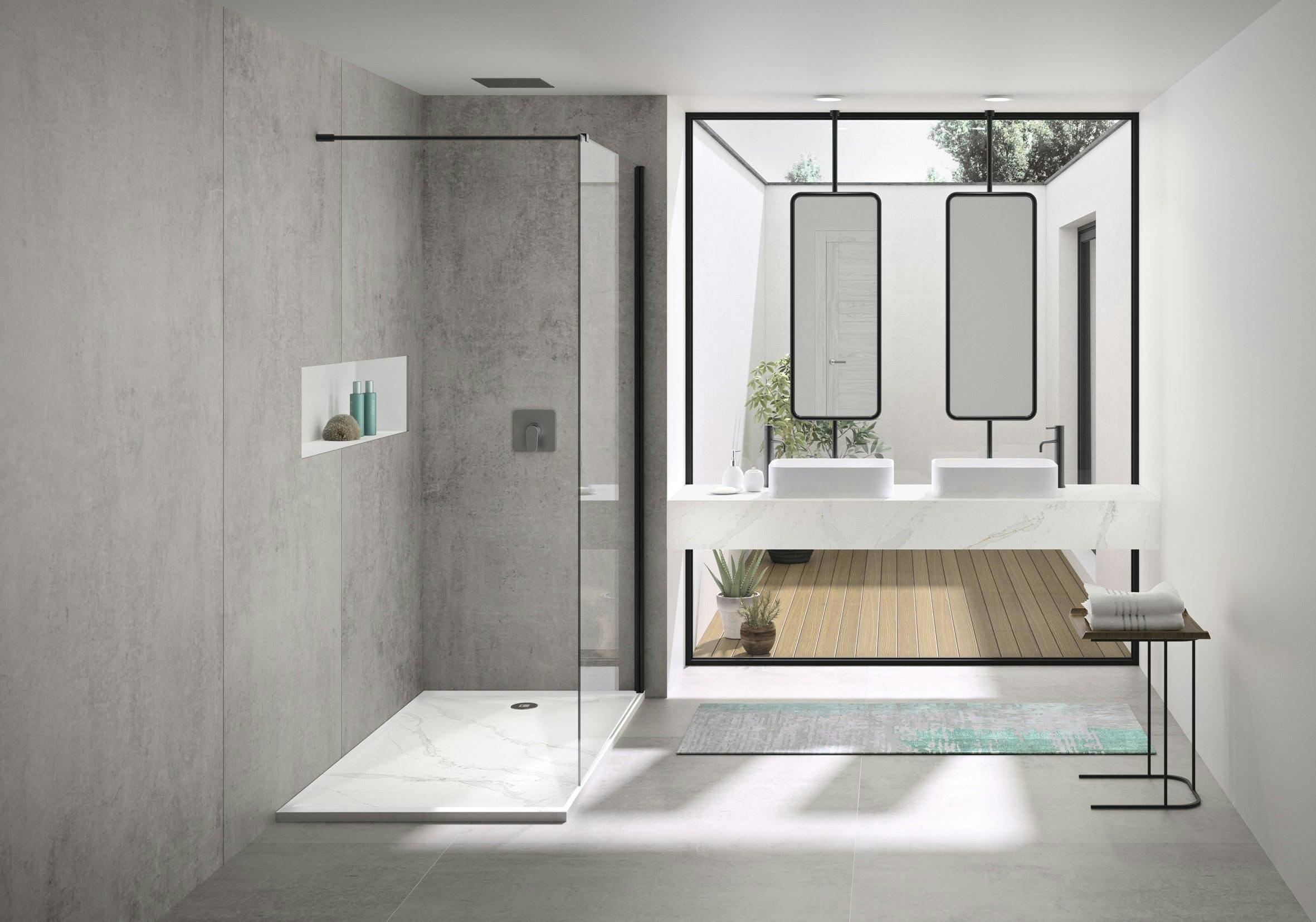 An industrial-style grey and white bathroom works well with timeless black details. Think iron edging and dark taps.
Opt for a light base colour on the walls and floor to lend visual continuity to the space. Grey Kreta by Dekton and Calacatta Gold by Silestone work well together to achieve an industrial style, or try micro-cement and hydraulic floor tiles.
IDEA 3: THE RUSTIC GREY AND WHITE BATHROOM
Our third design proposal for your grey and white bathroom is a rustic style. Although you initially may think that grey and white are a little cold for a traditional design, the result is stunning. The key to combining them is to incorporate wood worktops or decoration, contrasted with a vintage-style toilet, washbasin and freestanding bathtub. Complete the rustic bathroom look with straw accessories, such as storage baskets or a rattan chair.
IDEA 4: THE NORDIC STYLE, FOREVER GREY AND WHITE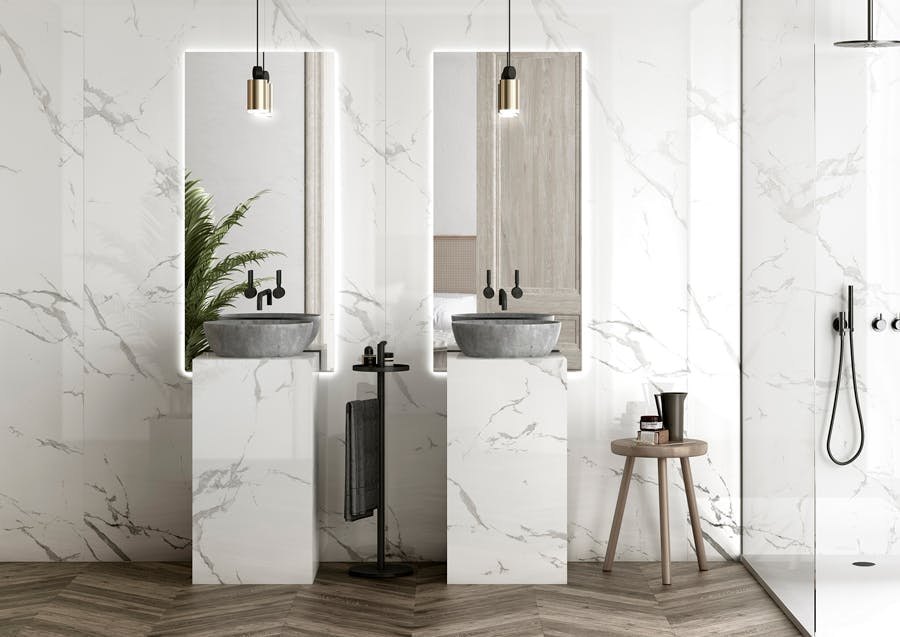 We've made it to our fourth style: Nordic. There couldn't be two more perfect colours for this scandi-inspired style than grey and white. We recommend pale tones and a "powder" finish. Straight lines, natural beech wood and wall-hung toilet and washbasins reign in Nordic bathrooms. By incorporating these elements, you'll achieve a very clean and architectural style. Add further character to the room with a banana plant in a natural fibre pot, and simple long mirrors for effortless style. The result will be an organic and balanced room.
IDEA 5: THE FAIL-SAFE MINIMALIST BATHROOM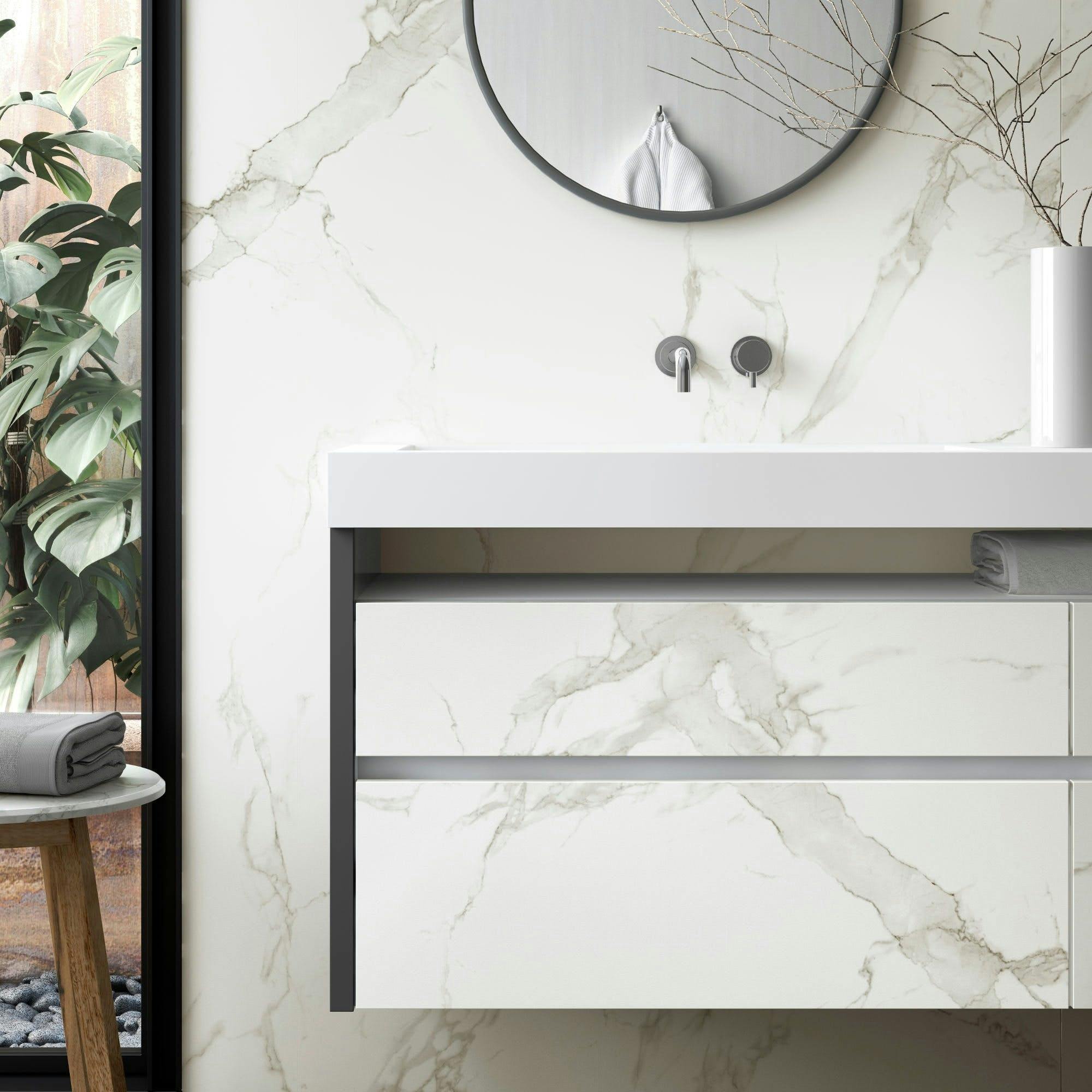 The minimalist bathroom is perfect for those looking to update their bathroom, whilst keeping things simple. If you're a fan of modern grey and white bathrooms with the latest technology and all your home comforts, the minimalist trend is for you. Picture a stunning shower cubicle with a full-length heated towel rail, with wall-hung toilets and a concealed water tank for a seamless touch. This style is undeniably minimalist and functional: no vanity kits or bathtubs with legs for this stylish design.
If you need more inspiration for your ideal bathroom, take a look at the Cosentino Pinterest board that we've put together especially for you. Say yes to grey and white shades for a look that never fails.