Top Home
Two bathrooms and a kitchen blending in with the historic building's past
Carlos Álvarez, Construcciones Álvarez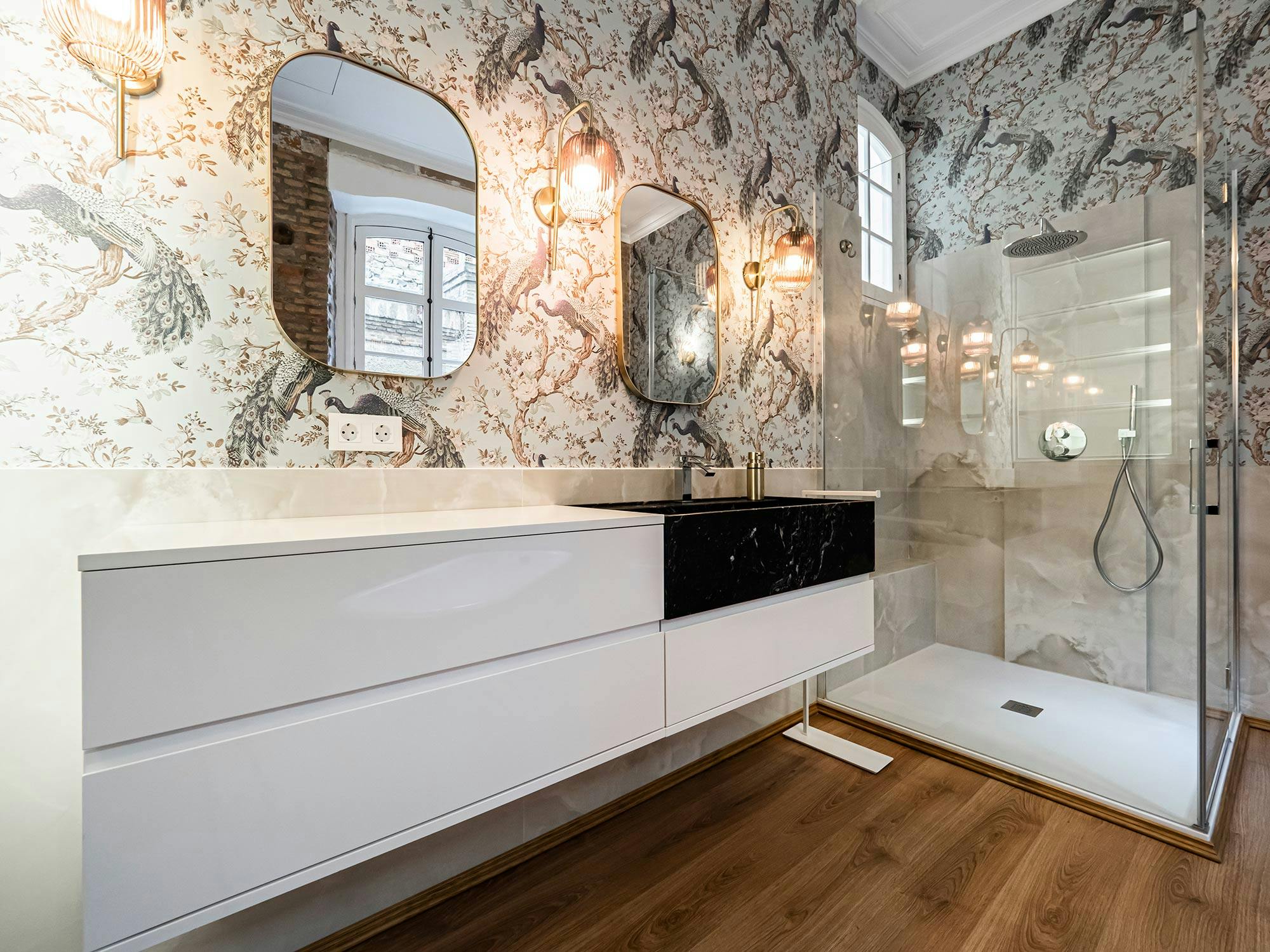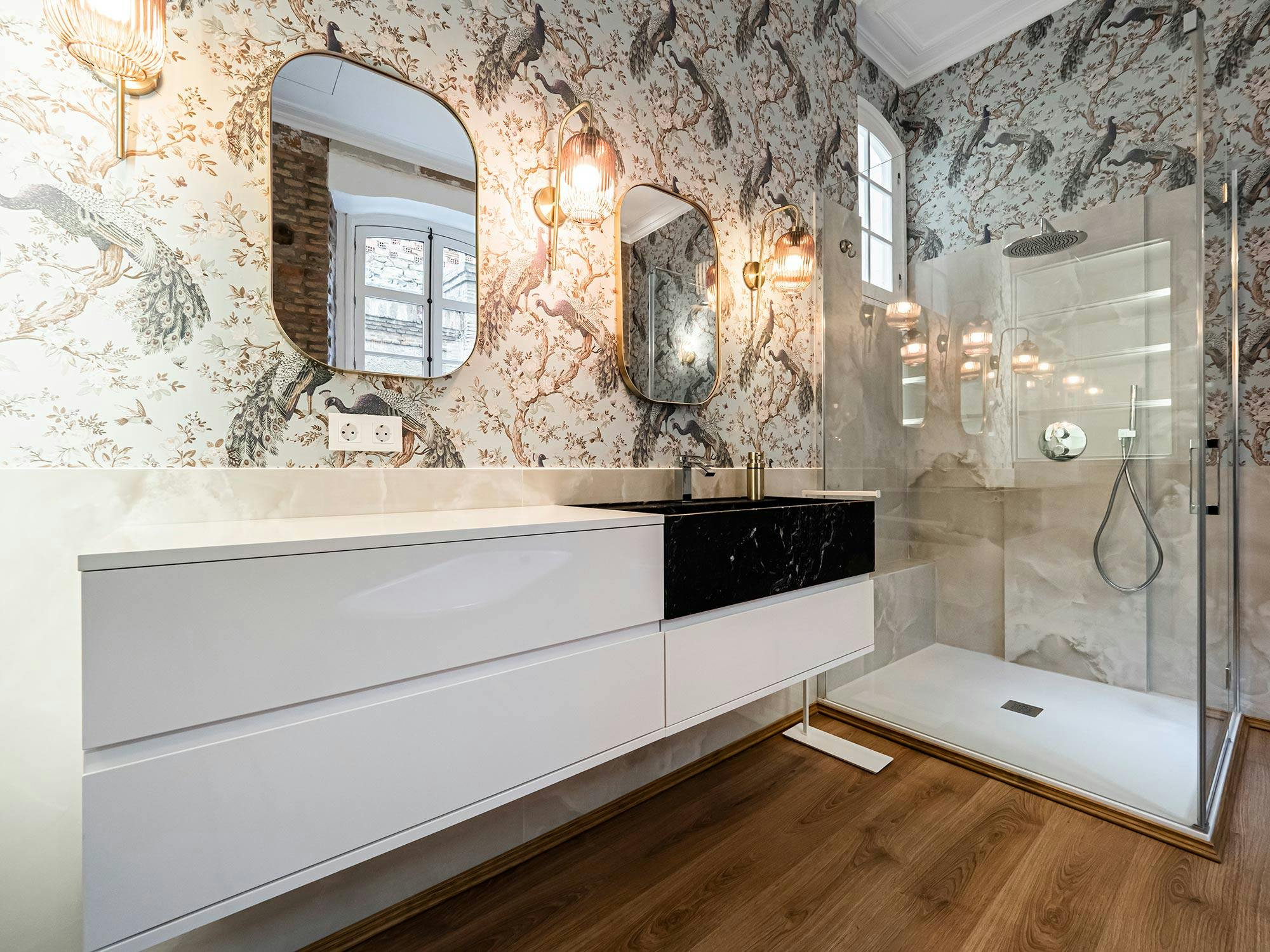 Material
Dekton | Silestone
Color
Albarium, Kreta, Helena | Ethereal Glow
Photography
Raquel Morcillo
Architecture/Design
Carlos Álvarez, Construcciones Álvarez
Application
Flooring, walls, worktops
Thickness
8 mm, 4 mm | 20 mm
Recapturing the spirit of the past and combining it with a fresh, functional and elegant atmosphere was the aim of Carlos Álvarez's comprehensive refurbishment of this historic building. The original elements and materials have been preserved and merged with innovative surfaces such as Dekton and Silestone. These two Cosentino surfaces manage to establish a bridge between the past and the present in the refurbished spaces, being the main feature in the bathrooms and the kitchen, where they enhance a style halfway between classic and contemporary. In keeping with the context, both the original floor and the exposed brick walls have been retained. The result is a very personal home that strikes the perfect balance between past and present.
'The ease of installation of the materials and the technical advice of the Cosentino team' were for Carlos Álvarez one of the keys that paved the way for this refurbishment. This consisted of revamping the two main bathrooms with Dekton, a hard-wearing material that is perfect for these wet areas, thanks to its easy cleaning and simple maintenance.
Specifically, the colour chosen for one of the bathrooms was Dekton Albarium, which provides luminosity and refinement with its ecru and faded tone. This matt colour, which hides reflections and shine that simulate the marble dust, is paired with Dekton Kreta, used to cover the floor. Inspired by the ideal colour of cement, it brings a sense of serenity and balance to the space and blends in perfectly with the contemporary style of the room.
With a more romantic feel, another of the main bathrooms features a very interesting combination of textures and materials. In this case, Dekton Helena takes centre stage alongside wallpaper and exposed brick walls. Helena is a rich colour with a perfect balance between grey and white tones and a delicate distressed texture. This way, the depth of onyx – the natural stone that inspired this piece – can shine through. The wooden floors complete this bright bathroom full of details.
The other room in which the dialogue between Cosentino's innovative surfaces and the house's historic past is clearly visible is the kitchen. Here, the hydraulic floor tiles have been preserved, creating a characterful atmosphere, as have the vaulted ceilings with exposed brick.
To highlight the aesthetic power of this traditional floor type and the original ceilings, the architect and designer selected Silestone Ethereal Glow for the worktops. A colour that shows elegant shades of gold and grey on a nuanced white background and can completely transform the kitchen into a bright and sophisticated space, while offering great resistance to stains and scratches.
Cosentino's materials used in this project
Explore Similar Case Studies