Case Study
A contemporary public toilet design inspired by Roman public baths
Somos2Studio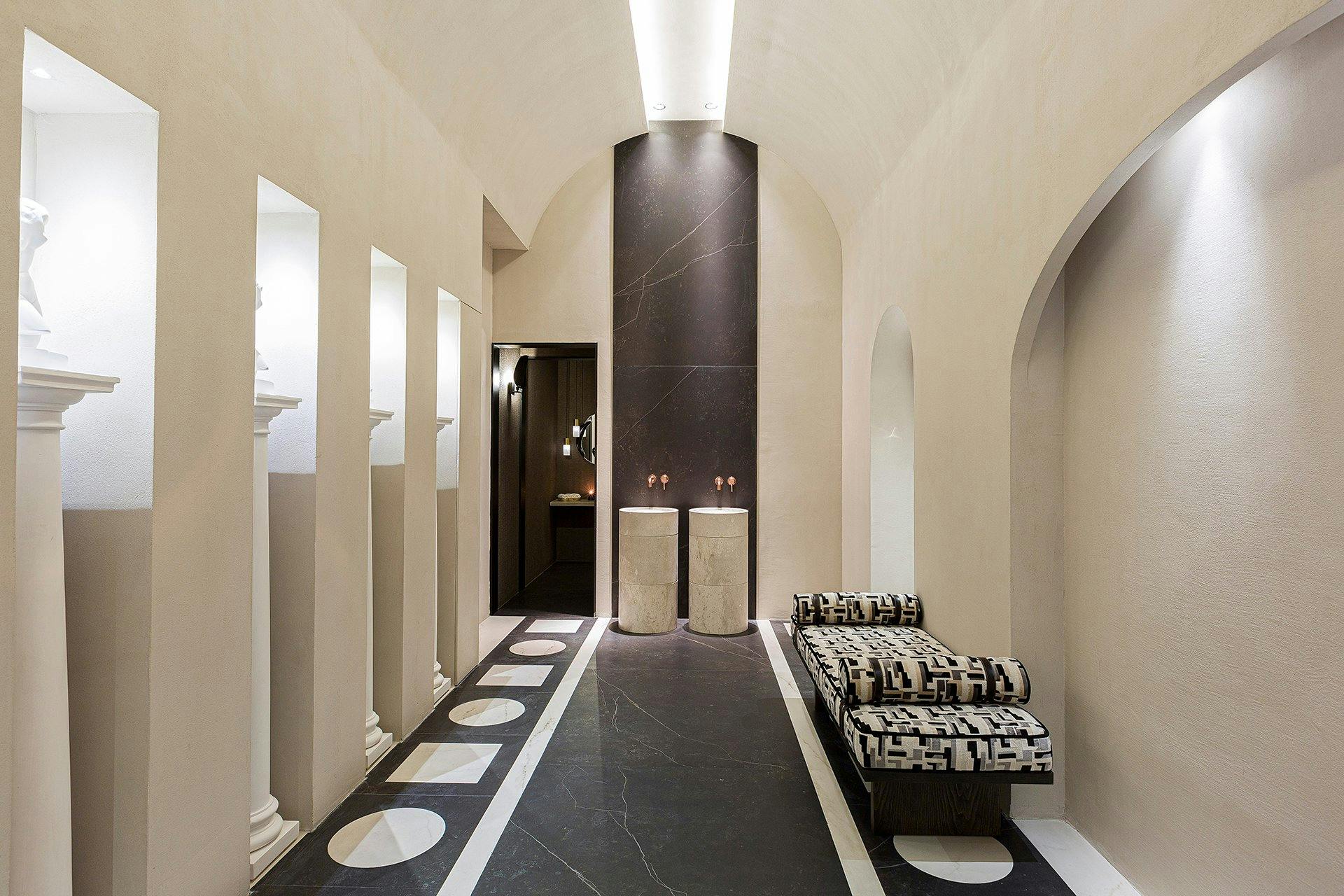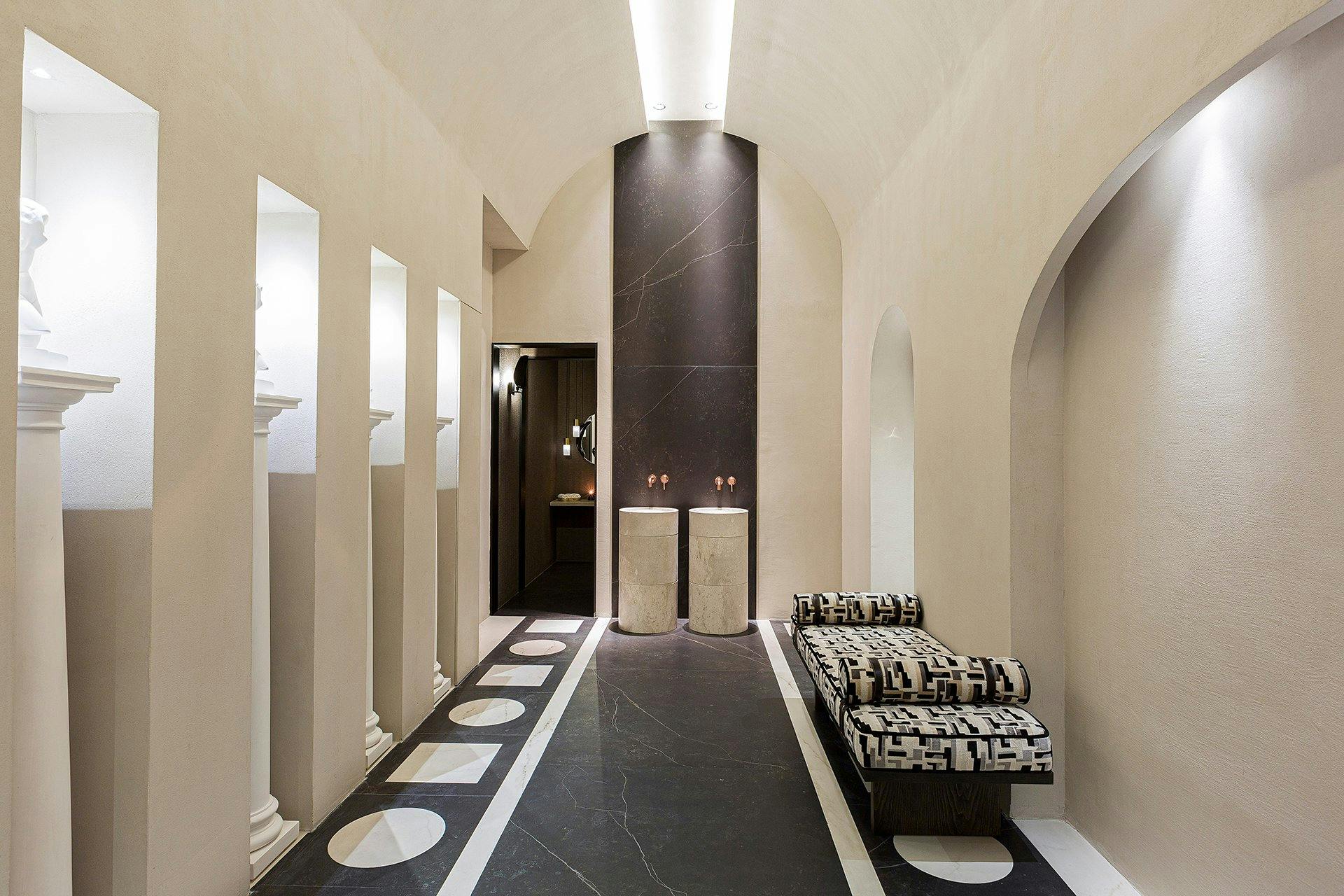 Location
Madrid, Spain. Somos2Studio Space, Casa Decor 2022
Application
Flooring and wall cladding
Thickness
8 mm y 4 mm (Kelya), 8 mm (Kahlo y Rem)
Photography
Lupe Clemente
Architecture / Design
Eva Jurado and María Díaz Leguina, Somos2Studio
Quantity
11 slabs (Kelya), 2 slabs (Kahlo), 2 slabs (Rem)
Drawing inspiration from Roman public baths, the space designed by Eva Jurado and María Díaz Leguina, from Somos2Studio, is as spectacular as it is majestic. 'In this way, we mimicked the classic look of this building in the Salamanca district, the venue for Casa Decor 2022,' explain the designers. Taking advantage of the 4 metre high vaulted ceilings, they have managed to recreate this classic style. The starting point was a hall with two washbasins simulating stone pilasters in the form of columns.
From this space, which has a markedly open and social character, two doors lead to two private cubicles that serve as public toilets. 'On one side of the hall we have created recesses with columns inside supporting the busts of women and, on the opposite side, two arcades that house a triclinium or Roman bench and an artistic bronze sculpture,' explains María Díaz Leguina.
A set of geometric mosaics
In a contemporary representation of the mosaics present in Roman baths, the designers have opted for geometric shapes using Dekton slabs on the floor and walls. Thanks to its high resistance to abrasion and low porosity, this surface is perfect for high-traffic areas, such as public toilets. From the black entrance is a hallway clad in Dekton Kelya, which adds depth with its dark marble-inspired tone with light veins. 'This material also runs along the wall behind the stone washbasins in the form of columns, creating a very special atmosphere,' explain the designers.
The carefully-designed pattern of Rem, with brown and grey veins on a white background, has also been used to inlaid geometric shapes on the sides of the hallway. Inside the cubicles, Khalo has been used on the wall behind the toilets. This space also features a special lighting to enhance the textures of this colour inspired by Patagonia natural stone, one of the most appreciated granites for its complex and colourful chromatic structure.
The added value of sustainability
'We use mostly national products, thus supporting family businesses that pass on their know-how from generation to generation, while promoting craftsmanship by creating unique pieces. In doing so, we contribute to reducing the carbon footprint,' explain the Somos2Studio designers. Furthermore, they have carefully selected materials that contribute to this sustainable approach. From microcement with diamond dust particles used for wall cladding, to plaster columns and Cosentino's Dekton surfaces, the only ultra-compact carbon neutral surface throughout its life cycle. 'Although the stones can no longer be reused, all other elements can be given a new life in other projects,' they conclude.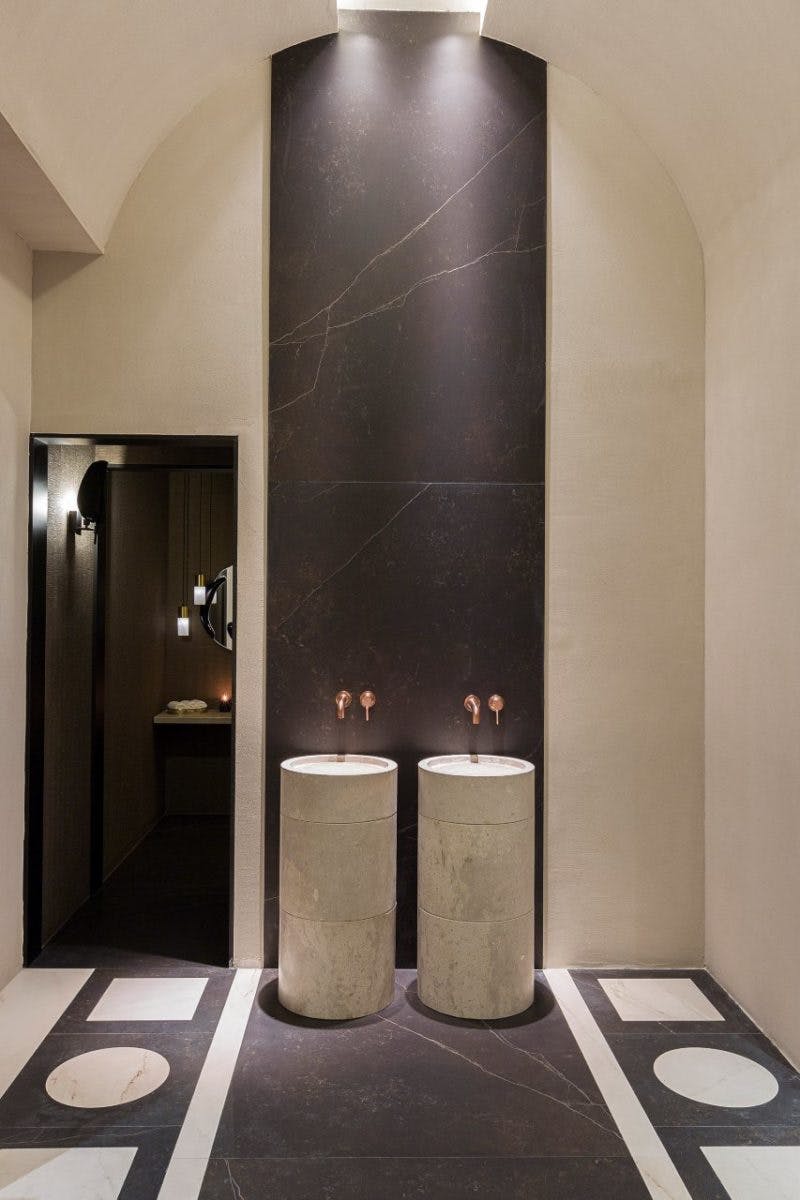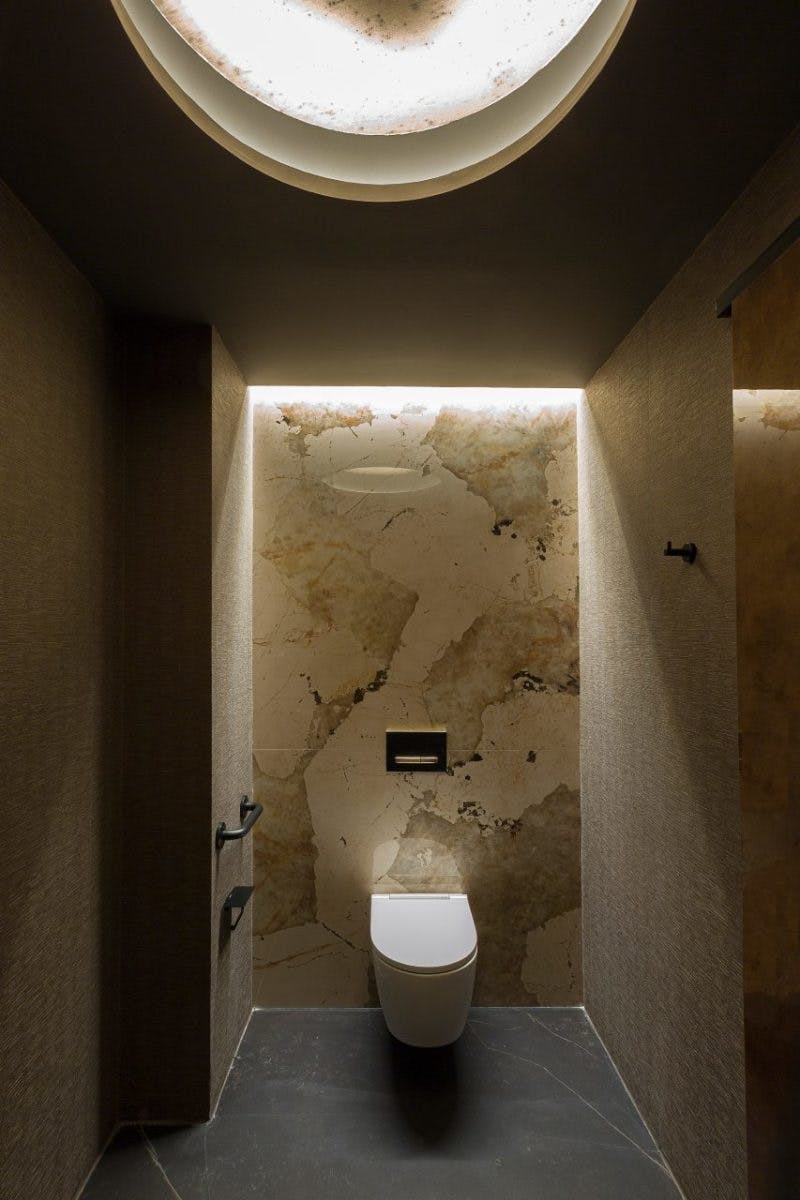 'The ultra-compact Dekton surface used for the floor also runs along the wall, creating a very special atmosphere.'
Somos2Studio
Interior designers
Cosentino's materials used in this project