Case Study
A journey to the best of Art Deco Paris through a bathroom
U Interior Design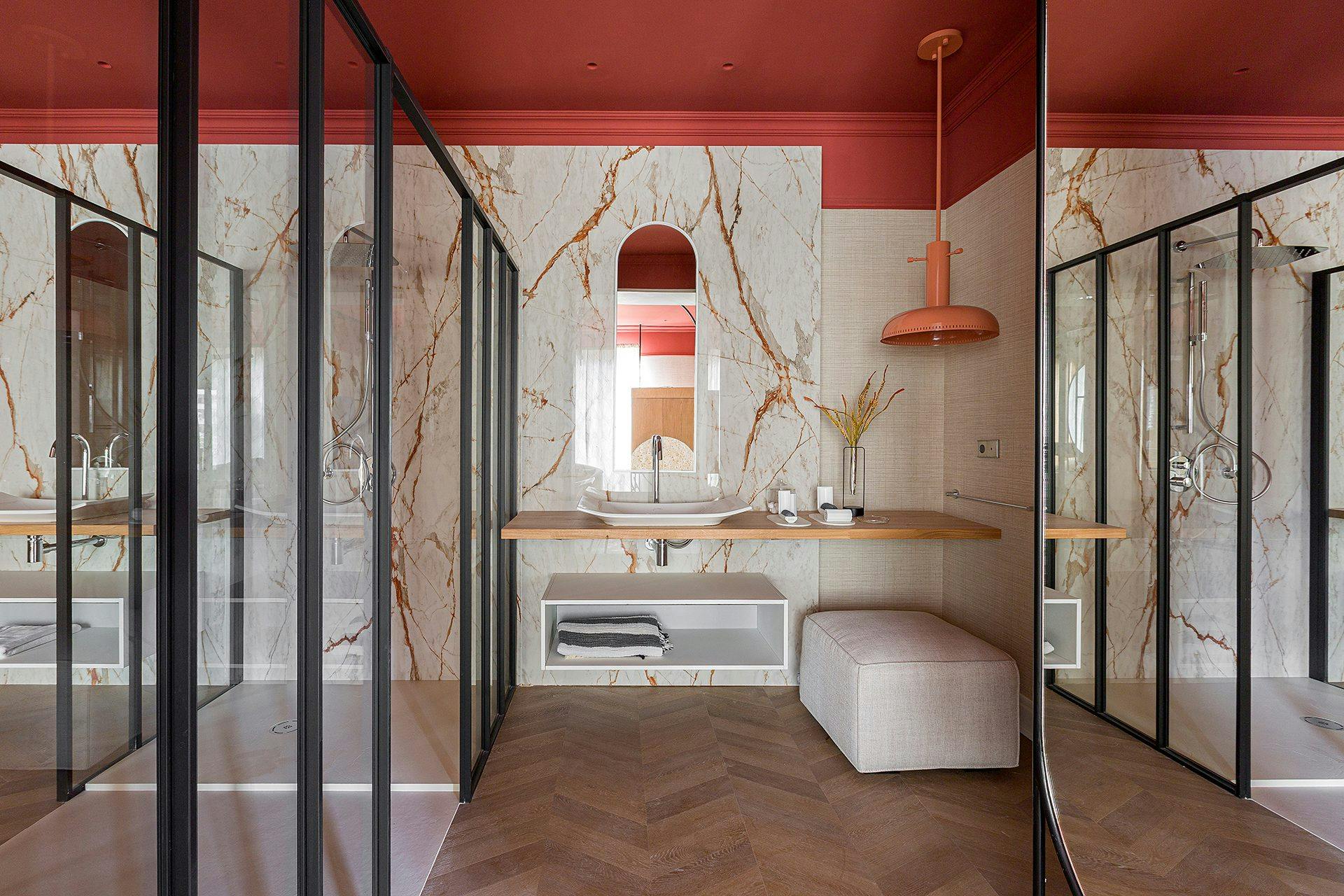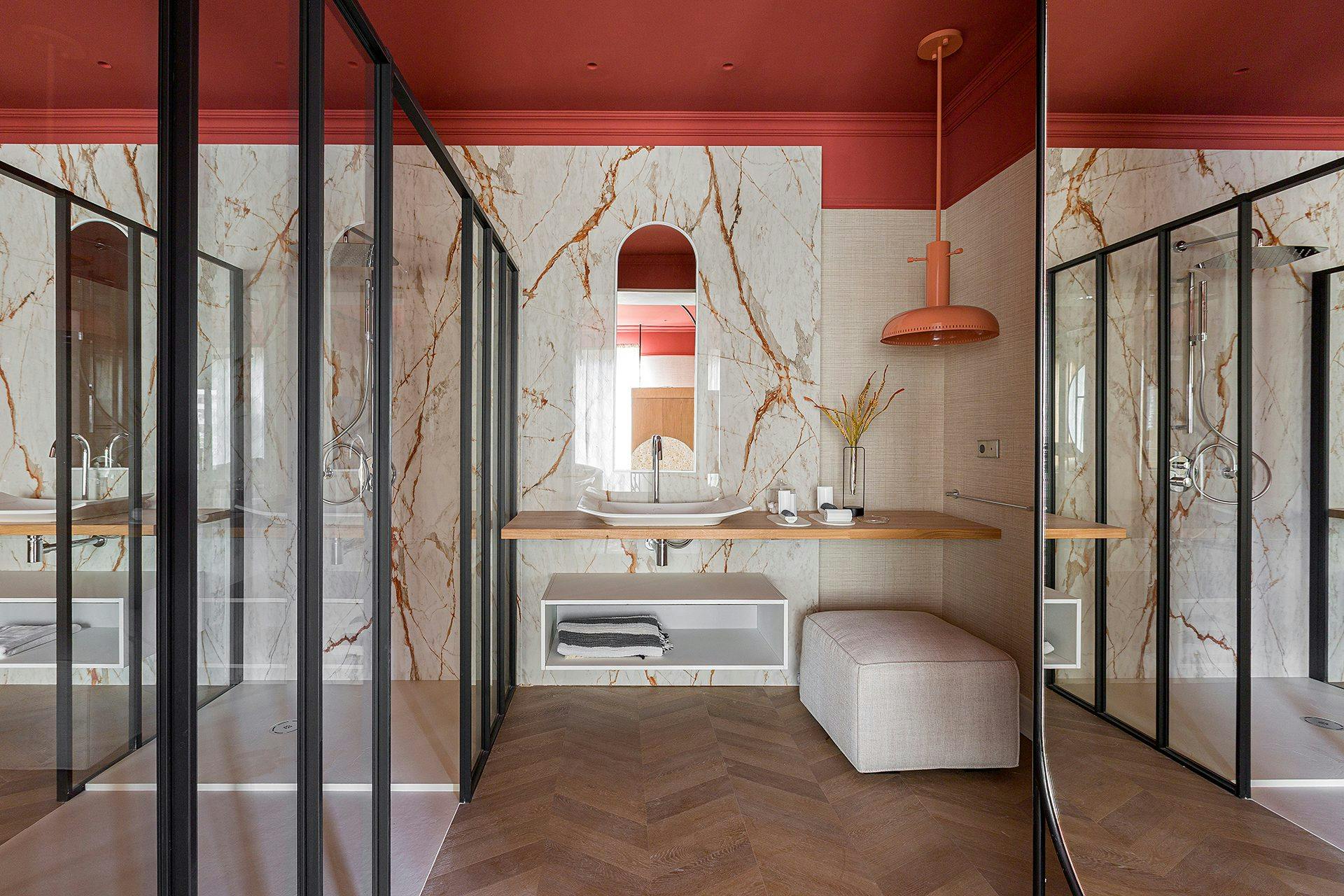 Location
Madrid, Spain. Jacob Delafon Space, Casa Decor 2022
Application
Floor and wall cladding
Thickness
12 mm (Onirika Awake), 8 mm (Edora)
Photography
Lupe Clemente
Architecture / Design
U Interior Design
Color
Onirika Awake, Edora
Quantity
4 slabs (Onirika Awake), 1 slab (Edora)
A bathroom combining modernity and classical design
Inspired by early 20th century Paris and reminiscent of the Art Deco style, the space features Jacob Delafon's 'Grand Boulevards' bathroom collection. The Project by U Interior Design makes use of geometric lines, curved forms and symmetry to create a well-balanced proposal in which the experience of relaxation reigns supreme. "It establishes a dialogue between elements such as the mouldings or the herringbone wood floor, and more contemporary finishes such as cement, the ceiling colour and the ultra-compact Dekton surface, a material inspired by traditional marble but which we have used in a contemporary way", says Pilar García de Gonzalo, partner at U Interior Design along with Laura Huerta, Evelien Korte and Laura Pérez.
"The space seeks to go beyond its functional nature to become a wellbeing space", says García de Gonzalo. This spectacular bathroom is split into two zones: one is open plan and serves as a dressing room with a bath in the middle, inviting you to relax; the other includes the washbasins, toilets and a shower. "It is arranged symmetrically, with 'His' and 'Hers' zones, and the transition from one zone to the other is via a large shower", says the designer.
The elegance and warmth of the new Awake, from the Onirika collection
"For the design of the space, we have played with neutral colours and a palette of earth tones, as they provide the necessary warmth and make the bathroom a welcoming space", explains the studio. As for the materials used, in addition to wood, ceramics and linen, metallic elements and accessories typical of the Art Deco style, such as the shelf next to the bath, have been used. The colour chosen for the floor connecting the showers is Dekton Edora, which was used in combination with microcement and wood. The new colour Awake, designed by Nina Magon for the Onirika collection, has been used on the walls, bringing warmth and elegance. "We have worked on many projects with Cosentino and were already familiar with Dekton surfaces. This new colour beautifully recreates marble, and is very warm and elegant", says García de Gonzalo. Inspired by Paonazzo Biondo marble, its design features veins of black, grey and caramel that intersect in a whimsical pattern creating a sophisticated balance.
Reusable and recyclable materials
In addition to Dekton, the only surface in its sector that is carbon neutral throughout its life cycle, non toxic paints and natural materials, such as ceramics, have been used. "We try to make people aware that we must change our thinking when choosing materials. They should be recyclable and reusable for a harmonious way of life, without damaging the world we live in", says the studio.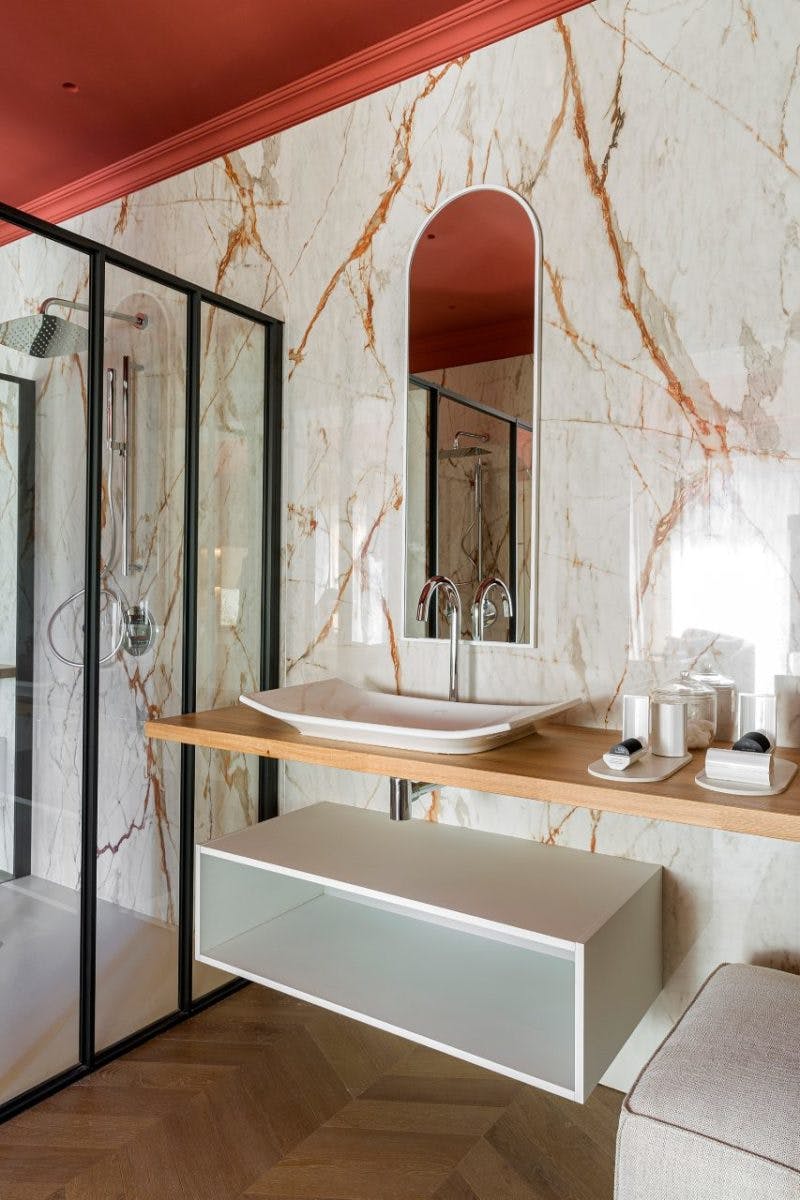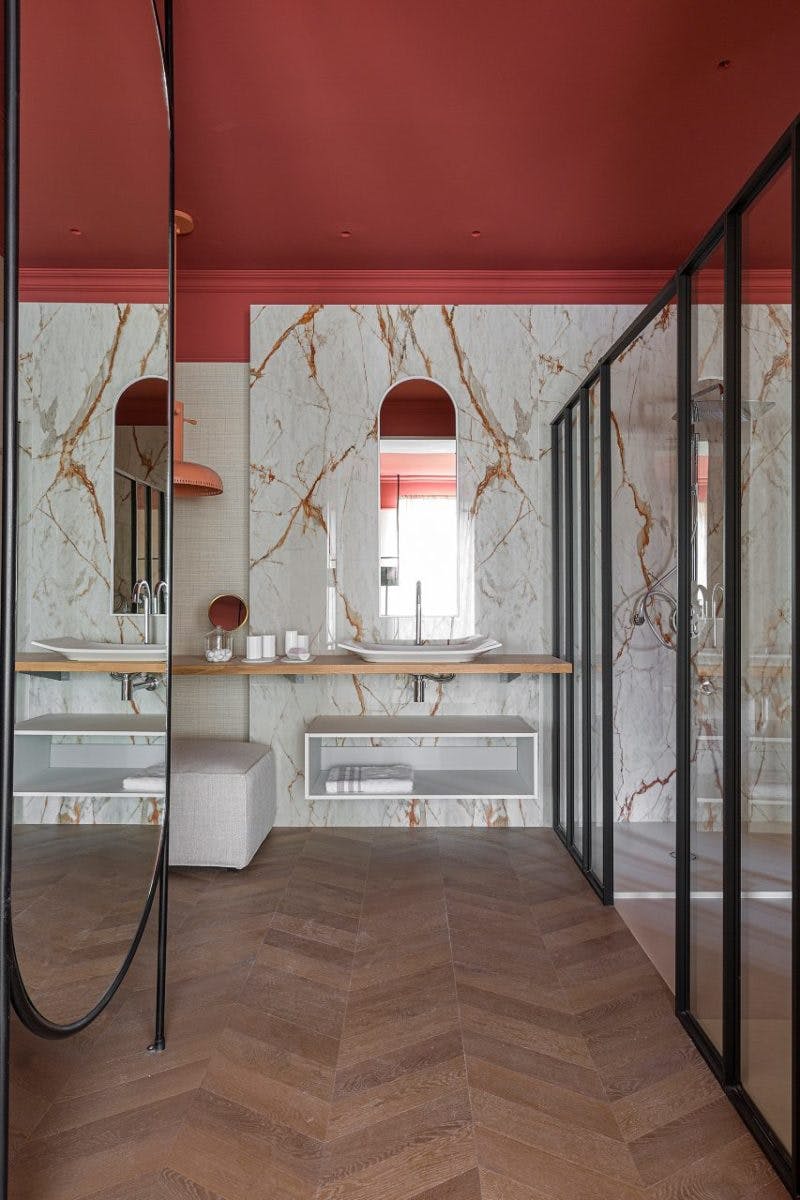 "The colour Awake, from the new Onirika by Nina Magon collection, combines the beauty of marble with all the advantages of Dekton".
Pilar García de Gonzalo
U Interior Design
Cosentino's materials used in this project