Top Homes
A kitchen reminiscent of the 1960s
Terhi Lanzett, Pilke Interior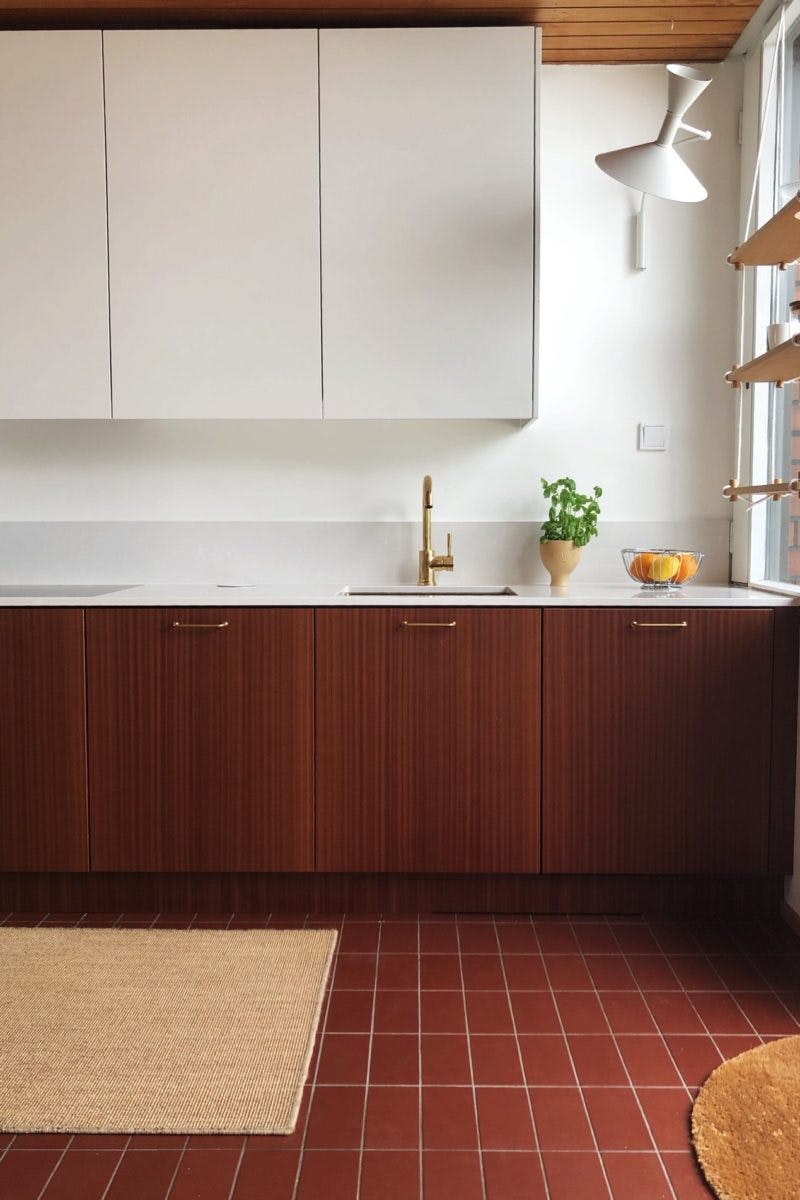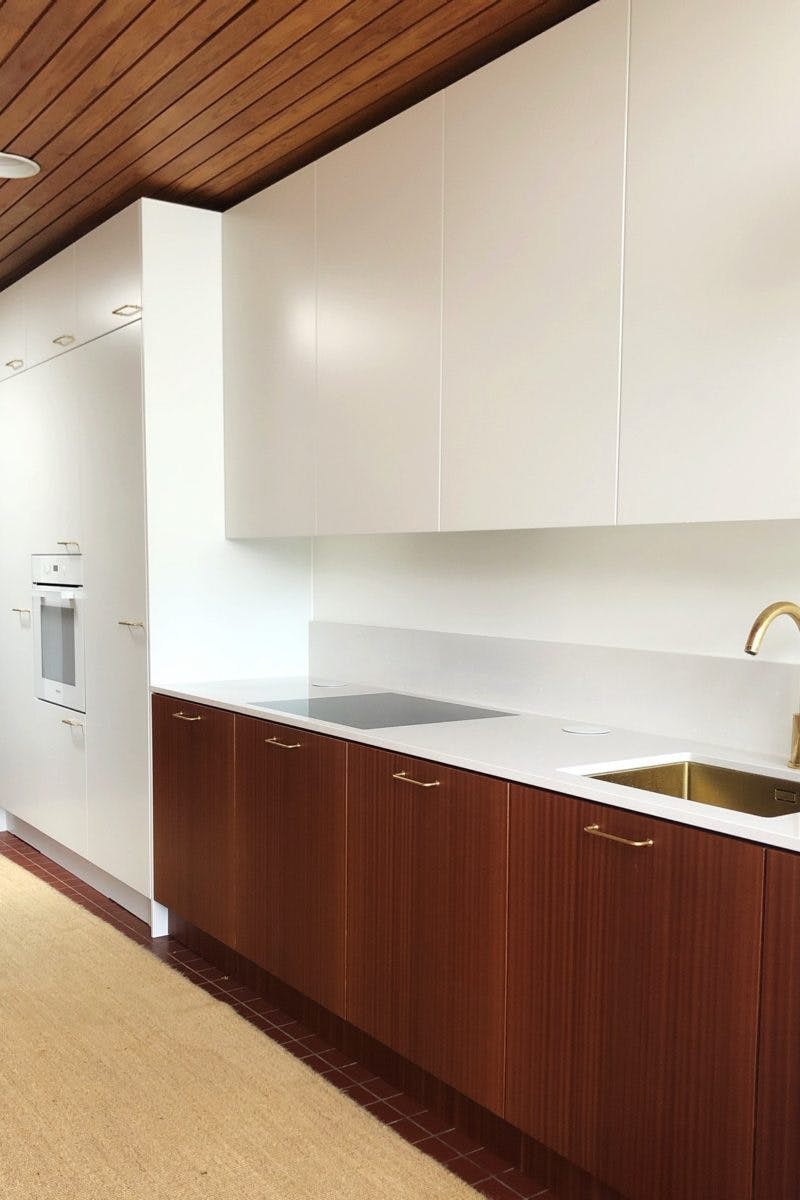 Application
Worktops and splashback
Photography
Natelee Cocks
Architecture / Design
Terhi Lanzett, Pilke Interior
A kitchen renovation in a 20th century home
The kitchen of this home designed in 1963 by architect Osmo Lappo underwent a renovation to pay homage to its original essence. In this sense, one of the elements that has been preserved is its foundations. Thanks to its clever design, the scale is dynamic and the cross ventilation provided by the large, strategically placed windows continues to do its job. The bedrooms are located on the north side, while the common areas are located on the south and west.
Although the previous tenant had renovated the kitchen, this renovation was intended to bring back the spirit of the 1960s. "The brick walls, mosaic parquet, pine panelled ceiling and teak doors from the 1960s were in very good condition and could be preserved", explains the owner. "Our challenge was to recapture the atmosphere of the 1960s in the new kitchen and to have the furniture blend in with the original surfaces. It was a complete success. It's as if the kitchen has always been there", he further says.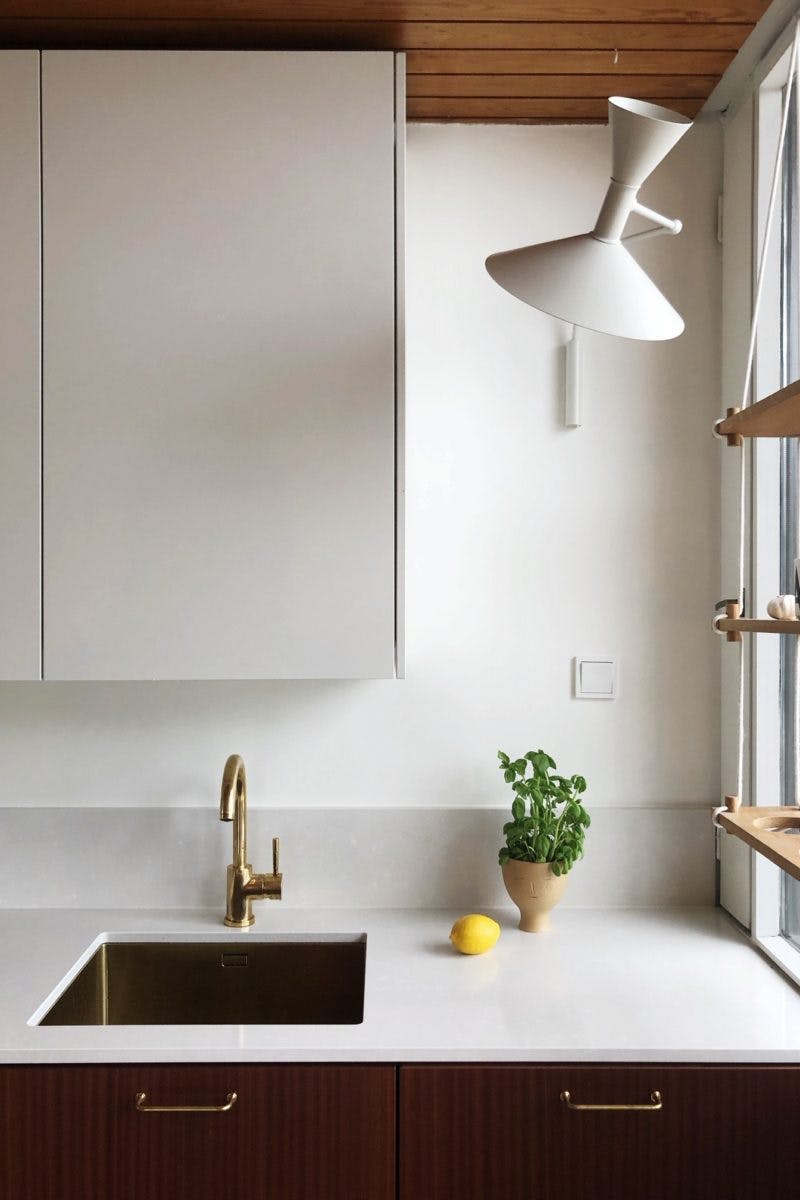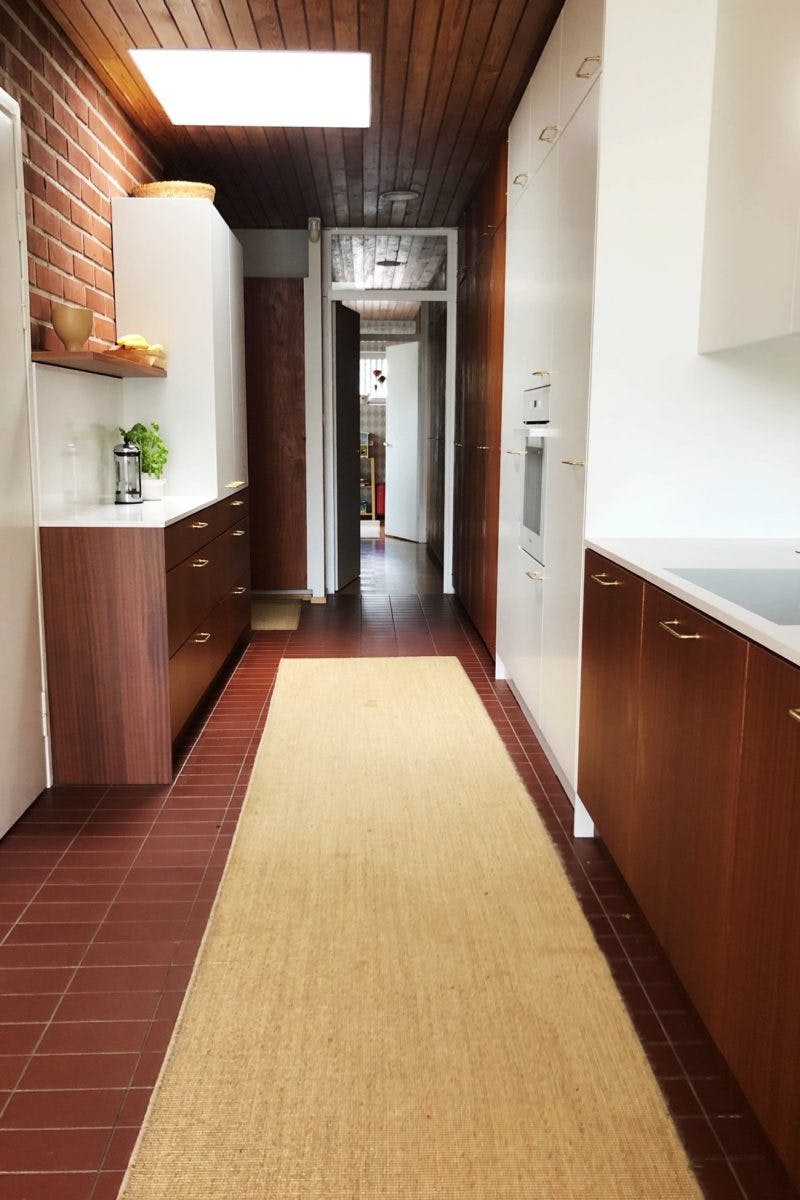 Retro and cosy atmosphere
One of the advantages of the original construction materials is that they bring a lot of authenticity to the room. "They provide a cosy and friendly atmosphere", say the owners. To maintain this atmosphere, the kitchen cabinets were designed to match the original teak doors, but using deep red mahogany wood. The upper cabinets, on the other hand, feature a light, matt shade that adds freshness and helps to create a functional storage space. In addition to this, the kitchen has plenty of storage space, which also makes it possible to hide appliances such as the coffee machine.
The worktops and splashback in Silestone Yukon serve as a backdrop, a guiding thread running through all these colours and textures. As for the taps and handles, brass was the material of choice. "Brass was an excellent choice for this retro kitchen, as it was a very popular material in the 1960s", says Blau Interior, the supplier of the kitchen.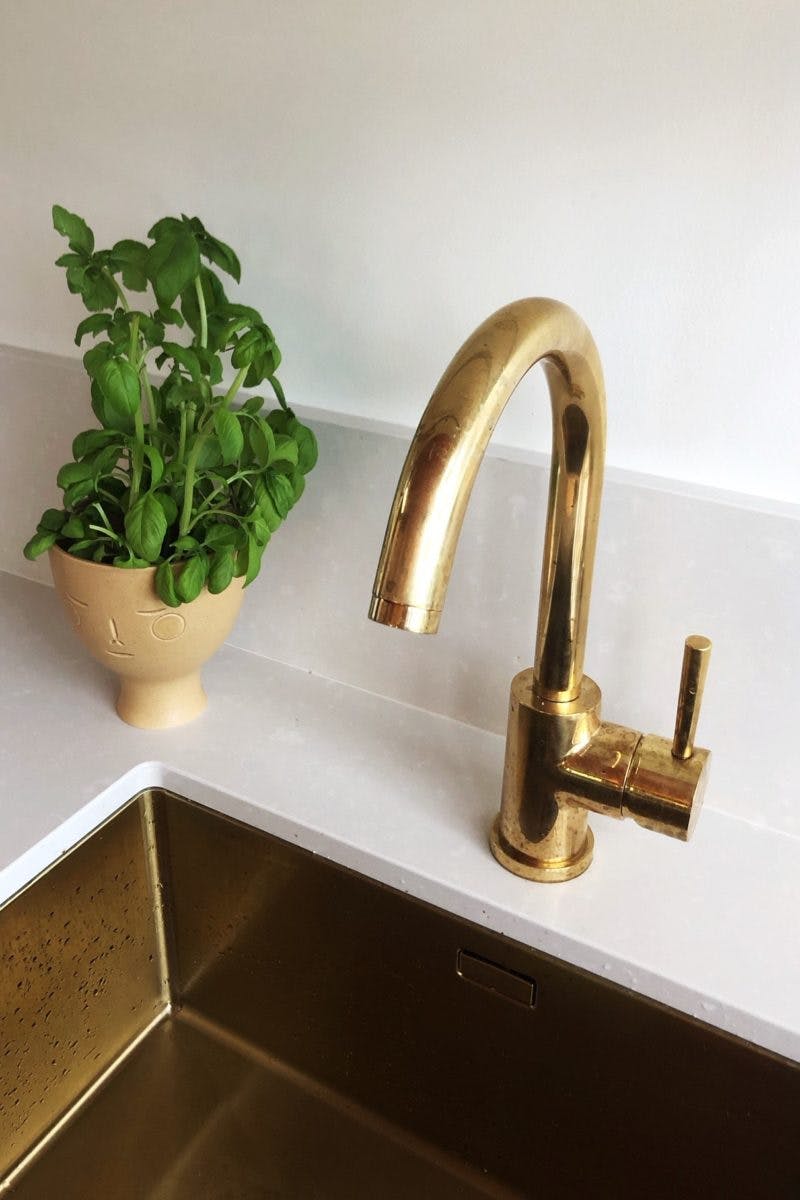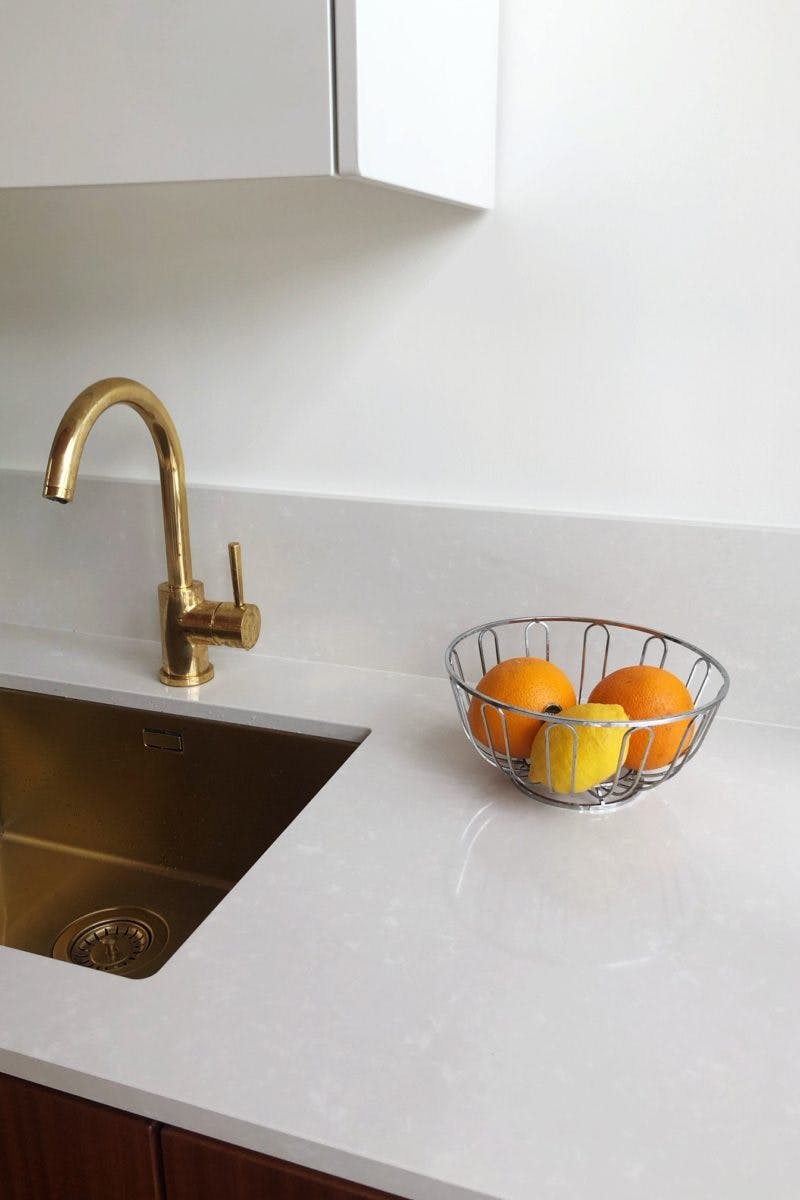 The timeless and elegant design of Silestone Yukon fits perfectly with the concept of this home. A classic design in perfect harmony with both the original and new elements of this newly renovated kitchen. This collection is inspired by the world's great rivers and features an elegant and very subtle veining that brings the surface to life. This results in a contemporary material perfect for kitchen worktops thanks to its strength and durability, a perfect fit for this retro concept.
Cosentino's materials used in this project