Case Studies
A play of volumes and geometry for a façade with lots of character
Antonio Jesús Ramos Ruiz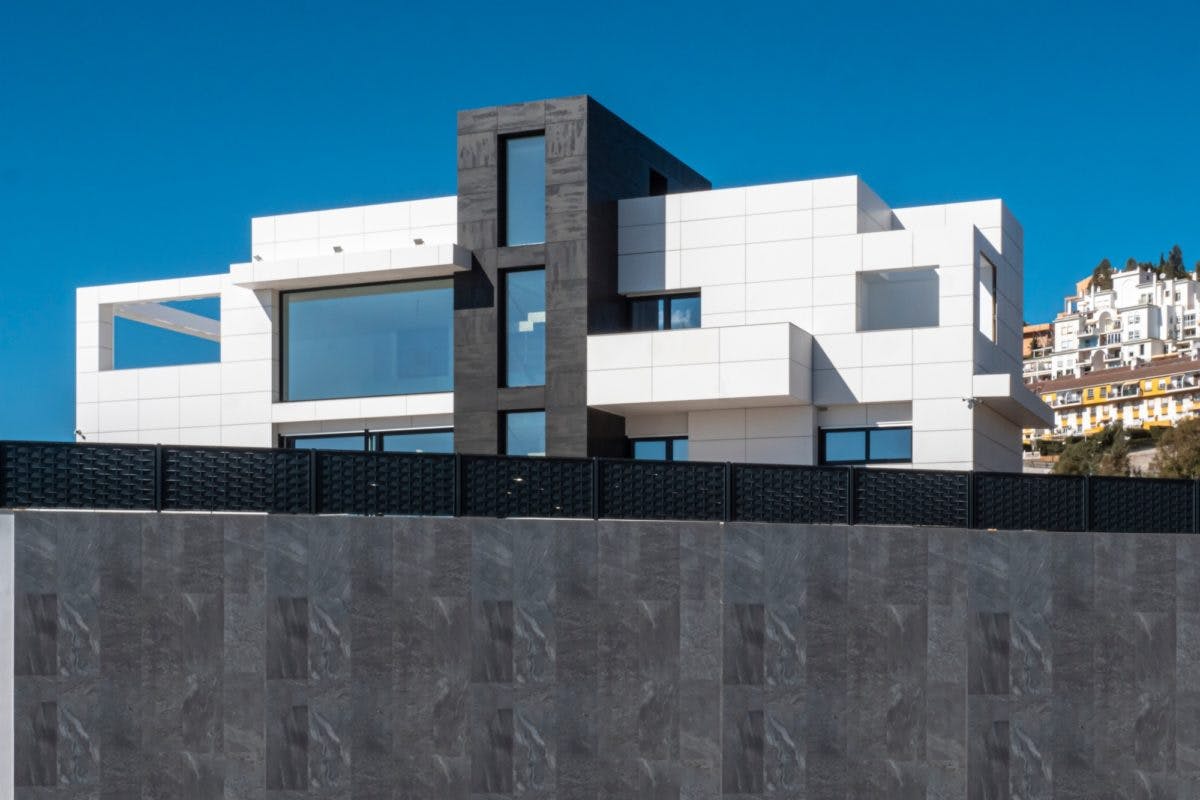 Application
Ventilated facade
Photography
Raquel Morcillo
Architecture / Design
Antonio Jesús Ramos Ruiz
A façade design to stand out from its surroundings
Located in the residential area of Cerrado de Calderón, a prime residential neighbourhood in Málaga that has been under development for the last 20 years, is the 'Jengibre' project, a building designed by Antonio Jesús Ramos Ruiz and executed by Nexfloor. The building stands out from its surroundings thanks to its geometric façade, which features overlapping volumes that create a striking black and white design. Specifically, Dekton Uyuni and Radium were the colours chosen to give character to the envelope of this building of flawless design.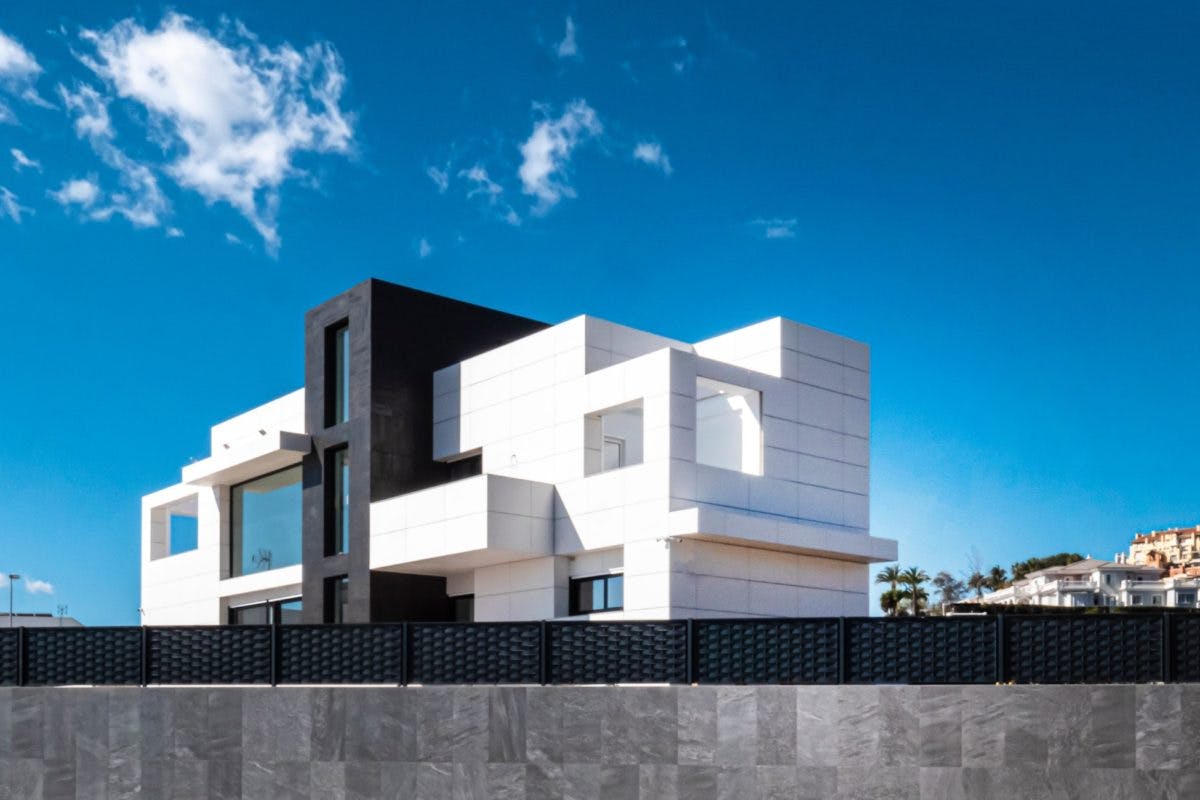 "Thanks to its versatility and wide range of formats, Dekton helped us to maintain symmetry in the design of the building envelope", says the architect. This geometric design is achieved by the contrast of the two colours. "The aim was to highlight the pure white of Dekton Uyuni by emphasising the use of Dekton Radium in the turrets, thus creating a stronger effect", explains the architect. While Uyuni takes its inspiration from one of the largest natural salt flats on the planet, with its cool, crystalline shade embodying the very essence of purity, the powerful Radium adds a unique industrial touch in the form of a rusted steel plate in shades of ochre and brown.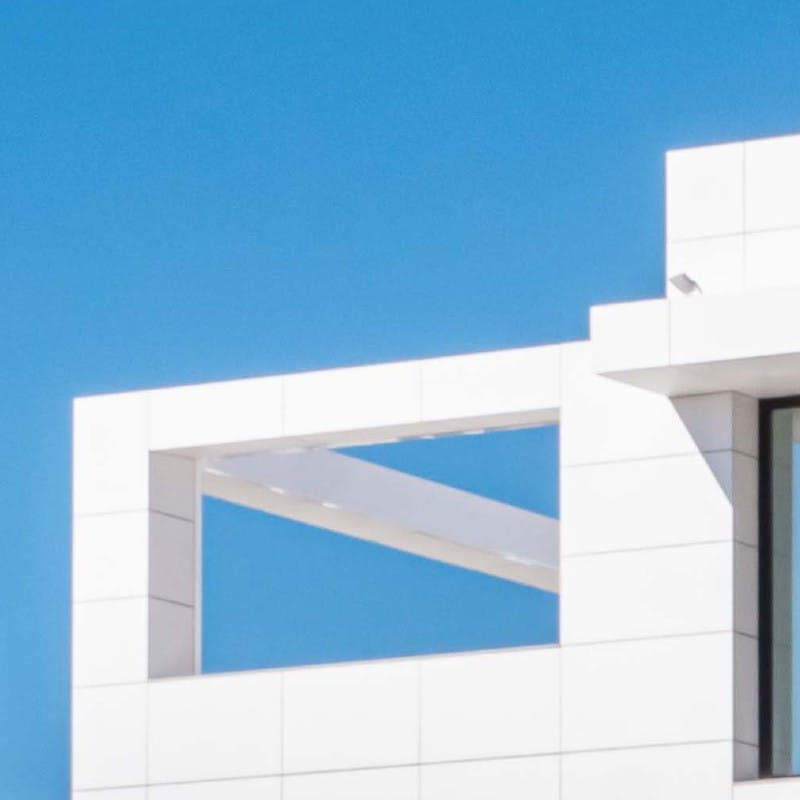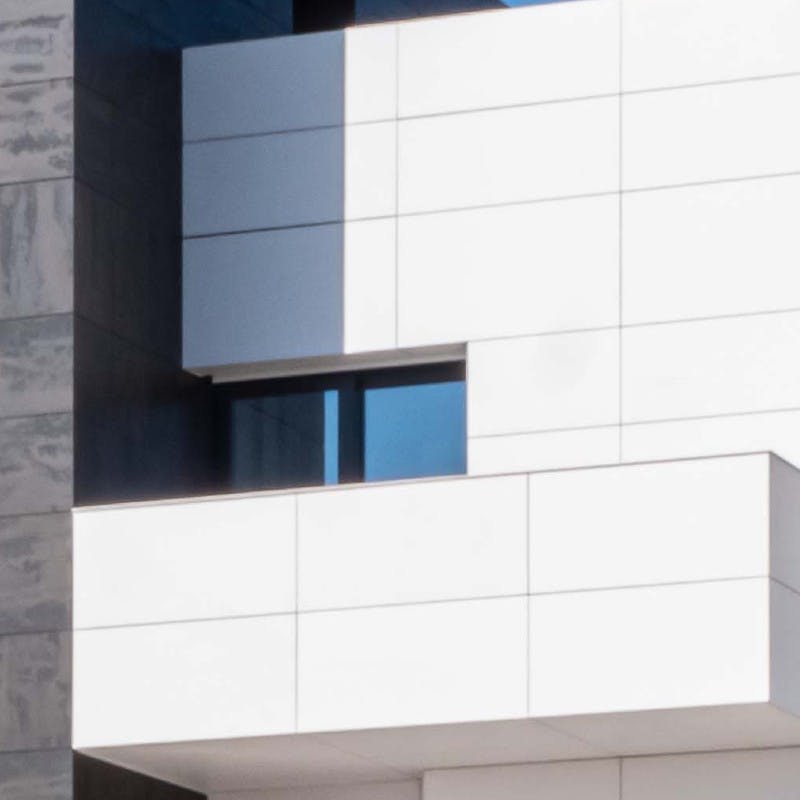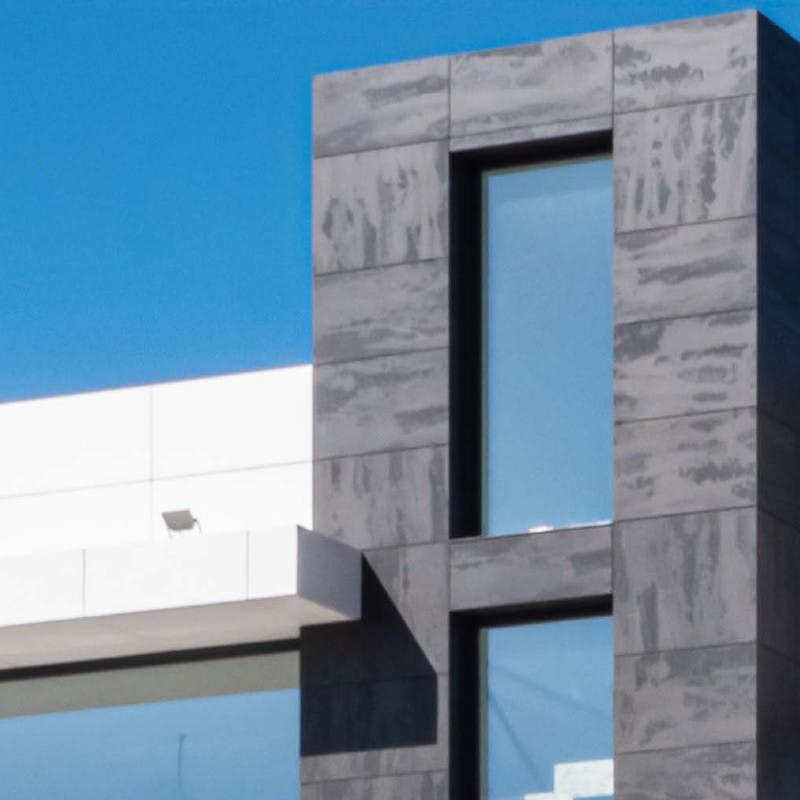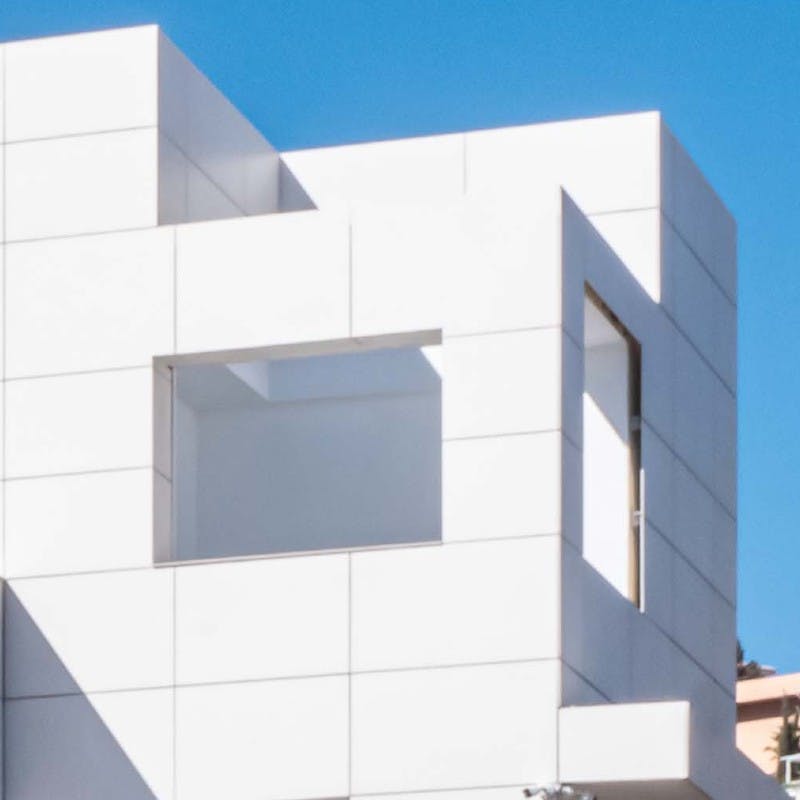 Ventilated façade with chemical anchoring
8 mm Dekton slabs, which weigh approximately 20 kg/m2, can be adhered to the façade using Bostik's PanelTack HM system, which includes the pre-treatment and priming of the profile and the Dekton slab, a double-sided tape and a bead of adhesive. Installation must be carried out by a qualified fitter and in accordance with the supplier's temperature control instructions at the time of installation.
This concealed fixing system is widely used in single family dwellings due to its attractive finish and the possibility to choose between vertical and horizontal cut-outs or a full slab. In this specific case, material wastage was less than 18% thanks to Cosentino's technical support in determining an optimal cutting based on the architect's project.
The ease of installation and the versatility of the material are two of the aspects that the architect highlights in the execution of the project. "Also noteworthy is the ease of the service provided by Cosentino, its ability to adapt to the project's needs and its great team, very professional, who has been on site", he further says. When it comes to the choice of Dekton, the architect claims that its wide range of colours was a determining factor in his decision. "Also its resistance to sunlight and its almost zero porosity", he further says. A feature that makes the material durable and easy to maintain.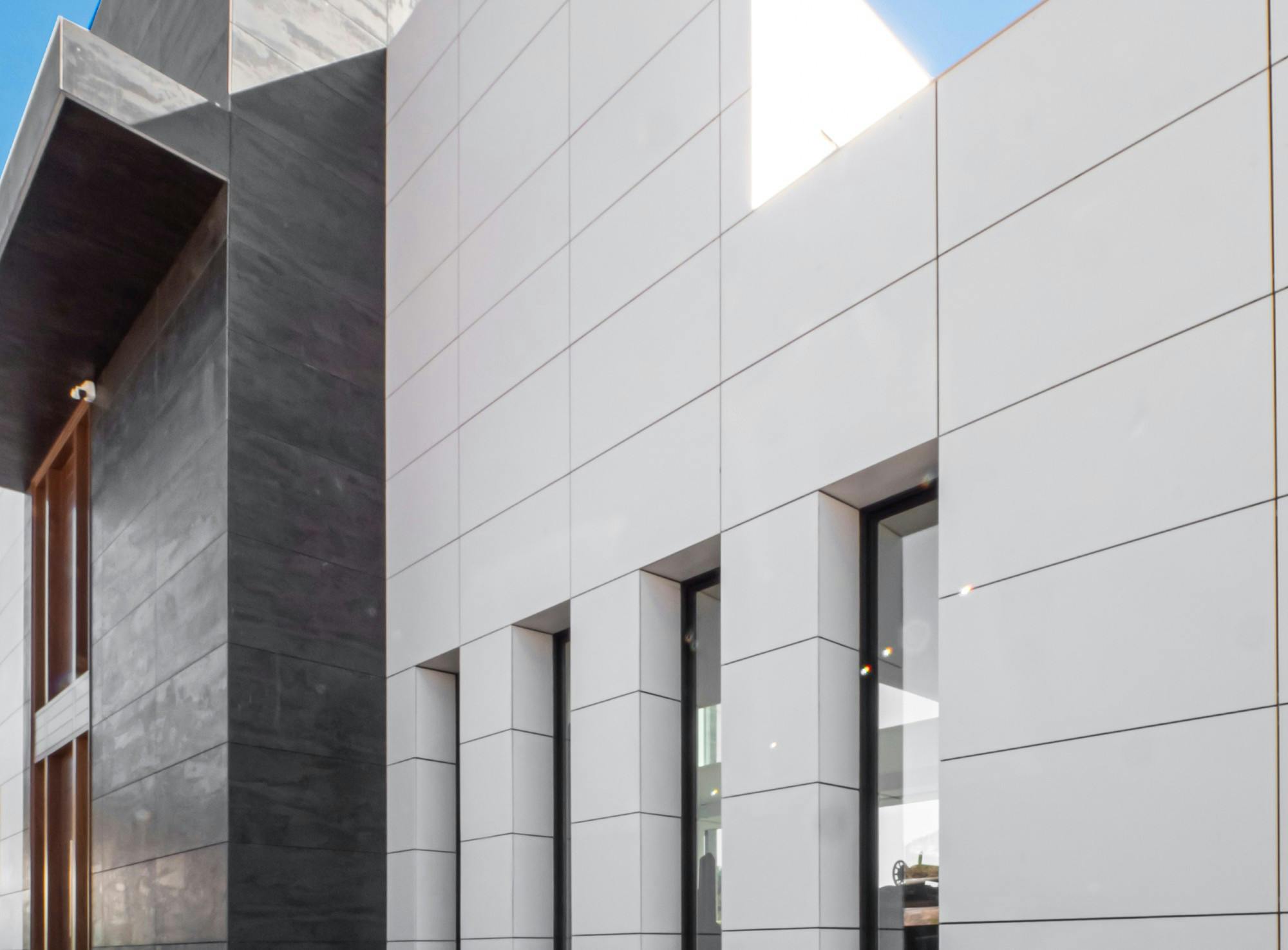 "Thanks to its versatility and wide range of formats, Dekton helped us to maintain symmetry in the design of the building envelope".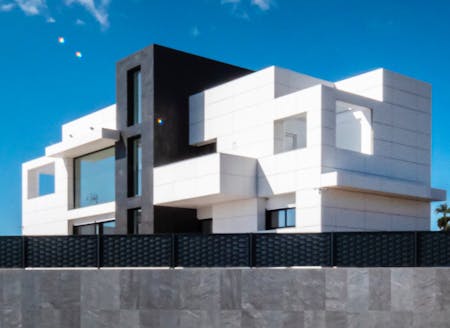 Antonio Jesús Ramos Ruiz
Architect
Cosentino's materials used in this project