Top Homes
A serene and peaceful outdoor dining area
McKevitt King Architects / Ash Wilson Design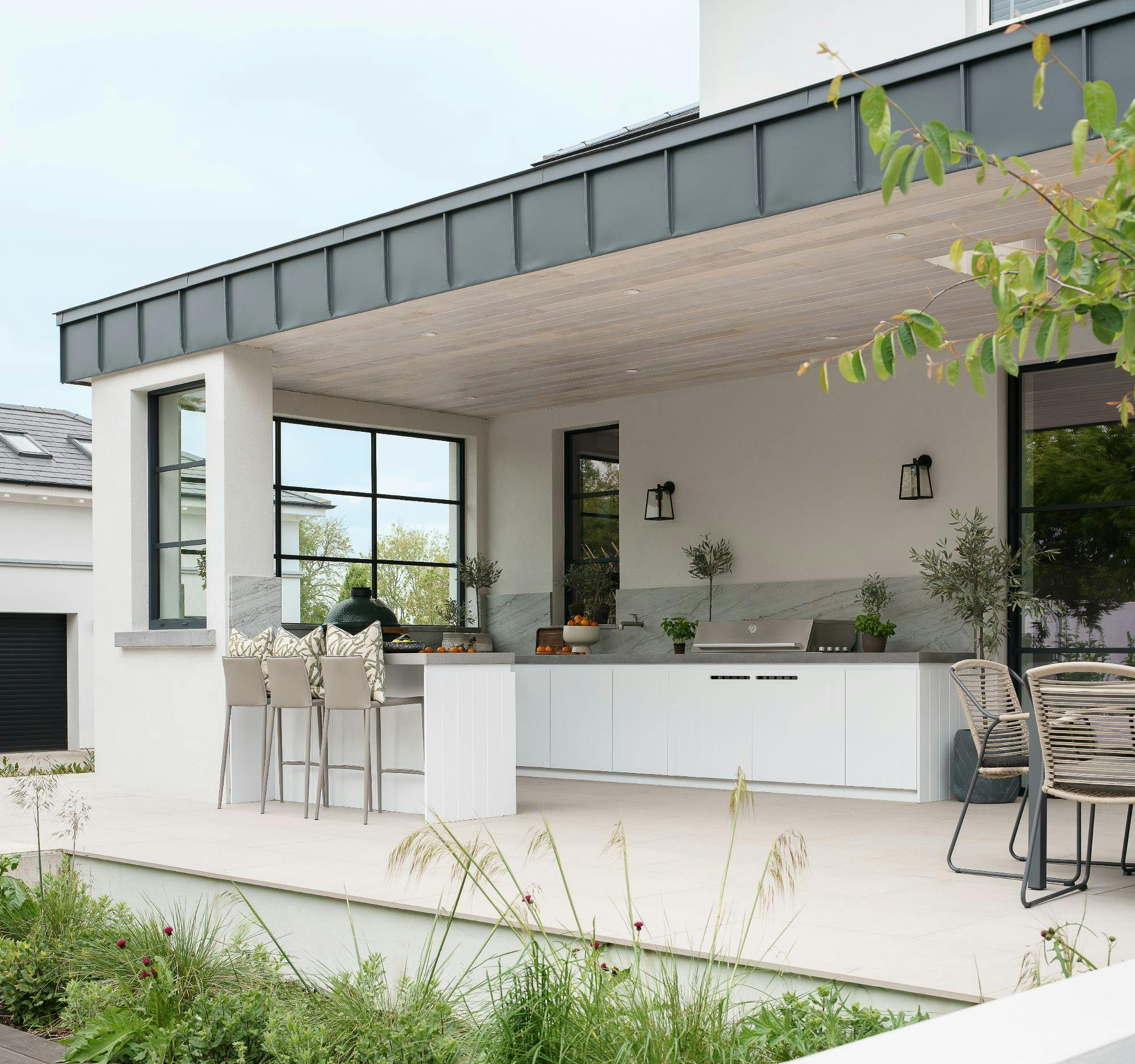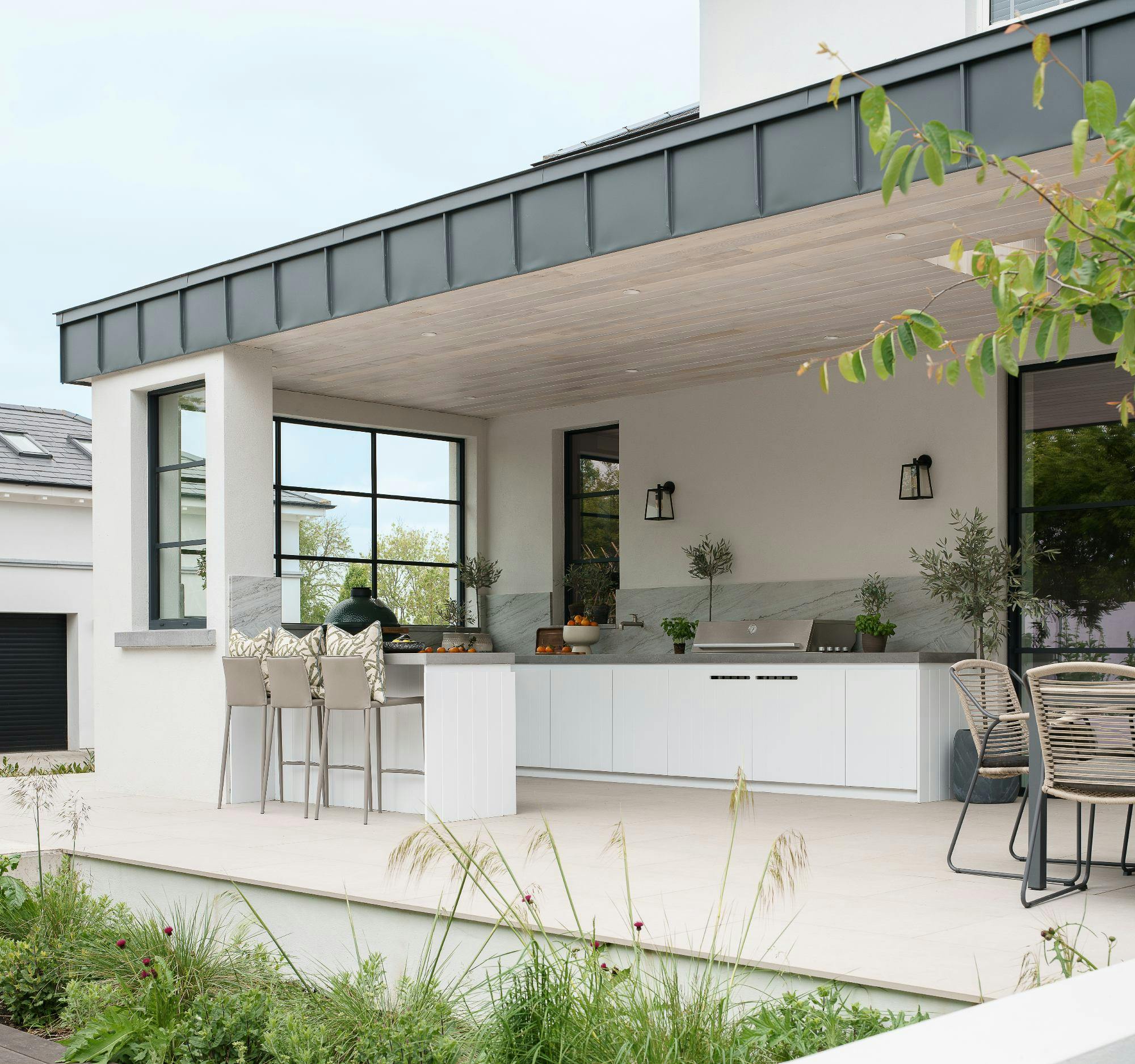 Location
Rathfeigh, Co Meath, Ireland
Architecture / Design
McKevitt King Architects / Ash Wilson Design
Fabricator
Stone World Ireland
Application
Kitchen countertop cladding
Situated in Rathfeigh in Co. Meath, this stunning family home was designed with McKevitt King Architects eight years ago. After six years living in the house, the family realised that the house layout wasn't working for them. The house didn't have a main living space or social atmosphere and the small outdoor kitchen across the yard wasn't convenient. They wanted a larger outdoor space and a larger living space where everything was effortless and connected where they could dine and entertain all year round.
Ash Wilson, from Ash Wilson Design was the interior designer on the new project. Ash talks about the design process, "We devised a style, scheme and inspiration. We had looked at many projects and then landed fundamentals kept coming through from different styles. The inspiration for the Alfresco renovation was taken from the no-fuss aesthetic from the Scandinavian mixed with the Hamptons style. So, like the Scandinavian style has no-fuss aesthetic and then the Hamptons has quite a classic element to it. We wanted a chic and timeless finish."
Selecting the right materials for an outdoor design is key to connecting the new design of the rest of the home and guarantee a nice flow between the spaces. The existing interior kitchen had a bit more depth with deeper colours on the kitchen island, so a calming tone needed to be selected to connect the two spaces in harmony.
Speaking about Cosentino product chosen for this project, a exclusive quartzite with anti-stain treatment, Ash said, "Sensa Platino allowed for the design of the outdoor kitchen in its expansive size, to feel quite calm and restful. It has a beautiful oceanic veining, with blues and green tones, and in some lights, it's a bit grey and dark as well, so it offers a lot of vibrancy. I think when we use natural stone, it's a special material to use. It's more sophisticated than tiles, and it worked on the bigger span as well, almost eight meters long of backsplash. I chose Sensa Platino for the calmness of its colouring. It is quite moody whilst also being serene and it has such beautiful movement in it. The colour was a real specification for this project, because it did have to link back into the interior of the house."
Describing the rest of the project, Ash continued, "The counters were poured concrete. We selected that because there were so many different forms that we wanted to do on the countertops, and we wanted it deep in one part shallower in another part, it had the little green egg, and there was a front bar on the front of it, so we were able to manipulate it much easier. There is a sink as well which just offered us a bit more than using natural stone or similar for this design, and this material didn't take away from the backsplash."
Wilson went on to explain, "Having used Cosentino on other projects, I knew that it was perfect for the specification on this application and the colour choice available allowed us to deliver the desired look and feel. Technically it was ideal due to its inherent strength and allowed us to be creative with the fit-out elements being designed to carry it and outwork fit for purpose requirements."
Finally, Ash mentioned, "As with any project, I think it's so important for architects and designers to visit showrooms like the Cosentino Showroom in Dublin to view the full range and spec of the slabs before making a final decision!'
Cosentino's materials used in this project