Top Homes
An interplay of light and shadow in a timeless living room
Concepto DR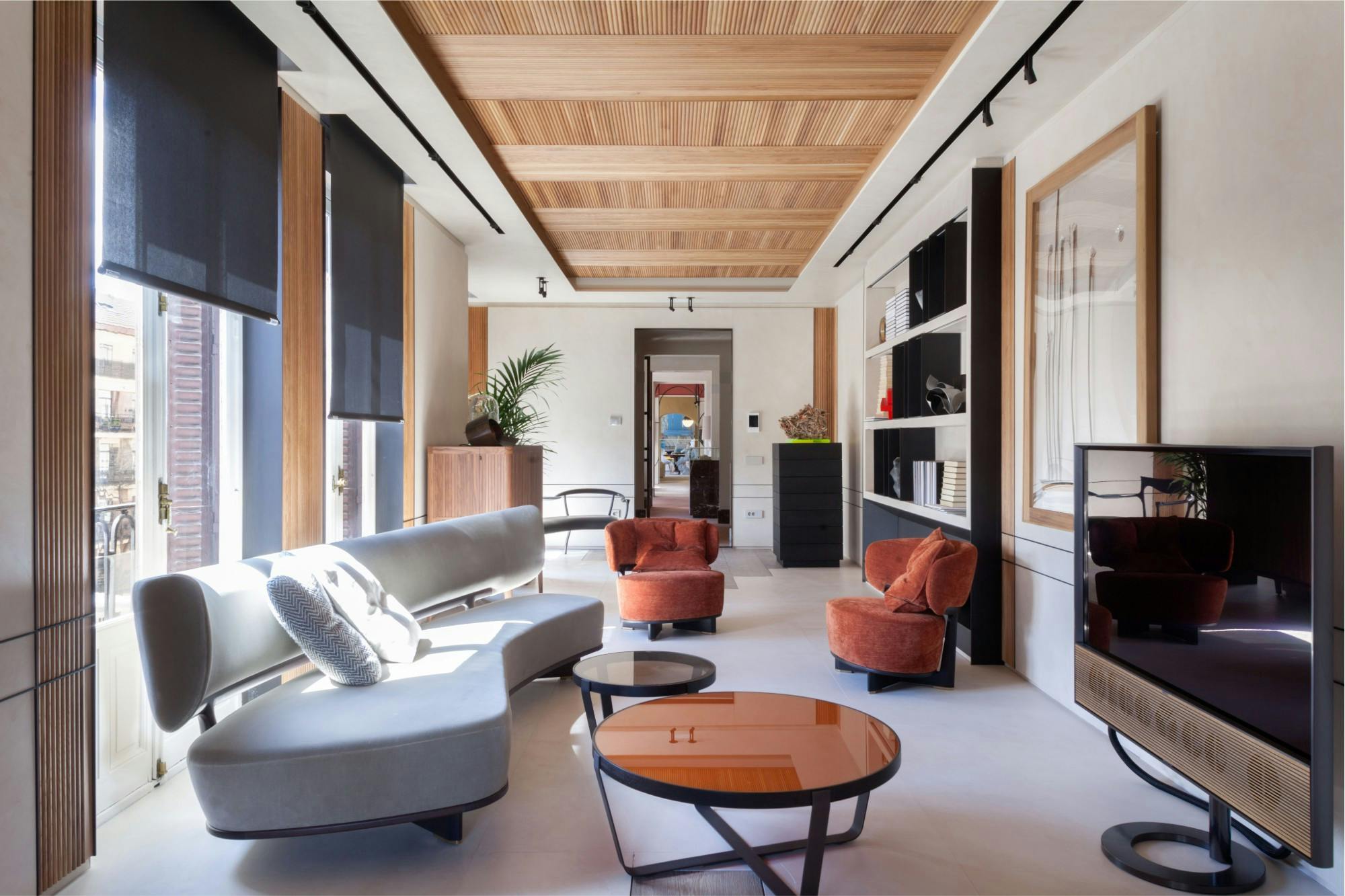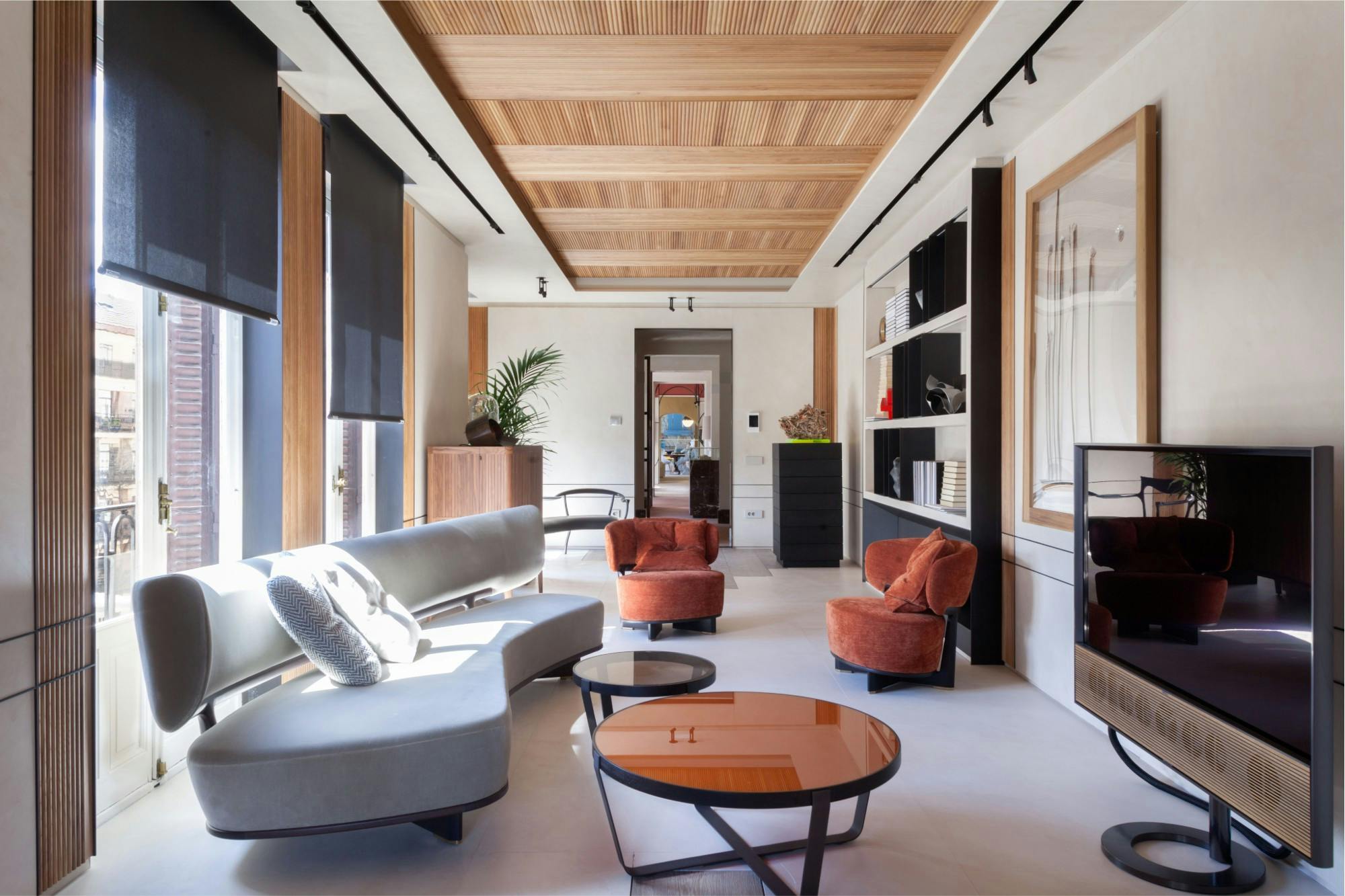 Location
Madrid, Spain. Bticino Space, Casa Decor 2022
Application
Flooring, walls and ceiling
Thickness
8 mm (flooring) and 4 mm (walls and ceiling)
Photography
Felipe Scheffel
Architecture / Design
Diego Rodríguez, Concepto DR
Quantity
13 slabs and 26 slabs.
An interplay of light and shadow in a timeless living room
The Bticino space hosts the 'Connected Home' design by Diego Rodríguez and his studio Concepto DR. The most characteristic feature of the project is the covering, which emphasises a reduced use of materials, such as Dekton on the floor, walls and ceiling, as well as natural oak, which has been used to create a decorative slatted structure on the ceiling. 'The design of this living room has focused on maximising the natural light entering the space and, at the same time, playing with the Cosentino materials that are in tune with this source of light,' explains Diego Rodríguez.
The lighting design also suggests an interplay of light and shadow that transforms the room at night, with numerous light sources to create a variety of spaces and atmospheres. The overall style is timeless, 'what we wanted to do was not to condition, to create a place that has no expiry date,' says Rodríguez.
Kraftizen, a Dekton collection inspired by Roman stucco
Dekton Kraftizen Nacre, in large format slabs, was chosen for the floor, wall and ceiling claddings. Its unique natural tan hue with a silky finish is perfect for reflecting and enhancing natural light, as well as the drama of artificial light. 'I have been working with Cosentino surfaces for many years. This time, we chose Kraftizen Nacre for aesthetics; it really feels like an Italian stucco, you only realise that it is an ultra-compact material when you touch it,' points out Rodríguez.
Dekton's high resistance to abrasion, stains and scratches ensures that the delicate visual appearance of stucco can be easily applied in high-traffic areas such as the Casa Decor spaces. Furthermore, this texture has been combined on the ceiling with the natural oak woodwork, 'creating a kind of box that serves as a context for the Italian furniture pieces that we have placed in the space,' explains Rodríguez.
The use of natural materials as well as Dekton, the only surface in its category that is carbon neutral throughout its life cycle, is part of the project's sustainable approach. 'In addition, the living room is equipped with a home automation system that incorporates smart devices that will establish a more efficient energy consumption and provide us with safer, more sustainable and healthier homes,' says Rodríguez. From the roller blinds to the lighting and TV, they are all connected to be controlled via an application.
'I have been working with Cosentino surfaces for many years. This time, we chose Kraftizen Nacre for aesthetics; it really feels like an Italian stucco, but much more resistant.'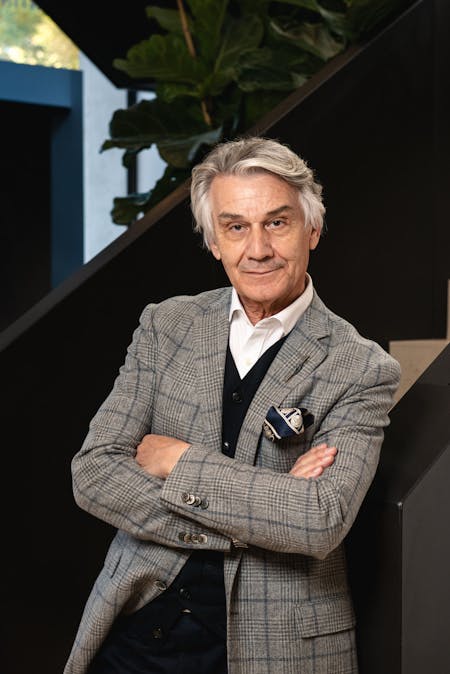 Diego Rodríguez
Concepto DR
Cosentino's materials used in this project