Top Homes
Dekton and Silestone bring beauty and practicality to the decoration of this sophisticated home in Brazil
Andressa Borsato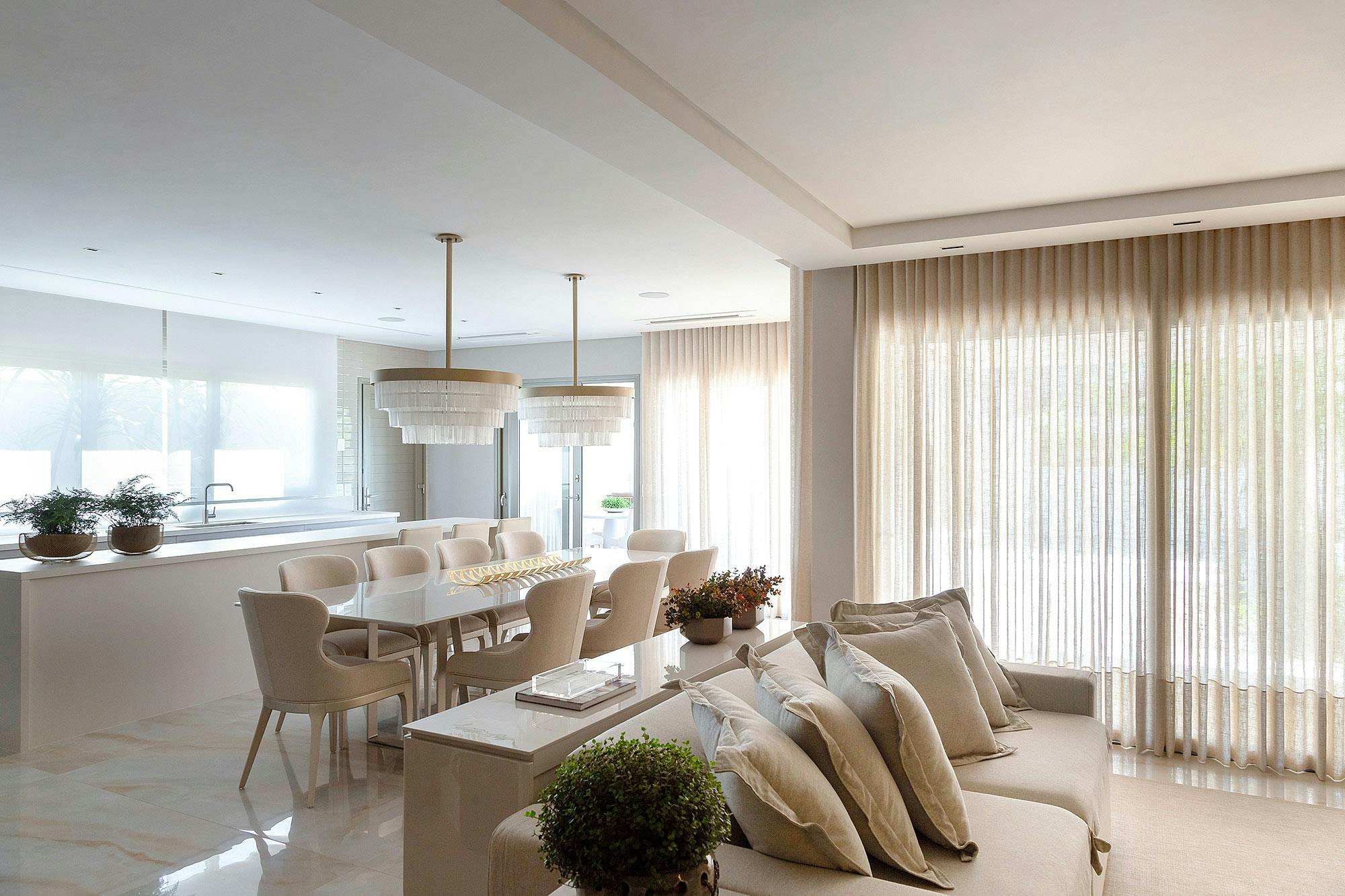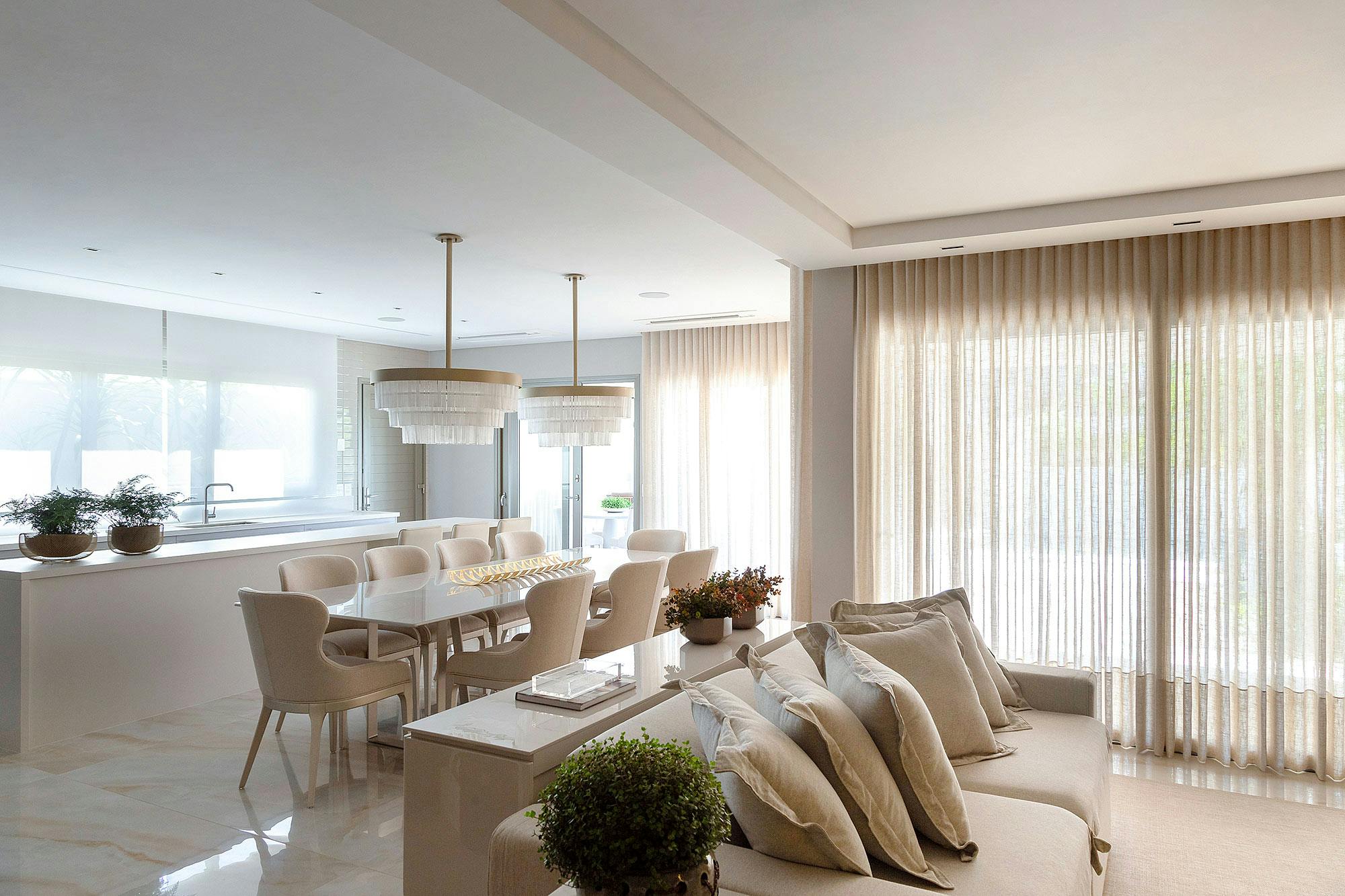 Material
Dekton | Silestone
Application
Kitchen worktop, bathrooms, laundry room
Architecture / Design
Andressa Borsato
Color
Aeris | White Storm
Photography
Gilberto Galdino
Located in the Brazilian city of Cuiabá, this nearly 600 m2 house is the home of a middle-aged couple, and its design is characterised by light tones, open spaces and fine materials. 'We looked at various design options that could be adapted to the needs of the family living in this house, who were keen to integrate their living spaces. Eventually we decided to knock down the wall that separated the dining room from the rest of the house and create this sophisticated and large space where many loved ones could gather in one place. What's even better is that the two rooms can also be integrated into the swimming pool area,' explains interior designer Andressa Borsato. All you have to do is open the curtains that protect you from the outside world through the glass panels.
Dekton Aeris: a neutral and subtle colour that can withstand anything
In fact, according to the professional, it is these diverse and multi-purpose environments that are the most interesting aspect of the project, in which Dekton has been used extensively. This can be seen, for example, in the kitchen and the 'gourmet area', where Dekton Aeris worktops have been used. The colour, in light shades with cream details inspired by white limestone, is a neutral and subtle tone, available in matt (which provides both a solid and satin finish) and Grip+ finishes, an innovative and advanced treatment that guarantees a non-slip surface.
Aeris is also the colour of choice in two of the bathrooms, the en-suite and the guest bathroom. In both cases, it provides a bright, calm surface that allows the rest of the features to shine even brighter. 'We chose the material for its strength, durability and colours, which fit perfectly with the project,' explains Borsato.
Dekton offers an elegant and glamorous look, ideal for this sophisticated décor, but it also provides additional sustainability – it is a zero carbon footprint product from cradle to grave – and enormous peace of mind: it does not scratch or stain (just wipe with a damp cloth to clean it), it is heat and fire resistant, and so on.
'As this is a home for people who usually have their grandchildren over, it is very important that Dekton is a stain resistant material as the colour range of the project is light. So even with frequent use, it will keep the house looking as good as new for many years to come,' says Borsato.
Silestone White Storm: charismatic elegance brought to every corner of the home
In addition to Dekton Aeris, the project also features another Cosentino product, Silestone, the most sustainable and cutting-edge hybrid surface available on the market, made from premium minerals and recycled materials using the exclusive and innovative HybriQ technology. This means it can withstand knocks, scratches and stains, and even certain acids. So much so that it comes with a 25-year warranty.
The colour chosen here is White Storm, a white base with a slightly speckled pattern, which is also used in three other bathrooms. In this way, it adds an extra layer of texture and interest to the different rooms in this luxury home.
Cosentino's materials used in this project