Case Study
Dekton Aura fills the sophisticated spaces of a leading Singapore-based law firm
Dp Design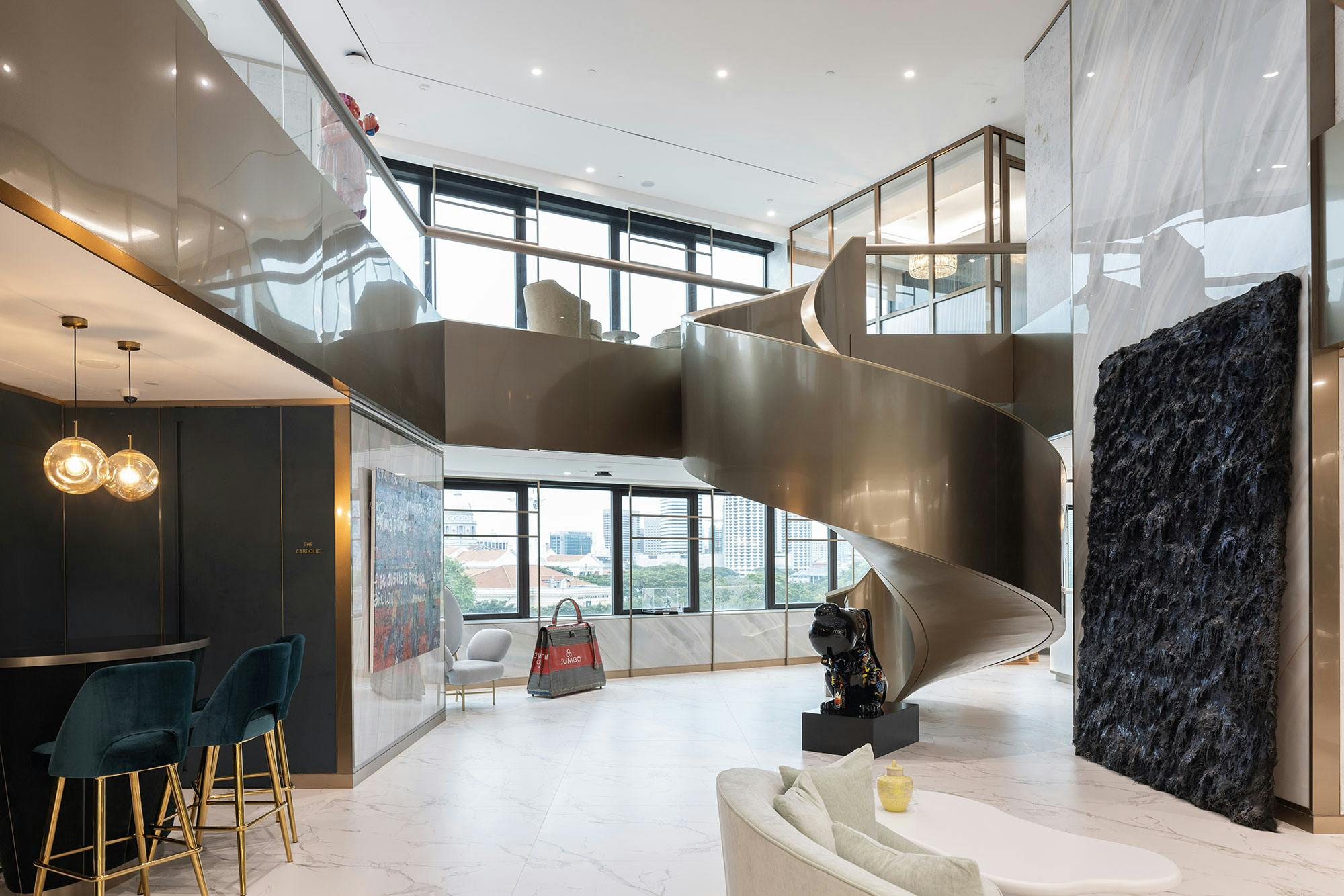 Builder
Crown Construction
Application
Dining table, reception desk, kitchen island and worktop, flooring, stairs
Photography
Finbarr Fallon
Architecture/Design
Dp Design
Elegant finishes and contemporary design are at their finest in the headquarters of the TSMP Law Corporation, in Singapore. Offices, common areas and meeting rooms share the same guiding thread, embodying a luxurious and exclusive design concept. The interior design of the different spaces in this corporate building, by Dp Design, feature powerful aesthetics and a strong character.
Among the materials chosen for the project, the use of Dekton, which creates unique atmospheres in various areas of the building, stands out. "Dekton has been used for all floors in the public areas, the table in the meeting room, the kitchen worktop and the tops of desks in the directors' offices", say the designers.
Dekton Aura to create continuity between the different spaces
The use of Dekton Aura for the floors in the common areas makes them a guiding thread between the different spaces of the building. Inspired by Calacatta and Carrara marbles, this colour features a white background crossed by grey veins which is able to create an atmosphere full of personality. "The customer wanted a white marble floor, but this material could only be used with tiles", the studio says. "Cosentino came up with the solution with its large format slabs", they say. Thanks to this large format, the number of joints is reduced to a minimum, allowing for a homogeneous and powerful design.
In addition, ultra-compact stone offers total resistance against stains and scratches, making it ideal for high-traffic areas, such as the floors in this corporate building. It is also very easy to clean and maintain, ensuring a flawless appearance over time.
Versatile and functional ultra-compact stone
The same Dekton colour was used for other applications, demonstrating the great versatility of the product and giving consistency to the design through its use in different spaces. The stairs, also clad in Dekton Aura, extend the style of the design to the different floors. This marble inspired colour was also used for the kitchen island and worktop, where it creates a perfect dialogue with the cabinets and the rest of the design.
As for the meeting rooms, Aura takes centre stage on their tables, achieving a stylish and sophisticated tone. Last but not least, the material was also used for the desks in a number of offices, establishing a dialogue with the cosy and personal style of these rooms.
Cosentino's materials used in this project
Explore Similar Case Studies