Case Study
Dekton Halo transforms an ice cream parlour into a lab-like space
Carlos Rincón Orquín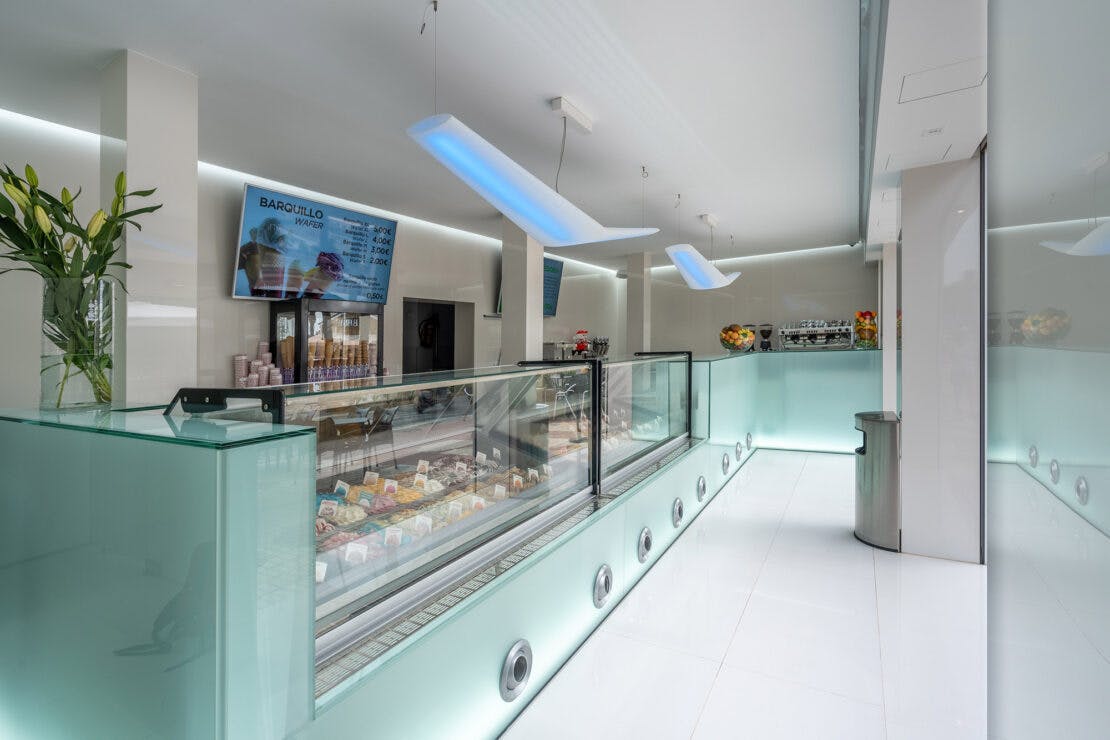 Application
Glued façade, wall, floor and columns cladding
Architecture / Design
Carlos Rincón Orquín
Photography
Alberto Rojas
The ice cream parlour Jijonenca 1964, in Garrucha, is one of the establishments opened by Carlos Rincón, who after years working in the well-known nougat factory, decided to embark on his own adventure: a chain of ice cream parlours which now has 6 establishments operating in the province of Almería, specifically in Garrucha, Mojácar and Vera. This establishment in Garrucha, which was renovated in 2021, is run by his son, Carlos Rincón Orquín.
An enthusiast of interior design, Rincón Orquín himself designed the latest refurbishment undertaken in the establishment, which gave the place a clean and neutral atmosphere, with the product, the colourful and refreshing ice creams, taking centre stage. The aim was to achieve a space full of personality, and for this purpose he relied on Dekton, Cosentino's ultra-compact stone.
An unconventional ice cream parlour
"Working with Cosentino has been very beneficial for Jijonenca and has helped us to achieve the ice cream parlour/laboratory effect that we wanted", explains Rincón Orquín. Thus, the contemporary look of the establishment goes beyond stereotypes, offering a different experience from conventional ice cream parlours.
In order to create a homogeneous atmosphere, a single colour was used for the exterior façade, walls, floors and columns. This is none other than Dekton Halo, whose off-white shade, with subtle grey nuances and high gloss give the space a magical atmosphere, always in dialogue with the product. This colour was also used in the bathrooms, thus creating a continuous design.
Dekton, a hygienic and easy-to-clean material
"The fact that it is an aseptic and easy-to-clean material helps Jijonenca to maintain its high standards and habits in terms of cleanliness and hygiene", he further says. Dekton's low porosity contributes to these advantages, making the material resistant to stains, scratches and particularly suitable for high traffic and commercial areas.
The owner and designer was so satisfied with the result that he decided to use Dekton in another of his establishments, this one located in Vera. In both cases, Dekton will ensure that the ice cream parlours maintain their flawless appearance over time.
Cosentino's materials used in this project