The 'Out of Interior Design 2017' award now adds more than 200 projects around the world and the account continues to grow.
The amount of media coverage his designs receive gives us an idea of the large impact that his projects have worldwide. Created in 2002 he and his studio have worked on the modernization of Pull & Bear, the creation of unparalleled spaces such as Diverxo (Chef Dabiz Muñoz's restaurant) and even the VIP area of the new soccer stadium of San Mamés (in collaboration with Urbana 15 studio). Examples mentioned above are only projects done within Spain, because his designs are spread throughout the world: America, Asia, Europe and the North of Africa.
Born in Tangier and descended from Catalan parents and grandparents, Lázaro Rosa-Violán lives saddled between Barce-lona and New York. He doesn't seem to be that 8-year-old kid that attended the Fine Arts Academy as a visiting student. Or maybe not. He defines himself as a "painter by education, traveler by belief and interior designer by instinct". He says he keeps finding inspiration everywhere with a style that "is all the styles" that are the result of his great cultural background. Let's discover more about the professional and the person behind him.
Painter before architect? What brought you to the world of interior design?
Professionally, I did approach painting before architecture, but my loves move in parallel. It's true that I wasn't planning to do anything related to architecture professionally. I did the degree for pleasure, without the intention of turning it into my way of life, but there was a moment when I realized that I was spending 90 % of my life alone and I started doing projects to work with people.
Was your first success a product of that loneliness or of teamwork?
I didn't really suffer much from being alone, but there comes a point where you need a team. And it's just that everything leads to everything. I'll explain myself: there was a moment when I had a pretty intense social life with a pretty solitary job. So my leisure activities were to have dinner out, and I would see restaurants that horri-fied me. That's why when I saw the oppor-tunity to develop my ideas in the famous Can Vent in Formentera, I did it and it was a success.
Is there a reference painter or architect in your work?
I have many. Maybe Le Corbusier. I know he's a classic. But he did everything and he did it very well. He knew how to combine. Sometimes, because of money issues, he would do projects with a super simple range of materials. He touched the paint and knew how to manage the light. He covered everything and he did it well. Though it's only an example, I don't radicalize myself with anything.
The restaurant of the three-Michelin-star restaurant, Dabiz Muñoz, gathers all its creative fury. He states "It was about creating a place that was unique and full of daydreaming for a different and exceptional kitchen". Cosentino's materials shaped this habitat.
The center black countertop done in Dekton Domoos elegantly contrast with the bright tables done in Silestone White Zeus.
"I have a theory that you can mix anything. The important thing is the result".
Where did you get your education?
I did Fine Arts in Madrid and the first two years of architecture in Paris and the other two in London. I didn't want to study in Spain because here the degree resembled an engineering one. I had been painting my whole life and I wanted to specialize in three areas in architecture: painting, industrial design, and sculpture. In that time (30 years ago), it wasn't possible to study these "designs" in Spain. Back then, the teachers were architects, and there weren't any professors whom could teach me what I wanted to learn. I've always liked to shake everything up and make things up.
So I went abroad with the idea of covering the interior design topic, without becoming a decorator, which is a pejorative term in Spain. However I don't understand why. In the United States it's the second best paid degree after advocacy. Even among ourselves, the interior designers, there are many whom will feel offended if you use that term.
Tell us a little bit about industrial decoration, in which you were a pioneer in Spain and that is now trending.
It's true that I was a pioneer, but that's because of a lack of resources. I lived in Barcelona, where it was easy to find all these things that are very cute. Also I have gone to New York a lot over the last 25 years where it's a trend, and I'm very familiar with that style. In fact, I was raised in Bilbao, which gave me the perspective of a beauty in the industrial. Maybe my style is a mix of everything.
Is that the reason why you work with Silestone and Dekton?
I work with Silestone and Dekton for many reasons. Maybe the first one is their endur-ance. But also because of their relation-ship with industrialization. I like the point where you see the human intervention in the material without it sounding artisan.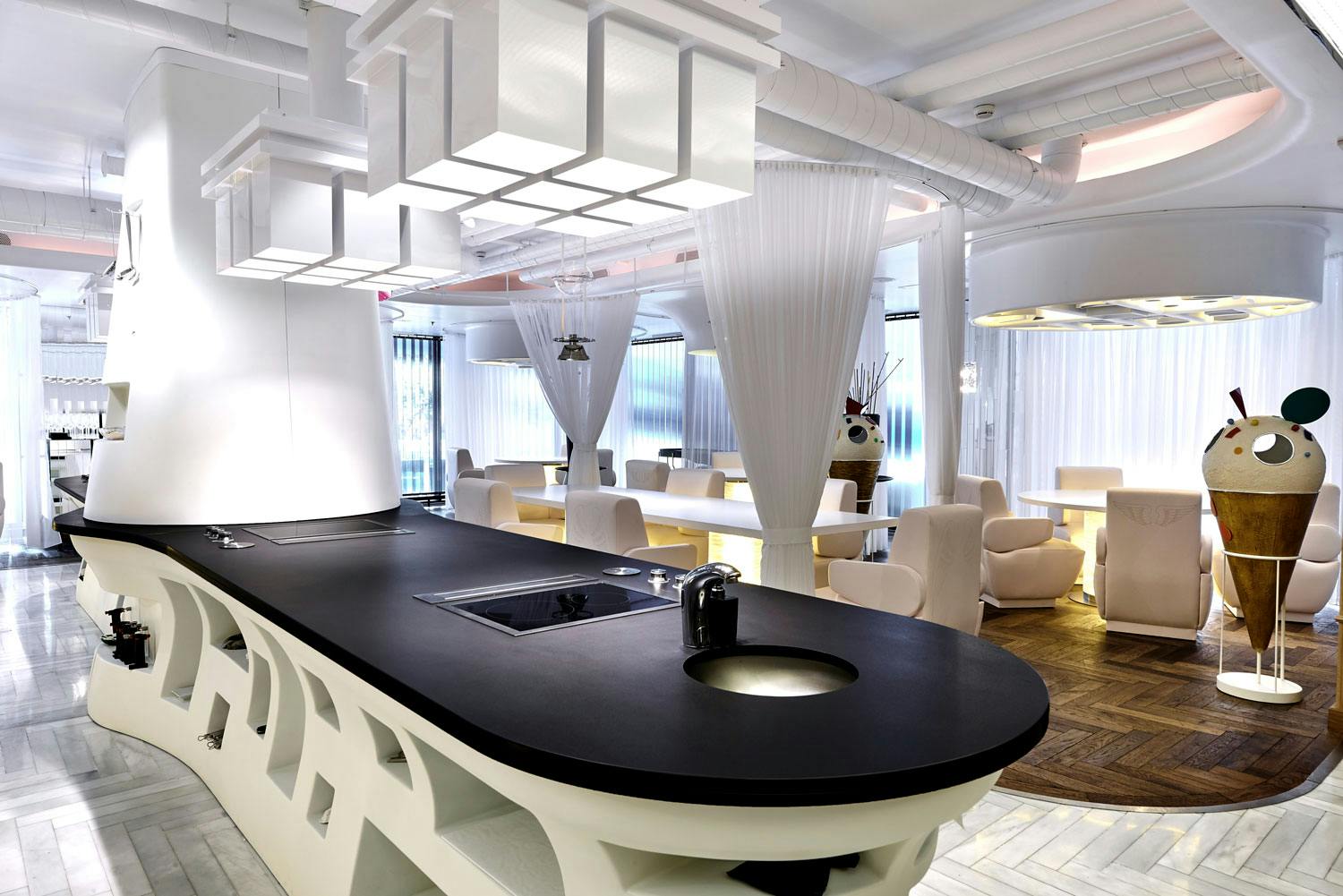 But you're a bit of an artisan, aren't you?
There's an aspect that people don't know about this kind of materials and that's their human touch. I like their capacity of being able to create a big format in just one material. That's priceless. You're touching material that isn't natural but in which you also intervene.
How do you create a unique universe? Do you establish a dialogue with all the pieces, formats and textures?
I have a theory that you can mix every-thing. The idea that "this metal doesn't go well with others, that silver doesn't go with golden" exasperates me. Just because they say so! We all have our own resources and skills. Our talent depends on many different things. There are people, for example, who need to cling to their projects and their drawing. I never cling to anything. I think that what matters is the final result and the perception of the client, the person in the space. So if you have to go diagonally to get there, then you just do it.
The circular bar at two heights made in Marquina is the perfect place to peck while appreciating various seafaring illustrations.
Talk to us about the Eastern influence in your projects…
I think we like what's exotic and what we don't have. That's why, the more different the exotic is the better. And for us, Euro-peans and Mediterraneans, what's Eastern is the antithesis of what's ours. The Mediter-ranean has been in contact and establishing a dialogue with the East, even before Marco Polo's travels. This is probably because the poles attract each other.
How would you like to end this inter-view?
Very often the questions I am asked get stay in the forms and data. People try to get us to say that we're now working in South Africa, in America, etc. What I would like to tell is why we do the projects the way we do. I'm interested in being seen as the head or the captain of a team. In fact, that's what they call me in the office. In the end, I do what I do because I have a great team.
As in Walt Whitman's "Oh, Captain, My Captain"?
No, but I think it's funny. In a meeting for a project in Korea, a member of my team introduced me like "the captain". And I kept the name.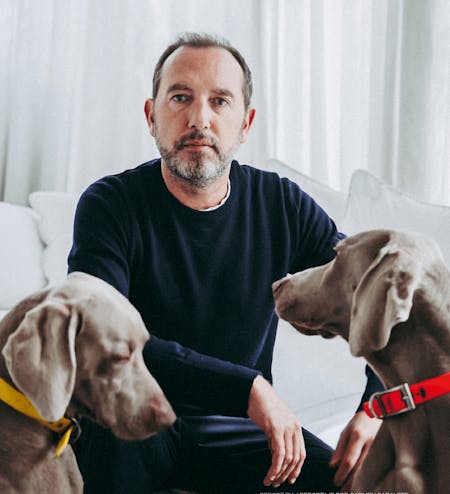 Lázaro Rosa-Violán
Interior designer