Top Homes
Silestone's stain resistance makes it the ideal choice for a very sophisticated project in Malaysia
Ippo Asia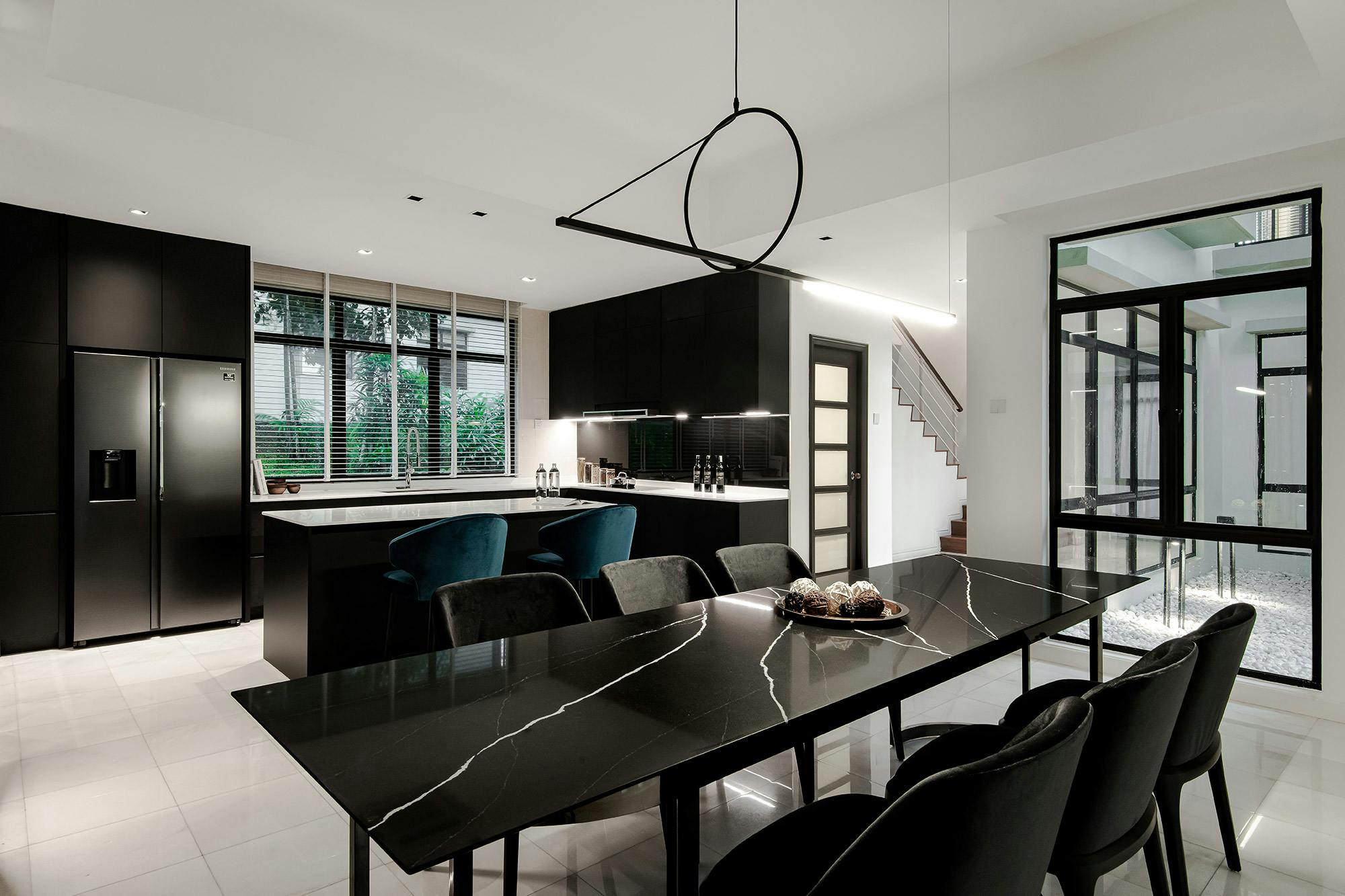 Application
Dining table top
Architecture/Design
Ippo Asia
Strong, contemporary lines make up the Belle Maison project, which according to the Ippo Asia studio represents 'a marriage of light and dark, a space that showcases the fascinating appeal of dramatic monochrome tones'.
Indeed, the spotless white walls, combined with the large windows, open up the space and let in plenty of natural light. At the same time, a restrained and carefully selected range of black, grey, brown and tan tones creates a sophisticated contrast in the space.
Among such dark shades, an elegant Silestone Et Marquina slab, used for the dining table top, stands out. Evoking the Spanish black Marquina marble, this option offers a bold black background crossed by strong and intense details and white veins.
Silestone: stain resistance warranty
'The client's main concern for this project was to come up with a material for the dining table top that would offer high durability and stain resistance. They had Silestone Eternal Marquina in mind, but they weren't sure if it would really stand up to dirt,' explains Ippo Asia.
In the end, that doubt was dispelled: 'We chose Cosentino materials because of their commitment to quality and their unparalleled stain resistance, as well as the 25-year warranty offered by their Silestone products. These features gave our client the necessary peace of mind, and also gave us the confidence to continue using Cosentino materials in this project,' the professionals say.
A refined black for the dining table that defines the overall aesthetics of the project
When selecting this Cosentino surface, the studio also took into account the many different colours to choose from. 'Silestone has been instrumental in bringing our creative vision for this project to life. The use of large-format quartz for the dining table top provided a uniform and consistent look, and the wide variety of Silestone colours available gave us plenty of options to choose from. Exceptional quality and attention to detail in the manufacturing process were also key factors contributing to the success of this project,' they continue.
Finally, the table blended in seamlessly with the rest of the house's design, which is dominated by clean lines, strong contrasts and solid architectural forms.
'The quality, its outstanding product range and attentive customer service made both the purchase and installation of Silestone a smooth process that ultimately resulted in a successful project. We highly recommend Cosentino materials for any project that requires durable, high quality materials,' concludes Ippo Asia.
Cosentino's materials used in this project
Explore Similar Case Studies