Top Homes
The floor in the spotlight: how eye-catching design enhances minimalist architecture
Ann-Sophie Moyson and Bernard Derveaux. Moyson - Derveaux Architects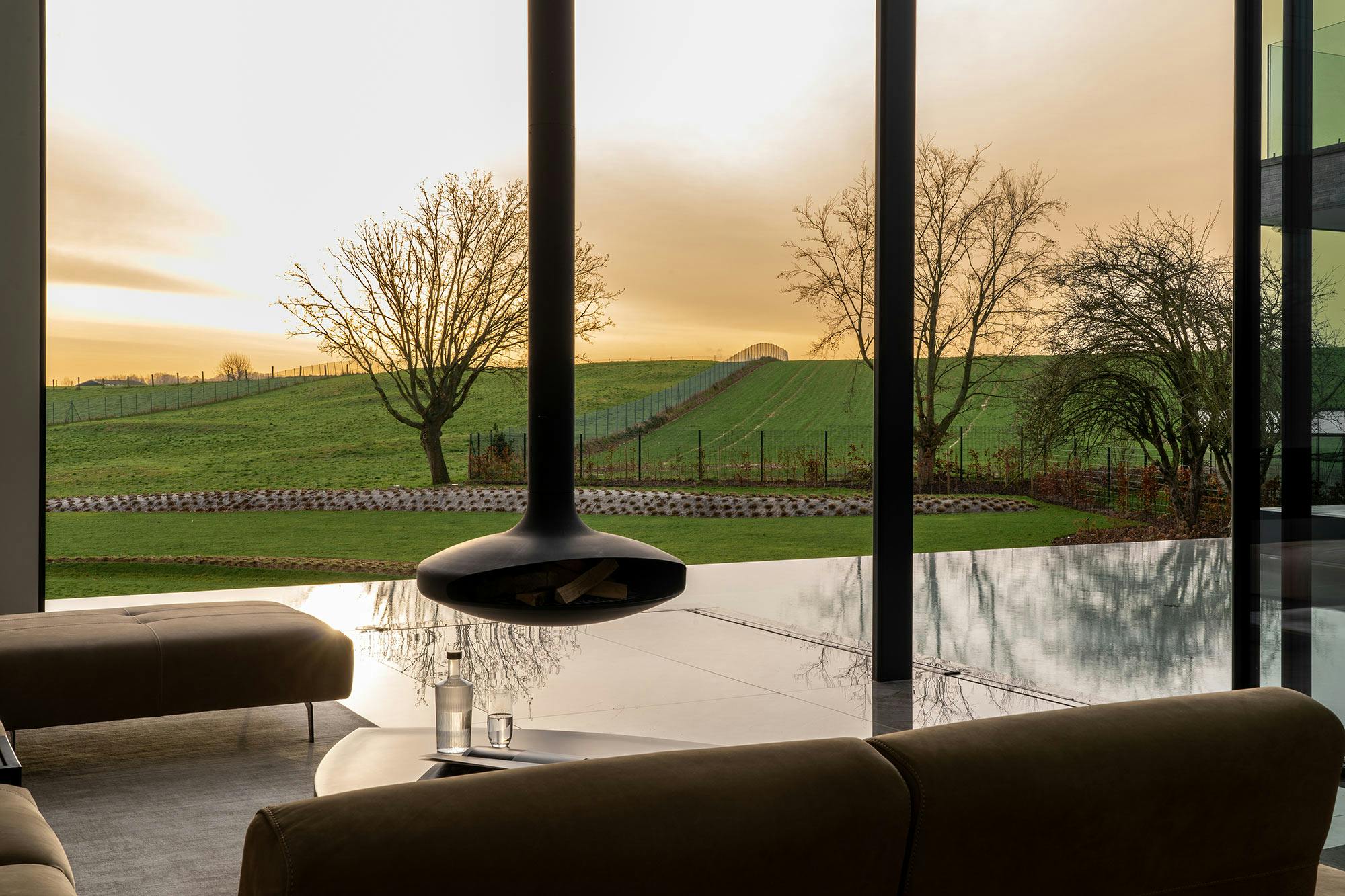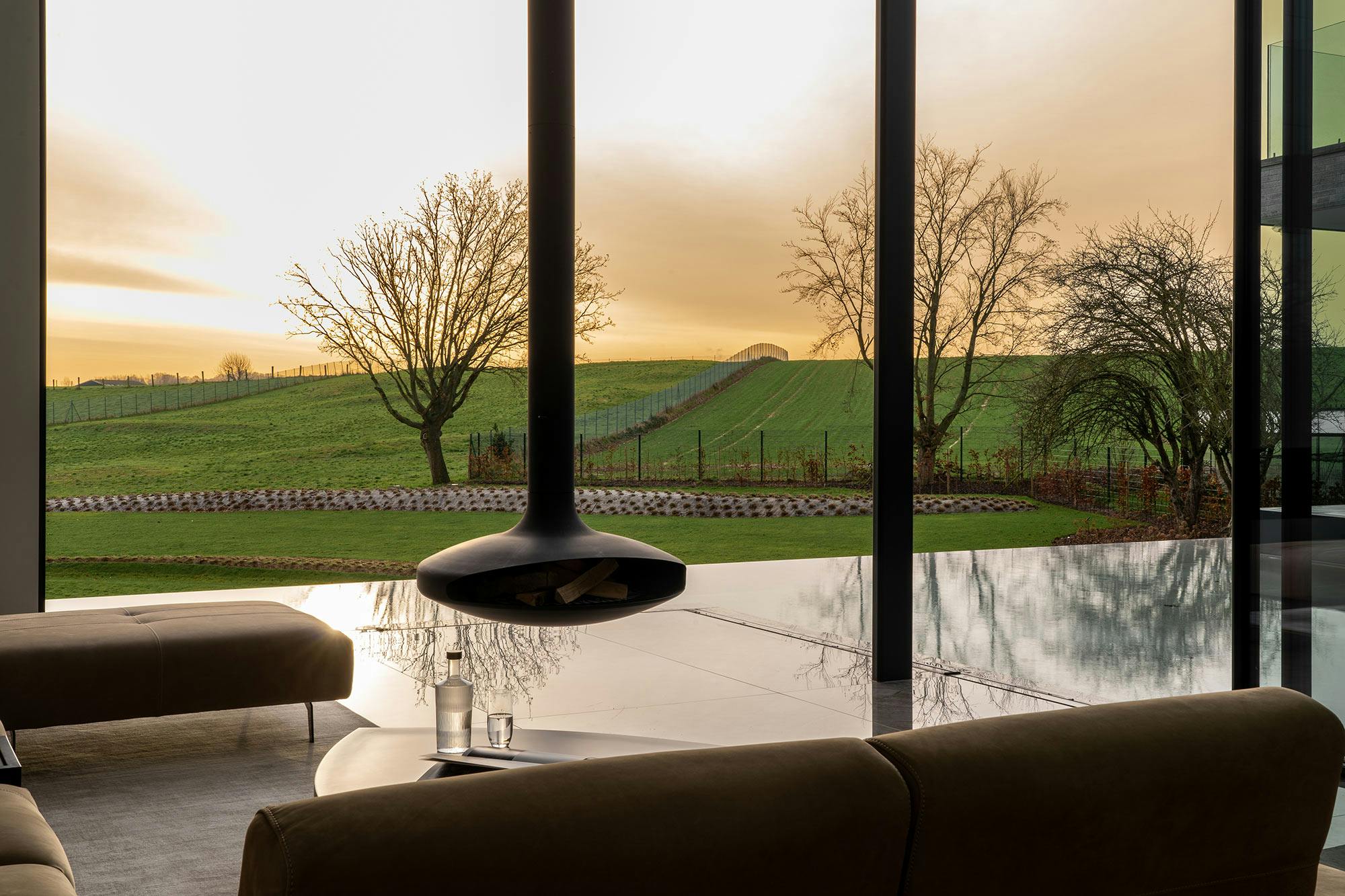 Application
Flooring, Wall Cladding
Photography
Stéphanie Mathias 
Architecture/Design
Ann-Sophie Moyson and Bernard Derveaux. Moyson - Derveaux Architects
Color
Sogne, Vera Grip, Zenith, Korso
This beautiful house, surrounded by the typical hilly landscape of Meise (Belgium), has been designed to bring nature and outdoor architecture into the interior spaces. Moyson-Derveaux Architects chose a striking floor in Dekton by Cosentino to highlight the stark architecture of the house.
"When looking for a floor, we wanted a material that could be used both indoors and out. That is how, five years ago, we came across Dekton: Cosentino's ultra-compact stone. It was perfectly suited to the customer's wishes: ultra-large tiles, with minimal joints, suitable for indoor and outdoor use", says Ann-Sophie Moyson.
"When Bernard and I first saw Dekton Sogne in large format pieces during a visit to Cosentino's headquarters in Spain, we fell in love with it. On our return, we showed our customer the surface. The pattern almost looked like a photo of the mountains taken from space, and the polished finish made the design even more vivid", says Ann-Sophie. The 20 mm Dekton Vera tiles with Grip+ anti-slip finish flow from the interior spaces to the outdoor terrace, where the same colour and design are used to achieve a uniform look.
"The façade of the house is made of Belgian blue stone and, just like the floor, it extends from the outside to the inside", says Bernard Derveaux. The façade and the floor in Dekton Sogne create quite a contrast. However, they also have similarities, as the pale veins of the façade are a perfect match for the pattern of the slabs.
A sober, minimalist architecture featuring powerful floors
"The house stands out mainly for its sober and minimalist architecture. Materials such as exposed blue brick, wooden parquet, aluminium and stainless steel set the general tone. Everything is connected through a distinctive floor", says Bernard Derveaux.
This is evident in its minimalist style, in which the different pieces of furniture function only as objects. When the sun is in the right position, the floor becomes a work of art, dramatically reflecting the infinity pool on the terrace into the interior spaces of the house.
The play of lines in the architecture was carefully considered when laying the tiles. The floor joints are precisely aligned with the cabinets, the kitchen island, the walls and the sloping bathtub in the bathroom, among others. It was quite a challenge for the tiler, who marked, cut and fitted the floor on site, achieving a calm and serene result.
For the bathroom floor, the colour chosen was Dekton Zenith, a white shade used in combination with a Dekton Korso cladding, which extends in height to create a sliding skylight. Opening the shower skylight creates the illusion of being in an outdoor space, further reinforcing the connection to nature.
Cosentino's materials used in this project



Explore Similar Case Studies