Top Homes
Dekton: the sustainable match made in heaven for The New American Home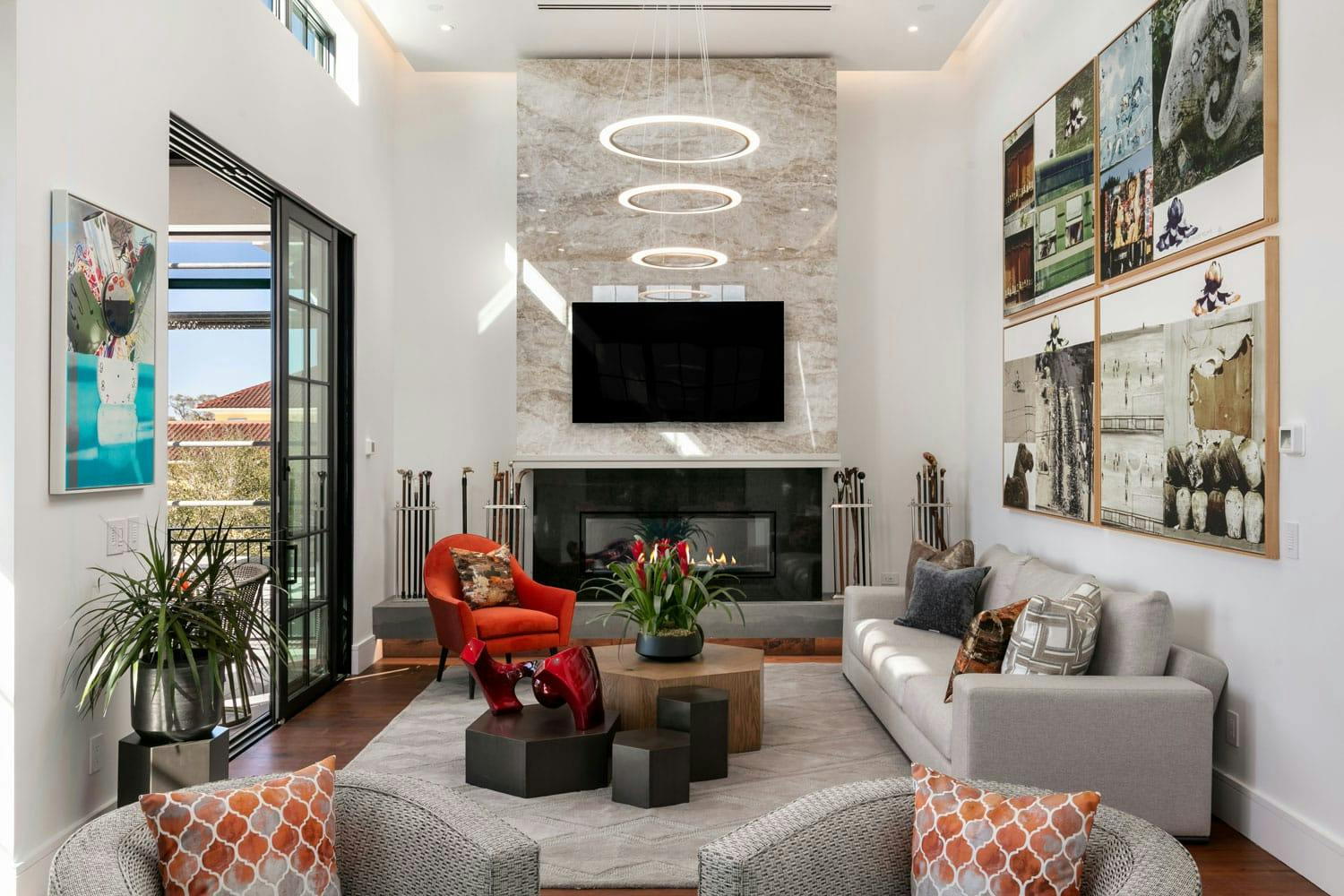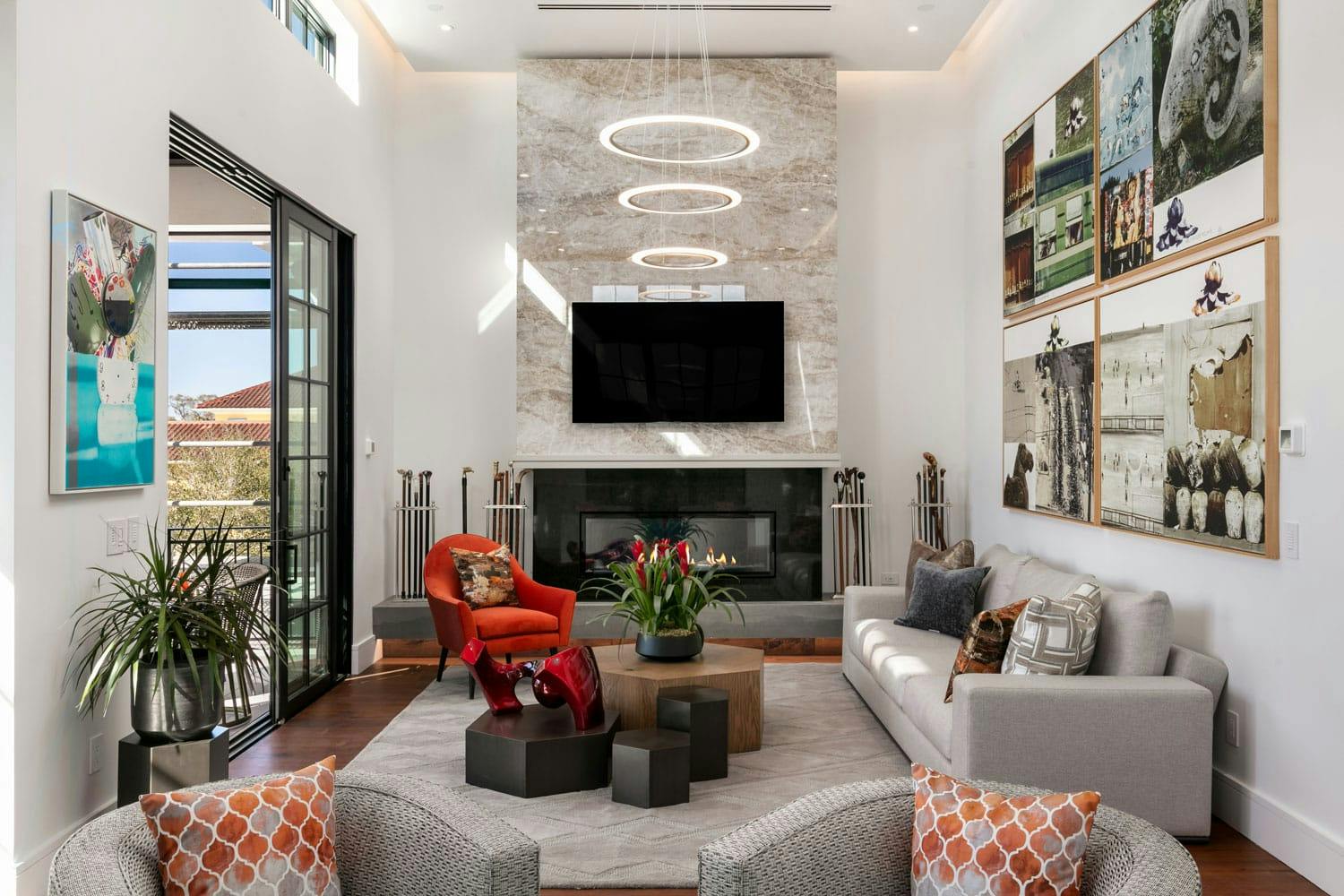 Architecture / Design
Phil Kean Design Group
Application
Fireplace full height wall cladding | outdoor kitchen
A stunning 3-story home for the International Builders' Show
The New American Home is the official show home for the annual International Builders' Show, and it is all about showcasing innovative design concepts, industry best practices, and state-of-the-art products - and so is Cosentino. The 2021 show home designed by Phil Kean Design Group is located in Winter Park, a quaint and picturesque city in Central Florida, in which two town houses were combined to create a 3-story single family home. The designers wanted to incorporate technology and a modern aesthetic with a warmer palette to make the home inviting and specified Dekton Taga and Laurent in two different applications.
This architecturally interesting home is designed as a 'treetop' house where the main living space sits on the third floor among the trees giving the space incredible views and an urban loft feel. The third story is the gem of the space with jaw-dropping 14-foot ceilings and imposing windows that let in floods of natural light - it is also where Dekton can be found both in the interior and exterior areas of the home.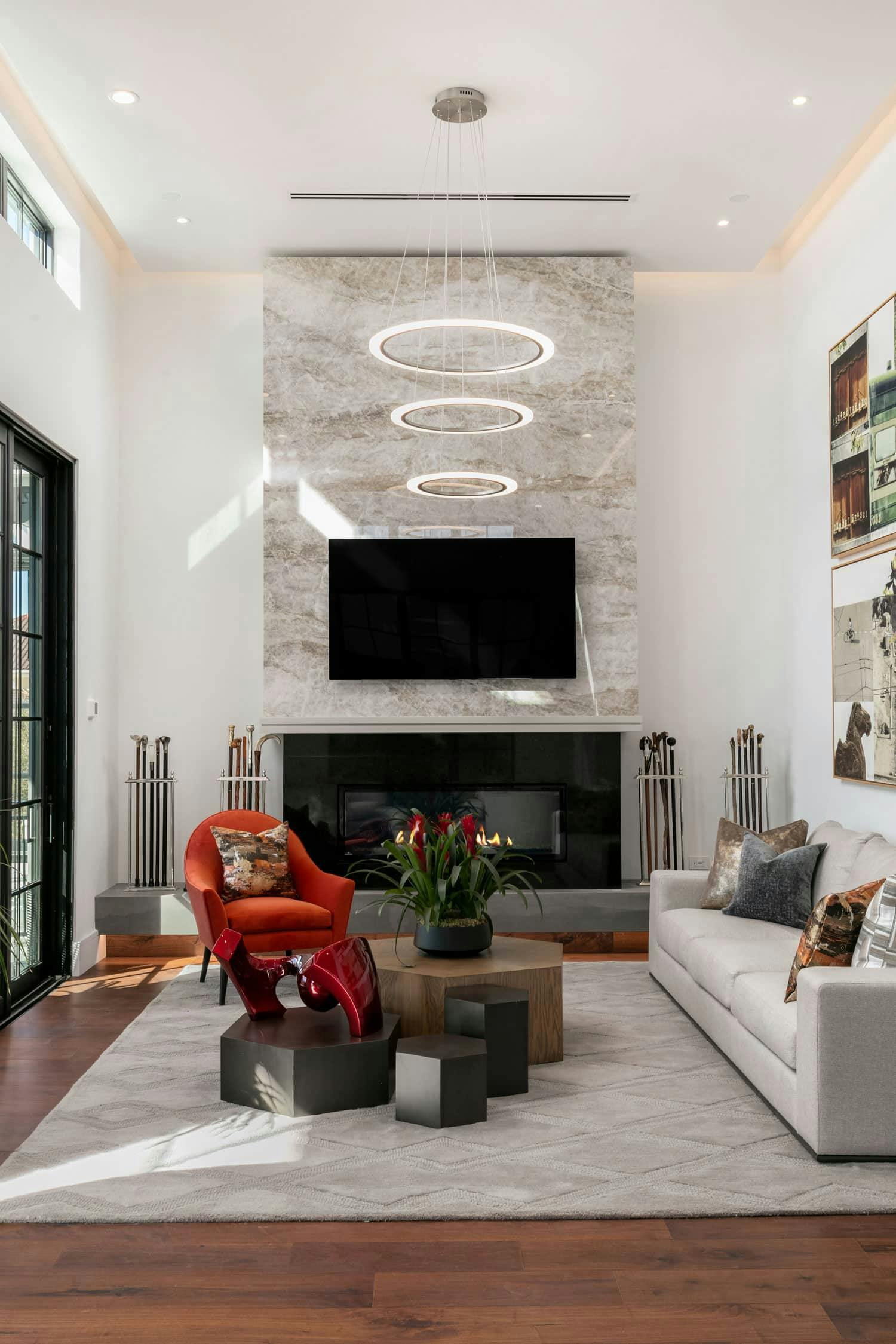 Full height wall and fireplace cladding is a breeze for Dekton
As you reach the third story the first eye-catching element is a fireplace's full height wall cladded in Dekton Taga. When dealing with slabs that run up walls and fireplaces, especially in applications as high as this one, there is risk of the material coming off if not installed correctly. Dekton 2cm slabs, however, are the perfect solution to reach the high ceilings on the living room fireplace. The grayish tones with marble and crystalline veins of Dekton Taga blend in perfectly with the warm tones and pops of color in the living room, and when bathed with sunlight, it is a sight for sore eyes.
Do you need help with a project?
Contact our specialists for advice
Do you need help with a project?
Contact our specialists for advice
Creating fully functional outdoor social spaces
The New American Home is also rich in fully functional outdoor spaces such as this stunning summer kitchen by Brown Jordan featuring Dekton Laurent. The dramatic black backdrop with gold crisscrossed veins is the perfect complement to the clementine-colored cabinets. Beyond its stunning aesthetics, Dekton stood out for its premium performance suited for the Florida weather. The state is constantly exposed to the blazing sun, heavy rains, and possible hurricanes, which is why outdoor materials need to be able to withstand the elements and maintain its properties and beauty, making Dekton the perfect fit.
This unique home design is energy efficient and sustainable and Dekton is its sustainability match made in heaven. Dekton is not only a certified Carbon Neutral product but is also manufactured using 100% renewable energy sources. The New American Home achieved renowned industry certifications such as Platinum LEED Certification, NGBS Emerald Certification with +Net Zero Energy, and +Wellness Badges.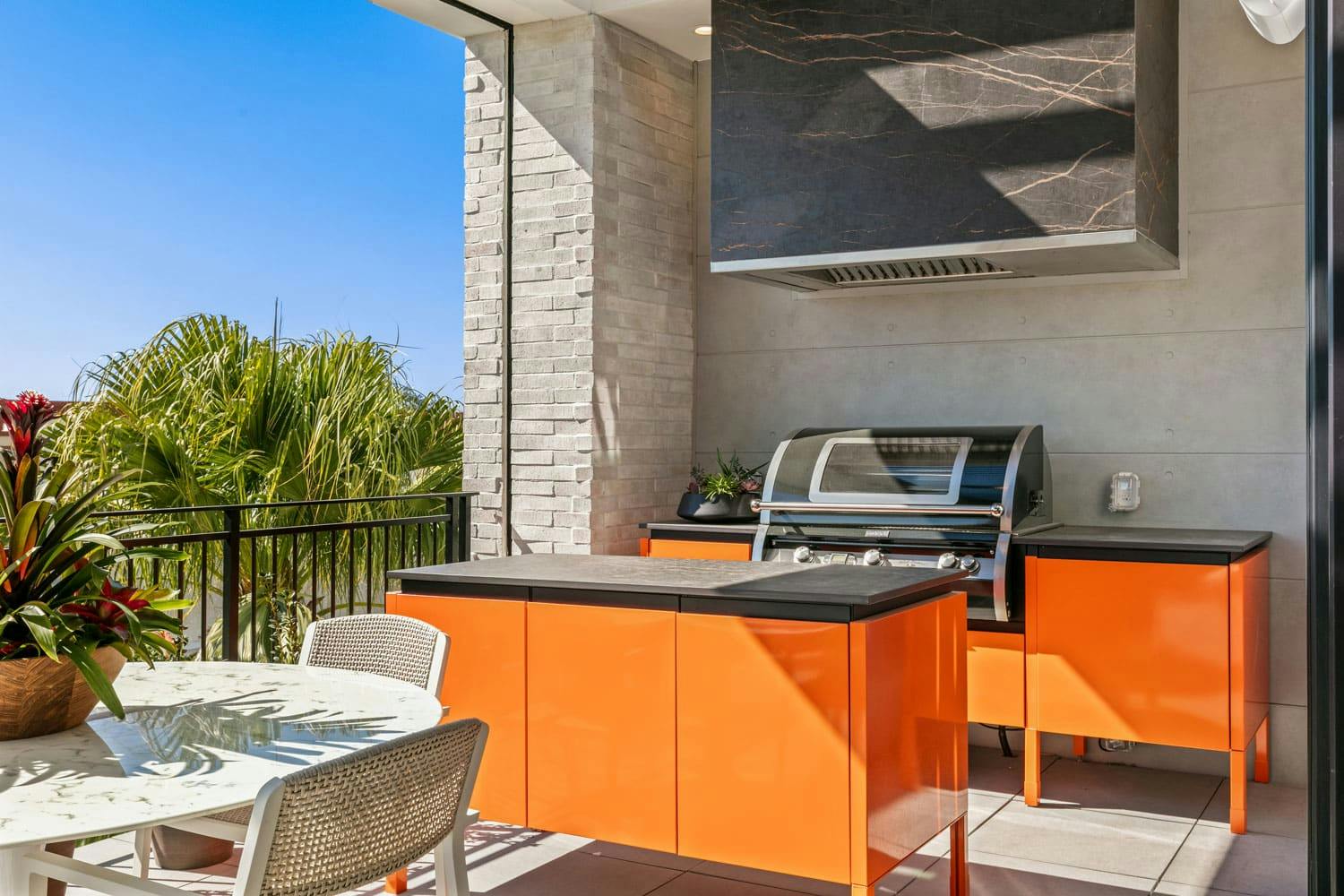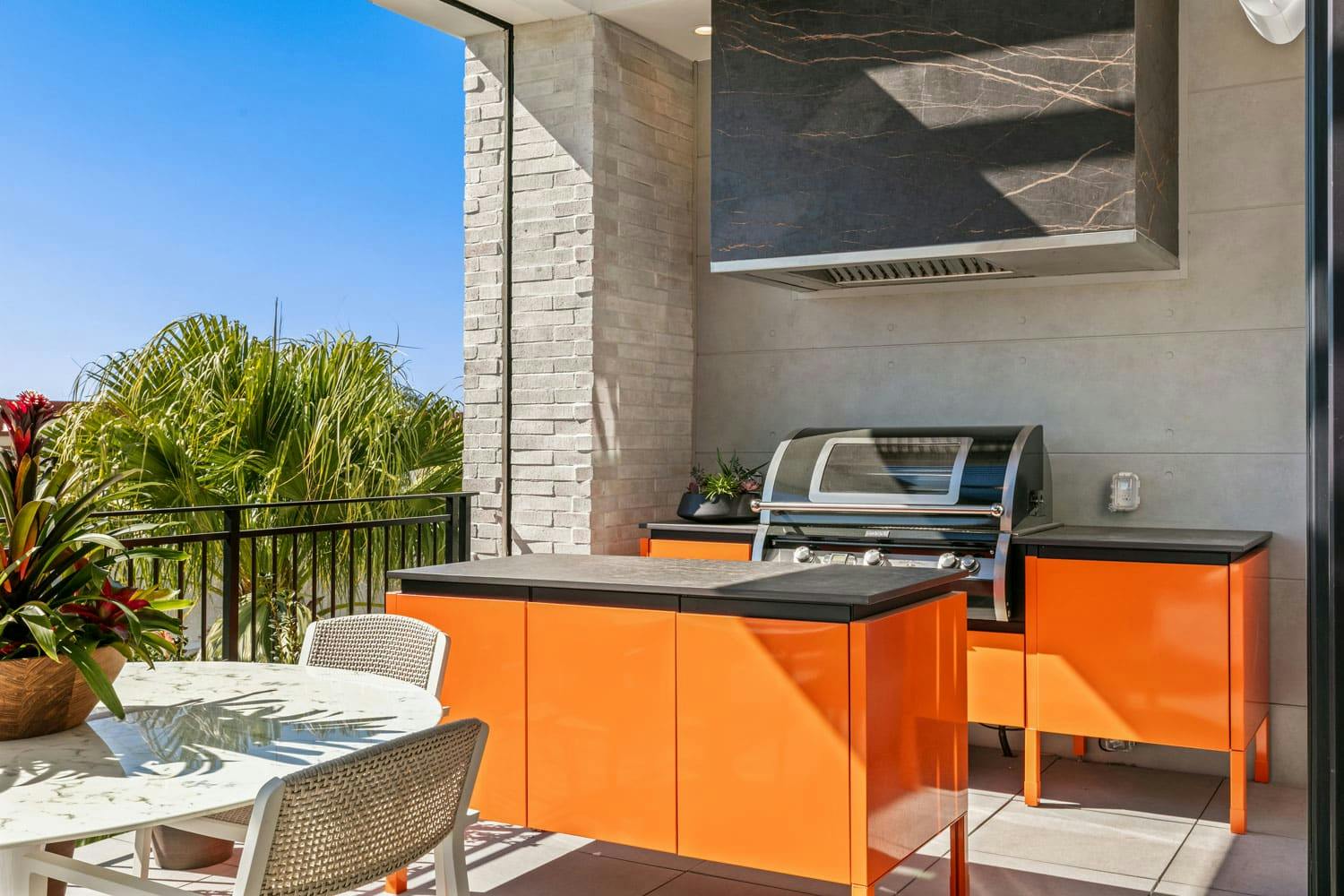 Cosentino's materials used in this project