Case Studies
The Water House Project, sustainable haute cuisine in a stylish and relaxed atmosphere in which Dekton Rem stands out
Hi-Spec Design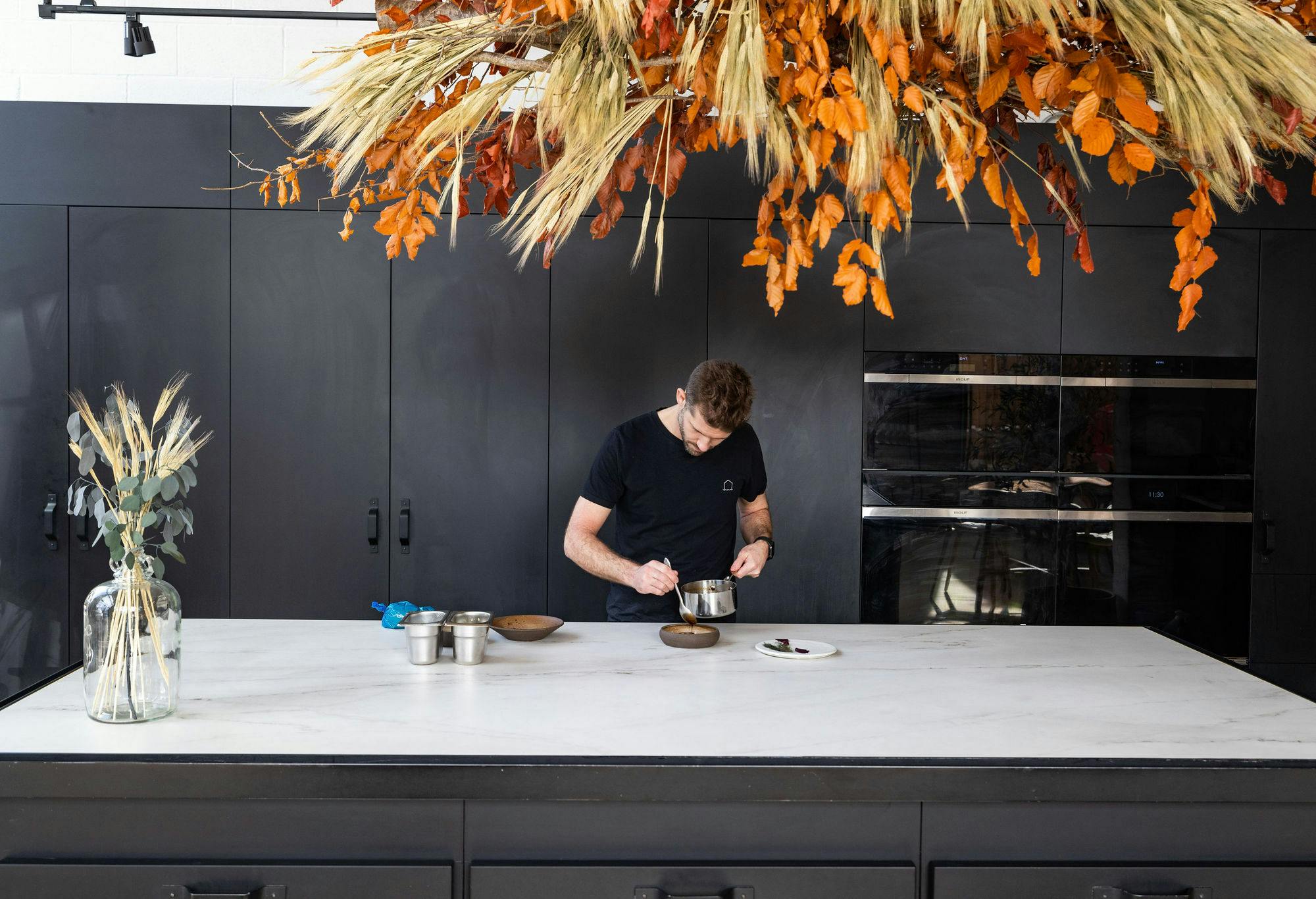 Location
East London, London (UK)
Application
Worktop, chef's table, wall cladding
Architecture / Design
Hi-Spec Design
Dekton Rem, marble effect for a premium look
Located in the heart of Bethnal Green in vibrant East London, The Water House Project is a fine dining experience that offers exquisite elegance in an informal atmosphere. Founded by Gabriel Waterhouse, former chef of the Michelin-starred Galvin La Chapelle, the restaurant was conceived with the intention of bridging the gap between the elegance of fine dining and relaxed and comfortable spaces.
Its stylish interior has been designed by Hi-Spec Design, specialists in bespoke German and Italian kitchen furniture, and features Dekton Rem, a luxurious marble-effect surface, both for the work surfaces and chef's table (both 20 mm thick) and for the wall cladding (8 mm thick). 
Dekton Rem is part of the Natural Collection from Cosentino. This ultra-compact surface is available in thicknesses of 4, 8, 12 and 20 mm and in a 320 x 144 cm format. Inspired by elegant white marble with swirling veins, its intricate design features brown and grey veining with touches of gold, reminiscent of the traditional nature of Calacatta marble. 
All Dekton surfaces were manufactured by JR Stone, a company specialising in fine granite and ultra-compact surfaces.
Dekton, a carbon neutral material perfect for a sustainable restaurant
The Water House Project's menus change monthly and are based on local, seasonal ingredients carefully selected when they are at their best. In addition, the restaurant's wines are sourced from small producers in Europe using traditional, low intervention wine making methods, giving back to the soil what they have taken from it. Last but not least, meat and fish are used in small quantities and always from ethically and sustainably raised animals. 
Waterhouse therefore only partners with suppliers who share its commitment to sustainability, such as Cosentino. In this sense, Dekton is the perfect choice for this busy restaurant, as it is a carbon neutral product throughout its life cycle, a key factor supported by emission reduction projects and Grupo Cosentino's good practices in terms of environmental management, contributing to the fight against climate change.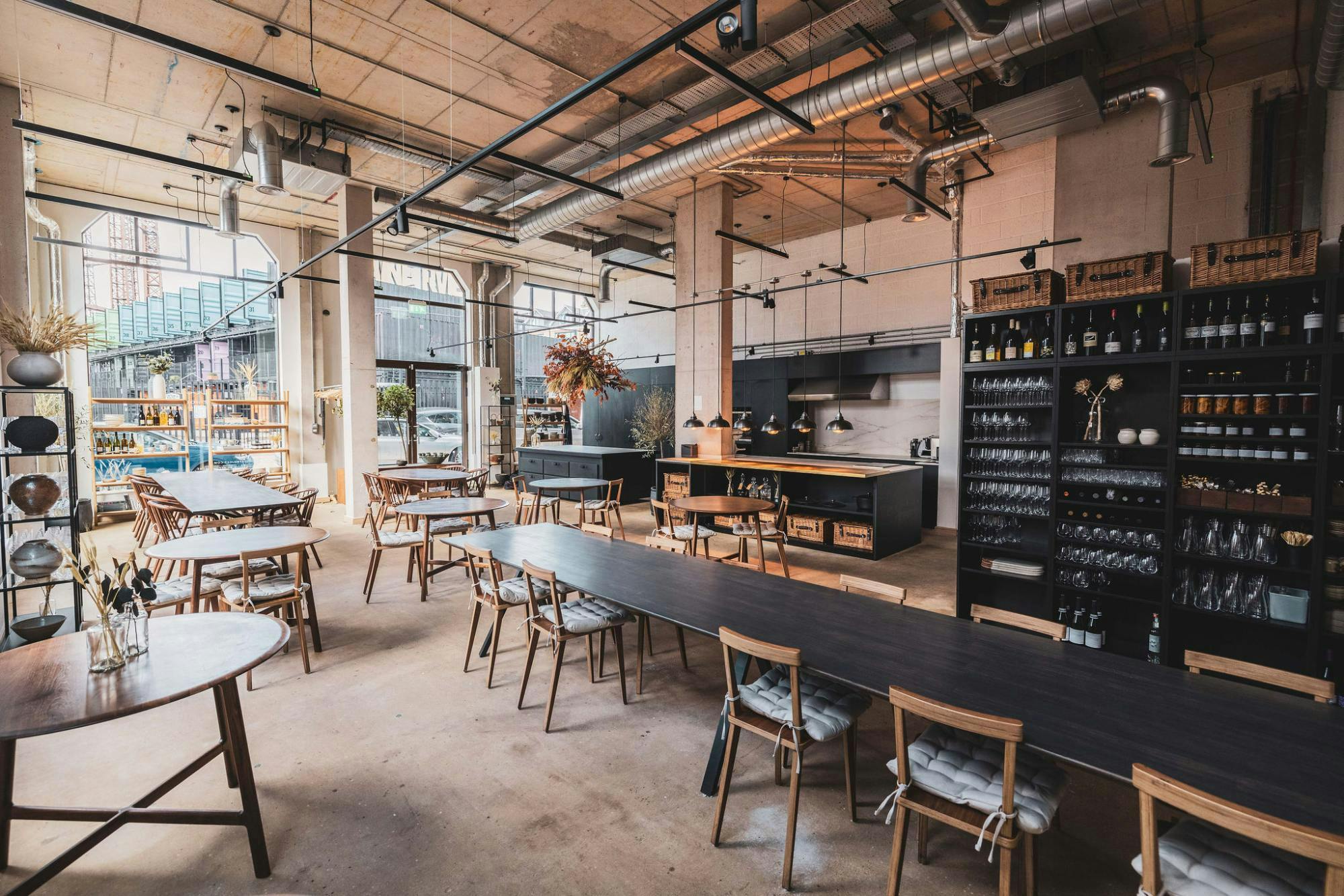 Exceptionally durable surfaces with Dekton
Furthermore, Dekton's features in terms of durability guarantee a long service life. In fact, Dekton surfaces have a 25-year warranty. Dekton is highly resistant to scratches, stains, fire and heat, making it ideal for commercial and residential projects as it can be used for work surfaces, claddings, stairs, floors, furniture and more, both indoors and outdoors.
Gabriel Waterhouse chose Dekton because of its sustainability, technical features and premium look, which fits perfectly in this open plan restaurant where the chef's table is visible to the diners. 
"Dekton worktops really frame our entire kitchen and are the perfect finishing touch. They are long-lasting and perfect for maintaining the overall design concept, which is just what we needed".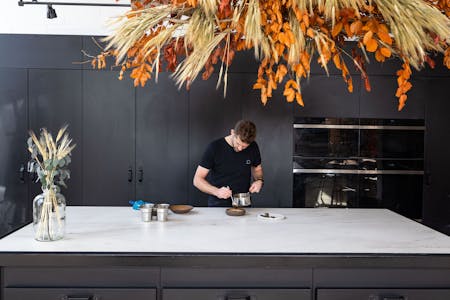 Gabriel Waterhouse
Chef
Cosentino's materials used in this project