Case Study
This ground-breaking haute cuisine restaurant in Singapore relies on Cosentino's functionality and elegance
Asylum Creative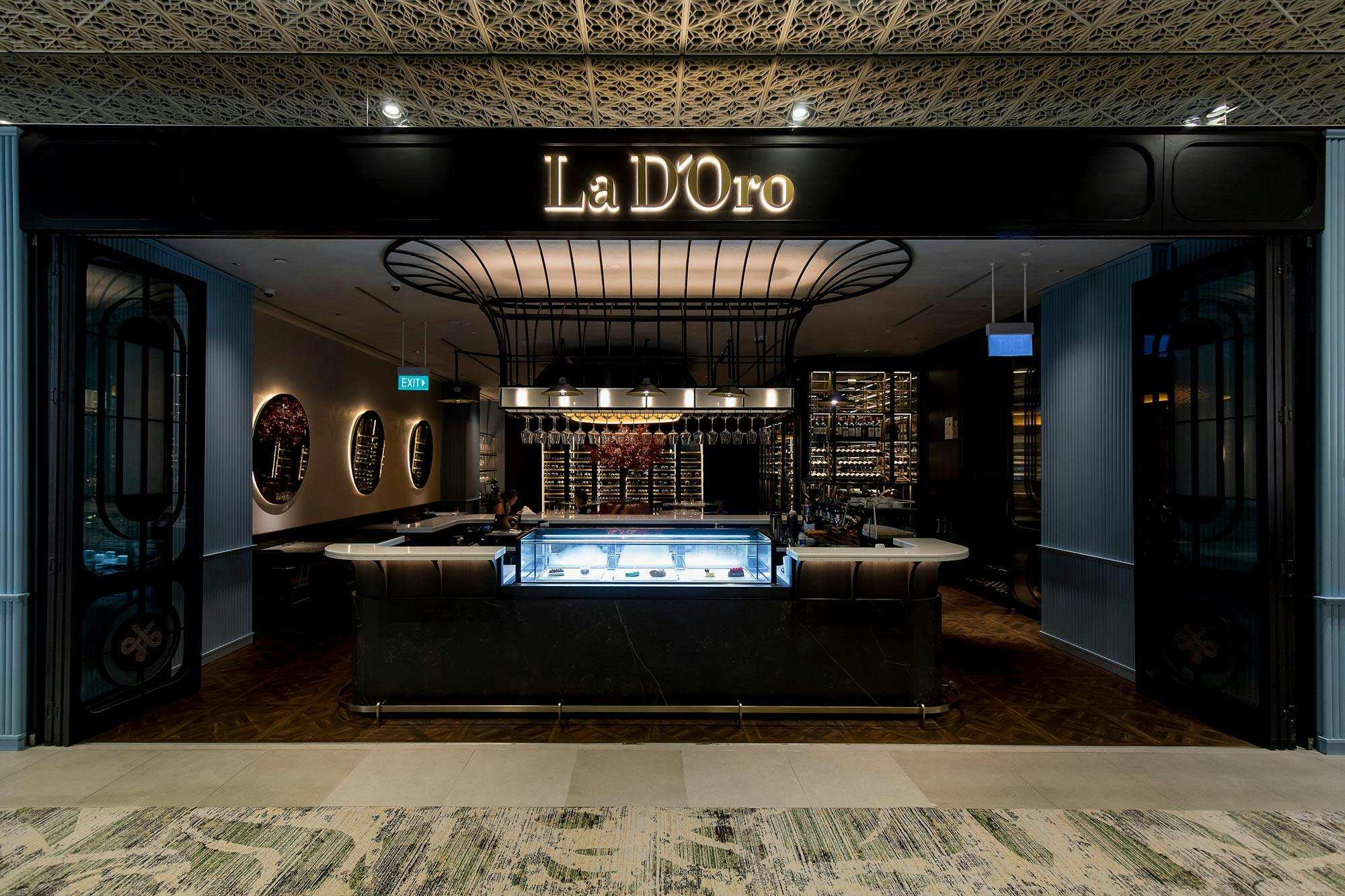 Location
Orchard Road (Singapore)
Material
Silestone and Dekton
Color
Ethereal Glow, Snowy Ibiza, Eternal Marquina, Iconic Black| Kelya
Architecture / Design
Asylum Creative
Application
Worktop, flooring, cladding
'A jewel in the heart of Singapore's shopping district.' Mandarin Gallery, a high-end shopping centre in Orchard Road, is home to some of the world's leading international brands as well as an exclusive range of independent boutiques.
On its three floors, it also boasts a fine selection of haute cuisine restaurants, such as La D'Oro. The establishment, run by chef Yohhei Sasaki, has received rave reviews since its opening just a few months ago.
Its cuisine is ground-breaking, as it is Italian at heart, but cooked with Japanese techniques and ingredients. According to Mandarin Gallery management, it is 'a combination of Japanese precision, Italian passion and the best seasonal ingredients from both countries'.
Cosentino, chosen for its wide variety of marble-like colours with stain-resistant properties
The restaurant features an interior design to match its high culinary qualities, by the renowned firm Asylum Creative, assisted on site by EDZ Interior Contracts. In order to create a stylish and refined atmosphere, dark tones have been paired with luxurious textures, touches of gold, an interplay of glitter and reflections, and innovative shapes.
'We were looking for surfaces that offer a marble-like appearance, with a variety of colours and patterns to choose from, but at the same time are stain resistant,' explains the studio. So they turned to Cosentino's products: 'It has a wide collection of colours inspired by different marbles, and they meet the requirements for surfaces where food and beverages are handled because they are easy to clean, even when it comes to wines and other foods that can stain them,' says the firm.
Textures with depth and polished finishes for a stylish atmosphere
Thus, Cosentino's surfaces have been used in this restaurant for multiple applications: to begin with, Silestone in its Ethereal Glow colour has embellished the bar in La D'Oro's relaxed dining room. This tone is characterised by its elegant gold and grey veining, which blends into a tinged white foundation, running through the slab and bringing colour to every corner. Furthermore, it has been selected in a polished finish, which gives a more vibrant and intense colour and reflections, enhancing the sumptuous feel of the establishment.
Providing a beautiful contrast to this white, Cosentino's ultra-compact Dekton surface, in its Kelya colour, has been used for the bar cladding. It draws its inspiration from sumptuous dark marble with light veins.
For the bar in the restaurant area, Silestone Eternal Noir has been chosen, a delicate pattern inspired by the asymmetry and elegance of natural stone, also in a polished finish. Its straight lines and sober design make dark spaces feel warm and elegant at the same time.
Functionality and beauty – the perfect match for designers comes from Silestone
The main feature of the flooring in this area is Silestone Snowy Ibiza in a polished finish, an exclusive white tone with subtle light grey veining. What's more, Cosentino's products also shine on the worktop in the reception area and in the bar surrounding the open-plan kitchen.
Both spaces are finished with the distinctive Eternal Marquina, a great favourite for sophisticated style decoration. Evoking the Spanish black Marquina marble, this option offers a bold black background crossed by strong and intense details and white veins.
Finally, for the worktop in the open-plan kitchen, Silestone's Iconic Black colour in a polished finish has been preferred. This is a resounding, pure and perfect black which, enhanced with N-Boost technology, intensifies the colour and makes it last longer.
'In Cosentino we have found the best selection of marbles, which suit the design and function of the space. Working with them has been great, as they combine functionality and beauty – the perfect match,' concludes the Asylum Creative studio.
Cosentino's materials used in this project