Top Homes
A house where natural stone resists staining
Gärna Studio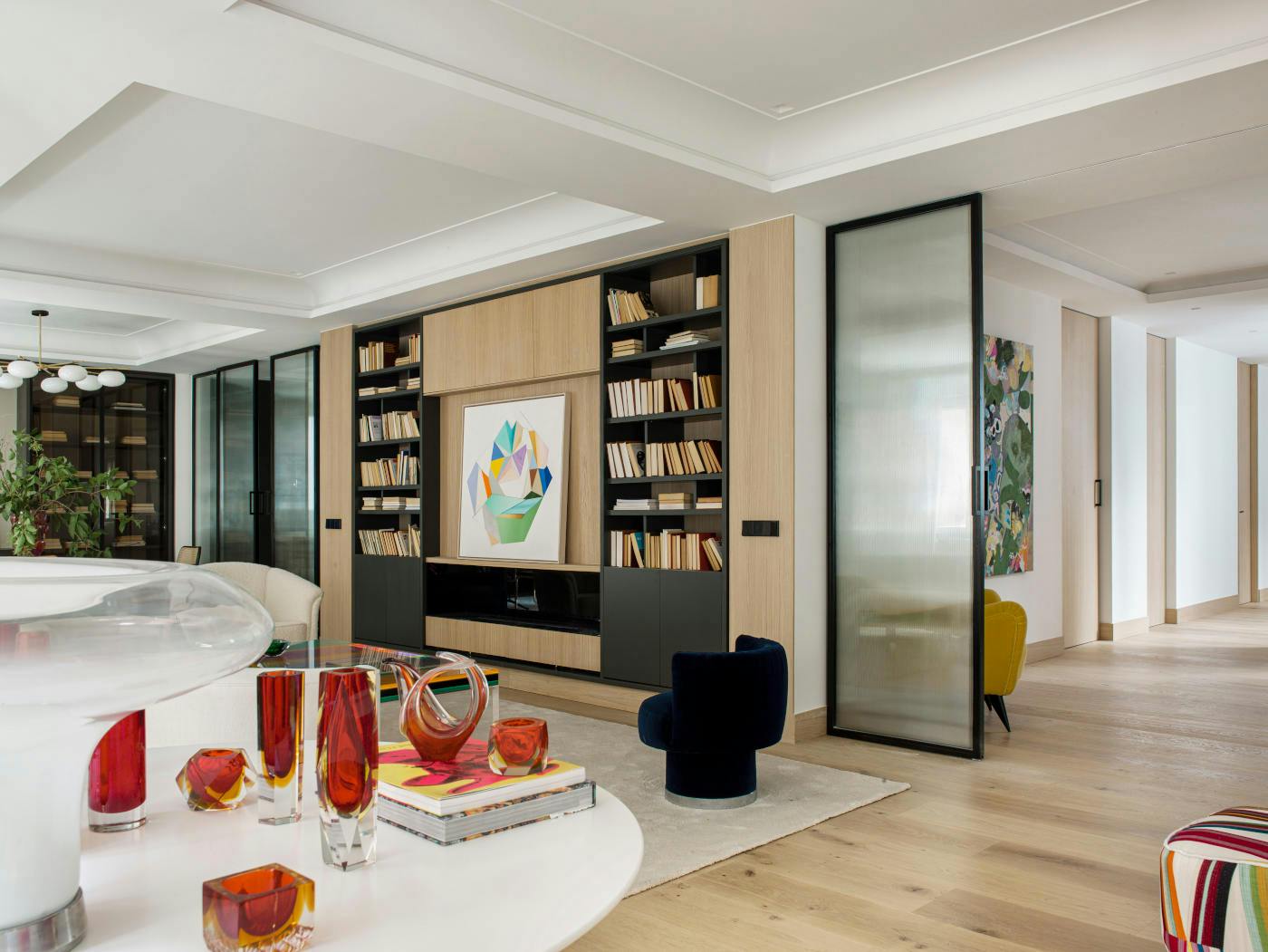 Color
White Macaubas | Taj Mahal
Architecture / Design
Gärna Studio
Application
Kitchen island | Flooring | Bathroom countertop
Casa Decor, the discovery that shaped a house
The owners of this house were very clear when they visited Casa Decor 2020: they wanted a kitchen with the White Macaubas quartzite by Sensa and they wanted their home to be designed by Gärna Studio.
The couple, with 3 independent children, needed an open plan home with spaces that flow and communicate with each other. A cosy house to welcome their children and grandchildren and spend time together. These were their requests to Laura and Enrique of Gärna Studio, an architecture and interior design studio that the couple already knew well thanks to other projects that the architects and designers had carried out.
The project had two clear objectives: to create versatile spaces that could be used at different times depending on the needs; and to achieve a sense of unity in its design, with little variation in terms of elements and textures. To achieve this, Laura and Enrique looked for materials that were easy to fit and that would serve as a guiding thread between the different spaces. "We also played with different ceiling heights and lighting to achieve a greater sense of spaciousness and functionality, creating a welcoming atmosphere", says Enrique García, architect and project manager at Gärna Studio.
The kitchen was the key to achieving a welcoming home. "They stressed the importance of the kitchen as a family meeting place to chat and share, and the desire to have an island to sit around while preparing meals".
The couple visited the Casa Decor 2020 exhibition in search of inspiration and it was there that they fell in love with White Macaubas, the quartzite by Sensa that Gärna Studio had used in their 'Narciso' project. Being a natural stone, they were initially unsure about its use in the kitchen, but Laura and Enrique explained the benefits of Sensa's anti-stain protection, which offers the possibility to enjoy the most unique designs of nature in every space of the house. Thus, this quartzite became the absolute protagonist of the kitchen, covering the central island and part of the floor.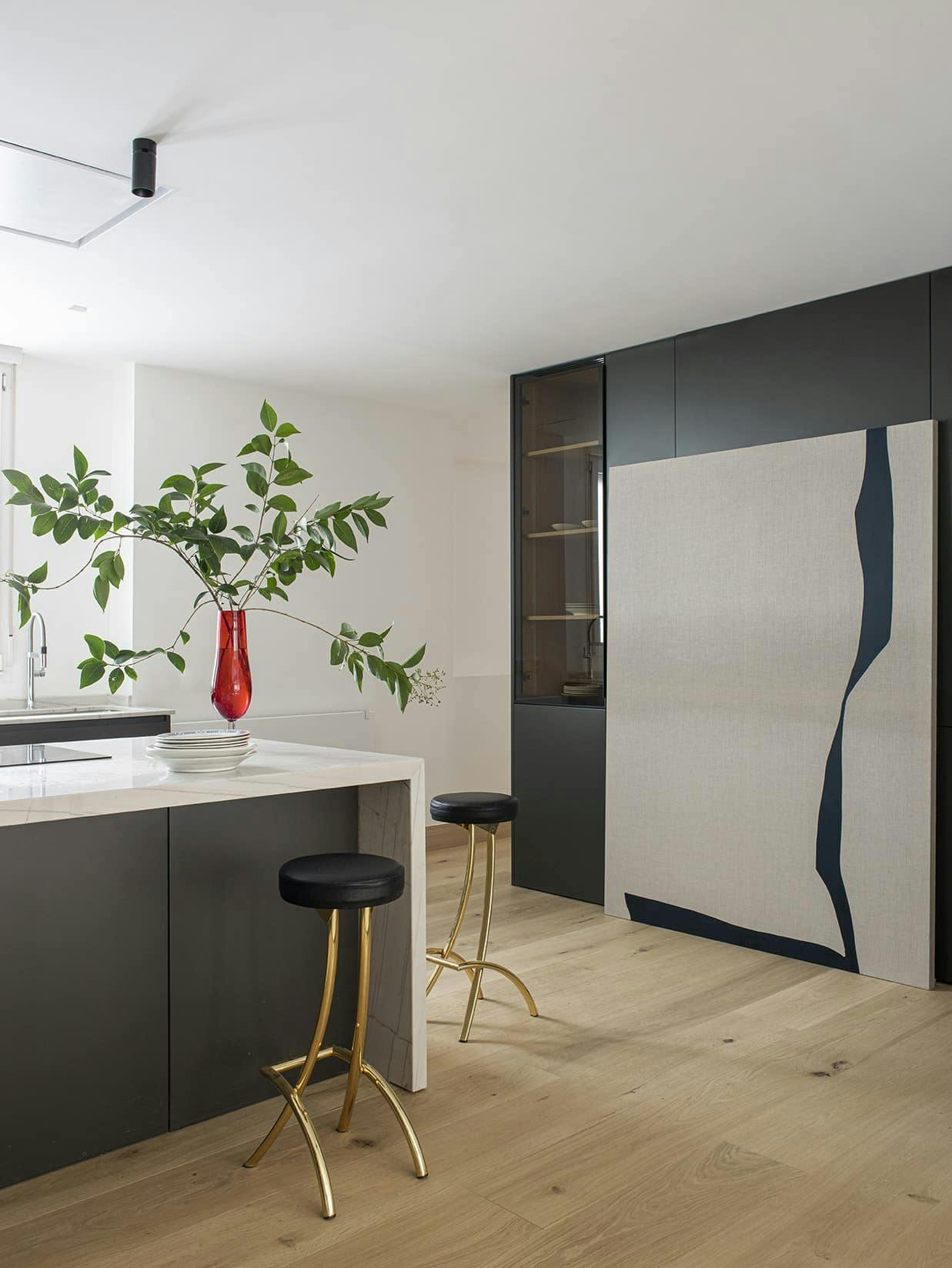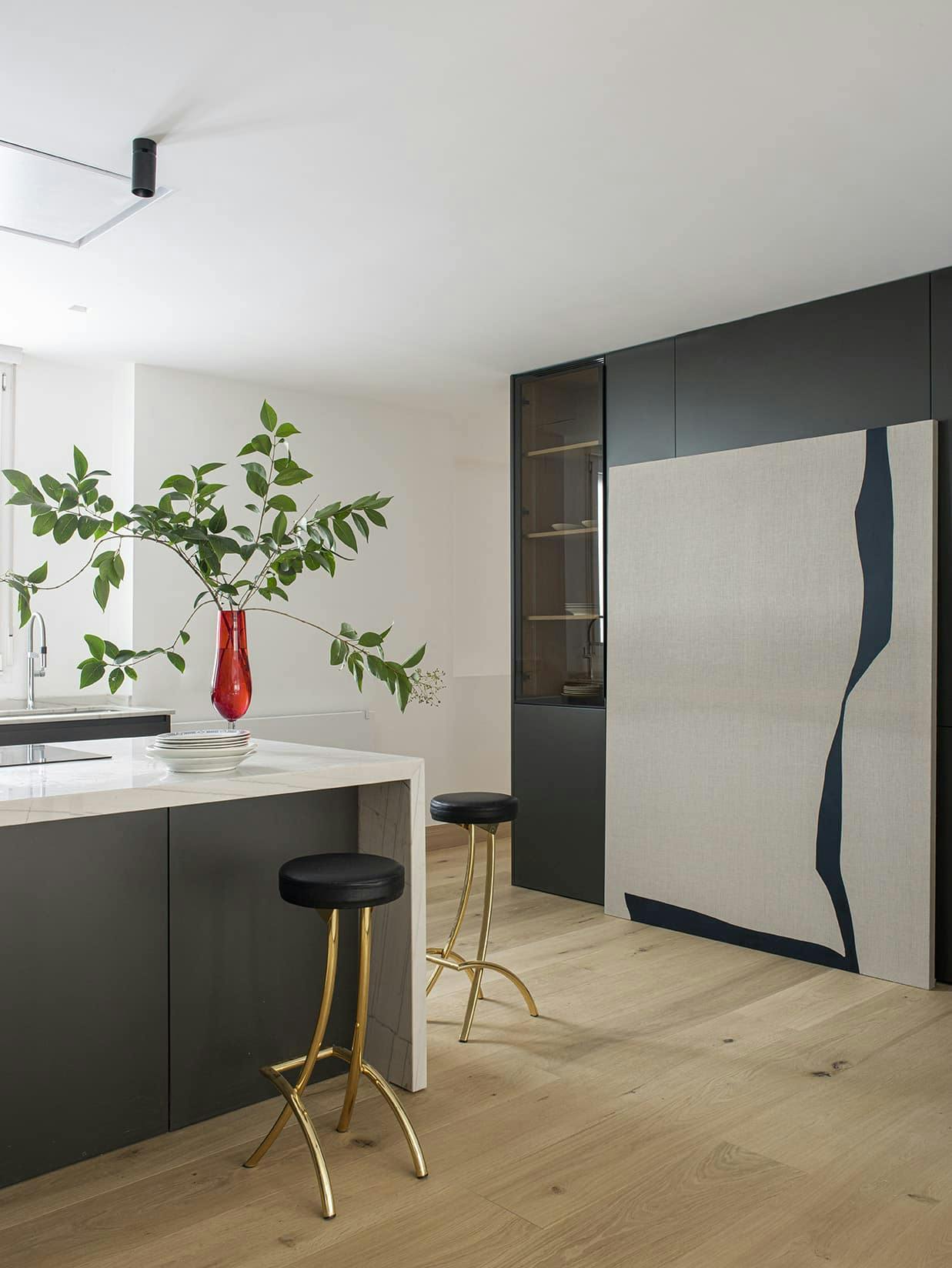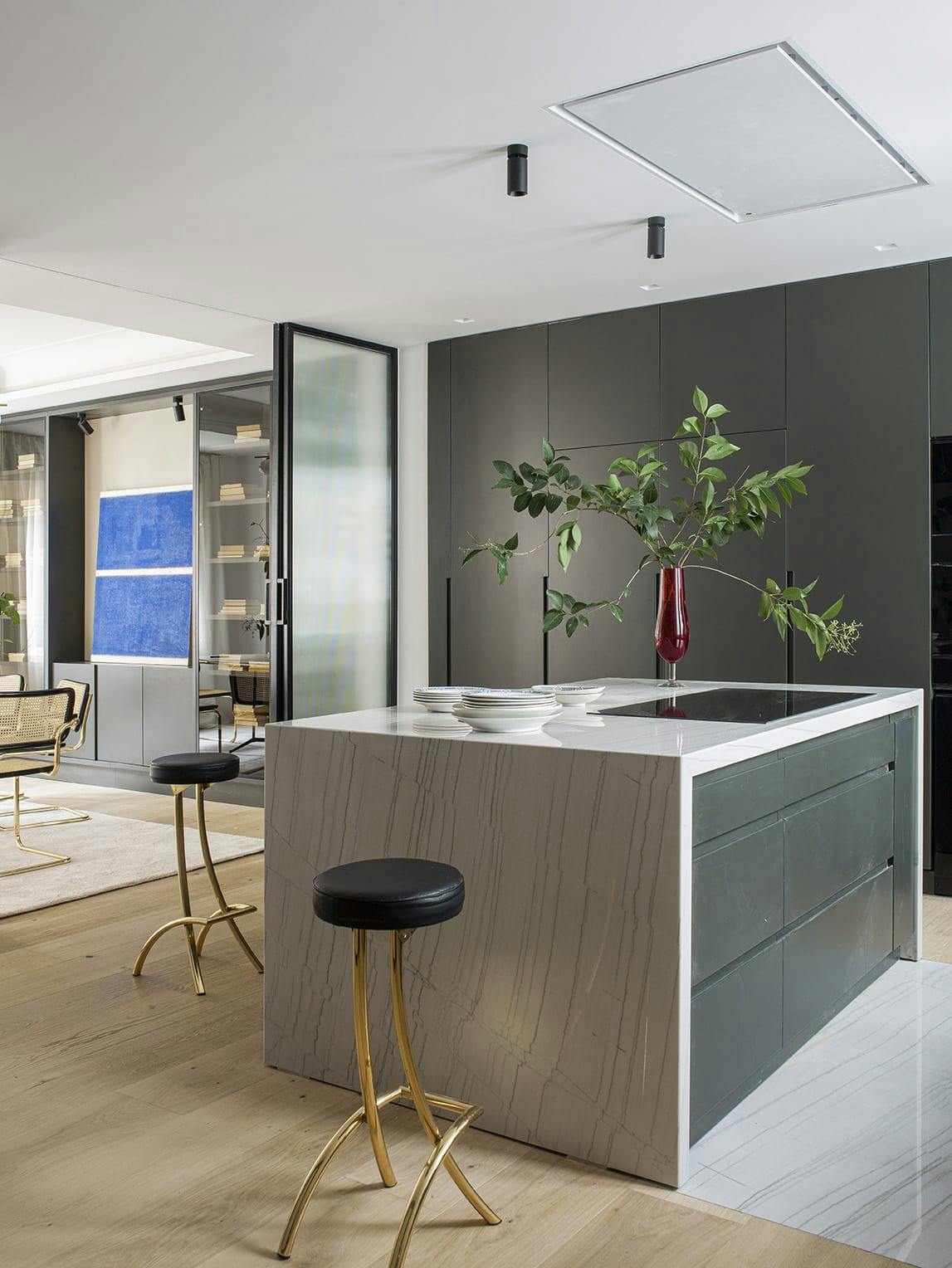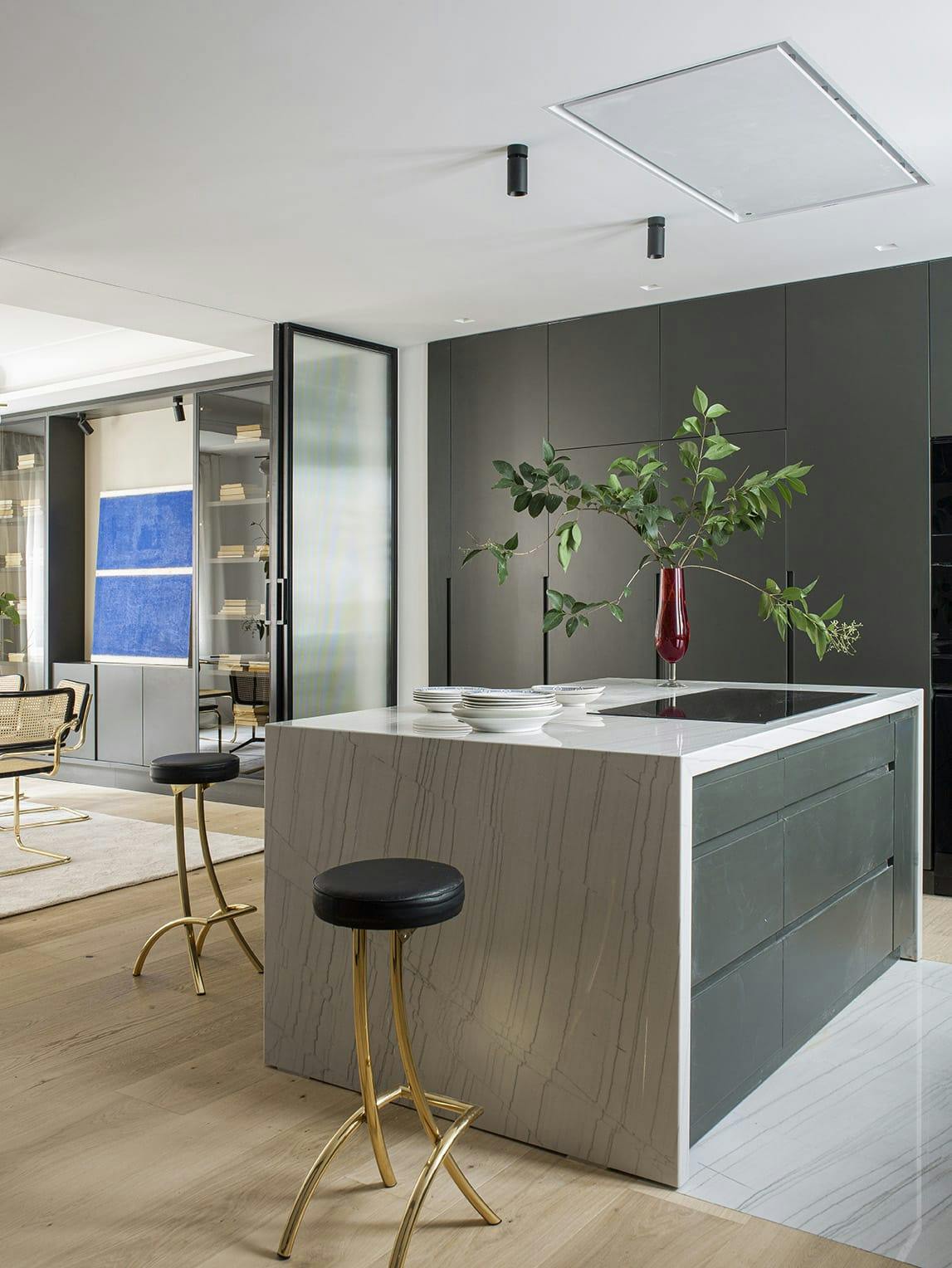 Natural beauty
For the bathroom in the master bedroom they also opted for Sensa. In this case, the colour chosen was Taj Mahal, an off-white background crossed by soft brown veins. The bathroom countertop, together with the surrounding elements, such as the wallpaper with plant motifs or the wooden furniture, create a pleasant feeling of contact with nature.
The customers wanted a house that was modern but also timeless, so they went for a refined, architectural design with straight lines, based on natural materials such as stone and wood, to which they added powerful and colourful works of art. "Studying the best materials to meet the specific needs of this family made the project very enriching", says Gärna Studio.
Do you need help with a project?
Contact our specialists for advice
Do you need help with a project?
Contact our specialists for advice
"Sensa is a 'lifesaver'. As designers, we have a tendency to the purity of natural materials, and Sensa provides us with a technical solution to use them in places like kitchens and bathrooms without fear of staining".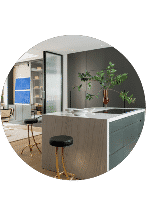 Gärna Studio
Architecture and interior design studio
Cosentino's materials used in this project