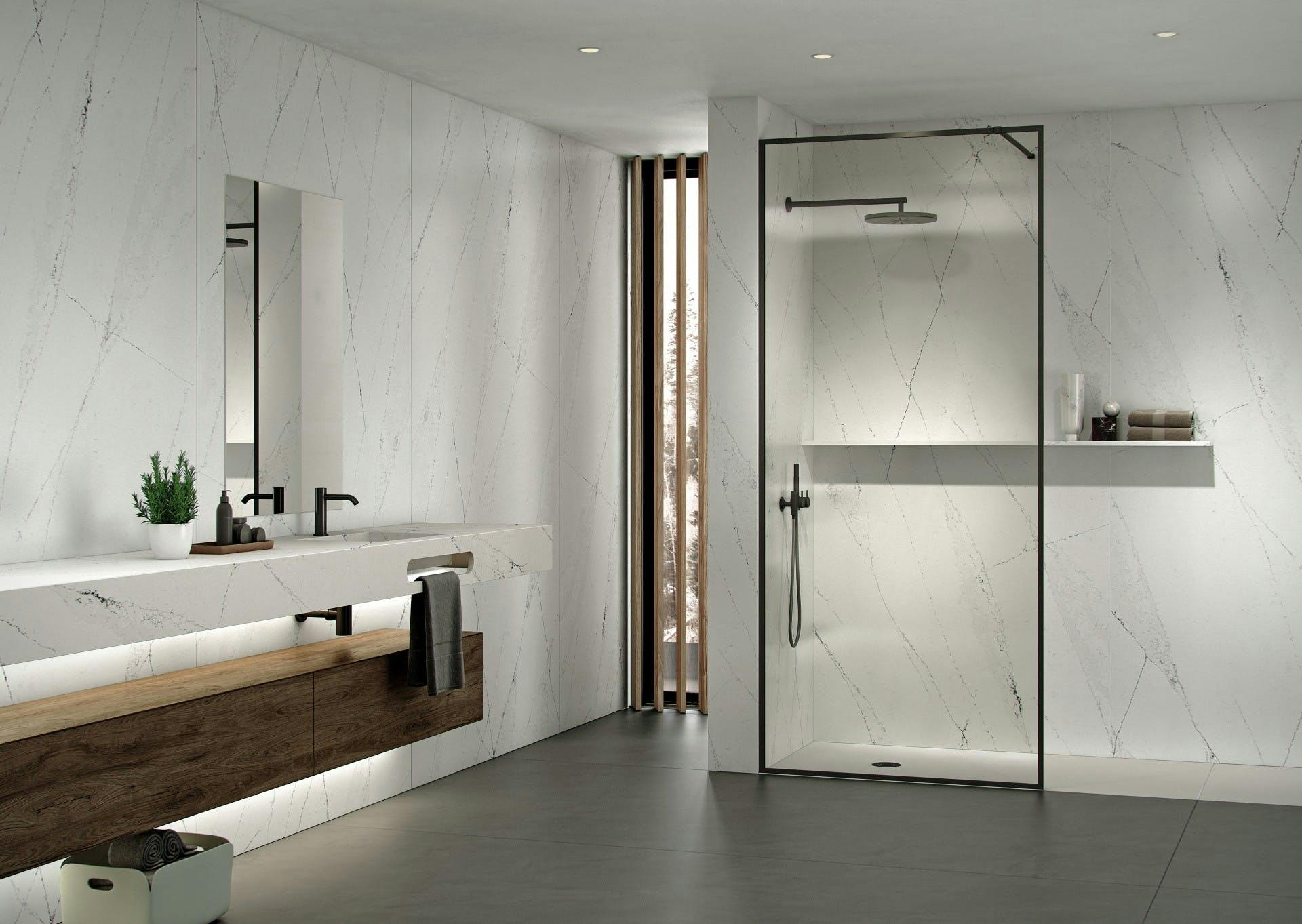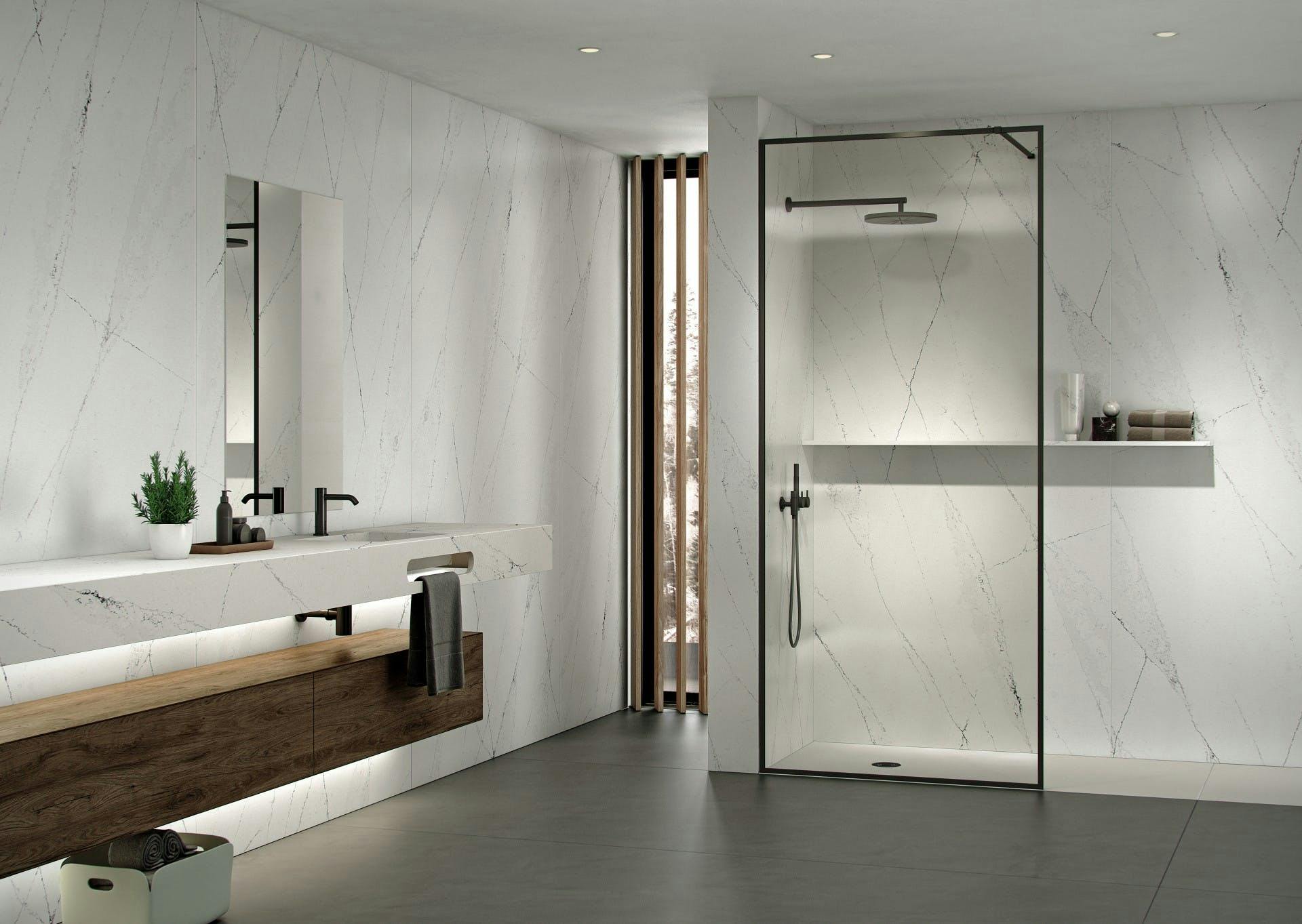 Accessible bathroom: how to adapt a bathroom to make it accessible?
Where there are children or elderly people at home, we realise how important having an accessible bathroom is. Not only homes, but also public spaces such as bars and restaurants need to be adapted for people with reduced mobility.
Bathroom renovations aimed at making this space more accessible, such as replacing the bathtub with a shower, are becoming increasingly popular. As we have discussed in another of our articles, showers are ideal for easy bathroom mobility.
The good news is that you can have a safe, accessible and adapted bathroom without compromising on design by choosing Dekton and Silestone surfaces.
In this article, we have put together all the information you need to know to make your bathroom accessible, yet modern and stylish.
What is an accessible bathroom?
This type of bathroom shall always be located in an accessible place allowing unobstructed access. In addition to this, toilet areas, sanitary ware, doors and technical aids must be safe for users with reduced mobility.
Wheelchair users must be able to enter the bathroom and make a complete turn without difficulty.
The aim of having an accessible bathroom is to enable people with reduced mobility to be self-sufficient, or their carers to help them in a safe and easy way.
Regulations and dimensions of bathrooms accessible to people with reduced mobility
Public spaces must, by law, comply with regulations on accessible toilets. In general, the main requirements are as follows:
Bathrooms shall connect to an accessible pathway.
They shall have sufficient interior space for wheelchair turning (there should be a clear turning circle of 1.5 m diameter).
Access doors must meet the conditions of the accessible pathway: a width of at least 80 cm and be outward swinging or sliding.
They shall have support bars, fittings and accessories in a different colour from the surrounding elements.
Accessible washbasin:
It shall have a minimum bottom clearance of 70 cm (height) by 50 cm (depth).
It shall not have a pedestal to allow the approach with a wheelchair.
The height of the top side shall be ≤ 85 cm.
Taps shall be easy to use with one hand and within a reach of <60 cm.
Accessible toilet:
It shall have a side transfer space ≥ 80 cm wide and ≥ 75 cm deep to the front edge of the toilet.
In the case of public spaces, the transfer space is required on both sides.
The seat height should be between 45-50 cm.
It should have support bars on both sides, folding from the transfer side and be at a height of 70 cm.
Accessible shower:
It shall be fitted with class 3 non-slip floor (maximum slipperiness).
It should have a 40x40 cm folding seat at a height of 45/48 cm from the floor.Necesita un espacio de transferencia lateral de anchura ≥ 80 cm al lado del asiento.
It shall have a side transfer space ≥ 80 cm wide next to the seat.
The floor should be flush with the bathroom floor and have a drainage slope ≤ 2%.
It should have horizontal support bars on two sides and a vertical support bar situated 60 cm from the seat.
'Must-haves' in an accessible bathroom
As we have already mentioned, both the shower and the floor are two key elements when it comes to making a bathroom accessible.
Cosentino recommends the Dekton Gocce shower tray, a floor-level shower tray featuring the Grip+ finish, which offers the highest level of anti-slip protection available on the market, 3. With a 20 mm thickness, this shower tray has the perfect slope to ensure the correct flow of water, making it perfect for showers flush with the floor.
For the bathroom floor, we also recommend Dekton Grip+, in this case in large format slabs. Thanks to the reduced number of joints, the 3200x1440 mm large format slabs create a continuous visual effect.
In addition to this, as an ultra-compact high-performance surface, Dekton features unbeatable technical properties. It is a non-porous material that is perfectly able to withstand stains and moisture. It is very easy to maintain, as it can be cleaned with the usual cleaning products without worrying about damaging it. In addition, the minimal number of joints makes it more hygienic.
Its high mechanical resistance makes it perfect for high traffic floors, both in homes and in commercial establishments and public spaces.
Claddings for floor-level shower trays
Once you have chosen the shower tray for your accessible bathroom, it is time to choose the wall cladding.
In a space designed for self-care such as the bathroom and taking into account the particular conditions of this space, such as moisture and exposure to chemicals from cleaning products, you will need a resistant material for these surfaces.
Silestone and Dekton are the best choices for bathroom claddings, as they offer endless design possibilities to be at the forefront of the latest trends in decoration.
Thanks to the large format slabs available in both materials, joints are kept to a minimum, thus making them more hygienic and easier to clean.
Specifically, our 4 mm Dekton Slim has been specially designed for cladding, as it is an ultra-lightweight material. Its high resistance to scratches, stains, thermal shock and UV rays makes it the perfect match for any bathroom design. Furthermore, its very low water absorption makes it easy to maintain.
4 mm Dekton Slim can be used both for wall cladding and bathroom units, creating a seamless blend. This will result in an accessible, functional and safe bathroom with the best possible design.