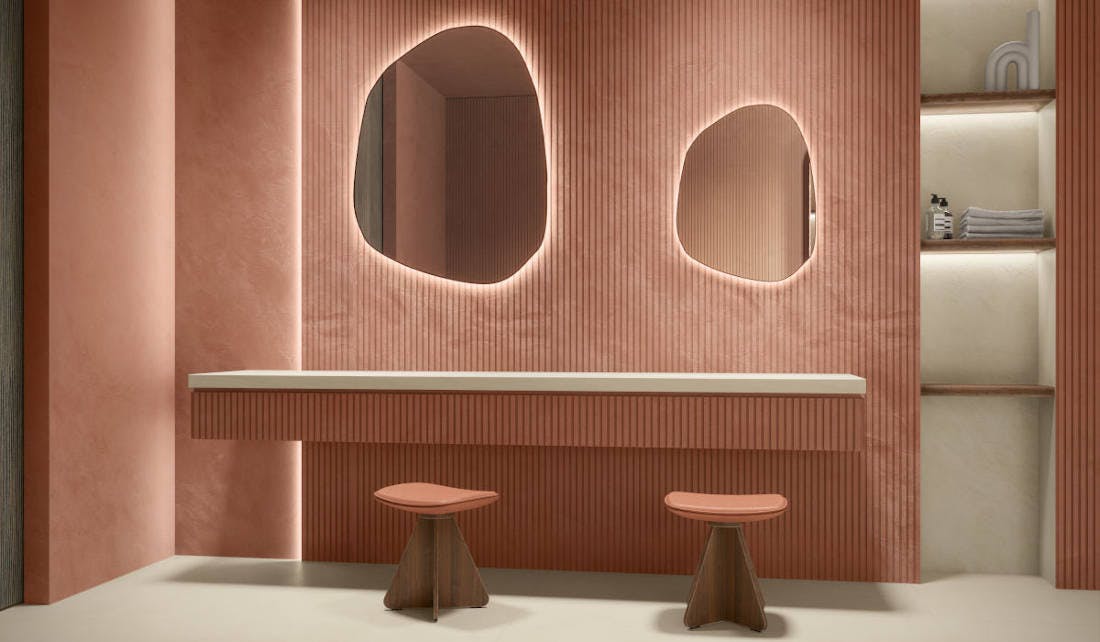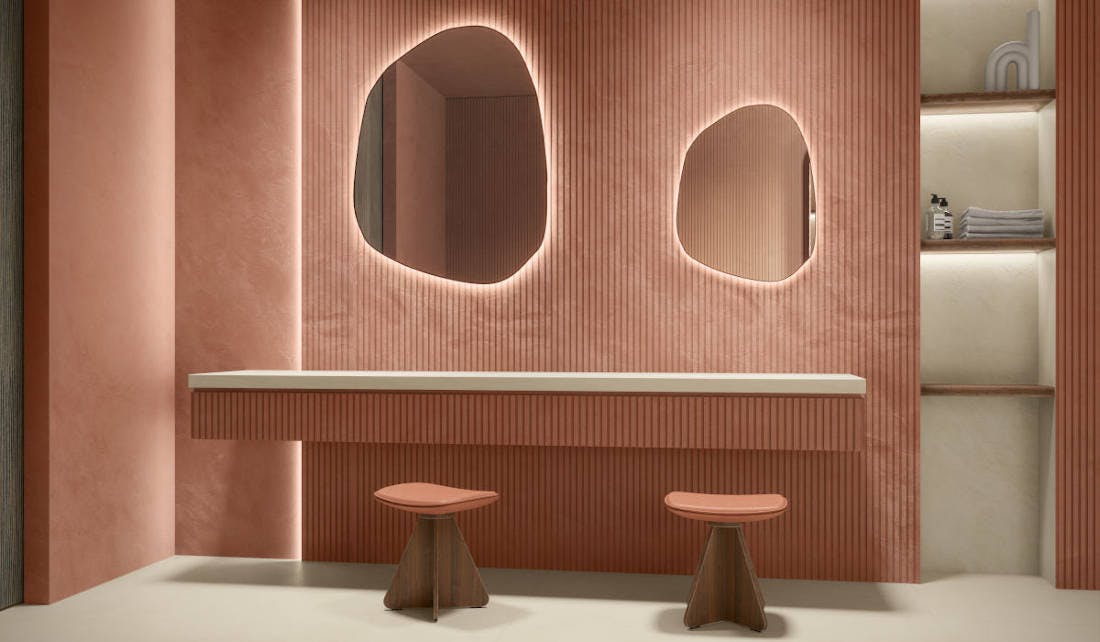 Ananda: Claudia Afshar's bathroom ode to happiness
Case Study
Ananda: Claudia Afshar's bathroom ode to happiness
Claudia Afshar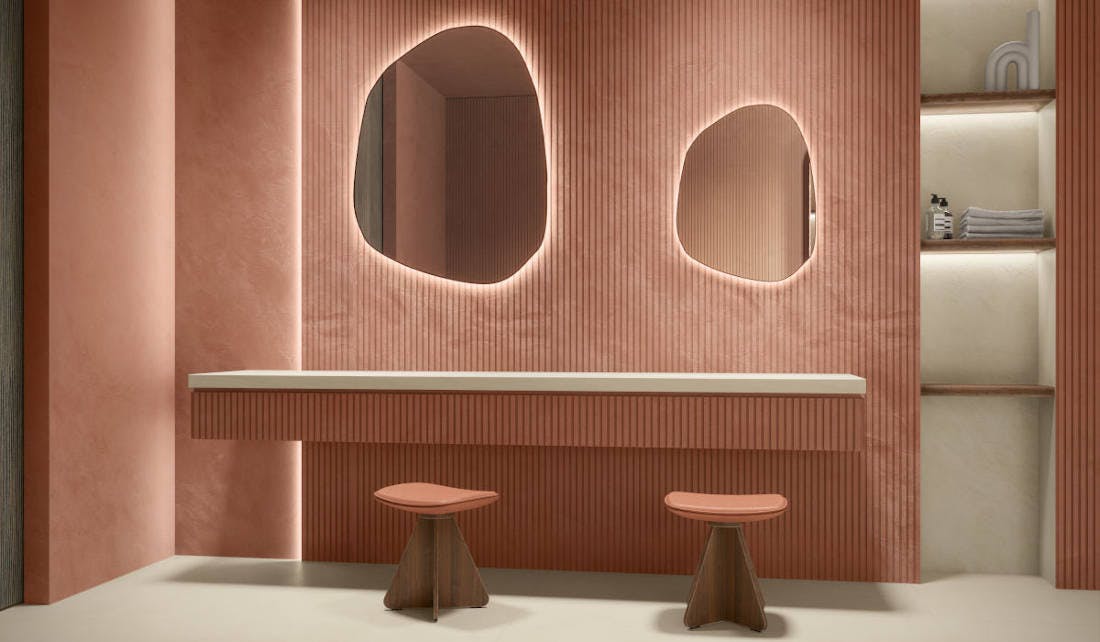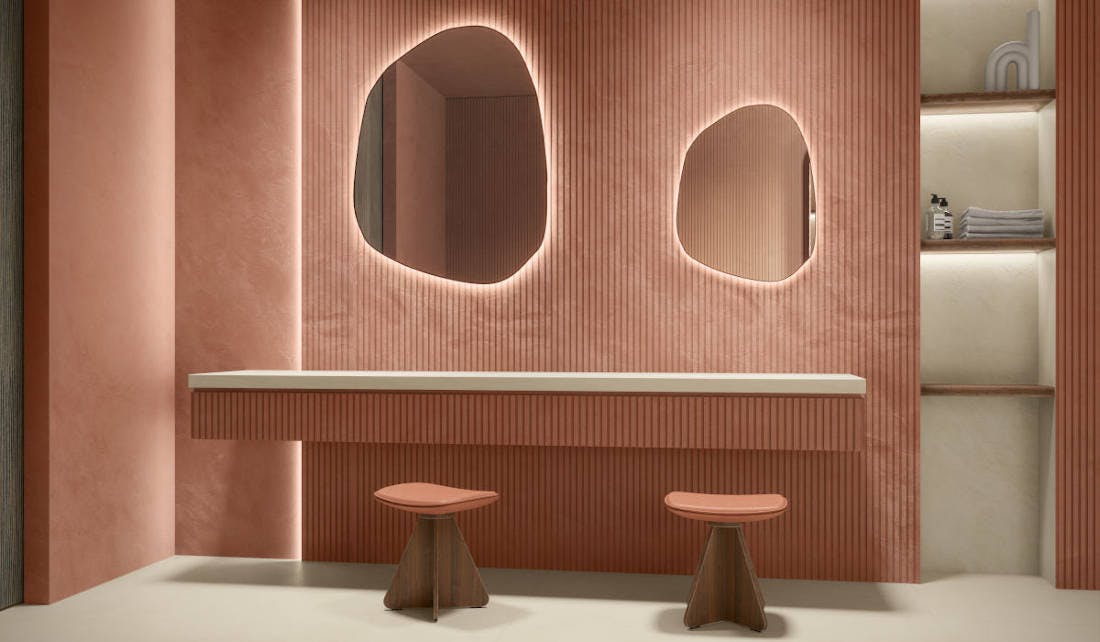 Location
Los Angeles, California (United States)
Application
Wall cladding, flooring, washbasin, vanity tops
Architecture / Design
Claudia Afshar
Features for bathrooms
Washbasin: Simplicity | Shower tray: Dekton Rainfloor
With this project for The Bathelier, the think tank of C·Bath, Cosentino's comprehensive approach to the bathroom, Afshar demonstrates the ability of small details to bring a fresh look to the bathroom, with playful accents and textures on all surfaces. 'Well-being has never been as important in the bathroom as it is today, with functionality and aesthetics playing a key role,' she asserts.
In Hindu, Ānanda means, among other things, 'pure happiness', one of the highest states of human being. Under this name, British-born, Los Angeles-based designer Claudia Afshar has created a striking open plan space that conveys warmth through a design of grooved materials.
A warm space in touch with nature
Based in Los Angeles, Claudia Afshar and her studio have become an international benchmark in the field of interior design. Celebrities and developers worldwide rely on the designer to bring their most emblematic projects to life. In them she blends stylistic references to the US with hints of the UK and London, her home town.
Following this unique aesthetic, Afshar has conceived this bathroom as a warm space that embraces and welcomes the user through a connection with the earth and nature through Cosentino's ultra-compact stone collections. Dekton Umber and Dekton Nacre.
Designed to capture the essence of Dekton, Claudia elevates the Simplicity washbasin on a bespoke pedestal in Dekton Umber, which is grooved as a result of a delicate cutting of the material.
The same design is used to decorate the walls. Opposite the washbasins, a vanity unit with storage space echoes the same terracotta colour, adding warmth and character.
A timeless bathroom with a romantic feel
In order to compliment the earthy character of Dekton Umber, the designer has chosen another very special colour that enhances the natural look of the room. Dekton Nacre, a cream colour ranging from fine micro-cement to lime plaster, with subtle details and a degraded texture, has been used for the floors, washbasins, vanity tops and the interior of the storage compartment.
The subtle details, such as the backlit features, the mirrors in organic shapes or the delicate stools, complete the enveloping sensation of this room with a romantic flair, in which Afshar has managed to capture her 'simple, clean and timeless' style, as she herself defines it.
Cosentino's materials used in this project