Case Study
Dekton facilitates the sustainable renovation of the Cajamar Group building
Arapiles Arquitectos Asociados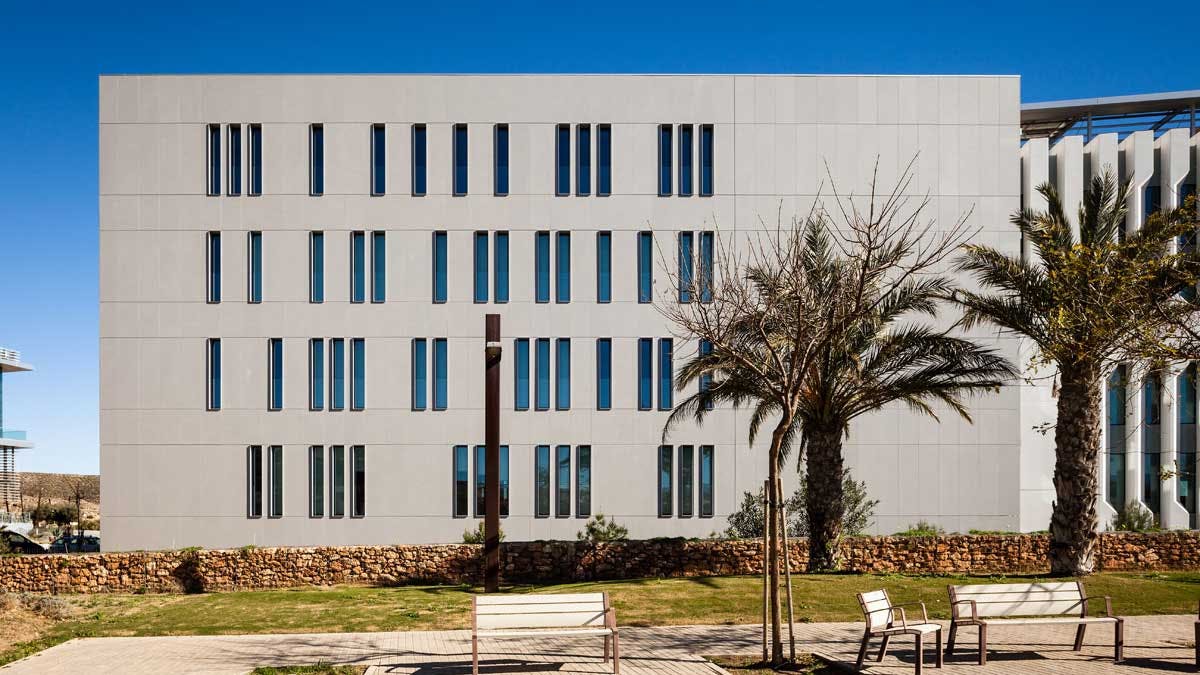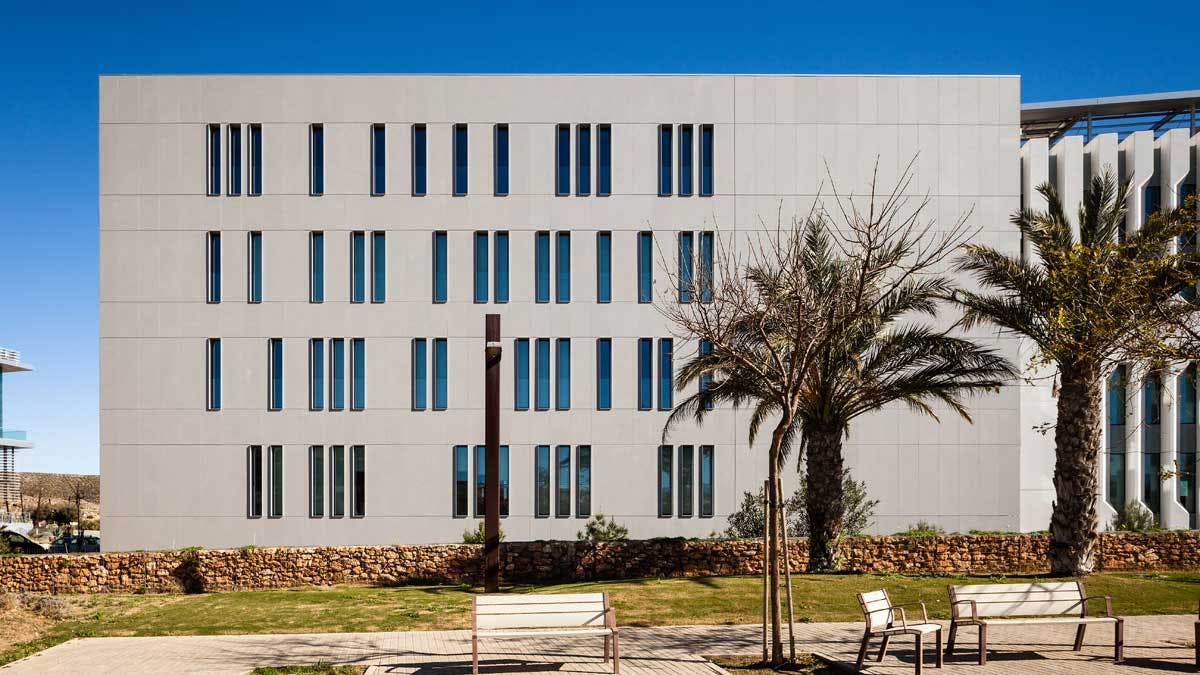 Color
Sirocco | Danae | Kadum
Architecture / Design
Arapiles Arquitectos Asociados
Application
Ventilated façace | Indoor flooring | Outdoor flooring | Wall and lift cladding | Panelling and bathroom walls
A visual impact of over 4,500 m2 of Dekton
The Cajamar building, located in southern Spain, is an ambitious architectural project. Its most interesting architectural feature is the aesthetic contrast created by three different types of façade: a large white volume of GRC photocatalytic panels, a Sirocco-colour Dekton ventilated façade, and a curtain wall protected by ceramic slats.
The aesthetic continuity of the building is another distinguishing feature. This effect is achieved thanks to Dekton's outdoor flooring, in Danae colour, which is also discretely and elegantly used inside the building, cladding all the public access areas.
Dekton allows a continuous design, cladding all the walls of the building as if it were a second skin. Its high resistance to ultraviolet rays, freezing and thawing, its colour stability and its high resistance to stains make Dekton the perfect choice for exterior façades.
A floor designed to avoid the 'heat island' effect
The hue of the outdoor flooring had to be clear, with a Solar Reflectance Index (SRI) >78, to avoid the 'heat island' effect. Inspired by Roman travertine, Danae Dekton, a creamy matt finish colour, was perfectly suited to the building's technical requirements.
The decision to use Danae Dekton indoors as well achieved the differentiation between the busiest and less used areas. Visually, you can see how the material flows from the outside to the interior areas, including the staircases, offering both warmth and consistency in design.
Thanks to the large size of the Dekton slabs, it is possible to create an image of great quality and beauty in the spaces where the material is used. From a functional point of view, its hardness and resistance to the wear and tear produced by constant traffic of people, make it a perfect product even for the busiest areas. Furthermore, its easy daily maintenance is a significant feature for busy buildings.
Do you need help with a project?
Contact our specialists for advice
Do you need help with a project?
Contact our specialists for advice
A project designed from a sustainable perspective
The new Cajamar headquarters has been awarded the LEED GOLD certification for sustainable buildings, granted by the US Green Building Council. This certification, issued by a specialised and independent agency, certifies that the building meets the highest standards of efficiency for sustainable buildings. It includes aspects related to energy efficiency, use of alternative energies, improvement of indoor environmental quality, efficiency of water use, development of sustainable open spaces and selection of the materials used.
Cosentino's materials used in this project
Related Flagship Projects