Cosentino Flagship Project
Mendoza+Simal Architects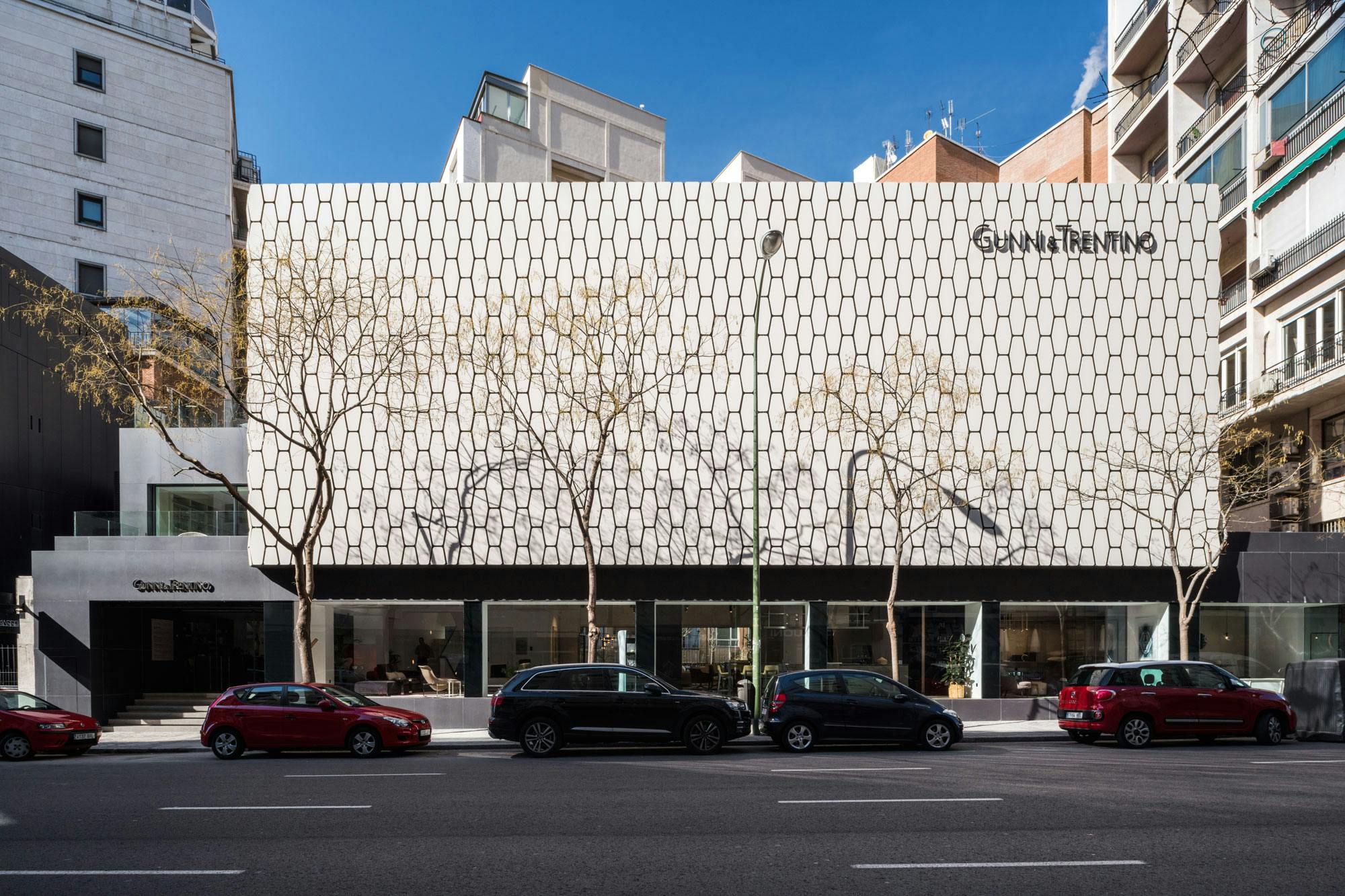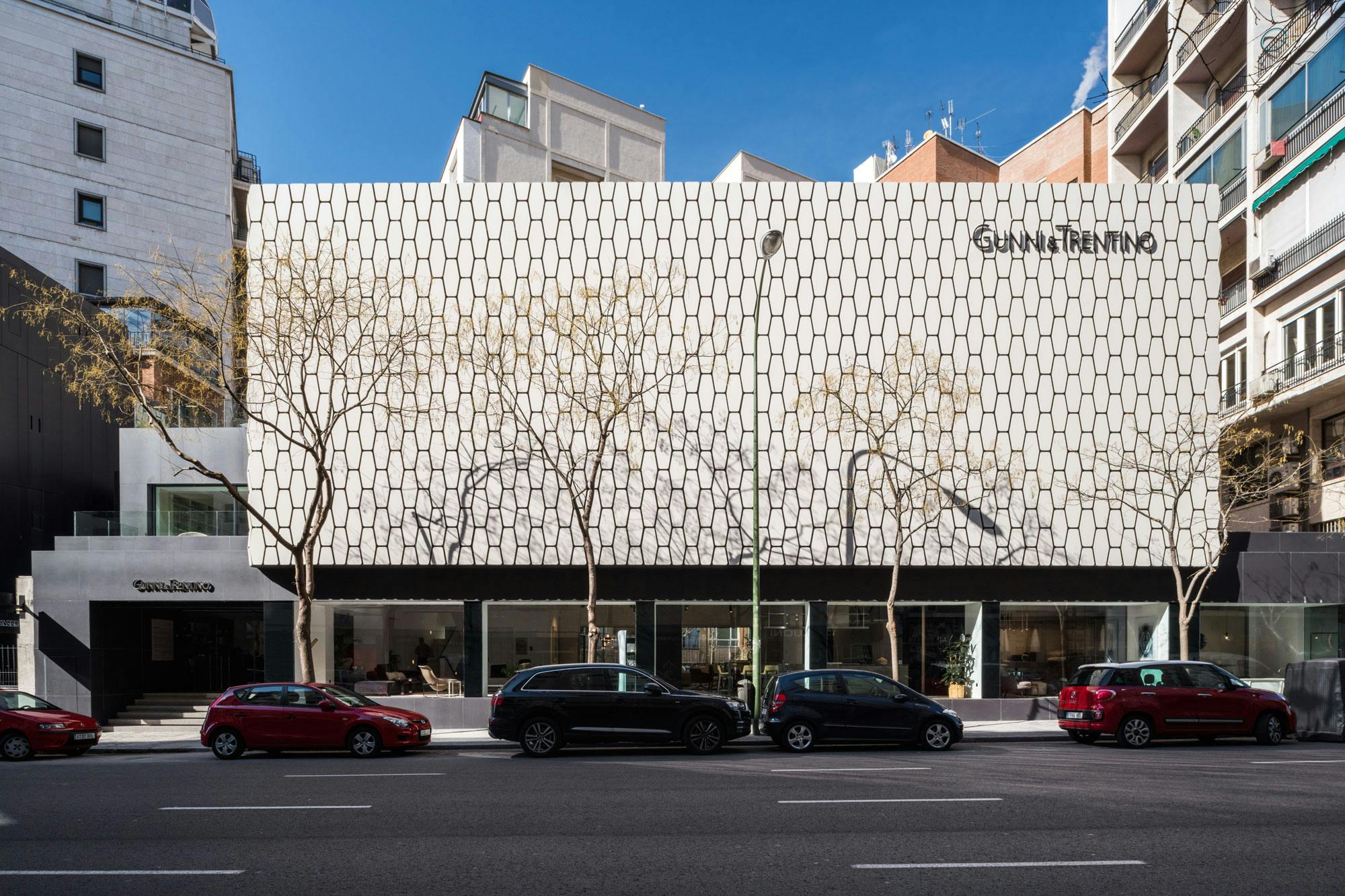 Colors
Popular Warm and Domoos
Architecture/Design
Mendoza+Simal Architects
Application
Facades and planters
700m2 of Dekton inspired by nature
The renovated headquarters of iconic design brand Gunni & Trentino packs a remarkable visual punch. Even from a distance, few could resist the head-turning impact of one of the most innovative facades in central Madrid, between the Paseo de la Castellana and the Paseo de la Habana.
Nature and its original forms play a key role in the design of this ventilated facade by the Mendoza+Simal architecture studio. The pattern of the hexagonal pieces, reminiscent of honeycomb, wraps around an invisible volume supported by a neutral base in black. All of this has been created using the ultracompact surface Dekton by Cosentino, which met the complex technical demands of the concept.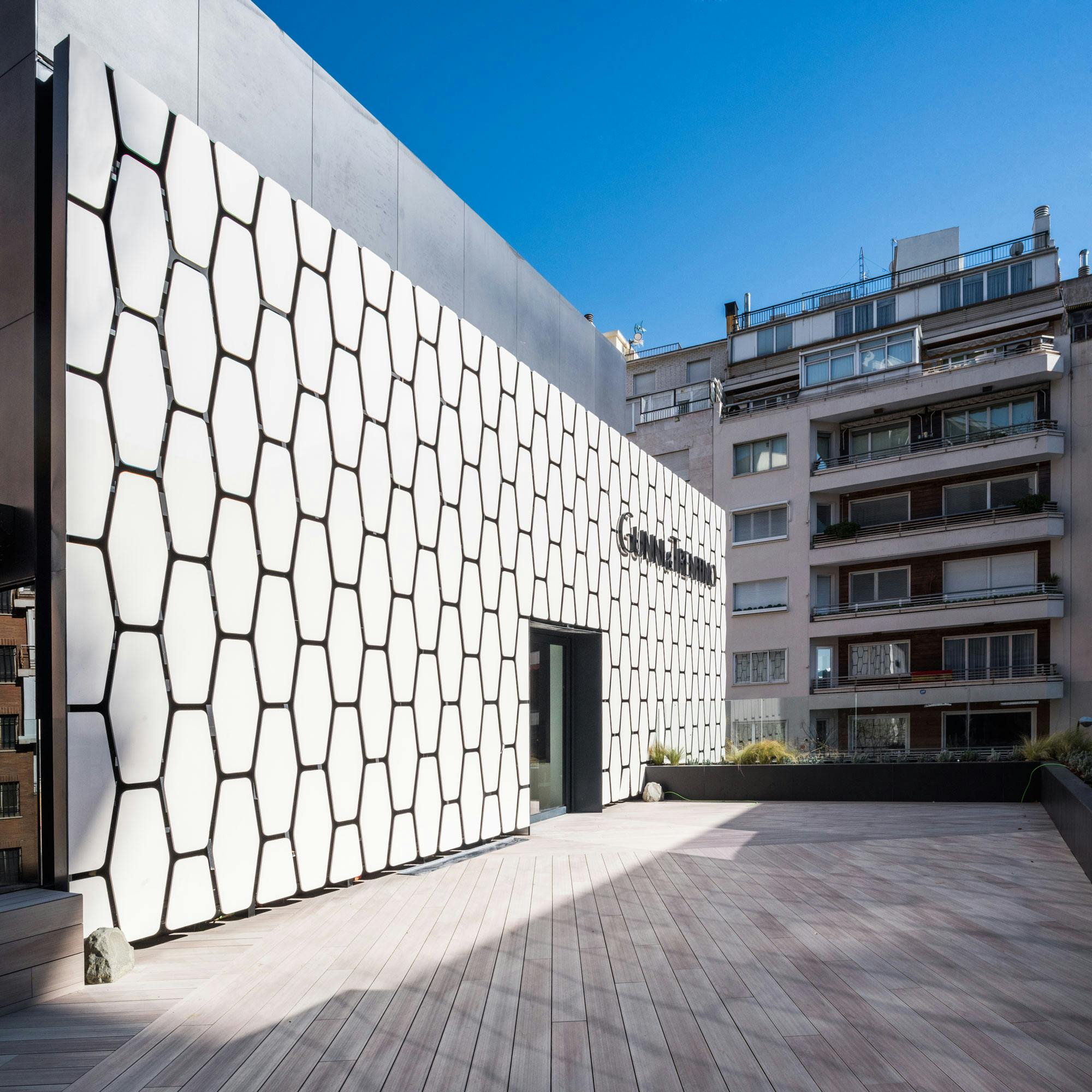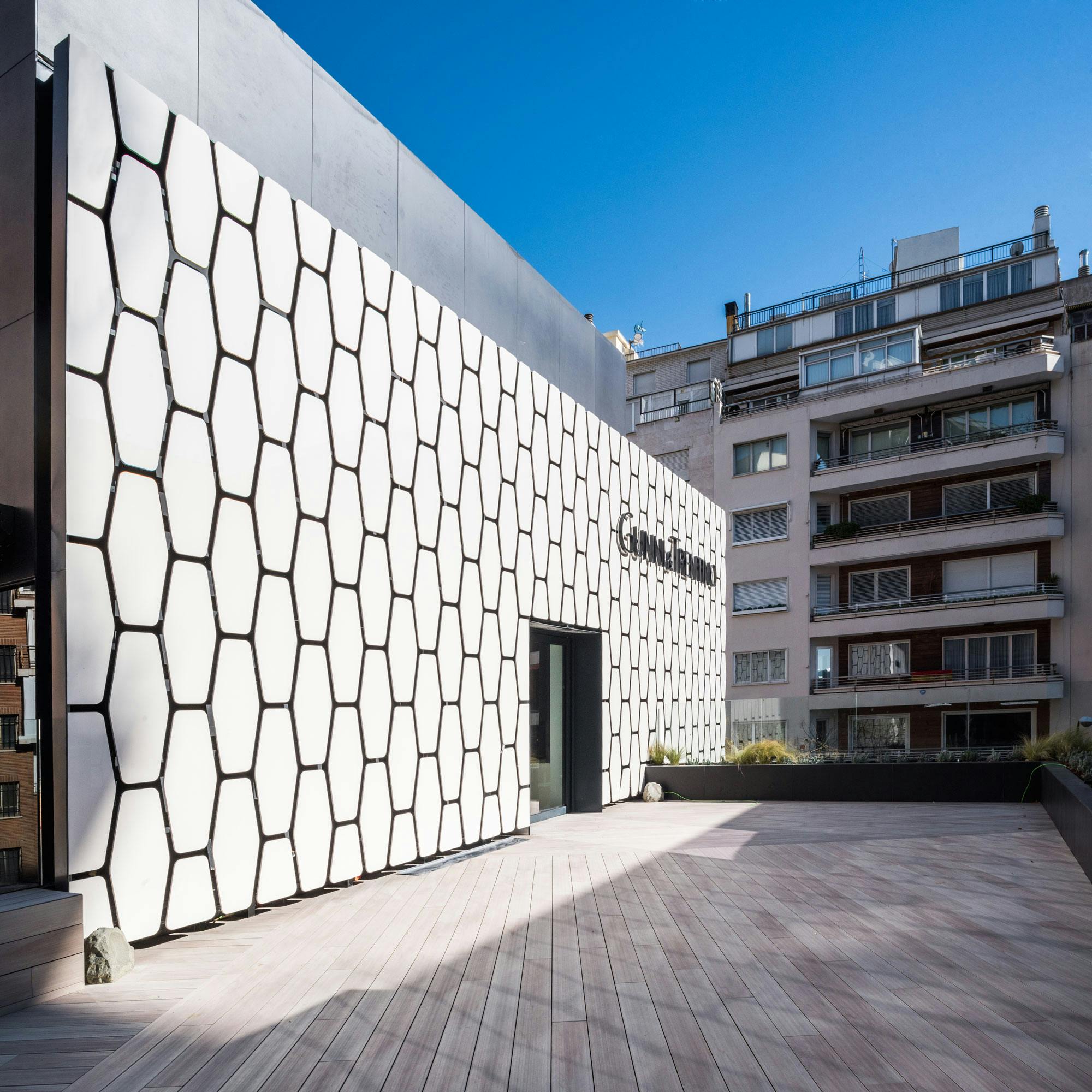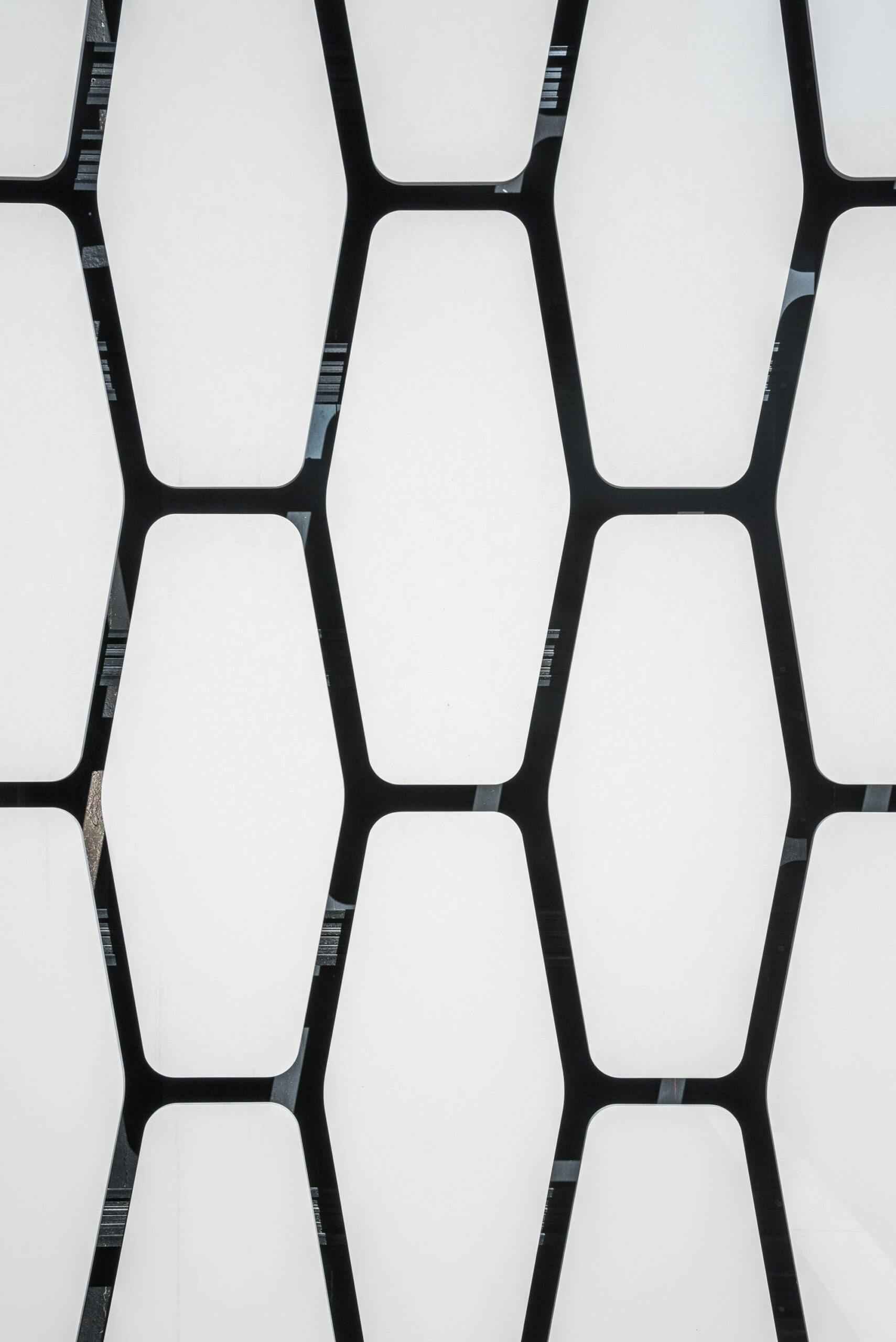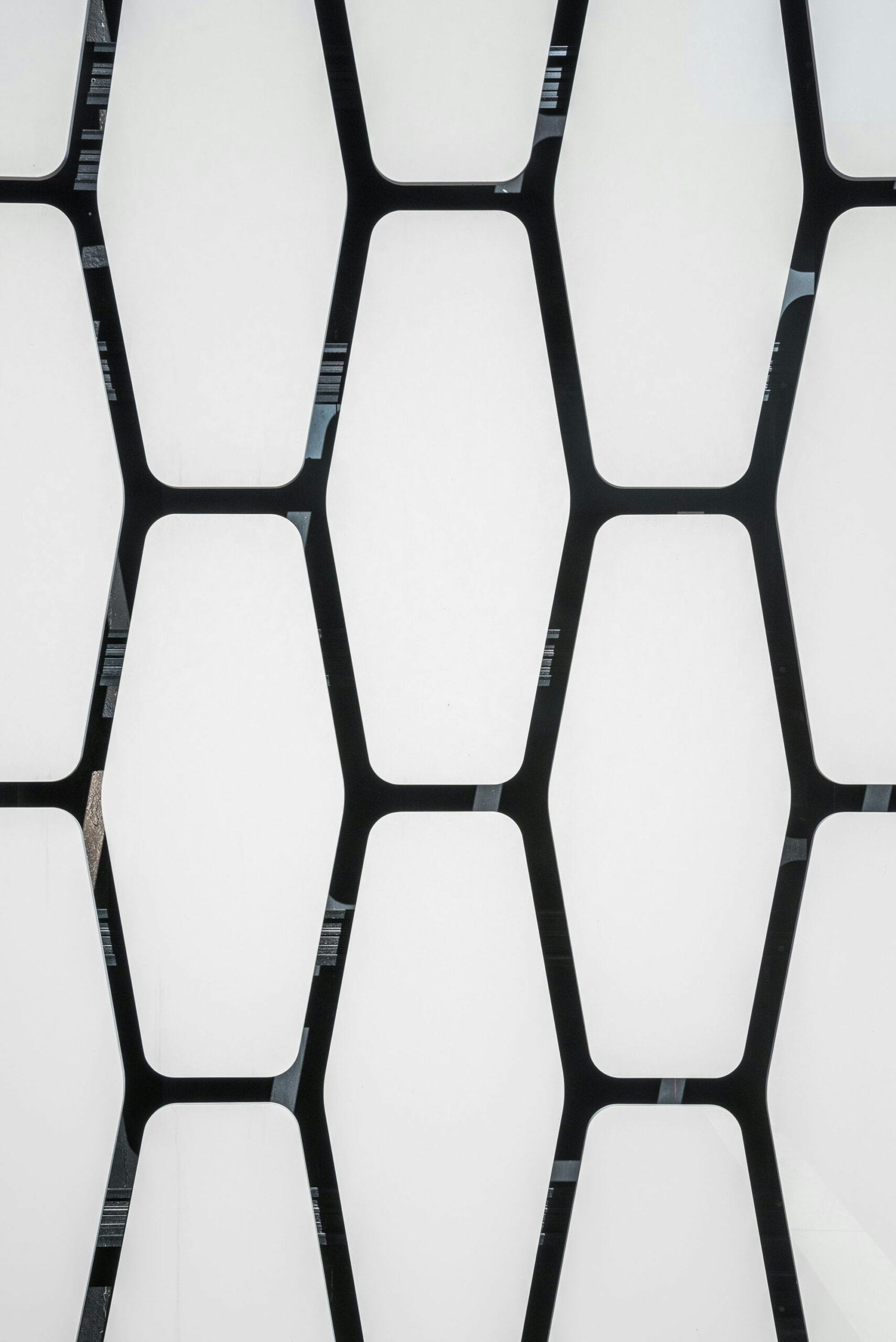 A ventilated facade with special requirements
The goal behind the project to restore this facade was to create an impenetrable installation that would demonstrate the key concepts at play in Gunni & Trentino's work: quality, exclusivity, rigor, elegance, and timelessness.
It was clear to the Mendoza+Simal studio team that the project required a material that expressed originality while also meeting the architectural challenges involved in the avant-garde design. The ultracompact surface Dekton by Cosentino met both the aesthetic and durability criteria to clad the new headquarters' ambitious ventilated facade.
Popular Warm and Domoos: contrasting extremes
The main facade of the headquarters radiates pure light. Made using 600 m2 of Dekton in the Popular Warm shade, the hexagons seem to take on a life of their own above the rear facade of the building, ending with Dekton in the dark shade of Domoos.
"We were looking for two colors: a basic black for the base of the building and another that would provide contrast with the one before and enhance the main volume. We wanted a light tone that would illuminate and highlight the skin as a single element," explains José Manuel Moreno, partner, and commercial director at Gunni & Trentino.
On a technical level, Dekton allows for large format pieces to be manufactured in all kinds of dimensions, which simplifies the cutting of elevations and minimizes jointing between sheets, creating a homogeneous image. Also, the precise edges that can be achieved thanks to the adjustable thicknesses allow for the creation of geometrically perfect pieces.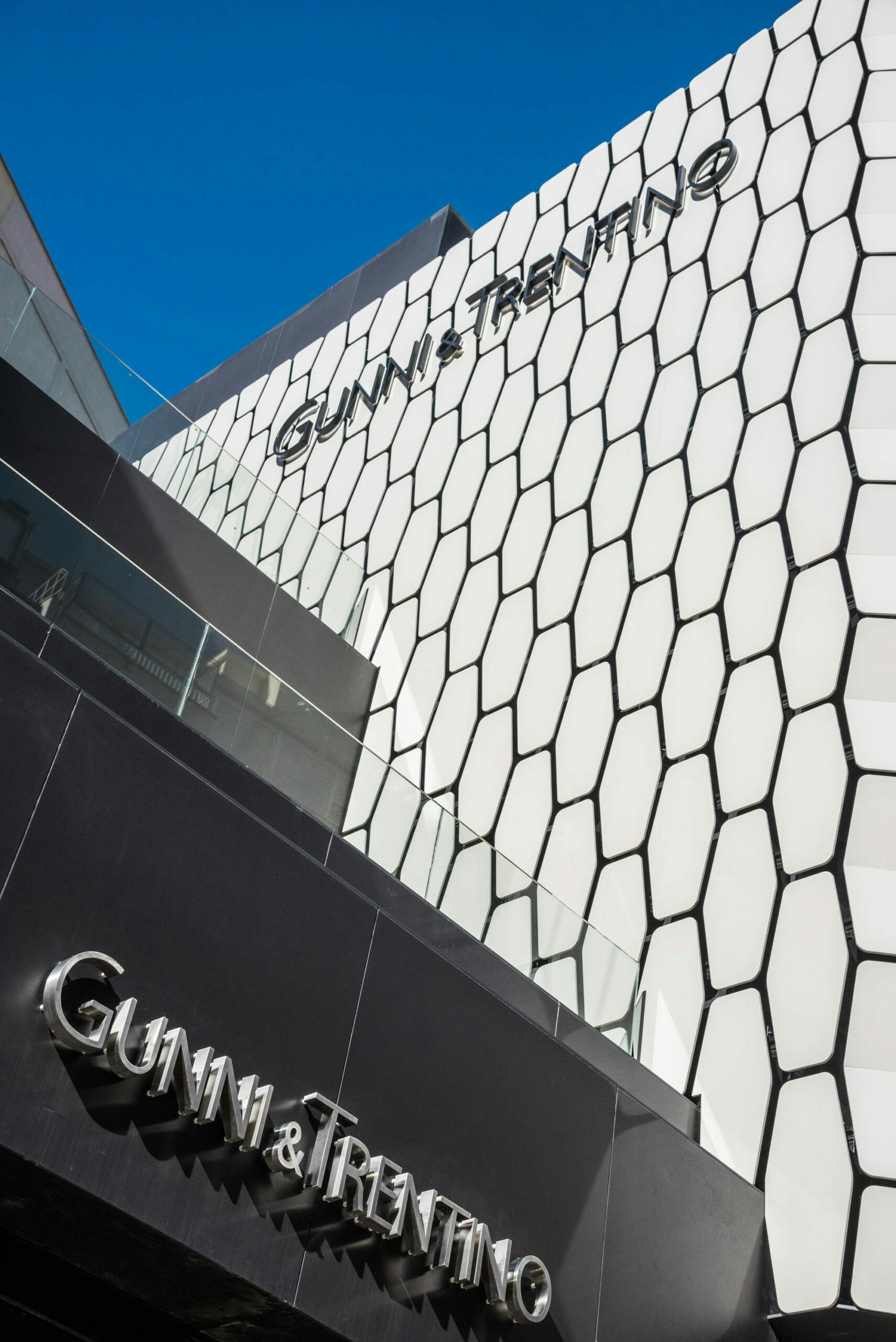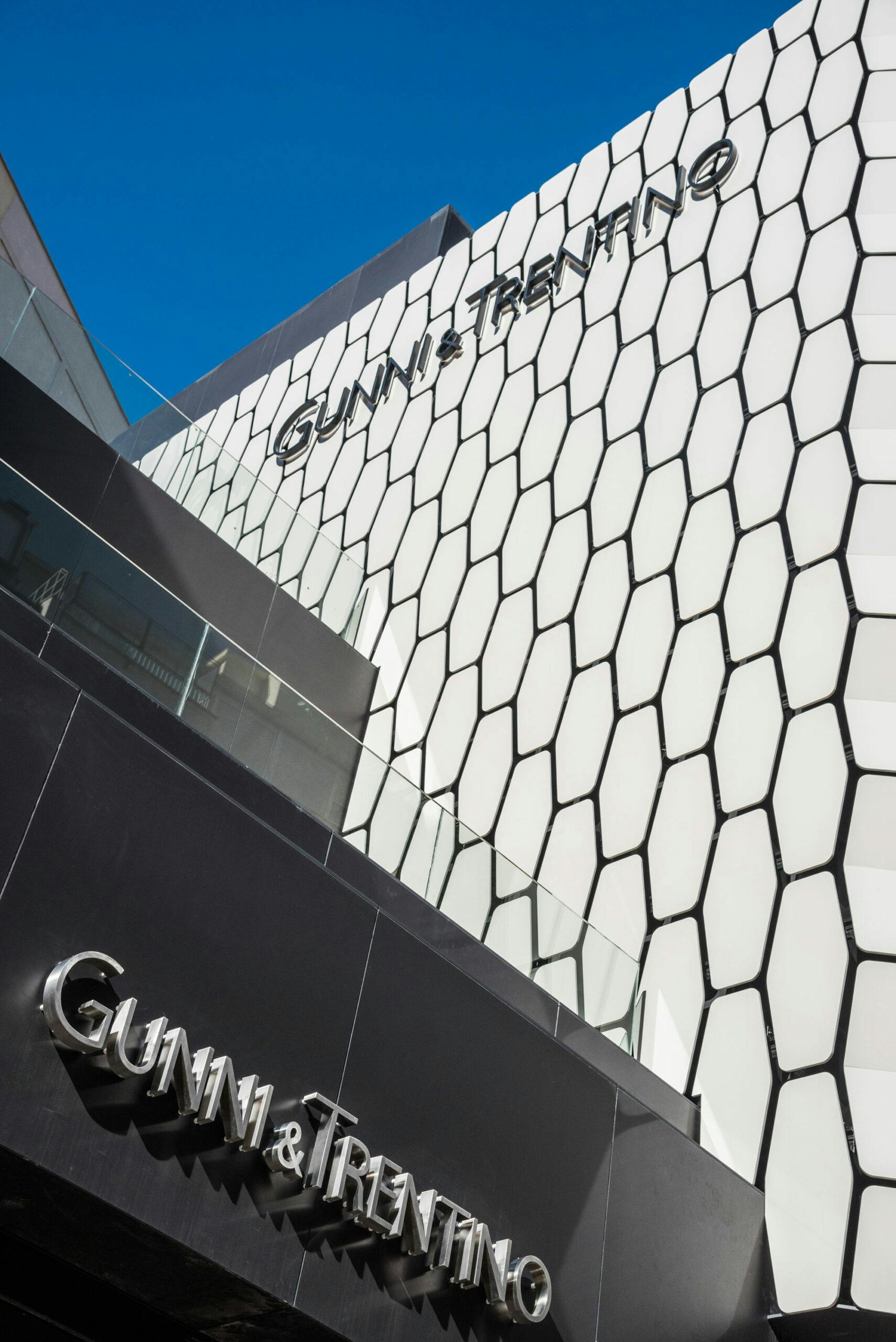 "With Dekton, we found a perfectly flat surface that can be adapted to the design of the desired piece with an impeccable finish"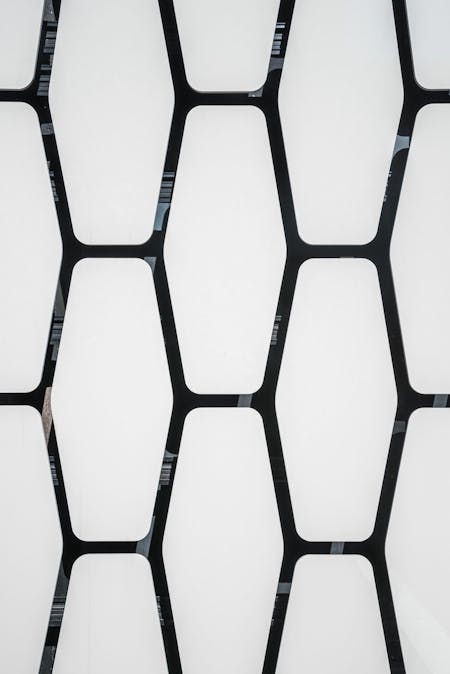 Armando Gutiérrez Mendoza
Architect
The great interior design house
Gunni & Trentino is one of Spain's leading high-end design brands, with over 40 years of experience as a supplier of luxury interior decor products. Its new headquarters in the heart of Madrid features a display space covering 3,000 m2, turning the building into the company's flagship showroom for the world's most exclusive interior design brands.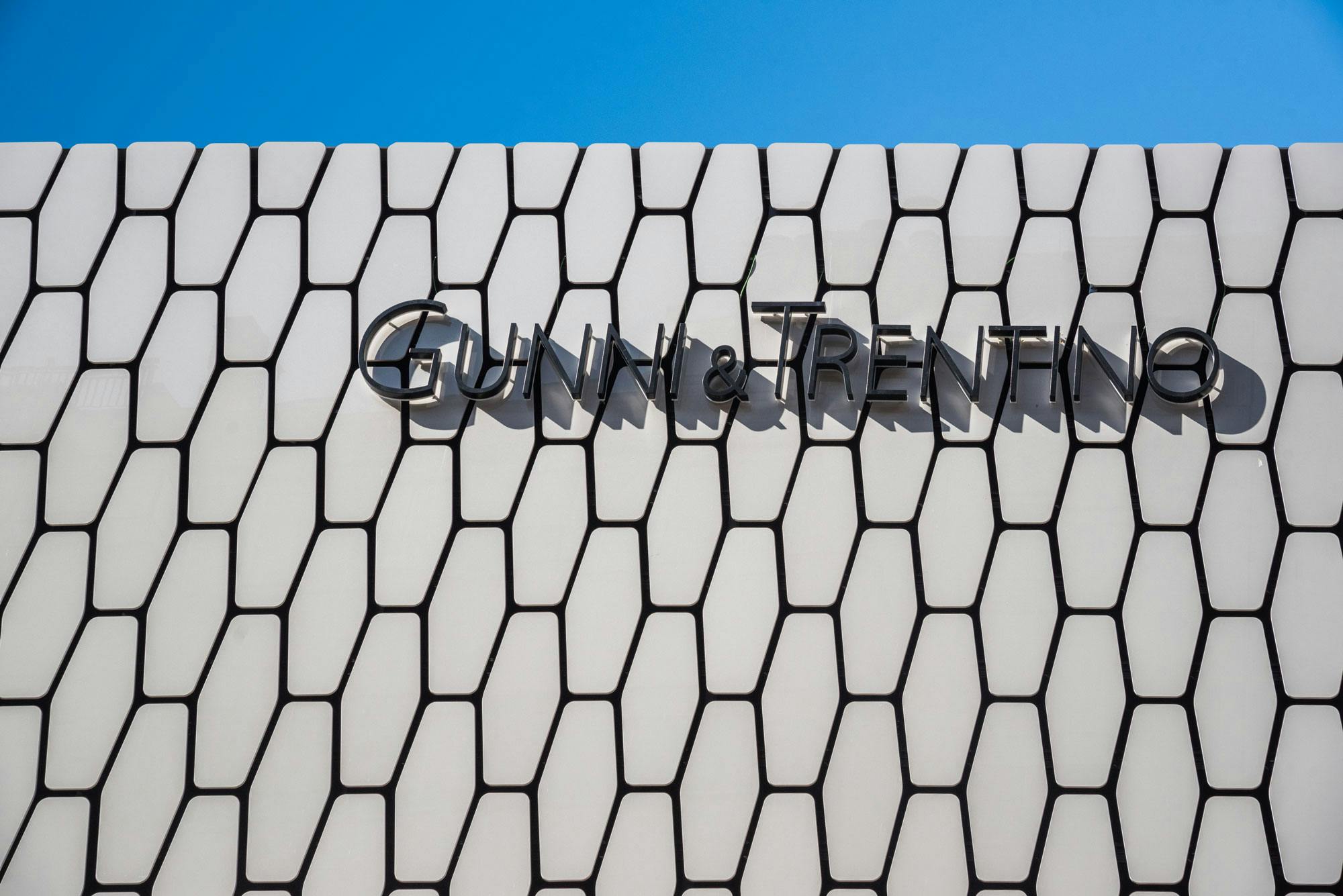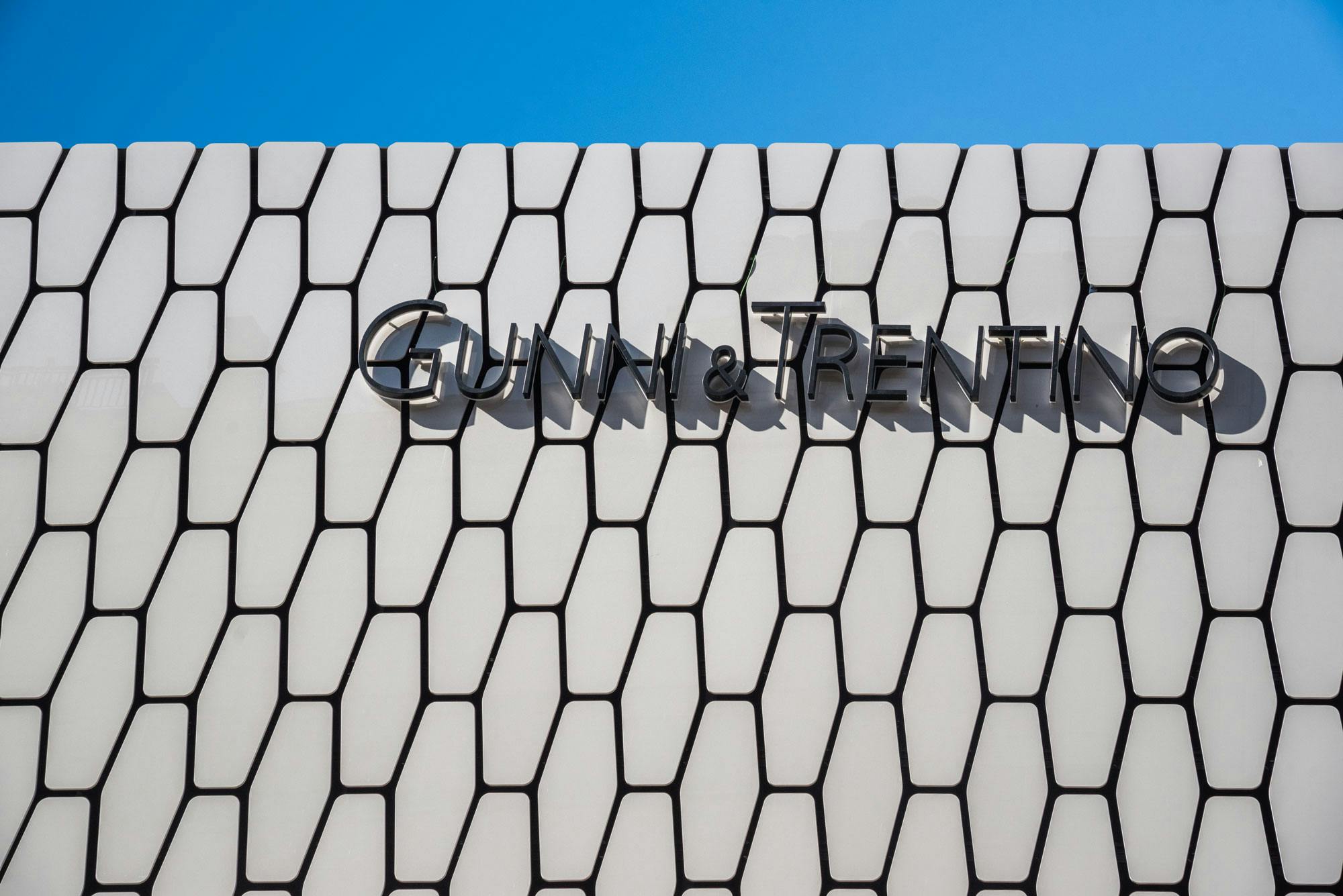 Cosentino's materials used in this project
Related flagship projects