Case Study
Dekton illuminates this one Michelin star from the Baltic coast
Billund | Hansen Arkitekter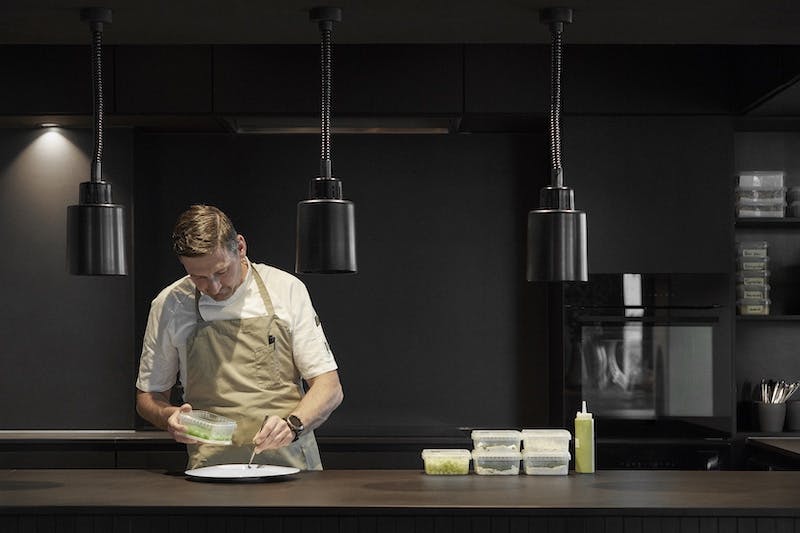 Location
Fredericia, Denmark
Interior design
Damgoodpeople
Architecture / Design
Billund | Hansen Arkitekter
Application
Flooring, wall cladding, worktops
The perfect symbiosis between kitchens
The Ti Trin Ned restaurant has become a reference in Danish gastronomy since 2001. Located in the old quarter of Fredericia, on the shores of the Baltic Sea, this restaurant takes its culinary offerings to an almost intimate level where diners and chefs share spaces. The experience had to flow, according to the concept of manager Mette Hvarre Gassner and chef Rainer Gassner, who have created a perfect symbiosis between a restaurant turned into an open kitchen and a 'production' kitchen. The result – one Michelin star.
To do this, it was necessary to merge two spaces with different characteristics and needs: on the one hand, priority was given to the aesthetic beauty of the surfaces, which had to complement the flavours of the menu; and on the other hand, it was essential to have a material that could be resistant to the thermal shocks, scratches and stains inherent in a busy kitchen. Dekton uniquely combines functionality and design, two features that make it truly attractive for professional kitchens all over the world.
"The resistance of Dekton represents exactly the attributes we are looking for, without compromising on aesthetics and design"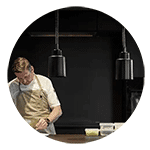 Rainer Gassner
Owner & Chef
Domoos and Kreta for two working environments
During the development of the project it was important that the two spaces, i.e. the open kitchen and the 'production' kitchen, were interconnected yet physically separate. The solution was to use a combination of two textures: the dark, almost black texture of Dekton Domoos for the worktops and the wall cladding in the open kitchen, and the soft grey of Dekton Kreta, from the award-winning Industrial Collection by Cosentino, used in the 'production' kitchen.
It is in the latter where Dekton's unique properties stand out. Its large format of 2700X1400 mm, which runs from floor to ceiling, provides a sense of continuity that also makes cleaning easier by reducing joints. Ti Trin Ned's kitchen is one of the easiest to maintain in Denmark.
Do you need help with a project?
Contact our specialists for advice
Do you need help with a project?
Contact our specialists for advice
"We invested a great deal of energy in creating the perfect kitchen and Dekton has helped us enormously"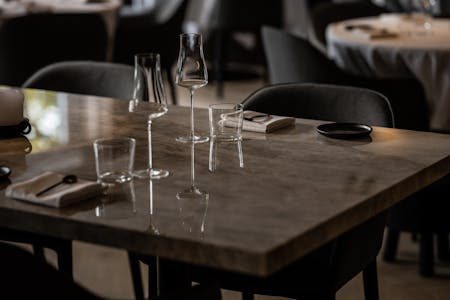 Rainer Gassner
Owner & Chef
Ti Trin Ned offers a type of cuisine that is deeply rooted in its natural environment, with ingredients firmly established in tradition and respect for nature. For Mette and Rainer Gassner to find a material that is as beautiful as it is sustainable was a matter of pure coherence. Dekton, as a carbon neutral product, meets this requirement perfectly.
"We are impressed by the features of Dekton and, at the same time, the concern for the environment and recycling that motivates Cosentino's R&D. This is in line with our philosophy of respecting natural resources".
Cosentino's materials used in this project