Case Study
Old home, new glamour: balm for the soul
By Gabriel Tan Studio / Studio Antimatter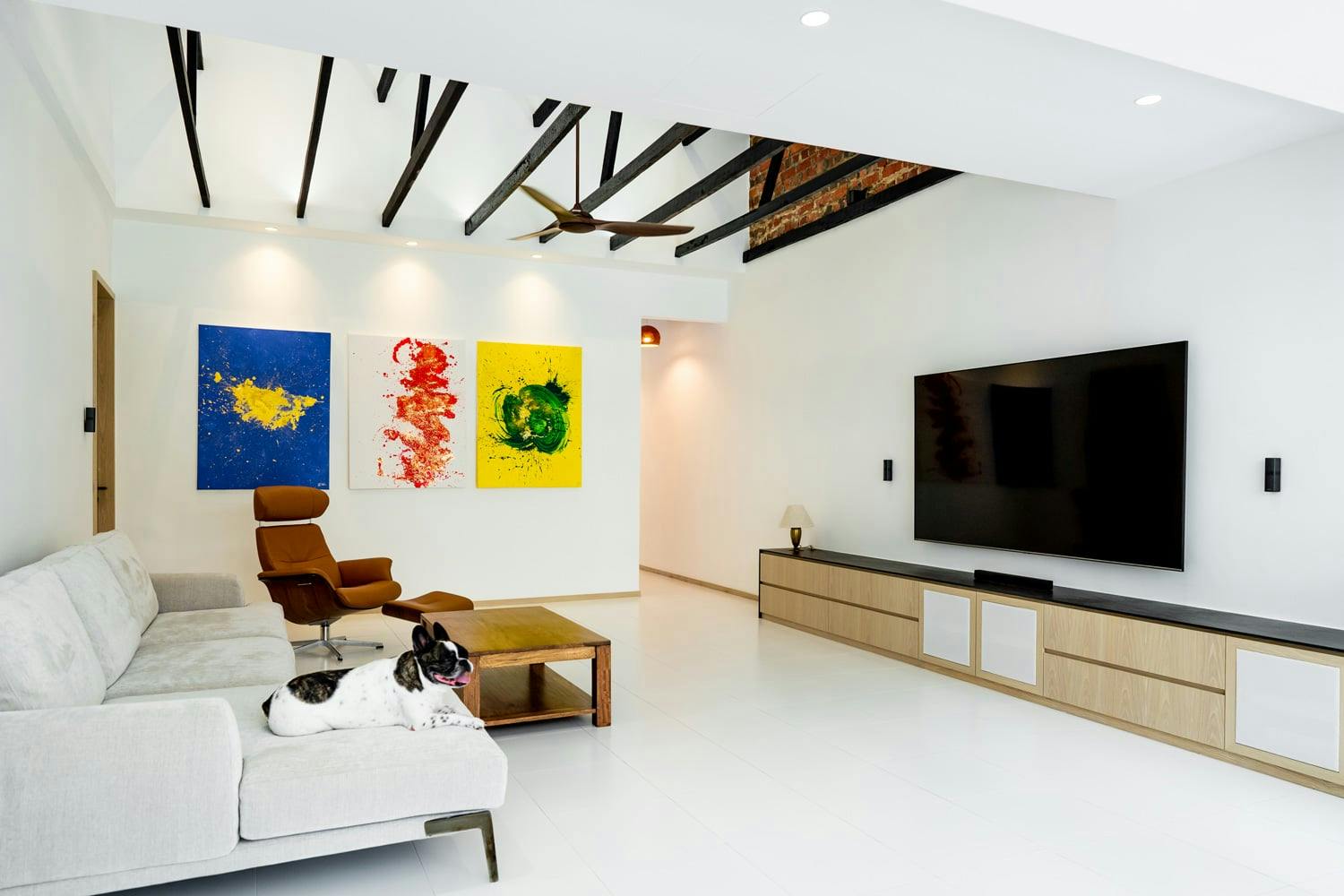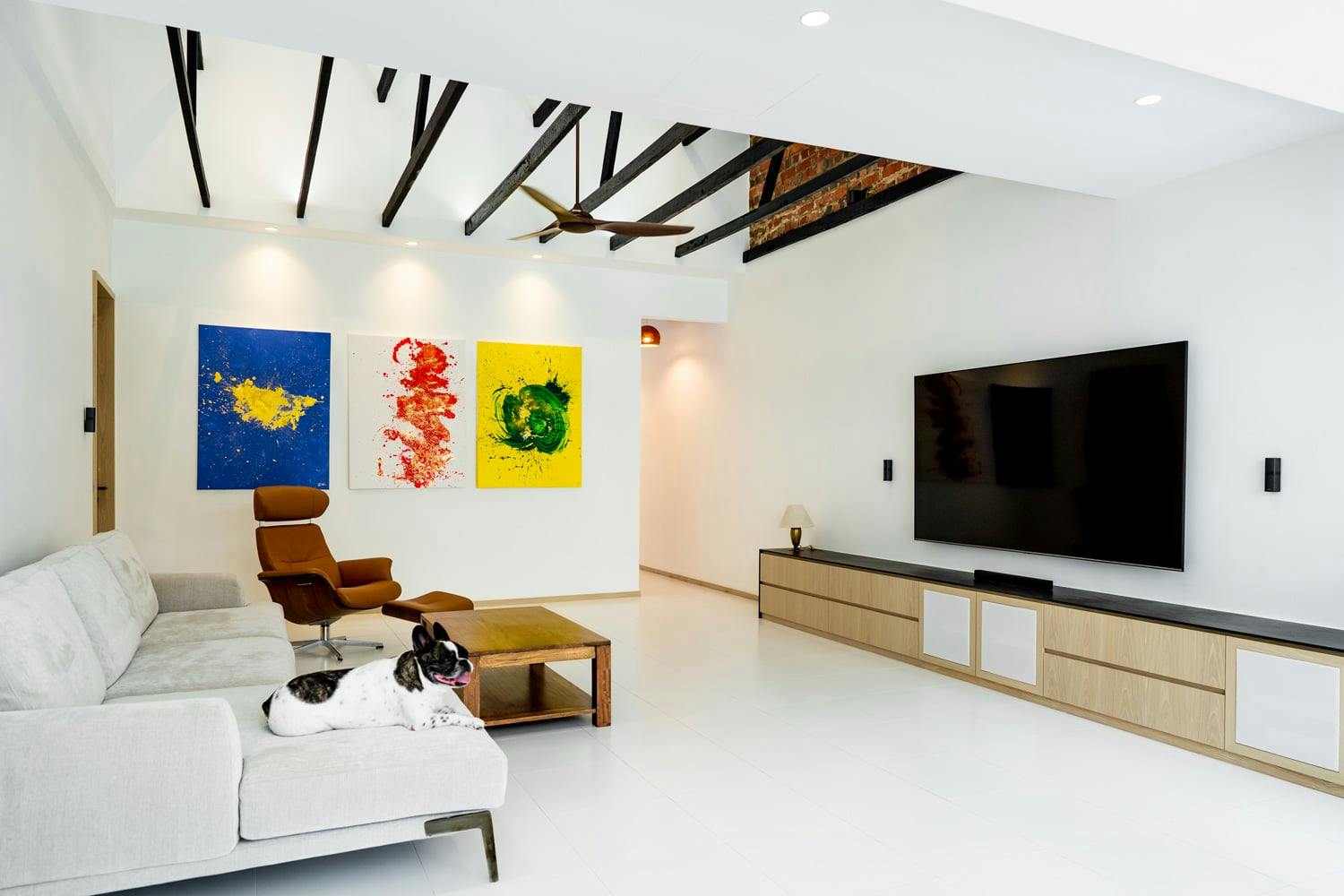 Color
Liquid Shell | Liquid Sky | Laurent
Architecture / Design
Gabriel Tan Studio / Studio Antimatter
Application
Countertop | Island | Backsplash | Flooring | Cladding
A very personal restoration
For radio presenter Maddy Barber, the mere mention of Serangoon Gardens used to bring back fond childhood memories. Now, she's calling it home once again. Home now is also the very same house she grew up in.
To add another twist to the story, Barber teamed up with her acclaimed industrial and interior designer brother, Gabriel Tan, for the restoration project of their childhood home.
Serangoon Gardens estate was built in the 1950s by British developer, Steven Charles Macey, to house the British soldiers and airmen of the Royal Air Force (RAF) stationed in Singapore. Fondly nicknamed ang sar lee for the red zinc roofs that were widely used on the houses, Serangoon Gardens is one of the oldest private residential estates on the island with few high-rise buildings. Yet, it still retains its old-world charm amidst the rapid urbanisation surrounding the district.
An art gallery with Dekton as a protagonist
For the project, Tan draws inspiration from the low-rise desert modern architecture and interiors he experienced in Palm Springs, California, which reminded him of the 1960s architecture that the family home was originally built in. The use of mint and terracotta red tones around the house is borne out of the style.
High-performance, high heat, scratch and stain resistant, easy to maintain, and above all, it should look and feel luxurious. These were the requirements in choosing surface materials for the restoration project, and Dekton meets them all.
The highly visually-inclined pair chose three colours from The Collection by Cosentino - Dekton Liquid Shell, Dekton Liquid Sky and Dekton Laurent.
"Dekton offers a wide variety of visual aspects; be it minimalistic, simple, marble or granite effect, Dekton has it all," says Tan, creative director of Gabriel Tan Studio and Studio Antimatter.
Do you need help with a project?
Contact our specialists for advice
Do you need help with a project?
Contact our specialists for advice
"We want a seamless surface where the visual aspect is much stronger, and also better for maintenance"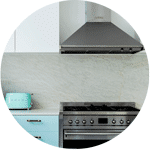 Gabriel Tan
Creative Director, Gabriel Tan Studio and Studio Antimatter
Chromatic harmony for the senses
Overlooking the courtyard, the master bath is an ethereal and holistic sanctuary conceived to calm the mind, dressed in Dekton Liquid Sky. Liquid Sky's swirling, marbled, cloud-like pattern takes one away into another world.
In the master bedroom, the fluidity of Dekton Liquid Sky pairs beautifully with the terracotta blush coloured wall. The vanity top also features Liquid Sky for perfect harmony.
Dekton Liquid Shell is chosen for its subtlety and softness which complement the mint, terracotta red tones and the terrazzo flooring in the spacious kitchen, which Barber calls the heart of her home.
"For the entire kitchen, I eventually went with the cream coloured, textured Liquid Shell... which I cannot stop looking at and touching because it is so incredibly beautiful," quips Barber on her choice of colour for the kitchen island, countertop and backsplash.
Cosentino's materials used in this project