The Imprint at Paradise City
MVRDV
Paradise City, South Korea
Located close to South Korea's largest airport, the project is part of the Paradise City entertainment and hotel complex, to which it adds two new buildings: a nightclub and an indoor theme park.
The facade of The Imprint forms entrances evocative of golden theater curtains opening up from the bottom, and which create the surrealist impression of a building that takes off from the ground to draw the attention of visitors. Designed by the Dutch studio MVRDV, the complex consists of two buildings – a nightclub and an indoor theme park – included within the larger Paradise City, an entertainment and hotel complex in close proximity to Seoul's Incheon Airport.

This type of program does not require natural light, so the facades are windowless structures and feature imprints of the façade features of surrounding buildings using fiberglass-reinforced concrete elements. As the shape of many of the 3,869 panels is unique, these were individually produced using 3D technology. Once installed, the panels were all painted uniformly to emphasize the relief and generate an abstract image that places the project on the boundary between architecture and art. A large golden dot is cast on the facade as if it were a huge spotlight. This expressive element, visible from afar, reacts to sunlight and to night lights, giving the space a glowing atmosphere full of nuances. With this same dramatic purpose, the floors and ceilings of the entrances – where the building rises from the ground – are clad with glass and mirrored surfaces, increasing the psychotropic theatricality of the ensemble.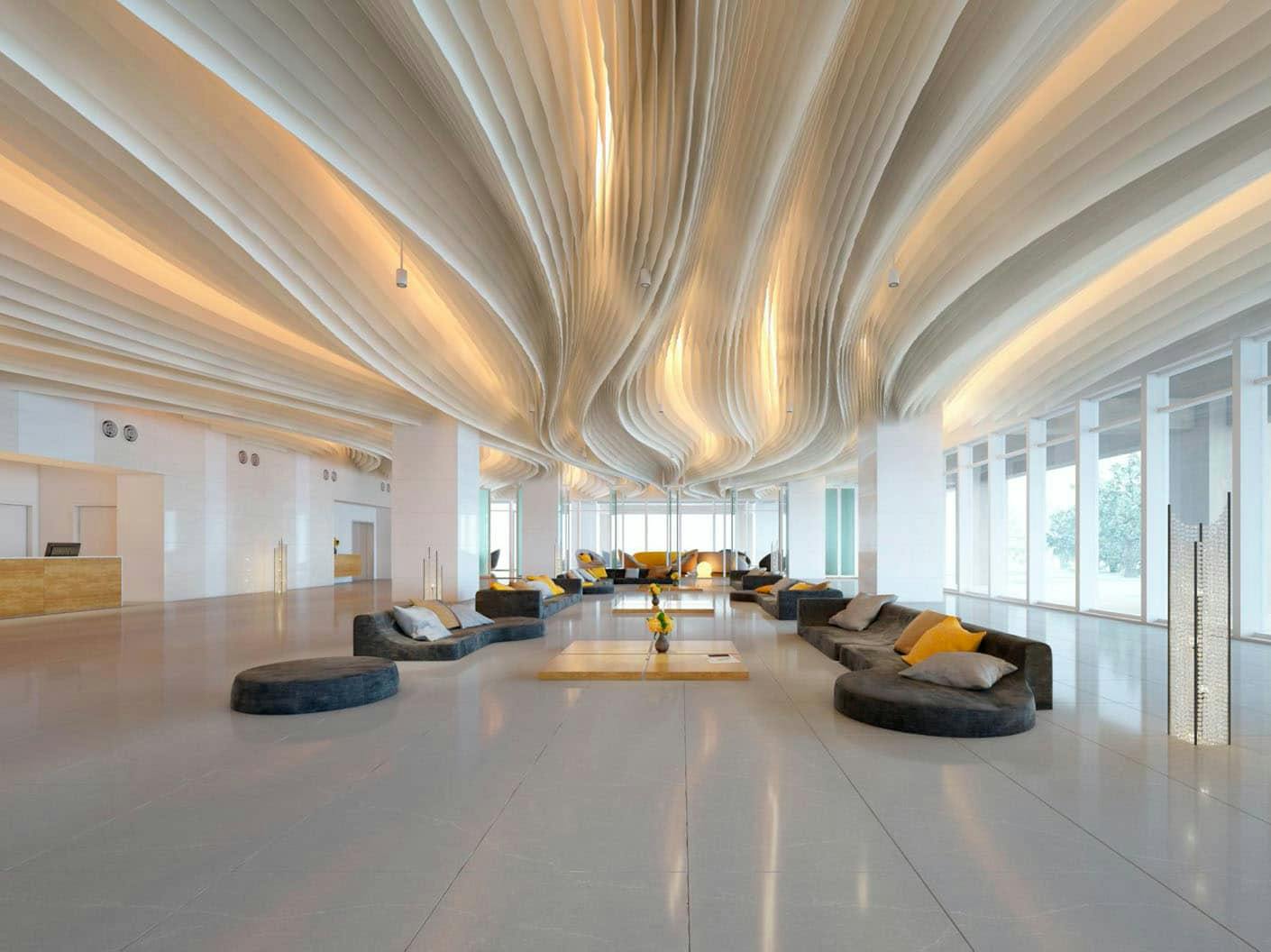 The envelope of the two buildings consists of 3,869 panels of fiberglass-reinforced concrete elements, with a figurative relief that reproduces the facade features of surrounding buildings.

At the entrances, the facade rises as if it were a theater curtain opening up from the bottom to unveil the audiovisual show created by the reflections between the mirrored ceiling and the floor.