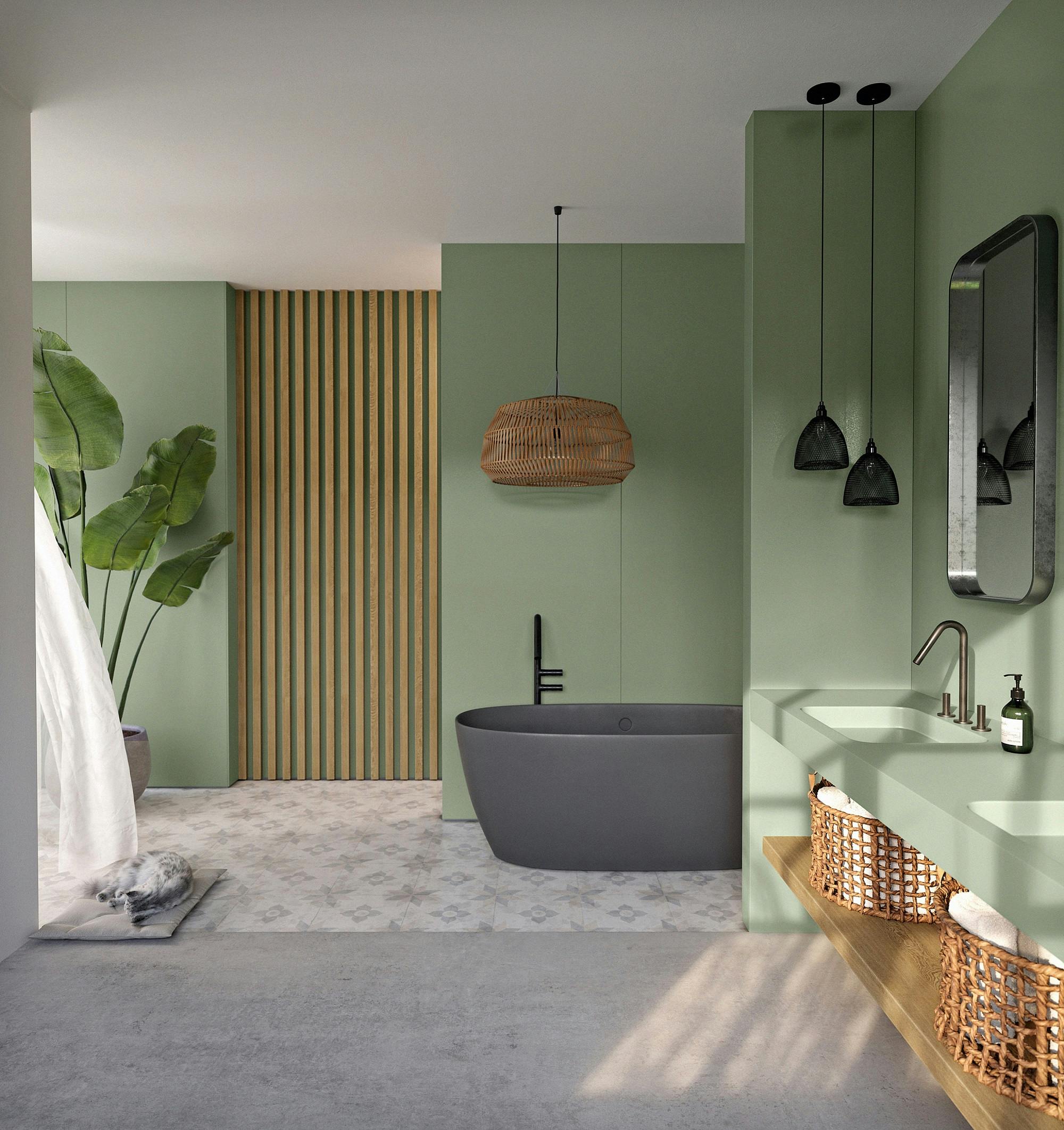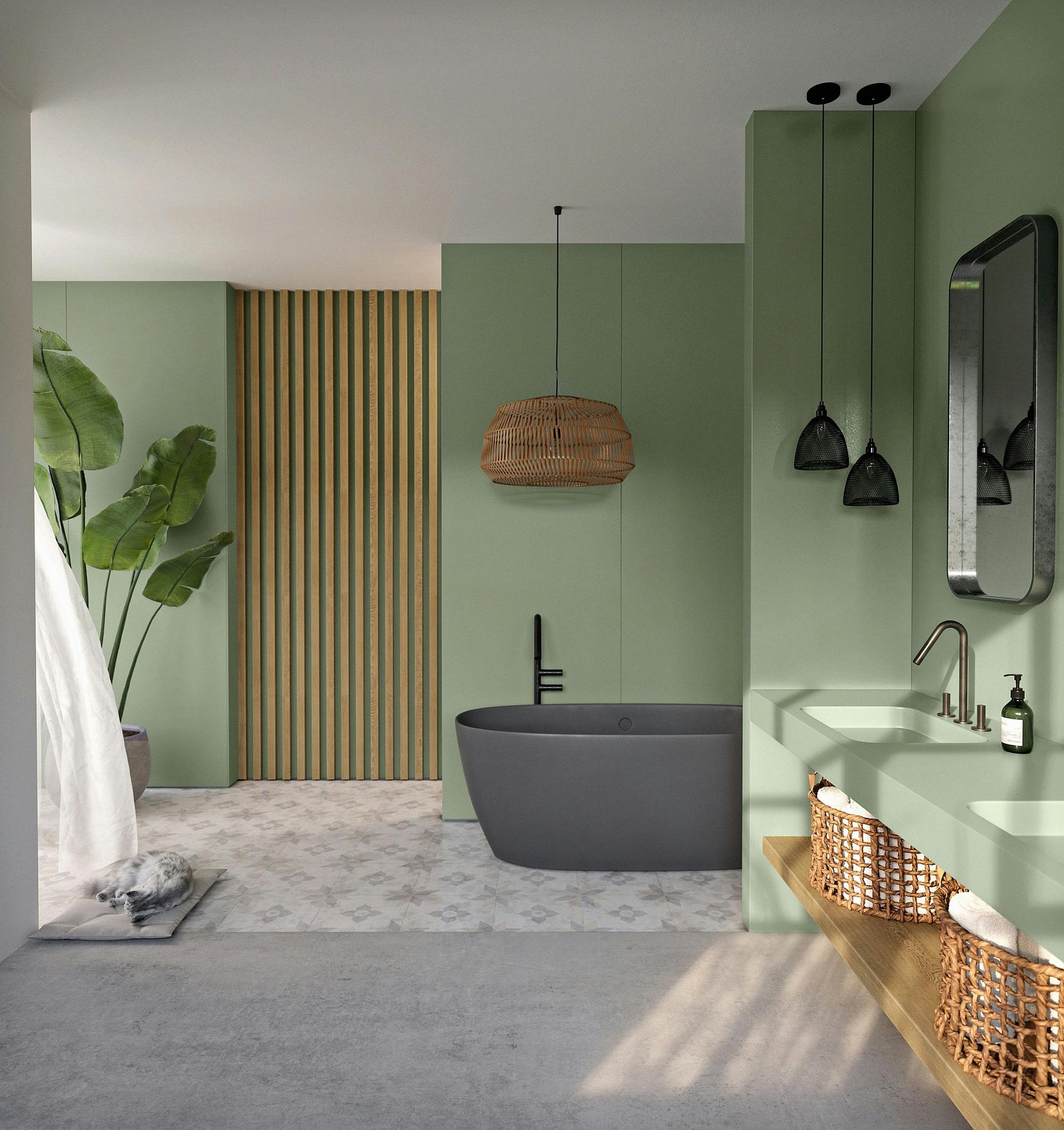 The master bathroom, the new central space in your home
At Cosentino we know that the master bathroom has become a key space in the home: a space where design and functionality come together to create a haven of wellbeing and calm. That's why we present C·Bath, Cosentino's comprehensive approach to reimagining the bathroom space through design and technology.
With our Dekton, Silestone and Sensa surfaces, you will be able to create unique and personalised atmospheres, featuring large format wall and floor cladding and minimum number of joints, colours and textures in perfect balance, minimalist washbasins and shower trays designed in detail.  With C·Bath, the master bathroom becomes an experiential space where you can find yourself, take shelter and create your own self-care routines.
What you need to know when designing a master bathroom
There are many details to consider when designing the perfect master bathroom, but the C·Bath programme makes it very easy: with Cosentino surfaces, you will be able to choose all the finishes for your bathroom.
Choose Dekton or Silestone for the washbasin and the countertop
At Cosentino we design washbasins and countertops to suit any space with a wide variety of designs in which geometric balance and sobriety predominate. Our state-of-the-art materials offer durability, timeless design, hardness and strength.
Custom shower tray
Manufactured in non-slip finishes such as Dekton Grip, Grip+ and sandblasted Silestone, our portfolio of shower trays achieves visual consistency throughout the space by integrating all the different features. You can choose a single surface for all applications, thus achieving an atmosphere full of aesthetic harmony, balance and spaciousness.
Easy maintenance cladding with timeless beauty
The avant-garde design and the quality of Cosentino materials result in timeless bathrooms made to be lived in. Our surfaces are suitable for all types of cladding as well as sanitary ware such as showers, bathtubs, toilets and washbasins. Their technical features make them perfect to withstand limescale and soap stains, so their maintenance will be minimal.
Moisture-proof bathroom floors
Whether you choose Silestone or Dekton, you won't have to worry if your floors get wet. As we said before, their very low porosity and resistance to stains make our surfaces perfect for use in wet areas such as the bathroom. Their large-format slabs minimise the number of joints, which further simplifies hygiene and provides a seamless, modern and functional look.
With Silestone and Dekton you can choose all the finishes of your master bathroom in the same colour, thus achieving a timeless, minimalist and uniform result.
Ideas for designing a master bathroom to suit your style
For years, Cosentino has worked hand in hand with the best interior designers and architects in bathroom design. That's why we want to inspire you with different atmospheres created with our surfaces, among which you will be able to find the style that best suits your home and make it your own. Remember that you can customise every detail of your master bathroom, from the shower tray to the countertop.
Elegant black bathroom
Silestone's Eternal Noir is pure elegance and sophistication. In this stunning bathroom with views, this surface has been combined with a white flooring, creating a very attractive contrast. Add a few gold accents, such as this freestanding bathtub, and elevate the luxurious feel of your master bathroom.
Modern white bathroom
Imagine having this spacious double shower integrated into your master bedroom. A walk-in shower in which to relax, perform your self-care routine and unwind after a long day's work. Dekton's Kairos colour brings a lot of luminosity and features a subtle grey veining.
Brightly coloured bathroom
With its Mediterranean-inspired colours, our Sunlit Days collection by Silestone is perfect for cheerful and fun bathrooms. Cala Blue, the colour chosen for this bathroom, is reminiscent of the blue of the sea and conveys a sense of calm to your bathroom. To create a contrast, the cladding and the shower tray feature a white tone that brings light into the space.
Fully integrated industrial style bathroom
In this bathroom, our Dekton surface was used to its full extent. Specifically, the colour chosen was Keon, which was used for the walls, the shower tray, the flooring and the bathtub. Every detail was carefully designed to achieve a clean and seamless effect.
Natural style bathroom
Our VK03 Grigio by Dekton looks amazing in natural style bathrooms like this one, where the colour TK06 Marmorio has been used to clad the walls, bathtub and countertop. Its combination with floors in VK03 Grigio, also from the Pietra Kode collection, results in a bathroom rich in textures that takes us back to ancient Rome.