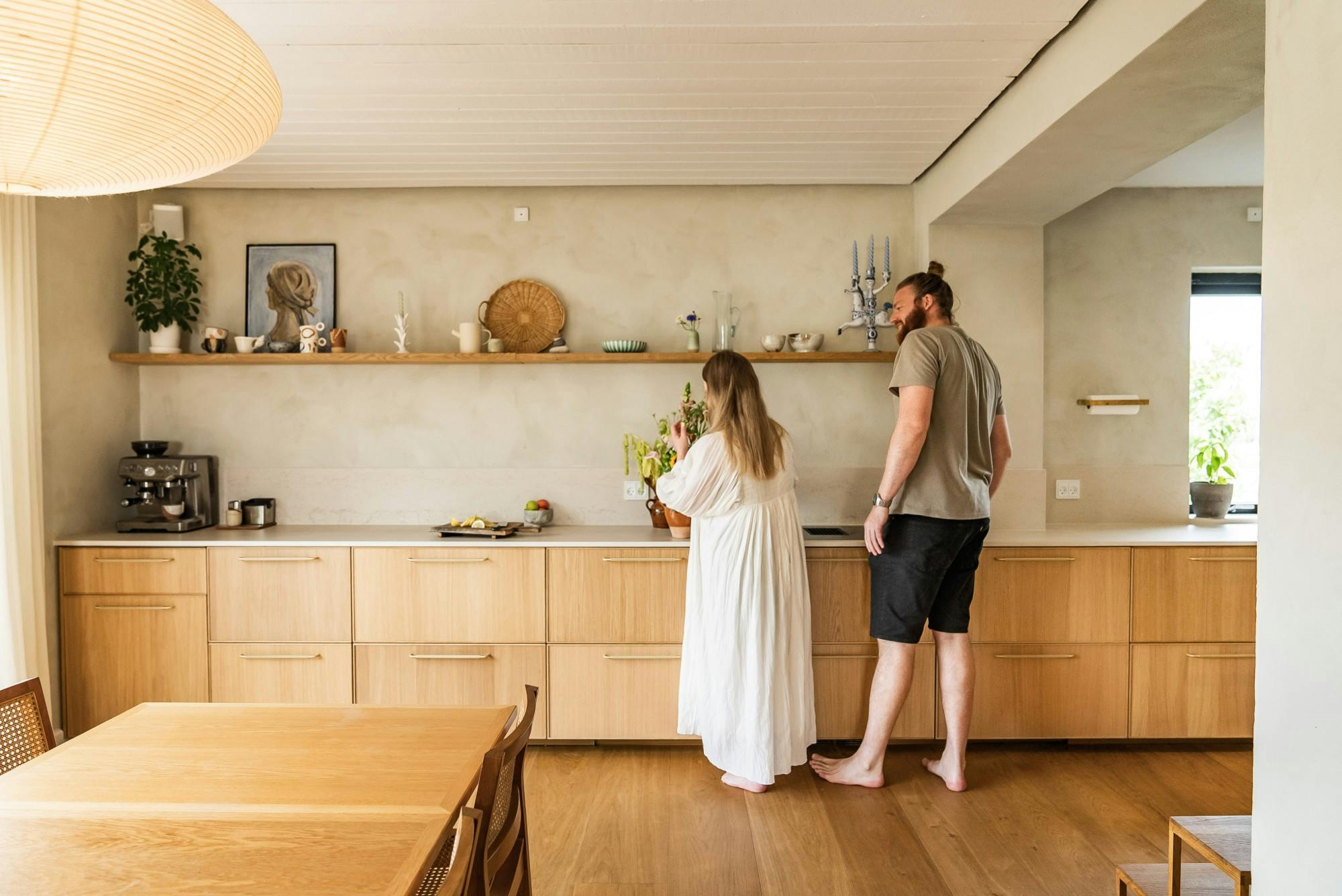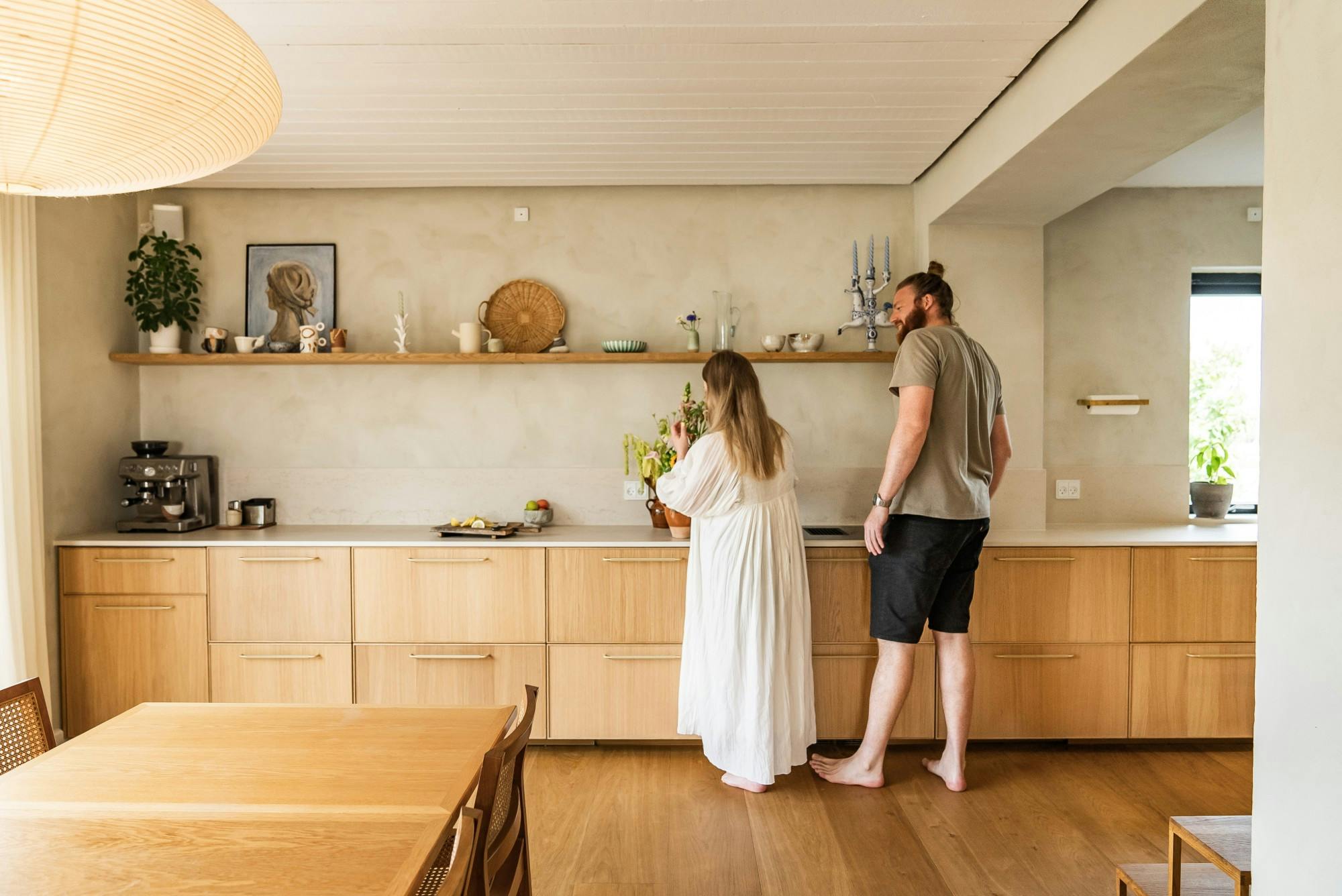 A seamless worktop for a Nordic home renovated with love
Top Homes
A seamless worktop for a Nordic home renovated with love
Charlotte M. Jakobsen/Fredrik Holm Koch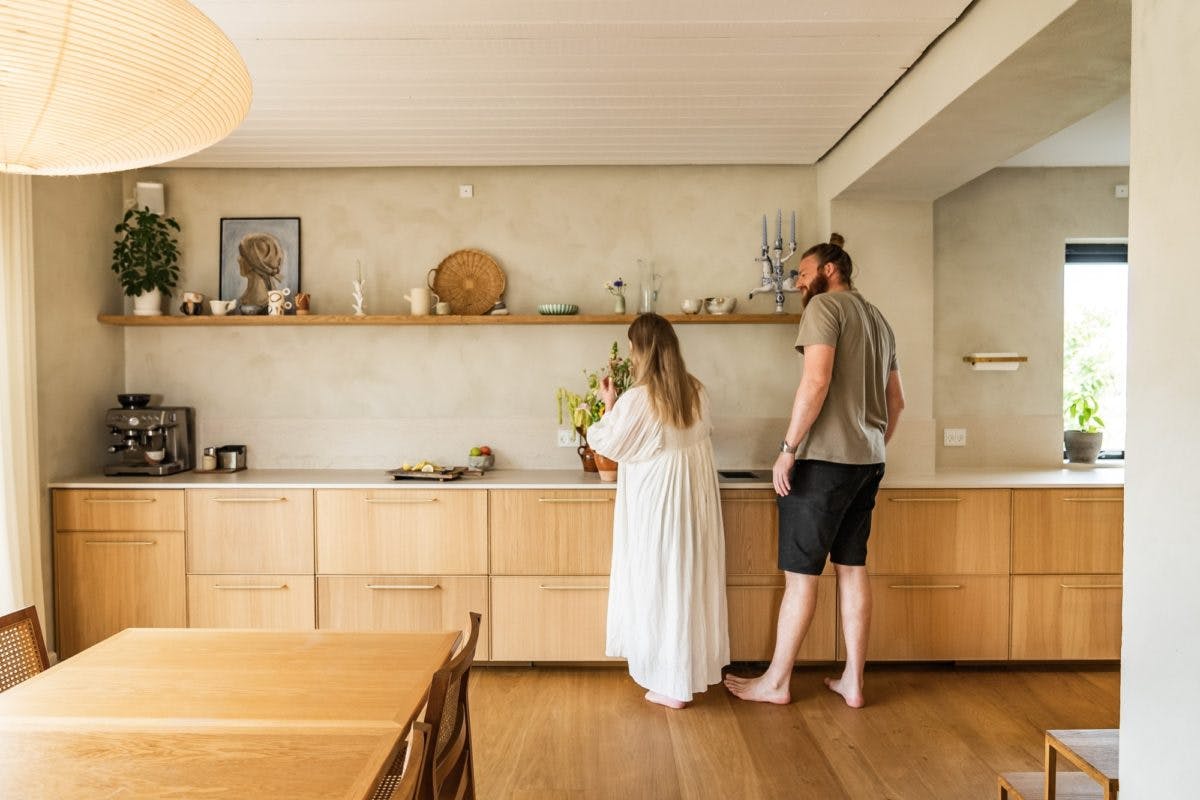 Material
Dekton , Silestone
Application
Countertops, Sink
Architecture / Design
Charlotte M. Jakobsen/Fredrik Holm Koch. Fabricator: Pilehave Natursten & CTS Cosentino 
Color
Danae, Silken Pearl
From interior design enthusiasts to winners of a home renovation show
Eight weeks to create, from scratch and in a traditional way, the house of your dreams. That is the aim of Nybyggerne, a long-running Danish TV show that has been on air since 2013 and which was won by a very charismatic couple in 2018: Charlotte Møller Jakobsen and Fredrik Holm Koch.
Despite having little experience in construction, the couple, who were students at the time, captivated judges and audience alike. They succeeded thanks to their good mood, creative use of recycling and a fun approach to decorating their project, a 125-metre ground floor flat, which they got to keep after their victory.
Almost four years later, they no longer live there, but in their dream home: a two storey house with sea views which they have lovingly renovated to suit the tastes and needs of their family, as the couple have had two children since then, a 3-year-old boy and a baby girl.
A kitchen with seaside vibes thanks to Dekton Danae
For the renovation, these DIY enthusiasts have focused on the use of natural colours and materials, which they have combined with other materials such as brass and the elegant Dekton and Silestone surfaces for a simple yet warm Nordic interior design. They have also kept in mind the architectural heritage of the house, a very old property, and its links to the nearby beach.
In fact, the colour chosen for the kitchen worktop, Dekton Danae, is reminiscent of sand swaying in the breeze thanks to the different shades of beige that cross its surface and capture the essence of the movement.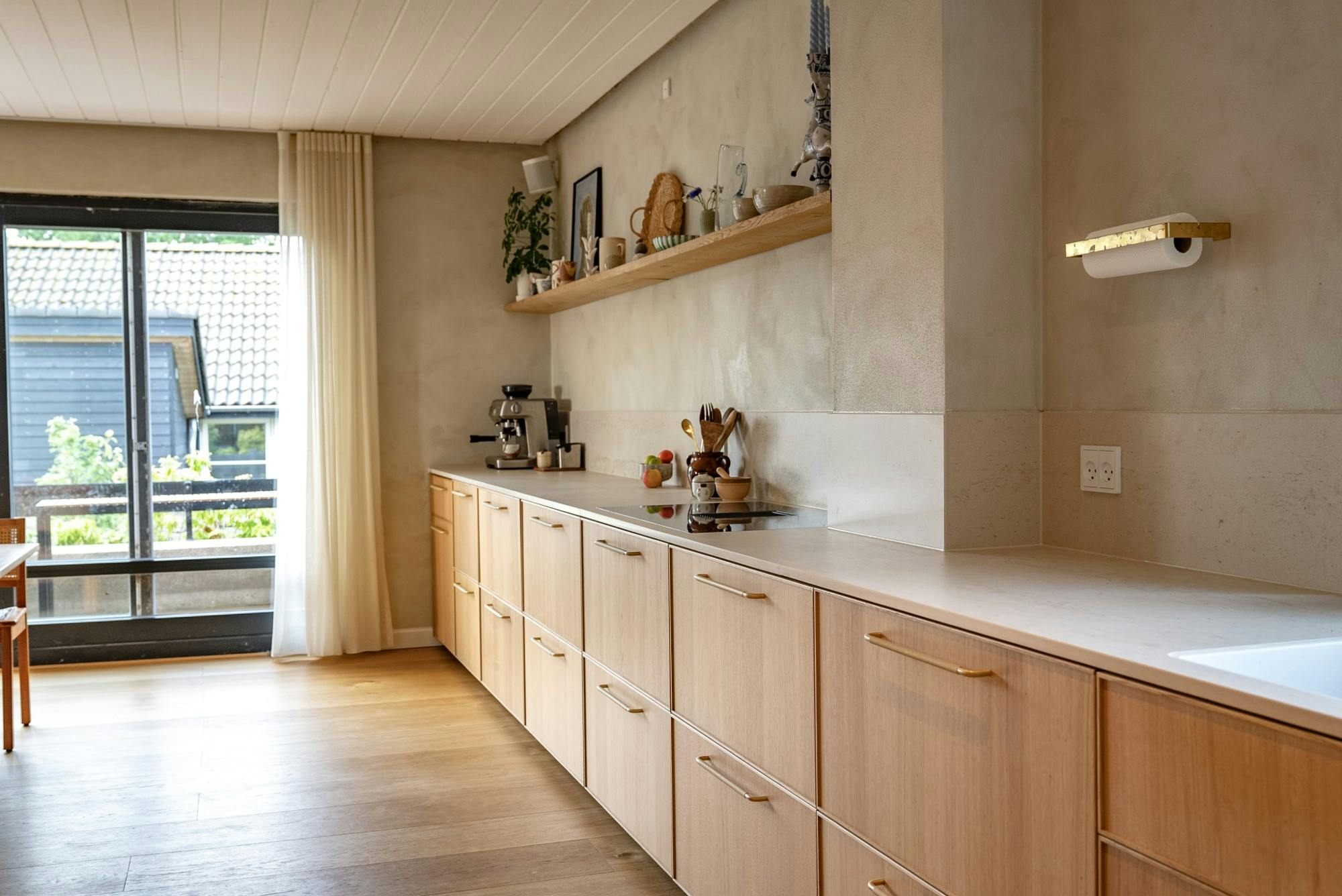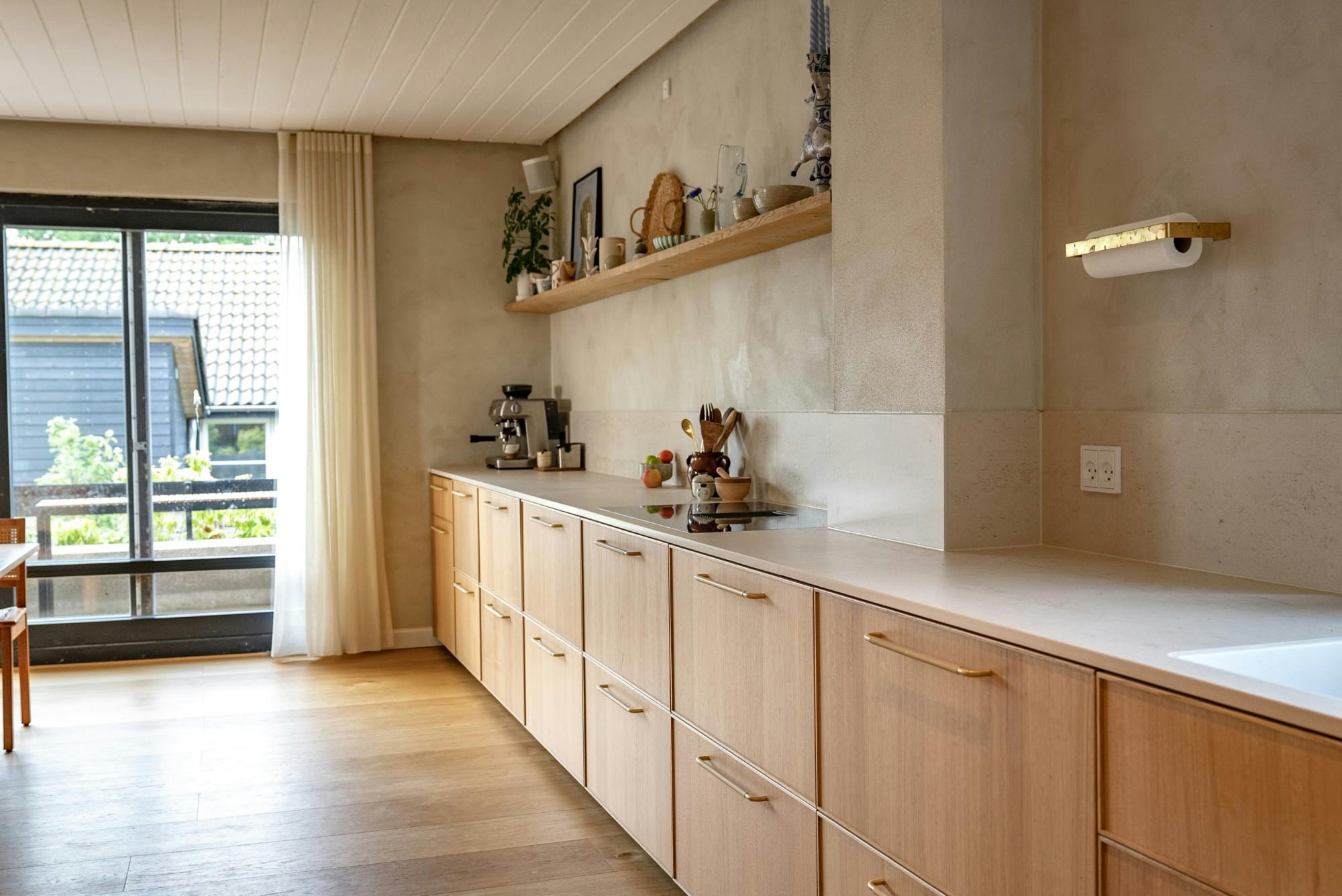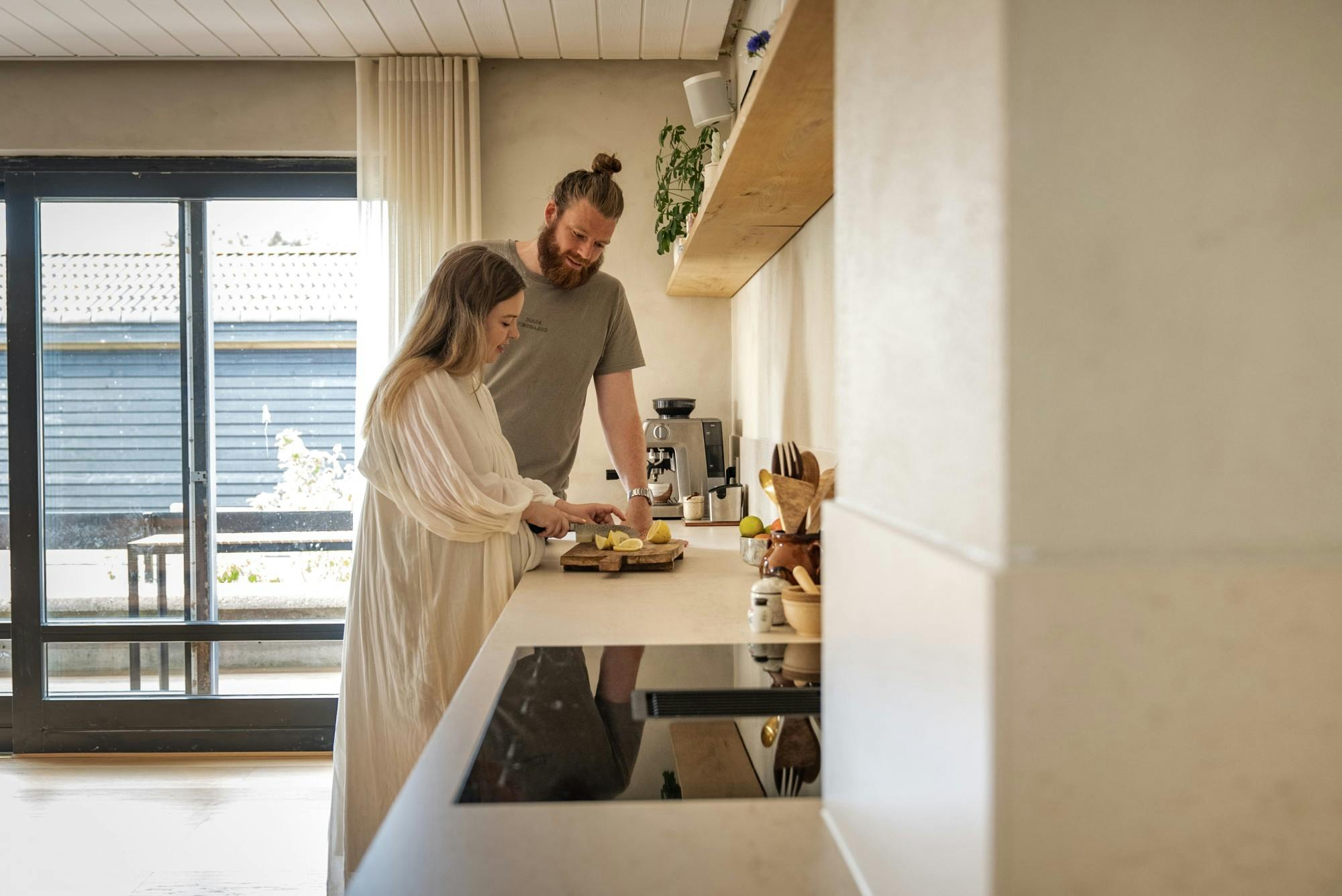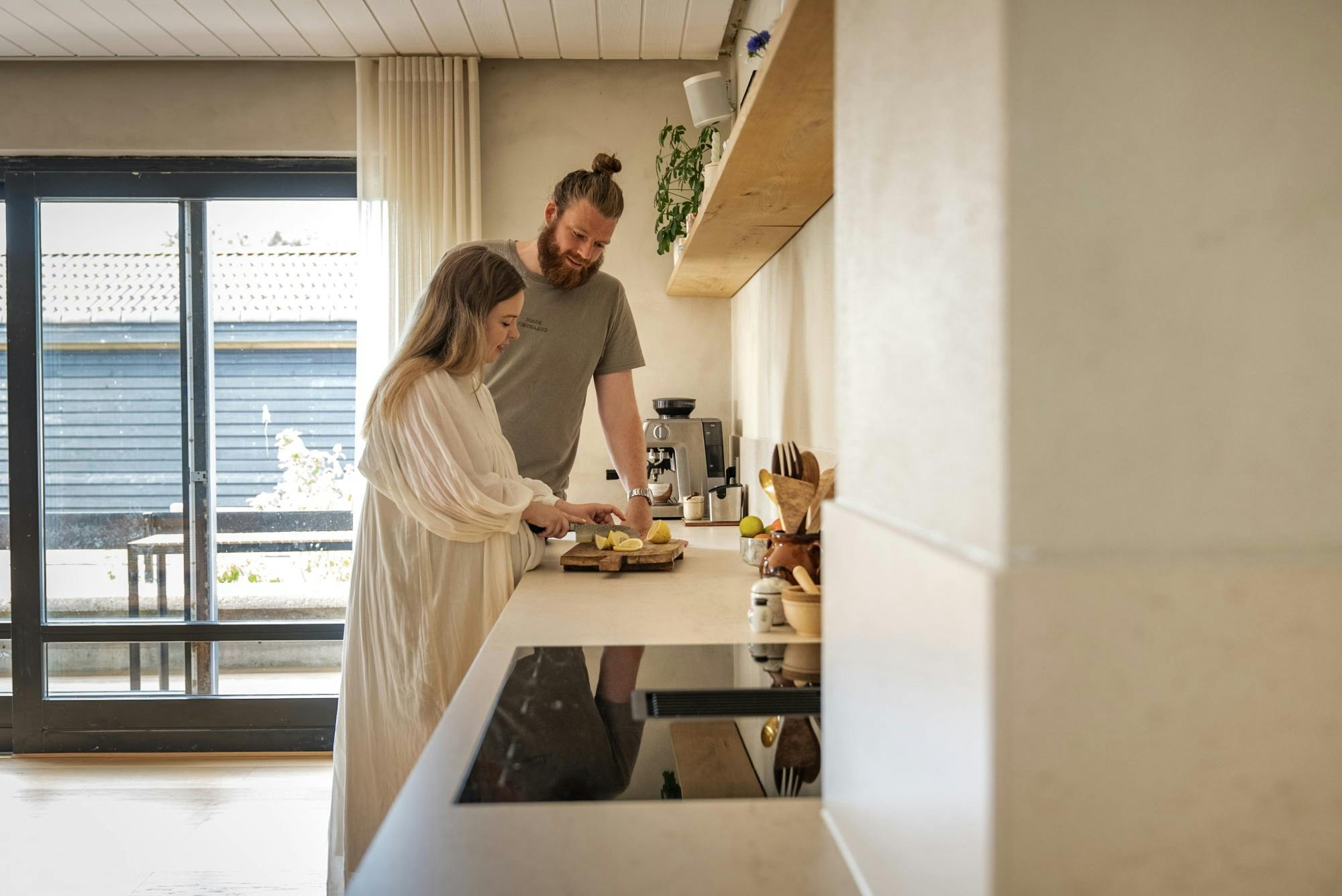 "We spend most of our time in our kitchen dining room. There is room for the whole family and we can be together, while one is cooking, another is breastfeeding and the last one is building a railway track", Møller Jakobsen recently said in an interview for a lifestyle publication.
Seamless worktop: six and a half metre surface with almost no joints thanks to Dekton
For this very special room, the family chose a six and a half metre Dekton worktop and splashback, further proof that this material offers endless design possibilities indoors and out. According to the owners, the reason for choosing such a large piece is to give continuity to the interior space and minimise joints, which is possible thanks to the 3,200 x 1,440 millimetre Dekton slabs.
"The design of Danae is pleasing to the eye, without being too simple or boring. We enjoy the functionality of the material: we welcome a lot of foodies into our kitchen, and we never have to worry about anything", says the couple.
Indeed, Dekton withstands hot kitchenware (pots, pans, coffee pots...) and electrical appliances that emit heat, as well as scratches and stains of all kinds, which are easily removed with a cloth dampened with water and neutral soap. Consequently, the material offers a 25-year warranty.
Silestone, the best partner to create a simple, refined and tailor made washbasin
As well as for the kitchen, Møller Jakobsen and Holm Koch also chose Cosentino surfaces for the bathroom washbasin. In this case, they chose Silestone Silken Pearl, a delicate cream colour with a two-tone background and subtle white veining, which gives it a marbled effect.
"The Silken Pearl Armony washbasin by Silestone is a very cool piece. It matches the simplicity we want for our interiors, with nothing on the floor and just a few well-chosen elements and colours. Furthermore, it is easy to clean and maintain; it is a pleasure", says the couple.
Like Dekton, Silestone is a non porous surface that is highly resistant to tough stains such as coffee, wine, lemon juice, olive oil, vinegar, make-up and many other everyday products. Therefore, as Møller Jakobsen and Holm Koch point out, the care for this is very easy.
In addition to this, Silestone washbasins boast a unique and innovative design and feature great flexibility to adapt to the space and make the most of it, while adding a touch of distinction and understated elegance that matches the rest of this Danish home that has been renovated with a lot of love.
Cosentino's materials used in this project