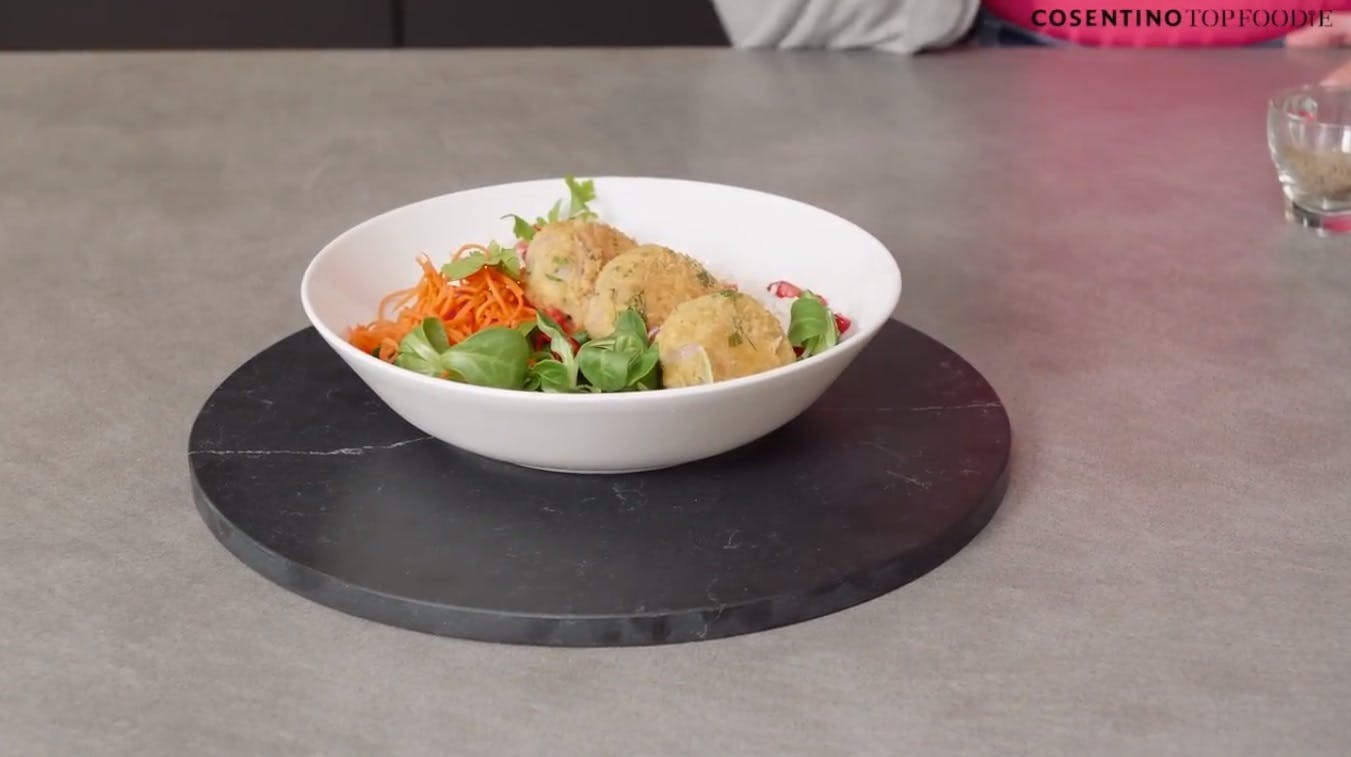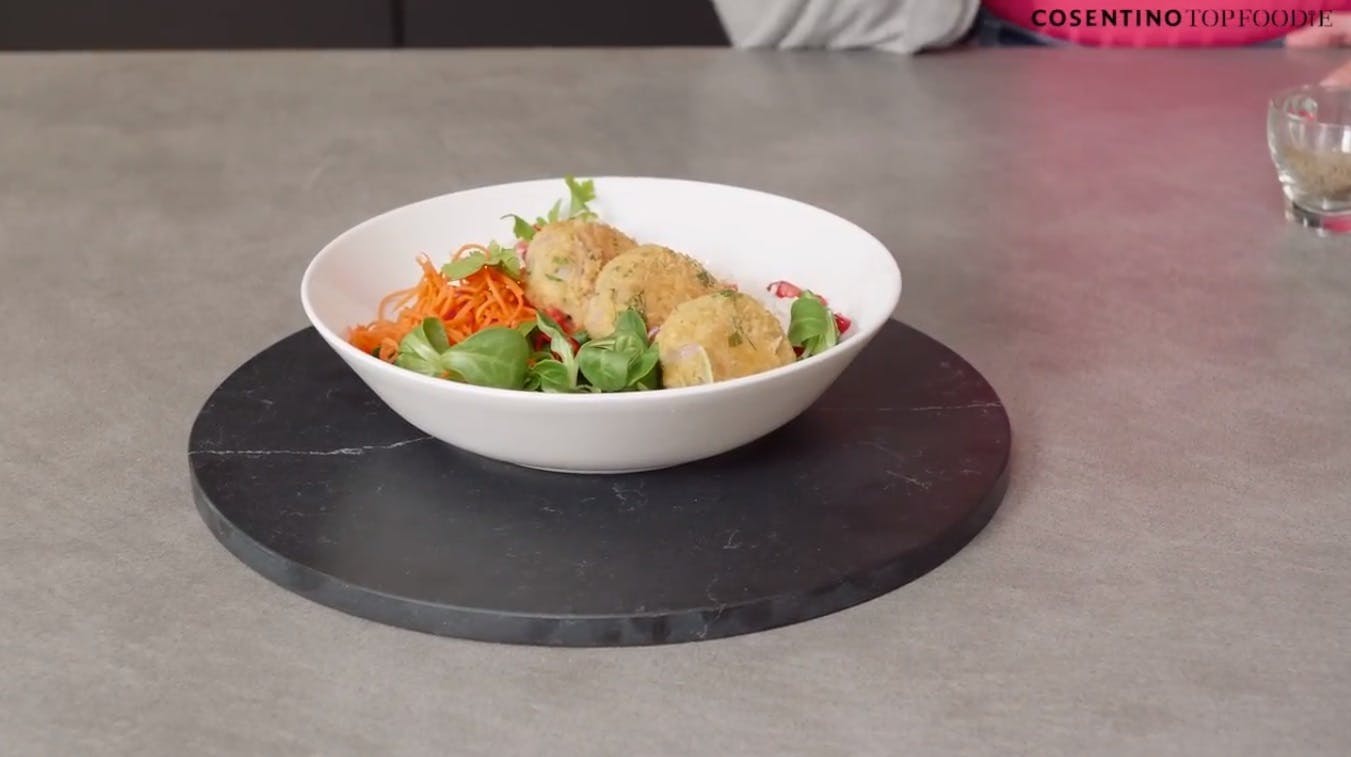 Falafel and Hummus Buddha Bowl Recipe
Embrace your inner foodie with this delicious Buddha bowl recipe with falafel and hummus
If you're a foodie like us, you'll know that bowls are currently setting the trend: from poke bowls to quinoa bowls, and more. In this new Cosentino Top Foodie video, we're sharing with you one of the tastiest, trendiest and easiest recipes, which is also perfect for vegetarians and vegans: a Buddha bowl. We have the wonderful Marta Simonet here with us to present this heavenly falafel and hummus Buddha bowl recipe.
"Today we're going to make a recipe that I know you'll love, a falafel and hummus Buddha bowl".
Ingredients
1 can of cooked chickpeas
2-3 red onions
1/2 cup of fresh parsley
1/4 cup of fresh coriander
2 teaspoons of garlic powder
1 grated carrot
2 teaspoons of ground cumin
1 cup of chickpea flour
1 teaspoon of salt
A handful of lamb's lettuce
A pinch of cayenne
1 small cup of cooked rice
2 tablespoons of hummus
1/2 pomegranate (or seasonal fruit)
Olive oil
Salt and black pepper
Method
Prepare the chickpea paste
The first step to making a perfect Buddha bowl is preparing the falafel. To do so, we'll place the chickpeas in a food processor and mix with a dash of olive oil, salt, garlic powder and, most importantly, ground cumin. This final ingredient gives falafel that characteristic flavour.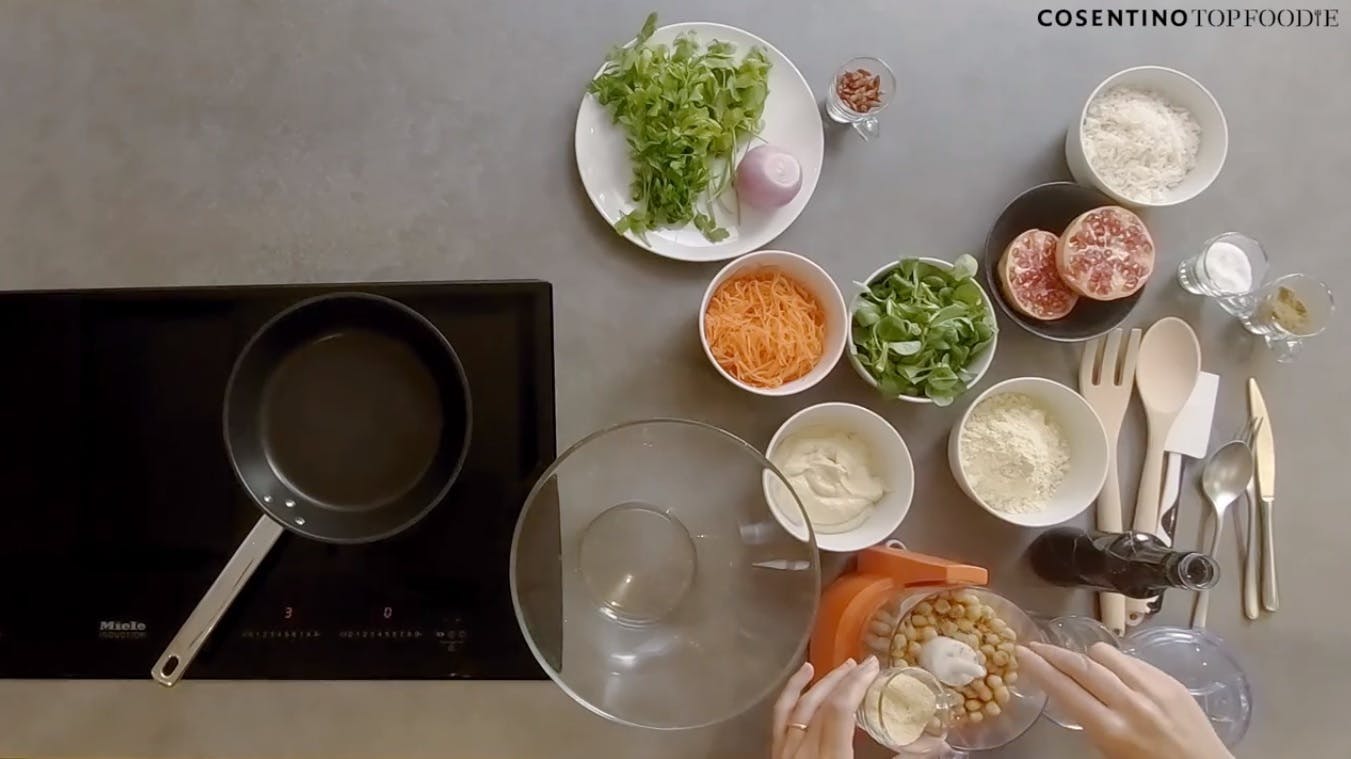 "You can season the falafel with spices of your choosing, but don't forget the cumin".
And if you love strong flavours, this is the moment to add some cayenne pepper to give the falafel a touch of spice.
Once you've mixed all the ingredients together, it's time to blend the chickpeas with the spices.
Add fresh vegetables
One of the great things about falafel Buddha bowls is how healthy they are, as they are packed full of fresh vegetables. In our case, we are going to make falafel with onion, parsley and coriander. We're going to chop these ingredients and mix them with the chickpea paste and spices.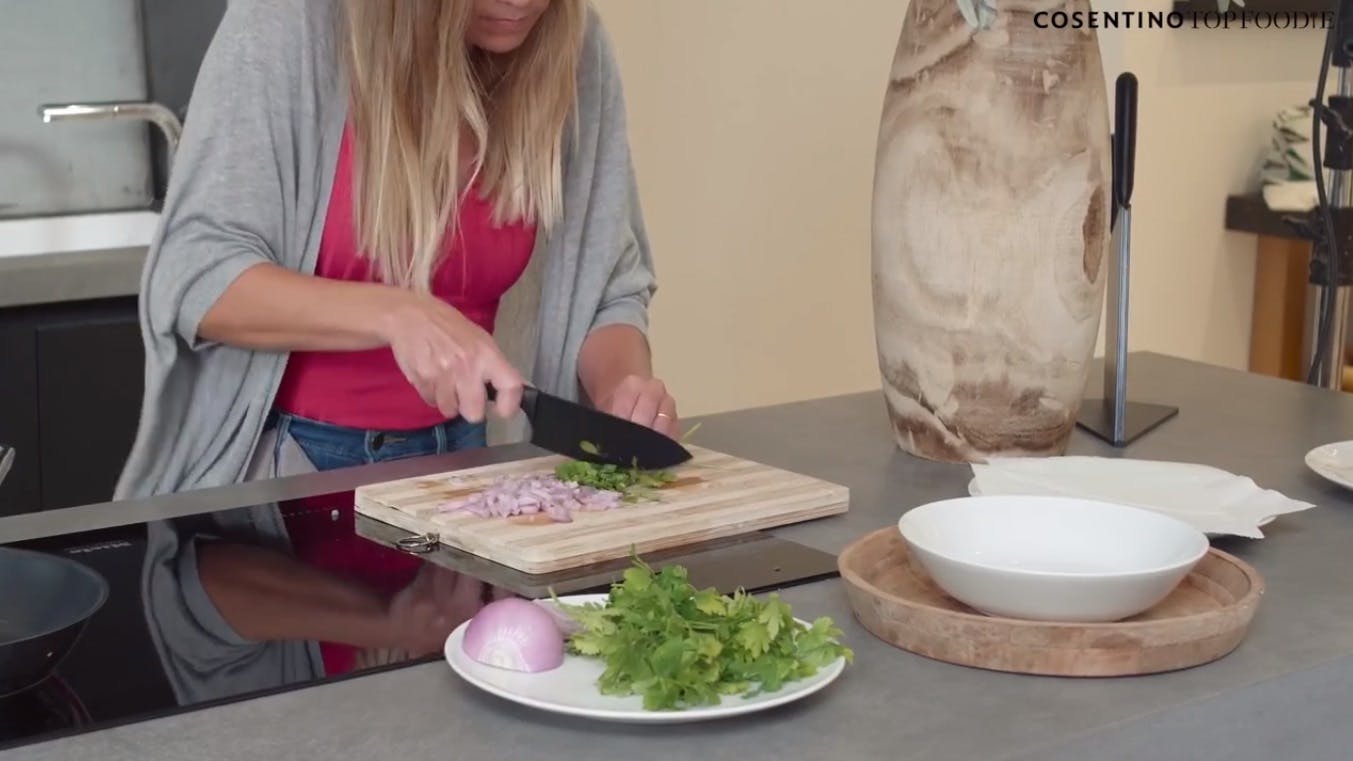 Make the falafel
Now we have almost all the ingredients for the falafel, we're going to add in the chickpea flour. We'll use our hands to get the best texture, flattening and mixing the ingredients together with our fingers.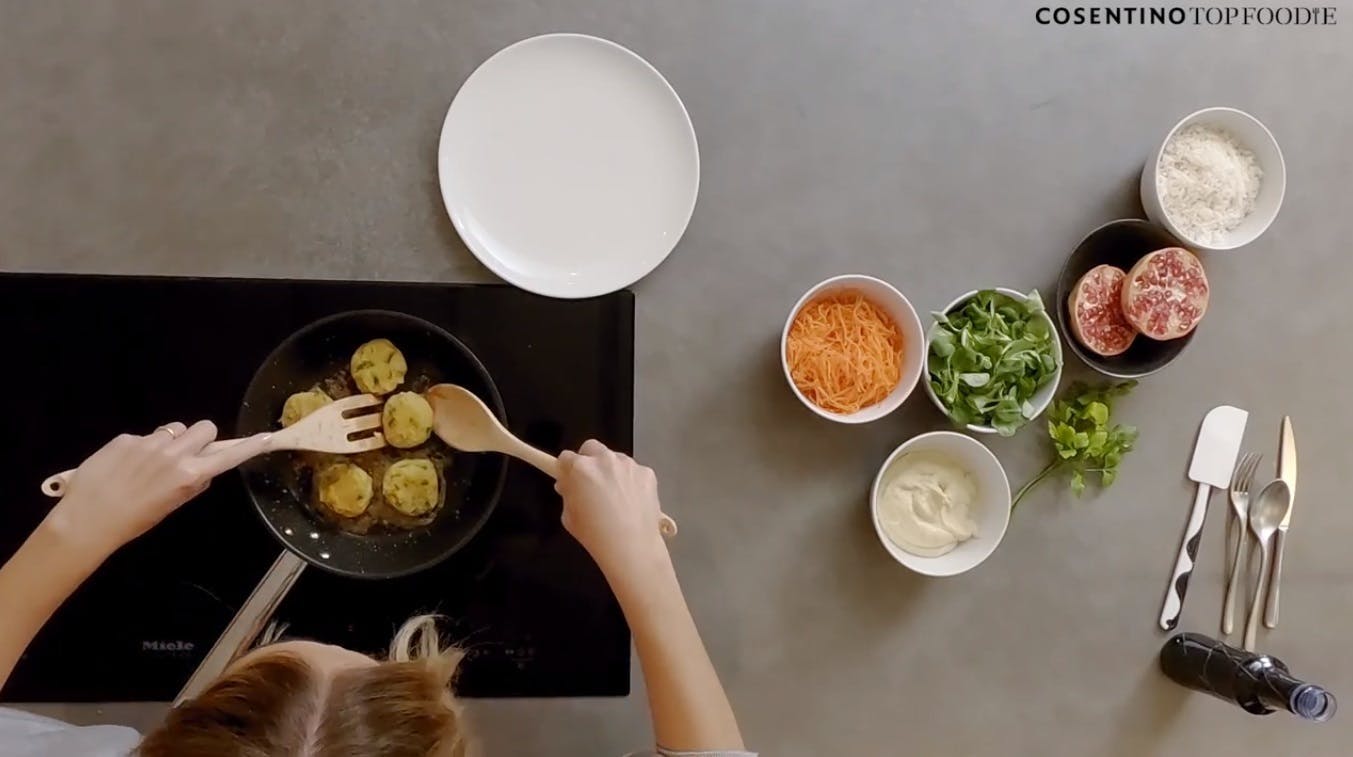 "Let's mix it. First, I'll mix it a bit with a spoon, but I'm going to get my hands in there straight away".
Once mixed together evenly, we'll form the falafel balls with our hands, just as though they were meatballs.
Fry the falafel
Now it's time to fry our tasty falafel. Remember that we only need a splash of olive oil in the frying pan to fry the falafel until crisp on both sides. The falafel should be golden on both sides, crunchy on the outside and tasty on the inside.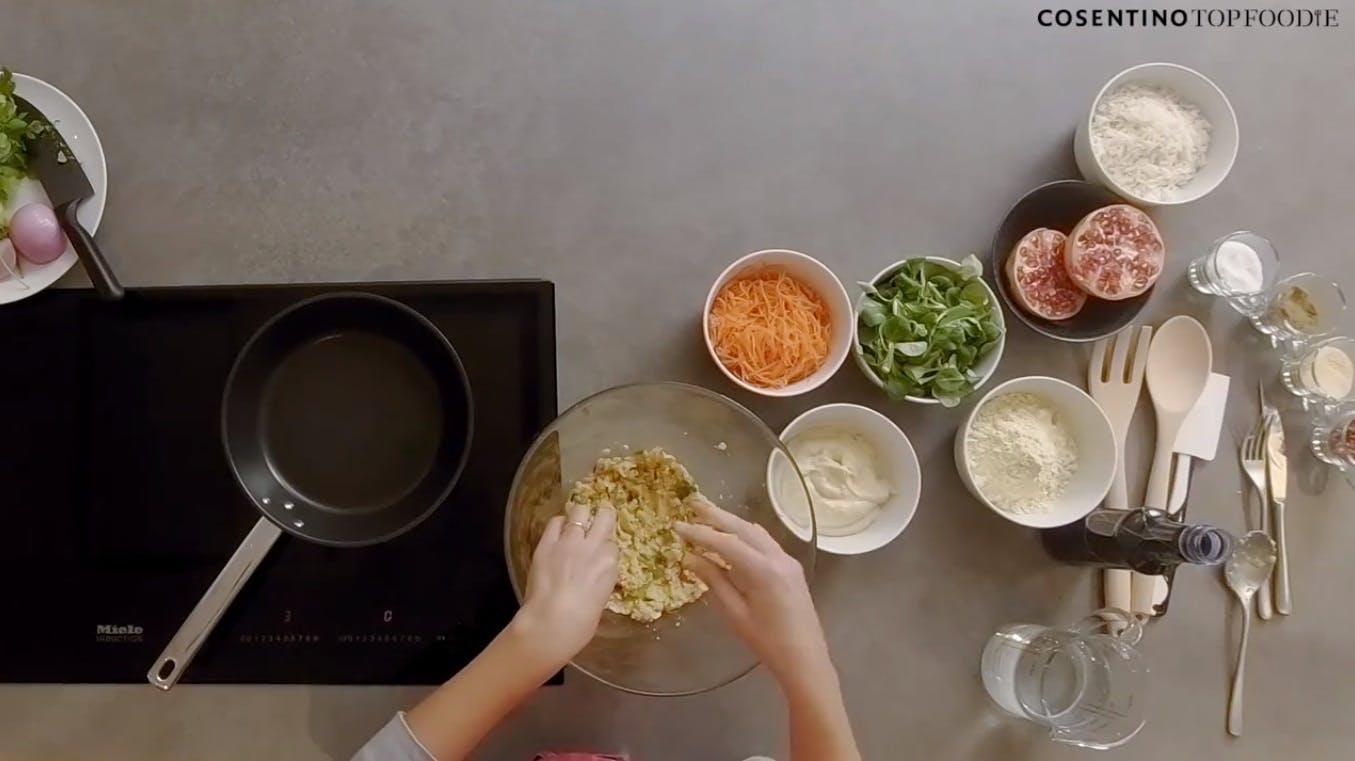 "Look, they've turned golden. Now we'll take them out of the pan so we can prepare our Buddha bowl".
Prepare the Buddha bowl
For a restaurant-style presentation of our Buddha bowl, we'll first prepare the base. First of all, add the lamb's lettuce, rice and grated carrot.
"When I make this dish I always say, the more colours the better".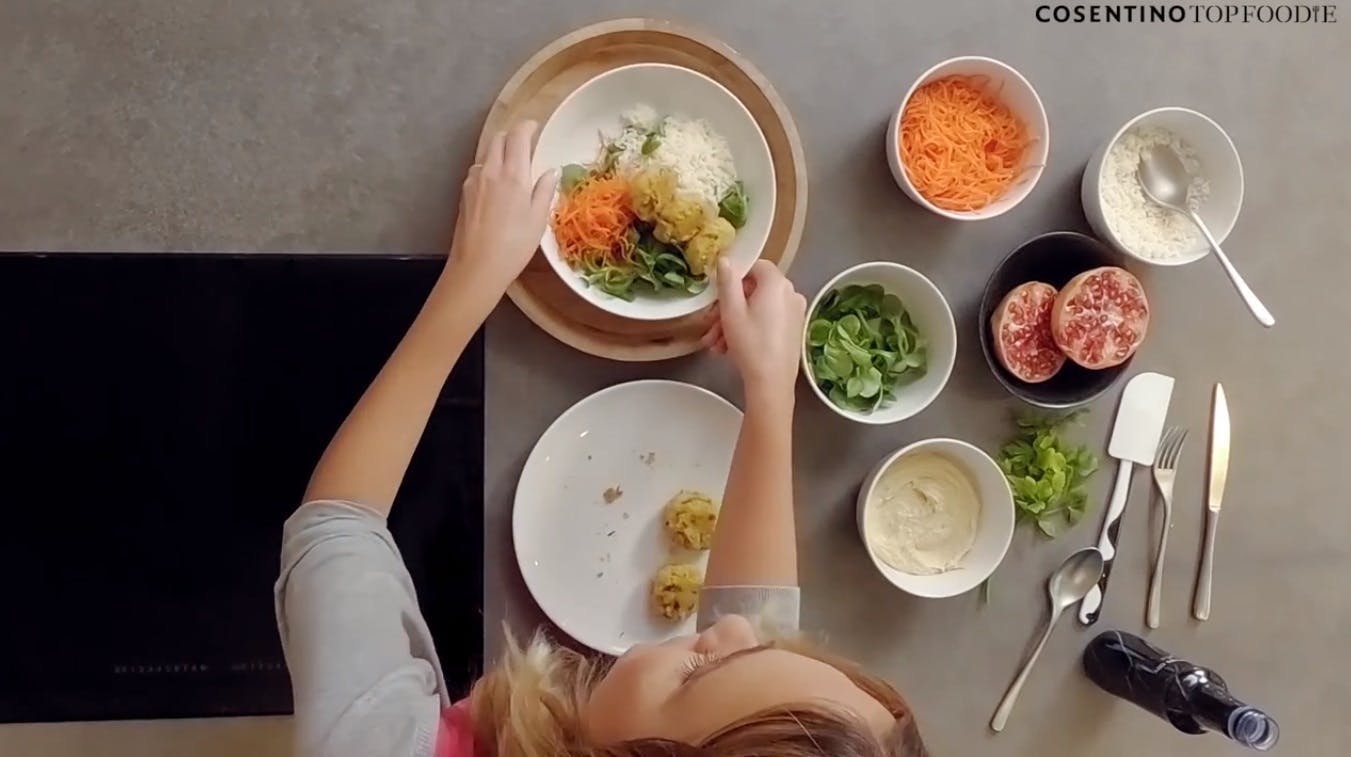 Next, we'll add the falafel on top, placed evenly over the base of our bowl. And on one side, we'll serve a heaped tablespoon of hummus to make sure our Buddha bowl isn't too dry. If your hummus is homemade, it will be even tastier.
We've chosen to serve this bowl with pomegranate seeds and a touch of coriander. But you don't have to use pomegranate, you can use any fruit that's in season. This delicious dish is perfect with any of your favourite fruits.
To finish, before serving, season with olive oil, salt and black pepper. You can now enjoy a Buddha bowl that even the most discerning foodie will love.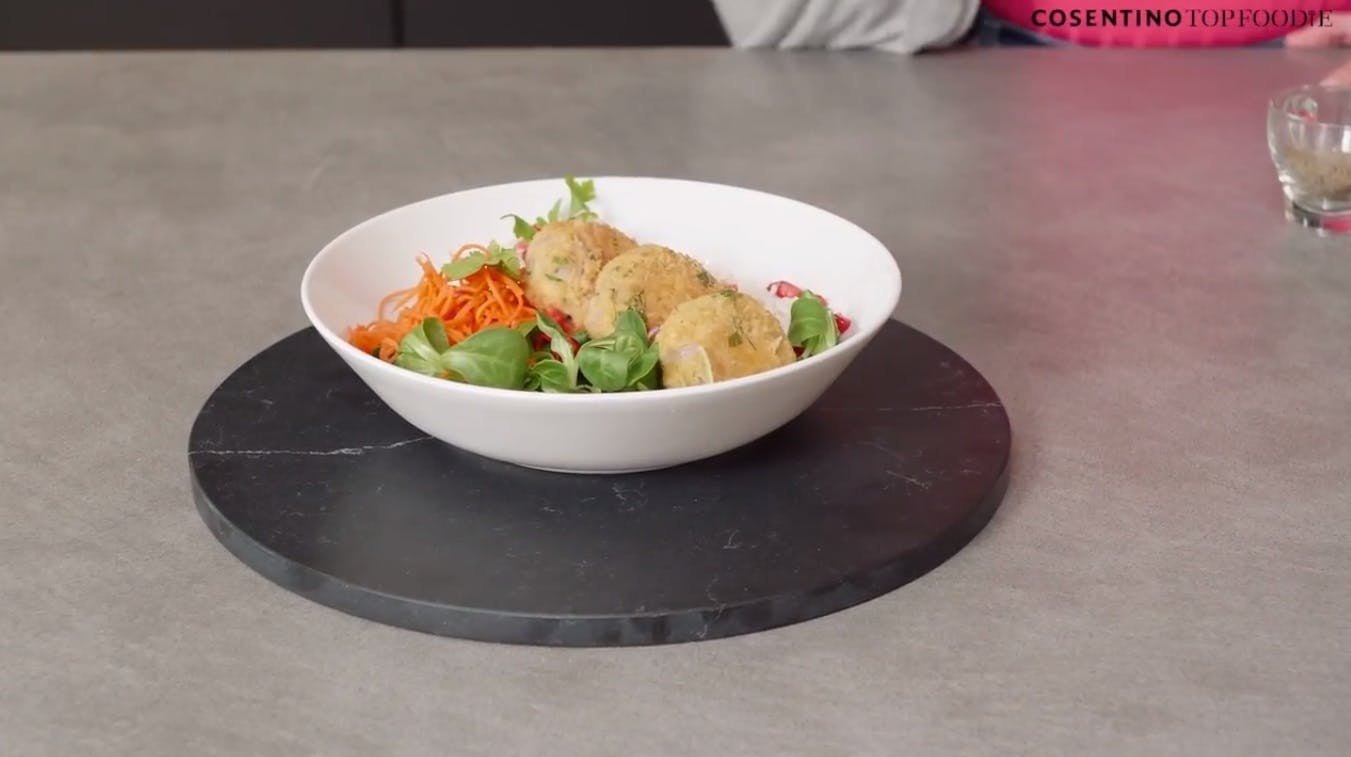 "Look at the Buddha bowl we've made. Don't tell me it's not fantastic! What a shame we have to eat it! It's so easy and quick to make, and so healthy".