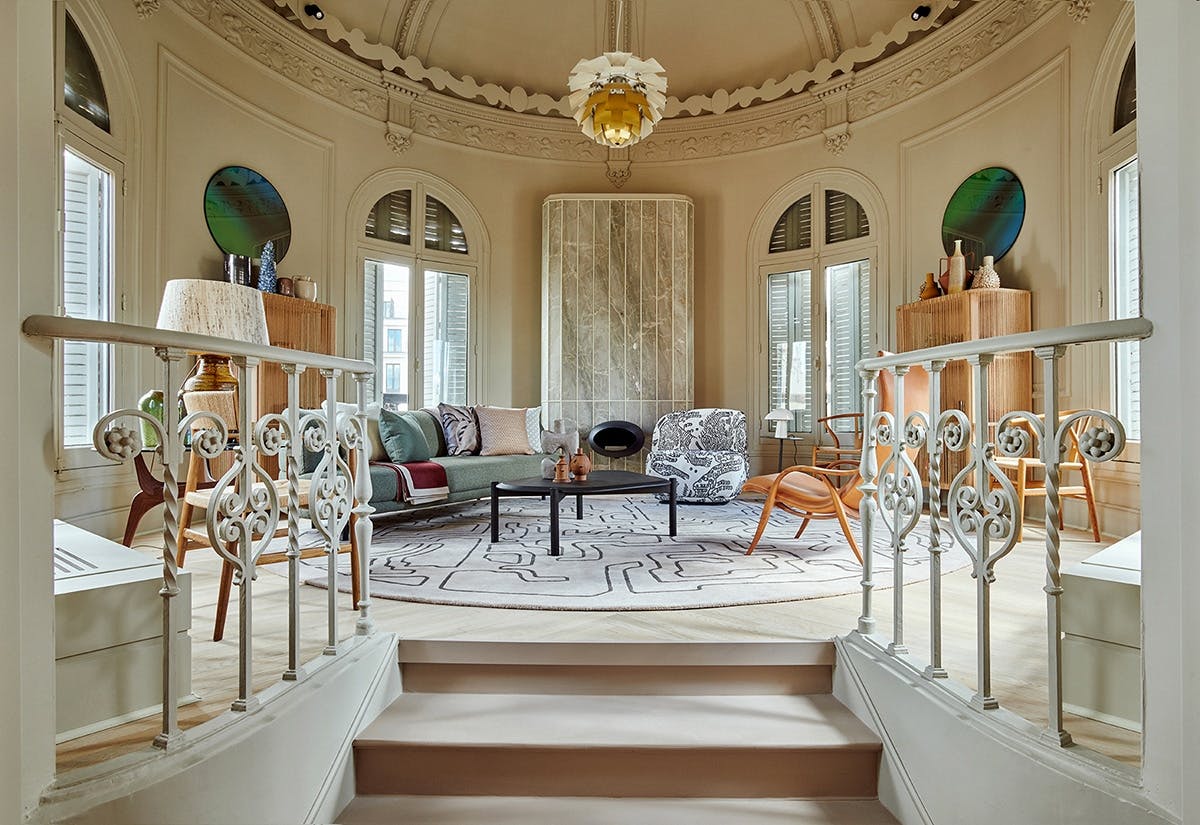 Cosentino at Casa Decor Madrid 2021
Cosentino is participating in Casa Decor Madrid 2021, the most important interior design, design, trends and lifestyle exhibition in Spain, which is being held at the iconic Casa de Tomás Allende from 13th May to 27th June. Casa Decor Madrid celebrates its 56th edition hosting more than fifty spaces designed by renowned interior design and decoration professionals.
Alicia García Cabrera, General Manager of Casa Decor Madrid: "Cosentino started collaborating with us in 2003 and has evolved with Casa Decor. Through its brands, Cosentino brings versatility, creativity and possibilities, and interior designers have the opportunity to show what they are able to do with their materials. They are a cutting-edge company that could not miss this event."
This year, Cosentino's materials, colours, textures and formats can be seen in a variety of stunning spaces. Download photos.
Soledad Ordóñez Giordano. Public toilets "Backgammon Mood"
Interior designer Soledad Ordóñez has designed the "Backgammon Mood" space, which is inspired by geometric figures and whose ethos is to convey the idea that luxury and design are not incompatible with accessibility. It is a space designed to be available to anyone with a disability: accessibility, messages in Braille, sounds, lights, scents... The interior designer based the design of the pieces and the geometry on a game, using materials such as stone and brass.
Soledad Ordóñez has used several exclusive colours of the ultra-compact Dekton® by Cosentino surface, which will be launched on the market at the end of 2021. An exclusive design for an elegant and captivating atmosphere featuring Dekton® on the cladding and washbasins. "Dekton® is a material that I get along with very well. These colours bring me closer to nature and sustainability, with earth tones and, of course, my personal must-have colour, black", says Ordóñez.
Axor Space, by Raúl Martins Studio. Bathroom "Oasis (Ait Mansour)"
Interior designer Raúl Martins has collaborated with Axor in the design of the "Oasis (Ait Mansour)" bathroom, which takes us on a journey to Morocco. With this design, Raúl pays homage to this space in the home. A space to feel at ease, to enjoy, to seek well-being and where we can always find elements that surprise us. For this bathroom design, Martins opted for arches, craftsmanship, earthenware, sustainability and individuality.
Raúl Martins chose two Silestone® by Cosentino colours that will be available on the market in the coming weeks. One of them is Faro White, from the new Sunlit Days series, which has been used for wall and shower cladding. This colour represents the white of the Mediterranean, purity, simplicity and serenity. On the other hand, the countertop basin features an exclusive Silestone® colour that will be launched soon: a marbled style proposal with subtle veins on a white nuanced background. According to Martins, "Silestone® means quality, versatility, durability, format and thickness. The chosen colours fit perfectly with my design proposal".
Danish Design Plus Space, by Erico Navazo Studio
As a first-time exhibitor, the Royal Danish Embassy has commissioned interior designer Erico Navazo to design the Danish space, located in the impressive tower of the building and inspired by the New Bauhaus, an artistic movement with a strong focus on a humanistic and sustainable approach. The keys to this design are aimed at the enjoyment of the space, using quality pieces and sober, timeless designs. Erico Navazo is a lover of natural materials and craftsmanship and therefore chose the protected natural stone Sensa by Cosentino® for the design of a spectacular vertical fireplace. The colour chosen was Vancouver, a Brazilian quartzite with veins that form beautiful patterns on a cracked surface. "This design is impressive and blends in with the rest of the space. It is the perfect environment for everything to fit together and be aligned with comfort", says Navazo.
Javiescobar Interiorismo Space. Office "Latidos" [Heartbeats]
"Latidos", the office designed by interior designer Javier Escobar, is a reflection of his life and biography: his passion for art, graffiti, classical music, design and natural elements. "This space is part of me, a space with sustainable materials worked by hand", says Escobar. Elegance and informality are key to his projects, and also to his personal style, as he always wears a cap or a hat. Neutrality, the creativity that white brings to the space and warmth are defining characteristics of this office, an essential space for Escobar since lockdown made us realise how necessary it is to have a good place to work at home.
Javier Escobar chose Blanco Alaskan, a natural marble by Cosentino, for the top of the wonderful desk. One of its legs has an oval shape and large dimensions and has been handcrafted with the protected granite Sensa by Cosentino®, in the colour Sant Angelo. This Indian granite has a light background and intense grey veins that give the desk great character. "I designed this space to be enjoyed and when I saw these pieces in place, it seemed perfect. As always, Cosentino's material is 10 out of 10", says Escobar.
Grupo Buk Space, by Martha Mesa. Winery "Madera y vino, una eterna historia de amor" [Wood and wine, an eternal love story]
The space "Madera y vino, una eterna historia de amor" has been designed by the Buk Group and the designer Martha Mesa, and presents a winery inspired by a landscape of vineyards, showing the symbiosis between wood and wine. The space pays homage to the clay soil vineyards and makes a nod to the Canary Islands and the Atlantic, taking its inspiration from the vines of La Geria National Park. Artisan materials, naturalness, sustainability, culture and history are the key elements in this environment, which aims to encourage people to gather over a glass of wine after the long lockdown.
The round table or bar in the middle of the space is a real eye-catcher, with a design that recreates the staves of the barrels. Its top in Dekton® by Cosentino, in the colour Spectra, stands out with its unique gloss and shiny black colour. "Dekton® is a carbon neutral material, which means it is also a sustainable material, and we wanted to use it to reflect the ceiling of the space, where the vine shoots are located", says Martha Mesa.
#CasaDecorSostenible
Casa Decor Madrid 2021 mantiene su campaña #CasaDecorSostenible, y por ello la sostenibilidad cobra un gran protagonismo en todo el proyecto, en los espacios, en el transporte, en la eficiencia energética y también en los materiales. Es por ello, que aquí debían estar presentes superficies como Silestone®, que gracias a su nueva y pionera tecnología HybriQ®, en su composición se incorporan materias primas de origen reciclado; o Dekton®, que en 2020 alcanzó la neutralidad en emisiones de carbono para todo su ciclo de vida.
To visualize the end result, you can work with a detailed plan, computer graphics or renders, mood boards with styles and textures and even inspirational photos from Pinterest. All these tools are valuable in reaching a consensus about what to expect from this reform.