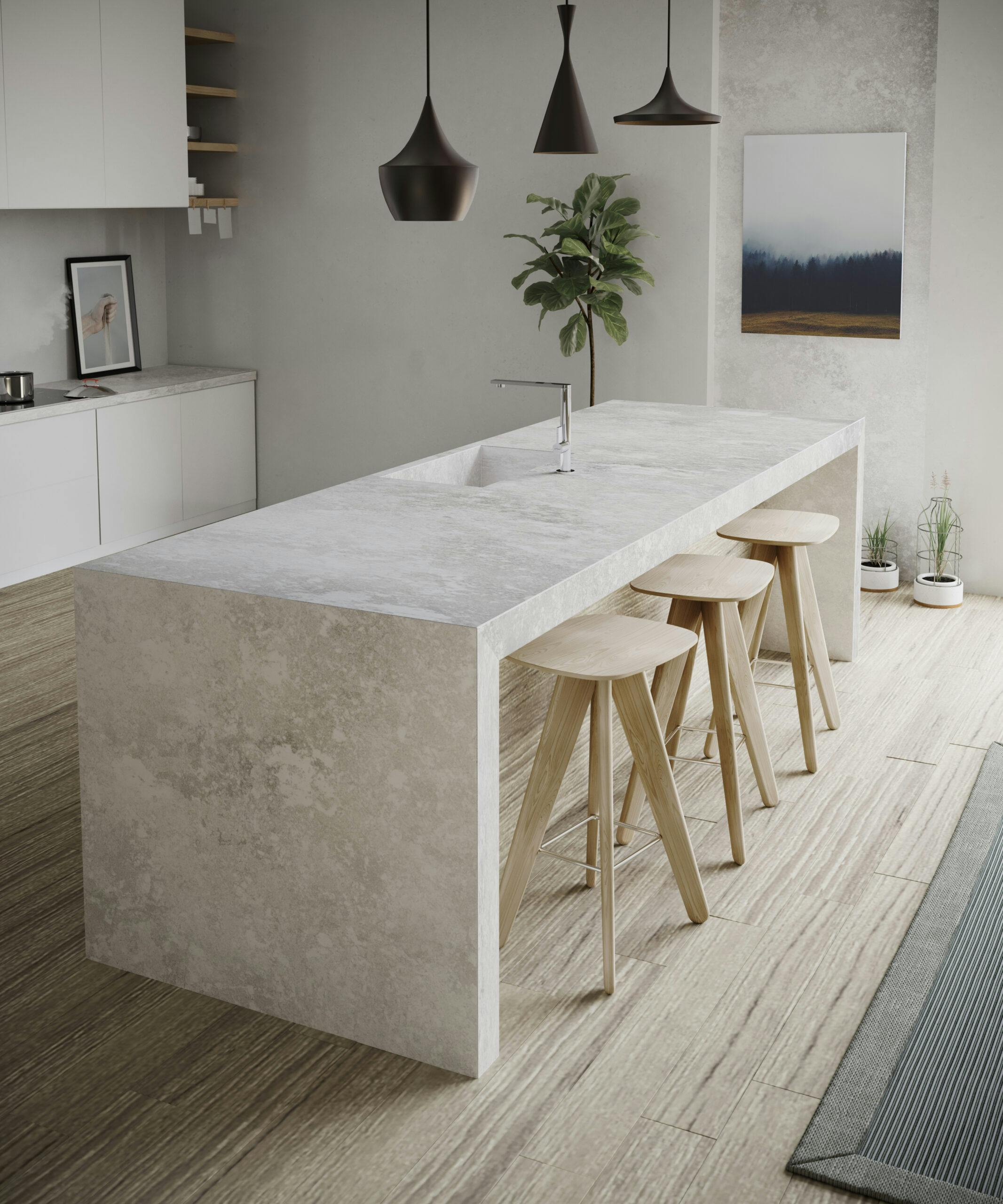 Cosentino Presents an Array of New Introductions At KBIS 2019 – Booth #C7616
Cosentino​, the world leader in quartz, natural stone, and recycled surface production, reveals stunning product designs, innovative collaborations and festive activations at the 2019 ​Kitchen & Bath Industry Show (KBIS) in Las Vegas, NV from February 19-21, 2019: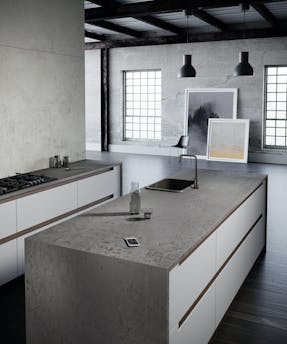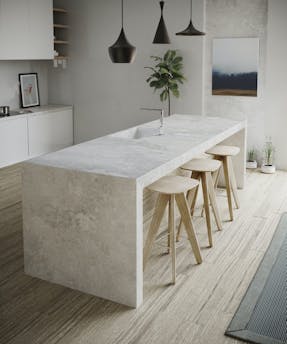 Silestone Loft Series
A sophisticated range of colors that offers a fresh, contemporary take on the industrial and architectural look of concrete and cement. The Silestone Loft Series features two colorways: Brooklyn (left), ​an intense gray finish replete with rich contrasts and effects and ​Silver Lake (right), ​a neutral yet bold hue, white superimposed with soft and elegant gradations of gray. The Silestone Loft Series also features a new Raw finish, combining the artfully unfinished look and feel of industrial materials like concrete and cement with a matte texture that is smooth to the touch.
Dekton Stonika Collection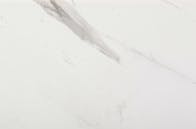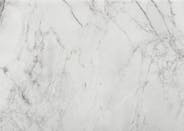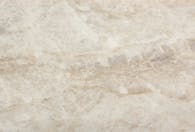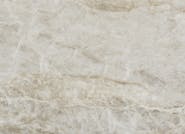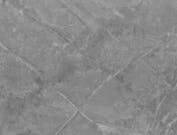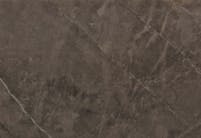 Also making its debut at the show are the new colorways in the Dekton Stonika Collection. From left to right: ​Olimpo, Bergen, Arga, Taga, Sogne, Korso​. Comprised of six stunning new hues, the Stonika Collection draws inspiration from the most coveted natural stone materials – with spectacular shine and unrivaled durability. New findings in the manufacturing process also allow for sharper designs and in turn, an ultra-realistic appeal. The Stonika Collection also offers the best resistance to thermal shock and impact in the market. This comes as a result of the manufacturer's continued commitment to staying at the forefront of design and durability through its industry-leading research and development.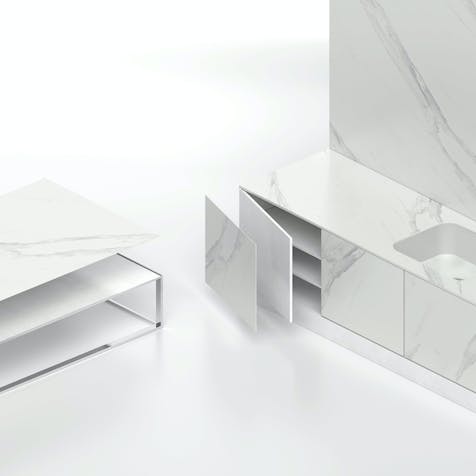 Dekton Slim
A game changer for designers and architects alike, Dekton Slim offers the same industry-leading technical and mechanical features with a thinner, lighter and manageable format for installation. At half the thickness of the thinnest slab Dekton previously offered, Dekton Slim offers new solutions for projects demanding high-performance, lightweight materials, such as furniture, cabinetry doors and drawers, as well as backsplash and wall cladding in kitchens and baths.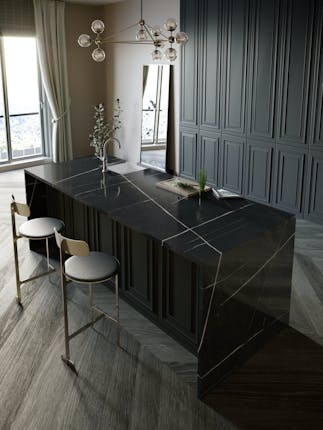 Silestone Eternal Noir
Following the introduction of the Silestone Eternal Series in 2017 and its expansion in 2018, Cosentino has added to the collection with Silestone Eternal Noir. The latest addition to the collection, inspired by sahara noir marble, offers striking white and gold veining and highlights that run completely though the slab, resulting in a more natural appearance. Its N-Boost technology — exclusive to Silestone—further improves the material's technical and aesthetic properties, giving the hue an extraordinarily intense color, ultra-glossy finish, and easy-to-clean surface.
Dekton+Poliform Kitchen by Daniel Germani Designs
Designed in collaboration with Dekton by Cosentino, Poliform and Daniel Germani Designs, the Dekton+Poliform partnership virtually reinvents the kitchen island, eliminating wasted space and creating work spaces at each end of the island, including a range at one end and a prep sink at the other. Canaletto walnut doors, Venini lighting, and Fantini Rubinetti faucets complement the island surface, sideboards and island doors cladding and flooring in Dekton by Cosentino.
Live Cooking Demonstrations with Chef Sergio Perez
What better way to showcase the unparalleled durability of Dekton by Cosentino than with a live cooking demonstration? Each day of the show, Chef Sergio Perez will delight guests with scrumptious bites, while bringing the strength of Dekton to life.
KBIS 2019 Living in Place Showcase (Room 2114)
Cosentino will exhibit Living in Place Recognized Products at the KBIS 2019 Living in Place Showcase, which will bring attention and information to make all homes accessible, comfortable and safe, regardless of the occupant's current or future needs or age.
In addition to its new product launches and collaborations, Cosentino will also support continued education and networking at KBIS through the following must-see events:
Tuesday, February 19:
● Kitchen & Bathroom Trends for Living In Place
Tuesday, February 19 at 4:00pm; Room 2114
Silestone expert and Sacramento-based kitchen & bath designer Kerrie Kelly will discuss trends and best practices for designing for living in place, alongside Sheri Gold, National Showroom & Design Manager at Monogram; Brad Hintze of Control4; Chris Tress of Rev-A-Shelf; Gunner Baldwin, Water Efficiency Specialist at TOTO; and Eric Peterson at Viega.
Wednesday, February 20:
●  Cosentino Happy Hour
Wednesday, February 20 at 4:00pm; Cosentino Booth (#67616)
Join Cosentino for a festive happy hour of cocktails, live music and delicious bites!
●  The KBIS Bash
Wednesday, February 20 at 8:30 pm; Encore XS Nightclub
VIP Lounge Sponsors Cosentino and LG Signature Kitchen Suite invite you to celebrate a successful KBIS 2019 with a festive evening of drinks, dancing and world-class entertainment at one of Vegas' hottest and most exclusive nightclubs.
"KBIS is truly the pinnacle for the kitchen and bath industry each year – a driving force in the development and advancement of kitchen and bath design," says Massimo Ballucchi, Director of Marketing for Cosentino North America. "We're honored to be a part of this year's show and are excited to introduce a robust selection of products showcasing the best in design and performance innovation."
About the Cosentino Group
The Cosentino Group is a global, family-owned company that produces and distributes high value innovative surfaces for architecture and design. As a leading company, Cosentino imagines and anticipates together with its customers and partners design solutions that offer value and inspiration to people' lives. This goal is made possible by pioneering brands that are leaders in their respective segments such as Silestone®, Dekton® and Sensa by Cosentino®. Technologically advanced surfaces, which allow the creation of unique designs for the home and public spaces.
The group bases its development on international expansion, an innovative research and development program, respect for the environment and sustainability, and its ongoing corporate commitment to society and the local communities where it operates, education, equality and health & safety.
The Cosentino Group currently distributes its products and brands in more than 110 countries, from its headquarters in Almeria (Spain). Currently Cosentino is present in 40 countries, with its own assets in 29 of them. The group has eight factories (seven in Almería (Spain and one in Brazil), one intelligent logistic platform in Spain, and more than 130 commercial and business units throughout the world. More than 90% of Cosentino Group's financial turnover comes from international markets.
www.cosentino.com
Media Contact:
For more information, please contact Sharp Communications, Inc., at (212) 829-0002. Lauren Higgins, ext. 134; ​lh3@sharpthink.com​; or Austin Durling, ext. 133; ​ad@sharpthink.com​.